Macy's (NYSE:M) posted 2Q earnings that were $0.80 a share (missing $0.86 consensus) and revenues were $6.27 billion (marginally missing consensus). Shares are up 8% despite the miss. This comes as the company still expects full-year 2014 numbers to come in as previously expected.
Since we first covered Macy's back in December, shares are up close to 20%. At the time we put a $78 price target on the stock, suggesting there's still upside of 25% for the next six months. But it's worth noting that the stock still trades on the cheap, with a forward P/E of around 12 and PEG at 1.1 -- both at similar levels to where the stock traded in December. As we noted back then,
While the retail shoppers can often be fickle, especially when it comes to apparel, Macy's shoppers are tried and true. The company knows how to get shoppers in the door and keeps them coming back. It's tough to find something wrong with Macy's. It's doing a lot right, from inventory management to merchandise planning, and embracing technology.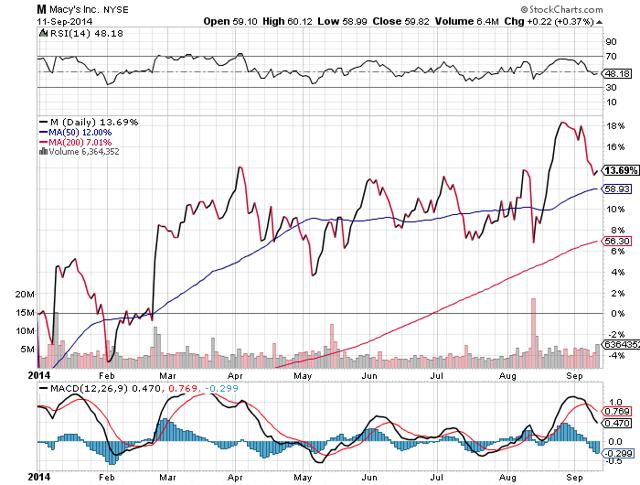 Last quarter, its operating margin was up 30 basis points to 9.1%. This despite the fact that gross margin was down 40 basis points to 41.4%. This was the lowest gross margin since 2Q 2009. However, the company was able to leverage its SG&A from 33% of sales down to 32.3% last quarter.
Its sales growth for the quarter was 3.3% y/y, versus inventory growth of 1.1%. This marked the first positive sales-to-inventory ratio in five quarters. Payables came in at 76.4%, essentially flat y/y.
The stock still appears to be a compelling investment. It's a leader in the omni-channel setting and has a strong combination of in-store and IT capabilities. It also has a strong balance sheet; having boosted its dividend payment 50% last quarter and also buying back $520 million worth of shares, which puts its shares outstanding to only 65% of 2006 levels. We still have a long-term bullish thesis on the company.