It's time to catch up on what's going on in activism. Although the market hasn't been quiet over the past couple weeks, recovering from Thanksgiving is always tough. So here we go:
Firstly, it's been a tough couple weeks for activist investors in oil and gas names. Think: Carl Icahn.
Icahn owns stakes in Chesapeake Energy (NYSE:CHK) -25% over the last three months, Transocean (NYSE:RIG) -48%, Seventy Seven Energy (NYSEMKT:SSE) -72%, Talisman Energy (NYSE:TLM) -53%, and a couple others. The key is to keep a level head, take a step back, read some good commentary (seen below) and then make a decision.
There's also some big losers in SandRidge (NYSE:SD) -52% last 3-months, Apache (NYSE:APA) -37% and Anadarko (NYSE:APC) -29%. In SandRidge is Leon Cooperman, TPG-Axon, Fairfax and other. Apache has Jana Partners as an activist (which we've covered) and Anadarko has the likes of Corvex Management, Third Point and Elliott Associates.
Interestingly enough, Anadarko is one of only three energy stocks on Goldman's list of top 50 hedge fund longs. And although Anadarko is down big of late, it's actually +1% YTD.
(click to enlarge)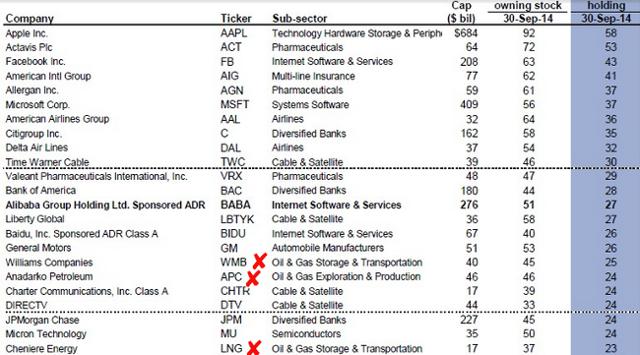 As far as good readings re: SD, APA, APC, here you go:
Secondly, on to the non-oil activist news.
Groveland Capital has nominated six candidates for Biglari Holdings (NYSE:BH) board. Recall that Biglari is the majority owner of Cracker Barrel (NASDAQ:CBRL) - which we've covered here.
Riverbed (NASDAQ:RVBD) now has a confidentiality agreement with Elliott to examine a sale/purchase. You know our thoughts re: Elliott, but a good read here, along with various follow-ups,
Despite activist shareholder Elliott Management looking to shake up management, the catalyst for a rebound simply depends on Riverbed closing the large deals (Chris Lau)
Corvex Management founder Keith Meister is now on the Williams Companies (NYSE:WMB) board after a year of battling. Corvex owns nearly 10% of WMB. Good read here,
For the mainstream media, this blockbuster deal the largest in the energy patch this year served as yet another reminder of the importance of pipelines and other midstream infrastructure to the shale oil and gas revolution (Elliott Gue)
Clinton Group has sent a couple letters and even hired an investment bank to try and save Wet Seal (NASDAQ:WTSL).
The group of activists invested in Full House (NYSEMKT:FLL) got a special meeting and a new CEO along with six new directors have been announced - our previous coverage is here.
Starboard Value and Oliver Press now own 7.4% of Integrated Silicon Solutions (NASDAQ:ISSI), nominating five board candidates. Our own thoughts re: ISSI to come in a later article.