The marijuana industry landscape is about to experience a tremendous reorganization of the supply chain. With his 15 million square feet and 0.05 $ per gram production capacity, Pharmacielo (TSX-V) brings ground breaking outputs: 5 300 000 kg production capacity per year. Lead by a tier one management team, Pharmacielo is poised to become a major and supply the world.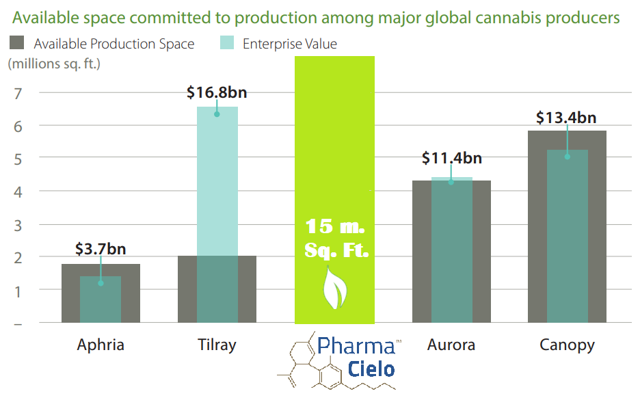 Overview
The company was founded in 2014 in Colombia, the most efficient place in the world for cultivation. With natural sunlight (12 hours cycle per day all year long), spring fed water and an extensive local expertise for agriculture, Colombia offers the best growing conditions in the world.
To put things in perspective, Colombia is the 2th largest exporter of cut flowers, 3th largest coffee exporter and 5th largest banana exporter, confirming growing outputs capabilities.
Combined with a stable political climate and favorable policies towards foreign investments, Pharmacielo is meeting all the optimal conditions for major scalable operations.
All in cost per Gram
North American producers average : 2.50$ CAD
Pharmacielo : 0.05$ CAD
The current producers are experiencing very high costs of production mainly based on : artificial climate control system, high intensity lightning systems, large scale filtering of the municipal water supply, very high security system costs and many others.
All of these factors implying multi-million dollars infrastructures resulting in a cost per square feet above the hundreds of dollars. As per several analysis (GMP,CANNACORD,CORMACK,ECHELON), the general consensus of lowest possible all in cost production stands at 1.50$ CAN (at the best) per gram for the current industry players.
This price gap will naturally drive Pharmacielo's sales significantly.
Worldwide adoption leans towards commoditization
- Canada currently legalized on the 17th of October
- USA has close to 66% of his territory allowing medical marijuana and nearly 13 with recreational as well;
- United Kingdom just voted medical marijuana allowance;
- Mexico new elected president pledging for legalization of marijuana;
- Colombia legalized medical marijuana in December 2015;
There are currently dozens of countries looking to legalize marijuana on various forms in the short term as well.
The current global trend will require production on a large-scale basis. Alike all commoditized markets, it will be done abroad for the majority of these countries where production is price driven and long-term survival lies on cost control.
Basically speaking, Canopy Growth (worldwide leader) lost over 360 million as per FY2019 Q2 filling. Aurora Cannabis, 2th biggest players in terms of production capability lost 69 million in FY 2018, as per fiscal results provided on the 24th of September.
Excluding Organigram and Aphria, there is currently no Canadian marijuana producer with positive EBITDA (cashflow positive).
Acknowledging this critical issue, we are currently seeing companies (Canopy,Cronos,Auxly,Aurora,Valens) securing joint ventures with South American (mainly Colombian) early stage applicants.
To the great benefits of Pharmacielo's stakeholders, the company is two years ahead of any competitor in Colombia in terms of application process.
Consequently, Pharmacielo will be the only Colombian permitted to sale and export in the next two years.
A natural fit for Tobacco industry
Witnessing a decline of sales since merely a decade, Tobacco industry is looking to boost revenues by stepping in a parallel industry.
Both production and distribution models in the Tobacco and Marijuana spaces are very similar. Mainly based on cost-efficiency in a large-scale model, which suggest that Colombia will become a natural fit for efficient production.
Chairman of the board at PCLO, Simon Langelier, with his extensive track record at Phillip Morris (managed over 5 billion in sales per year for decades) confirms interest from major Tobacco players.
Furthermore, Imperial brands Tobacco removed ''tobacco'' from his name since last year, most likely with the intend to diversify operations in the cannabis space.
Permitting process in Colombia
It is fundamental to acknowledge the reality of the permitting process in Colombia.
Being fully licensed, Pharmacielo is sitting on a 24 months advance over the closest domestic competitor.
In opposition to Canada, where being granted of a production licence is the most difficult part of the application process, Colombia makes production licence quite easy to obtain.
More precisely, the permitting process in Colombia requires the applicant to follow these steps:
First, apply for a license to manufacture cannabis derivatives
Then apply for a license to use cannabis seeds;
Then apply for a license to register your seeds;
Then apply for a license of cultivation for psychoactive cannabis;
Then apply for a license for non psychoactive cannabis;
Then apply for a license for an exportation quota.
Finally, the company can sale his first gram outside Colombia.
Such pattern is very unique in the way unadvised investors could easily get mislead by companies stalled at stage 1-2-3-4.
Such competitors cannot produce nor export at the present time, but are still suggesting through press releases having achieved major licensing milestones, while being at least two years away for the first sale.
Pharmacielo is obviously beyond such stages and as secured all of the licences above, being the only producer in Colombia at that stage with the very valuable right to exports. Pharmacielo is ready to compete the worldwide market.
Colombian market & worldwide Markets
The Colombian market is estimated at 2.5 billion dollars US per year. Pharmacielo is owning the largest e-clinic and patient platform for medical marijuana (UBIQUO), with currently 115 000 patients (Canopy has only 84 000 patients as per 4th quarter filling) and growing around 12% per month.
Only in Colombia, with a market penetration rate of 10% in 2 years (which is very conservative since Pharmacielo is the only player as of today being allowed to sell), PCLO is poised to generated 250 million USD revenues and close to 200 million EBITDA (net profit from operation).
These figures will drive Pharmacielo revenues at the top of the marijuana players worldwide.
This forecasting the domestic market only.
Obviously, Pharmacielo's market is not limited to Colombia, it is the world.
As per Constellations Brands' estimation, worldwide addressable market will be 50 billion in 2020 and around 200 billion in 2029, which suggests Pharmacielo will generate billion in sales by that time.
One of the key points in Pharmacielo's exportation strategy is that lots of countries like Germany, Mexico, Australia and others have little to none domestic production and rely on imports to fulfill marijuana needs.
Theses counties will therefore be looking for low-cost high-quality supply, which Pharmacielo already produces.
Investments in South America (comparison VS Peers)
If we compare to Pharmacielo square footage in South America
| | | | |
| --- | --- | --- | --- |
| | Take-over target | Price paid (Millions -CAD) | Square footage |
| Aurora | ICC Labs.inc | 290 M | 1,090 000 sq. ft. |
| Aphria | LATAM Holdings | 193 M | 120 000 sq. ft. |
| Canopy | Colombian Cannabis SAS | 130 M | 0 sq ft currently (4.5 million sq. ft. of land available) |
Excluding the Pharmacielo's licensing advantage mentioned above, it is obvious to notice the major price gap of Pharmacielo's valuation at the present time.
If we were to use the average same valuation per production capacity, Pharmacielo would be valued at 2.2 billion (22$ per share).
Management & Expertise
Previous experiences and track records speak for themselves:
- Simon Langelier, Charmain of the board : Phillips Morris and Imperial Brands
- Dr. Delon Human, Vice Charmain : World health Organization, World Medical association
- David Attard, Director : President Choice, Citi Group, American Express
- Henning Von Koss, Director : Bayer Health Care, Bayer
- Scott Laitinen, CFO, Director : Sears Canada Bank vice president Strategy, administration and Credit risk mangement
- David Gordon, Director : Cohn & Wolfe, Ontario ministry of Attorney General
Conclusion
With 15 million square feet of production capability, Pharmacielo exceed the combined production capacities of : Canopy, Aurora, Hexo, Aphria, Medreleaf, Tilray, Organigram, Cronos, Canntrust.
While few industry majors will be capable of securing joint ventures with serious Colombian players, we expect that sooner than later, all players in the space will have to purchase from Pharmacielo to lower their costs.
This production reorganization will be critical in ensuring positive cash flow and higher margins. Even big players will experience a 24 to 36 months' time frame before they get fully licensed in Colombia, allowing Pharmacielo to strengthen leadership and insure dominant position.
Three key issues support Pharmacielo as the next leader in the Cannabis space: large scale, low-cost and world class management.
Having the largest production capacity and lowest costs of production worldwide combined with being the only national producer allowed in Colombia to export for at least a 24 months' time-frame will allow Pharmacielo (PCLP) to generate hundreds of millions in sales in 2019/2020.
On a 10 times revenue valuation basis only on domestic market, a conservative valuation for Pharmacielo would stand at 2.5B, resulting in a 25$/shares price target for 2020.
Since the company is starting sales in 2019 and still has market confirmations to provide, we would apply a 40% discount to price in such risk.
Therefore, our current price target for the stock is 15$ per share.
Disclosure: I am/we are long PCLO.