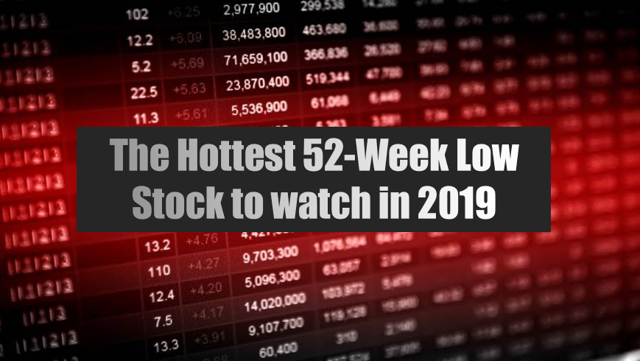 A stock market pullback since early October eliminated much of the gains in U.S. stocks in 2018 and left dozens of stocks trading at or near their lowest levels of the year. Some of these stocks are trading at new lows for good reason, but others are providing long-term investors an excellent opportunity to buy strong stocks at a steep discount. Bank of America recently compiled a list of buy-rated stocks trading within 1 percent of their 52-week lows. Similar hedge funds and large banks are following suit with drafting 52-week low portfolios. One stock that is trading near its 52-week just hit it today, coupled with some record volume. All things being equal, these elements provide some very interesting data to investors. 
Enzolytics, Inc. (OTC: ENZC) is a development stage company, which engages in the research and development on the operations and treatment of HIV/Aids virus. It focuses on the commercialization of the license rights of the IPF for the treatment of Aids and Hepatitis C as well as potential other treatments for life threatening diseases. The company was founded on July 28, 2004 and is headquartered in Monrovia, CA.
Within the last 3 trading days, the stock has witnessed some unusual volume which allowed the stock to hit its 52-week low. Investors took special notice of the light resistance, due to the low stock float, all the way up to $0.02.  
The company explains their model, 
Our drug development company is committed to the commercialization of our proprietary proteins for the treatment of debilitating infectious diseases and for the better health of mankind.

Our flagship compound ITV-1 (Immune Therapeutic Vaccine) is a suspension of Inactivated Pepsin Fraction (IPF), which studies have shown is effective in the treatment of HIV/AIDS and Hepatitis C and to modulate the immune system.

IPF appears to modulate helper T1 cells' expression of elaborate cytokines INF-γ, IL-2, which selectively promote cell-mediated immune response and subsequently stimulate cytotoxic lymphocytes. These lymphocytes have a prominent role in the host's immunologic response to HIV infection. Proteins encoded by these pathogens enter the endogenous pathway for antigen presentation and are expressed on the surface of the infected cell as a complex with class I MHC – proteins. IPF appears to present a novel mechanism to reduce viral burden and stimulate innate immune responses to the virus for patients with significant antiretroviral resistance.

We will be watching closely as investors continue to take notice of a very undervalued, low-float, 52-low stock.