A number of leading analysis programs and platforms, including broker platforms and technical analysis platforms, will not allow search queries for stocks that have no trading history trailing the previous 6 months. However, due to the recent speculation surrounding connection to WPP Energy, BOPO is beginning to populate these platforms due to its resurrected trading activity. Volume has surpassed expectations by a factor of 7, and is approaching company highs. 
Share Structure Update (Full ETT)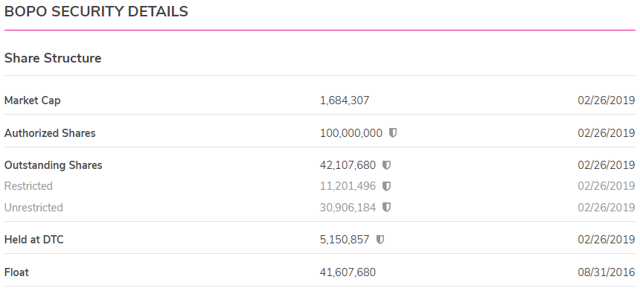 Connection to WPP Energy, via WallStBulletin.com 
Biopower Operations Corp (OTC:OTCPK:BOPO) has officially updated it share structure in full (LRT), with confirmation that its authorized number of shares is still level at 100 million. Most interestingly, this comes after the company has witnessed a sudden increase in volume that is greater than the trailing 5 years of the companies trading history.