There's no doubt that marijuana stocks could be set to see a banner year. With the passage of Canada's latest move to legalization recreational marijuana across the country, the opportunity on the horizon could be much greater than initially expected. The reason? This move now opens the door for big banks and, in turn big money to start flowing into an industry that was once thought of as "taboo".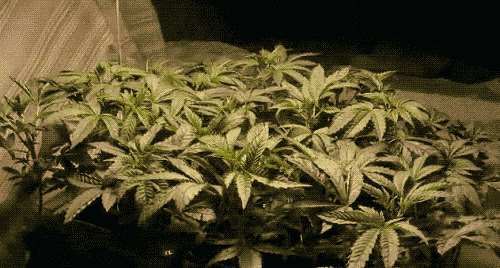 The US welcomed its 30th medically legal marijuana state recently as Oklahoma jumped onto the bandwagon. Even with this being the case, a progressive move toward complete legalization across North America could be the next spark to ignite a move within the industry.
But as a number of marijuana stocks have hit new highs, there are those that have approached 52 week lows and as a result could become those "bargain bin" marijuana stocks many investors look for especially with the anticipation of Canada's legal recreational market coming on line later this year.
Companies like Marapharm Ventures, Inc. (MRPHF), Cronos Group (OTC:CRON), Canopy Growth (OTC:CGC) or even the Alternative Harvest ETF (NYSEARCA:MJ) could be those specific "bottomed out" cannabis stocks to keep an eye on leading up to legal marijuana sales in Canada.
Marapharm Ventures, Inc. (MRPHF)
Marapharm Ventures, for instance has been in a longer term down trend, however with what the company has going on right now, Marapharm could have more than meets the eye as far as operations go. , Marapharm is building deep seeded relationships by making strategic investments into business operations. Remember the company just acquired operational assets, land and water rights related to two, licensed cannabis producers and processors operating in Tonasket, WA as Marapharm licensees with a real plan to continue down this path.
And just like Canopy, Marapharm is also digging deeper into the distribution game. Canopy's balanced sales approach between its online stores and brick-and-mortar dispensaries has allowed it to achieve a vertically and horizontally integrated marijuana sales channel. Marapharm has begun doing so in its own way on a smaller scale with large growth potential. Compared to its 52-week high of $0.99, shares of MRPHF are currently trading below $0.20.
Recently, Marapharm Ventures announced that the non-brokered private placement unit offering announced in a news release on June 4, 2018, for gross proceeds of $4,500,000 has closed oversubscribed for total gross proceeds of $4,675,000.
Furthermore, the non-brokered private placement of 9,350,000 Units was done at CDN $0.50 per Unit or roughly $0.38 USD (a premium of roughly 111% compared to current share prices).
Cronos Group makes the list amid a time where much more attention is being placed on "listed" marijuana stocks. Shares of Cronos up listed to the NASDAQ earlier this year and since that time, much has changed in the cannabis space including Canada's move for fully legalized recreational marijuana.
The company operates two wholly-owned Canadian Licensed Producers regulated under Health Canada's Access to Cannabis for Medical Purposes Regulations: Peace Naturals Project Inc. (Ontario), which was the first non-incumbent medical cannabis license granted by Health Canada, and Original BC Ltd. (British Columbia), which is based in the Okanagan Valley.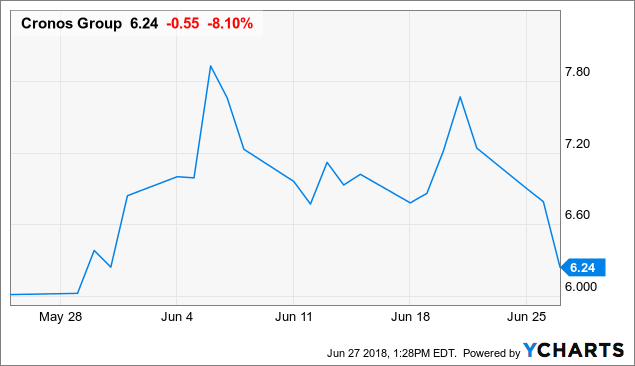 Cronos has multiple international production and distribution platforms including: Cronos Israel and Cronos Australia. Through an exclusive distribution agreement, Cronos Group has access to over 12,000 pharmacies in Germany. The Company is rapidly expanding its global footprint as it focuses on building an international iconic brand portfolio and developing disruptive intellectual property.
Most recently Cronos announced that it had entered into a strategic distribution partnership with Delfarma Sp. Zo.o. The company will essentially supply Peace Naturals branded cannabis products to Delfarma for distribution within Poland opening up new global options for Cronos.
Canopy Growth (OTC:CGC)
In line with these companies, Canopy Growth has also fallen victim to a pull back from marijuana stocks. However, with recent developments ahead of Canada's legalization, this could be a good time to be paying attention to one of the market's leading cannabis companies.
The company's total licensed footprint exceeds 2.4 million sq. ft.; 200,000 clones prepared and shipped from Ontario to jump start cultivation in million sq. ft. greenhouses in British Columbia.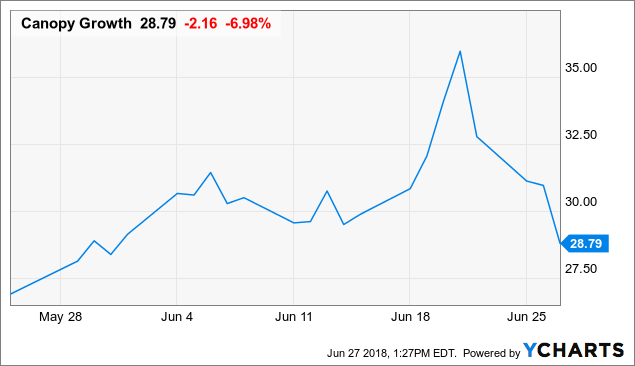 "With the recent launch of our Spectrum Softgels, strong sales in Canada and Germany and the expansion of our global footprint into Africa and further into Europe and Australia, we continue to drive our global leadership position in medical cannabis forward," said Bruce Linton, Chairman & Chief Executive Officer.
"The efforts of Canopy Growth and Canopy Health Innovations to develop a range of patented, insurance coverage eligible cannabis-based medicines took a critical step forward with the recent receipt of approval to conduct its first in a planned series of clinical trials. Believing that combining Canopy Health's growing intellectual property portfolio with our production and advanced manufacturing platform will speed time to market of disruptive medicines, we made the decision to pursue full ownership of Canopy Health Innovations."
Furthermore, with shares pulling back by more than $6 per share from previous 52-week highs, this "reset" has sparked further interest in Canopy.
Alternative Harvest ETF (MJ) 
Finally, for those looking for more of a "basket approach", the Alternative Harvest ETF has given a glimpse at the overall move ahead of the possible "North American Green Rush". The ETF initially was not as impressive as it has been lately. This is not so much with regard to price but more so the actual holdings of the ETF. The early days saw a lot of holdings in semi-related marijuana stocks but as of late, most of the leading holdings for the fund are directly involved within the space.
Top holdings of MJ include:
| | | |
| --- | --- | --- |
| GREEN ORGANIC DUTCHMAN HOLDI | 7.35% | |
| CANOPY GROWTH CORP | 5.57% | |
| AURORA CANNABIS INC COM | 5.50% | |
| CRONOS GROUP INC | 5.46% | |
| MEDRELEAF CORP | 5.21% | |
| HYDROPOTHECARY CORP NEW COM | 4.67% | HYYDF |
| CANNTRUST HOLDINGS INC | 4.62% | |
| GW PHARMACEUTICALS PLC | 4.41% | |
| ORGANIGRAM HOLDINGS INC | 4.28% | |
| EMERALD HEALTH THERAPEUTICS IN COM | 3.47% | |
There's no question that the time to be watching this emerging market is beginning to catch traction in the mainstream. With Canada going fully legal, it's only a matter of time before the marijuana hedge funds as well as traditional funds begin the flow of money into this budding industry. The key right now will be timing. There are a number of marijuana stocks that have hit lower/bottom levels, which could present new potential if and/or when the market turns around.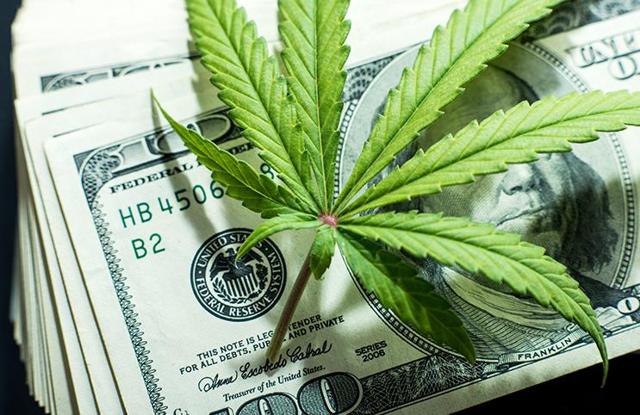 Please note that there is a disclaimer for one of the companies mentioned: Pursuant to an agreement between an affiliate of MAPH Enterprises, LLC, Midam Ventures LLC and Marapharm Ventures, Midam has been paid $200,000 from the company and ZERO shares of Marapharm Ventures Inc. for a duration beginning June 27, 2018 and ending July 27, 2018. We may buy or sell additional shares of (MRPHF) in the open market at any time, including before, during or after the Website and Information, provide public dissemination of favorable Information.
Disclosure: I/we have no positions in any stocks mentioned, and no plans to initiate any positions within the next 72 hours.