Uncertainty in the Global Chip Market
After hours Micron reported their Q4 and FY'19 financial results amidst hopeful optimism from analysts and insiders alike, but rather the company announced disappointing results that seem to be reflective of the overall industry. Q4 EPS fell to 56 Cents, down from $1.05 in Fiscal Q3 and $3.53 in Q4'18. Company profits have been hurt as the overall industry continues to suffer through a huge imbalance of supply and demand and global trade tensions continue to affect global supply chains. Micron additionally provided guidance for Q1 and FY'20 that is less than inspiring. For Q1, the company expects revenue of $5 Billion with gross margins continuing to fall to 26%. This is especially concerning as in just the past twelve months we have seen revenue fall 42.4% YoY while gross margin has fallen from 61% all the way to an expected rate of 26.5%. One reason for the falling margins comes from the fact that the company announced an expected underutilization expense of $150 million per quarter as the company shutters some production to help with supply imbalances in the overall market.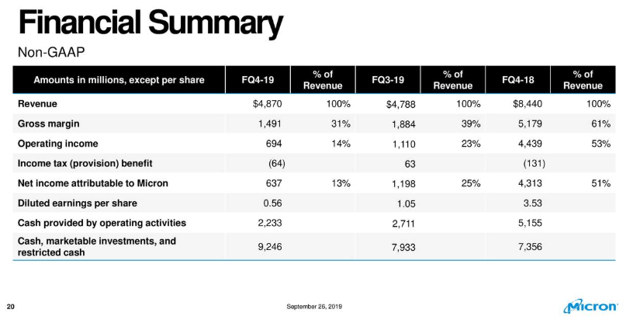 Geopolitical Tensions
At the time of writing, Bloomberg just recently reported that the Trump Administration is considering setting limits o the amount of capital inflows from China on US stock exchanges, as well as potentially delisting Chinese companies from our exchanges. It is unclear currently how seriously this proposal is being considered, but based on the markets initial reaction to the news, this step would pose as a major escalation in the trade war with China. According to the CEO of Micron, "In recent months, we have seen increased demand from customers headquartered in mainland China, some of whom could be making strategic decisions to build higher levels of inventory in the face of increased trade tensions between the U.S. and China," If businesses in China are providing any information it is that this trade war is not close to being resolved as some may optimistically hope for. The decision to increase inventory snow by Chinese firms will only increase the pain felt by chip makers as it will be even longer before channel inventories return to normal levels once the industry begins to recover.
Although the US/China trade war may dominate the CNBC news headlines on a daily basis, the trade war that chip makers may be most concerned about in the short term is between South Korea and Japan. The conflict is still developing, but the issue is rooted in the fact that a South Korean court ruled that Japanese firms operating in the country must compensate the families of victims of forced labor from WWII. As a result, Japan determined that they must restrict the trade of three critical components of digital displays and computer chips. This issue if it continues to escalate would force South Korean chip manufacturers to reevaluate their supply chains. The whiplash of a trade dispute this high up in the supply chain for high tech electronics could have massive implications of the global economy if not mediated correctly and absolutely deserve to be followed as closely as the dispute between the United States and China.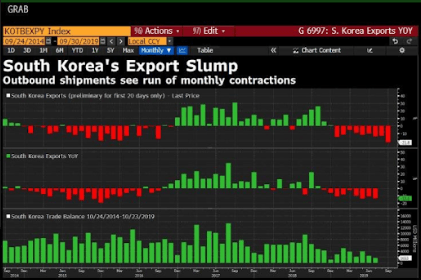 For many semiconductor bulls and CEO's alike, the predictions for a second half recovery in the overall industry appear to be dissipating as more macroeconomic and company information come forward. Taking a look at the macroeconomic backdrop, it is clear that the expected recovery in demand has failed to appear. South Korean export data that was released for the first 20 days of September point towards outbound shipments of semiconductors continuing to contract as chip exports fell 40% YoY as the Chinese slowdown and trade tensions way on the global economy. Additionally, Singapore announced September trade data and semiconductor shipments for the nation fell 29.4% YoY as there is still a lack in demand. For a company seen as a safe haven form any of the global tensions currently hanging over the industry, this data is highly concerning for the global recovery for chip makers. As exports continue to fall, another indicator that the industry is still lacking in demand is the falling spot price for DRAM memory. The price for 8Gb of memory spiked in July on hope of recovery, but have since fallen back below these levels as supply remains high and end users work through the glut.