Keeping an eye on where the commodity market is heading – and where it does have been – will help in making a good investment/trading strategy. Whether one is investing/ trading in the stock market or commodity market, knowing where the market is heading is very important. Knowing where it is heading is very crucial.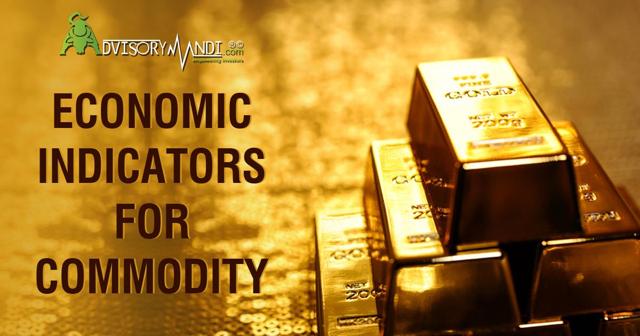 One way to find out is to monitor certain economic indicators for commodity traders. There are some important economic indicators that can help in calibrate and design an investment strategy based on the data provided.
Here we've mentioned some key economic indicators for commodity traders that is worth to check out and follow:
Top 5 Economic Indicators for Commodity Traders
EIA Crude Oil Inventory
It is an economic indicator that is proficient in informing in the weekly change in the no. of barrels of commercial crude oil and a level of crude oil inventories. The EIA data is provided by the Energy Information Administration (EIA) within the Department of Energy (DOE). Oil traders find the EIA Crude Oil Inventory data crucial in understanding the influence of crude-oil reserve of US on the prices of refined petroleum products such as gasoline, heating oil, and diesel among others.
The EIA data informs on the detail activity in the energy sector of the country. The report includes the supply and demand estimates, disposition rates, refinery utilization, crude oil supply, and any movement in the stock exchanges.
The EIA weekly report directly affects the prices of crude oil and future inflation. Naturally, one who is trading in oil in commodity market would certainly monitor this economic indicator given its impact on crude oil prices.
OPEC-monthly Report
The Organization of the Petroleum Exporting Countries in short, OPEC is an intergovernmental organization which works on the major issues of the global oil market. Once started out as an organization made up of five countries the OPEC now become an organization of 14 countries.
Traders who are trading oil or natural gas in commodity market use this economic indicator to see through the data of key political and financial events which put significant impact on the global crude oil prices. The OPEC organization work to avoid fluctuations in oil companies that could impact the economies of producing and purchasing countries.
In short, OPEC plays a major role in maintaining the balance between demand & supply and global crude oil prices that could seriously impact the commodity market, as well as, stock & currency market.
WPI (Wholesale Price Index) & CPI (Consumer Price Index)
Wholesale Price Index in short WPI is an economic indicator that measures the prices of a set of commodities imposed by wholesalers and manufacturers before retail. In short, it tells the change in the prices of commodities between corporations. To commodity traders, it the WPI-inflation data helps in getting information on the present supply and demand in specific industries, construction, and manufacturing areas which allow them to adapt and use the information to make well-informed decisions on their commodity investments and trades. However, this index failed to calculate the price of services. It can be better used in combination with another economic indicator i.e. Consumer Price Index (CPI).
CPI is popular for many reasons.
First, it is an economic indicator that measures the change in prices of a set of goods and services such as transportation, medical care, and transportation etc. CPI is also known by the Cost of Living Index.
This is why India stopped using WPI and adopted CPI to measure inflation. Consumer Price Index also calculates the price changes for both urban and rural part of the country that made it a good approach to know of future inflation.
Second, the WPI only tells the supply and demand only on industry level but CPI tells how much consumers are spending on commodities such as energy and agricultural products.
If used in a combination, a commodity trader can learn a lot about future inflation and the impact of the change in prices on the commodity market.
Gross Domestic Product (NYSEMKT:GDP)
Gross domestic product aka GDP is the widely used economic indicator which measures the value of all goods and services produced within a country. GDP is a high impact data that not only affect the commodity market but also the stock market and currency market.
For instance, if the GDP data tells the low economic growth in the metal industry then it can help the commodity traders who are trading in metal commodities can use the data to predict the future direction of metal commodities. Similarly, the commodity traders can learn a lot about the future fluctuation in commodity prices with the GDP data. If a commodity trader uses the economic calendar to timely check the GDP data, he/she can avoid sudden volatility in the commodity market and make well-informed decisions regarding their investment portfolio.
Purchasing Managers' Index (PMI)
Purchasing managers' index (PMI) is a monthly economic indicator released by the Institute of Supply Management (ISM) that provides data on major sectors such as inventory deals, supply deliveries & employment, new orders, and production. This indicator is a survey-based and tells about any change in business condition, whether it is improving or not.
This is why it is a great economic indicator to get to know of industry output. And this information helps various commodity traders and investors in getting the well-informed decisions regarding their investment portfolios.
With the use of PMI economic indicator, a commodity trader can learn about what's going on in the manufacturing sector.
Hope, this list helped you in understanding the crucial economic indicators for commodity traders. If you have any query or would suggest something then please doesn't forget to mention in the comment section below.