Higher volatility stocks present higher risk of loss, of course, but also trading opportunity. Stock volatility is typically measured as the standard deviation of prices on an annual basis.  Historical volatility may be estimated from price history (e.g., past daily returns over some lookback period) and current and future volatility may be estimated from volatility models.
Volatility forecasts may be used to compute value-at-risk for individual stock positions or portfolios. Model-based volatility may be compared to implied volatility from options pricing to look for potential mispricing, and research has examined how future stock returns relate to a stock's volatility. In the Journal of Financial Economics article "Idiosyncratic Risk and the Cross-Section of Stock Returns," author Fangjian Fu finds that stocks with higher forecasted risk had higher expected returns.
At ABG-Analytics.com, we provide volatility forecasts for all stocks in the S&P 100. Users can sort stocks based on different types of volatility estimates.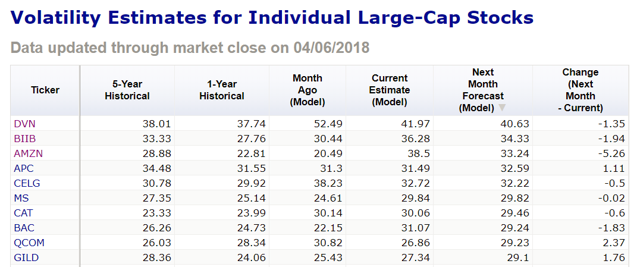 As of April 6, 2018 the stocks in the S&P 100 with the highest volatility forecasted over the next month are:
In the case of AMZN, the forecasted volatility of 33.2 percent represents a decline from the current volatility estimate of 38.5 percent.
Disclosure: I am/we are long AMZN.
Additional disclosure: We are not financial advisors and do not provide investment advice. Content provided for informational purposes only.