WiseTech Global is a leading software provider to the logistics services industry across the globe. Across 130 countries, their software enables logistics service providers for storage of goods and facilitate the movement and information domestically and internationally. WiseTech shares surged to $16.140 and moved up over 3% as at July 02, 2018, with a further rise on July 03, 2018 to $16.29 at the market open. WiseTech caters to more than 7,000 customers, and the company has more than 44 billion data transactions annually. Increasing demand for integrated ecosystems to improve competitiveness and productivity and the consolidation that continues for 3PL and 2PL providers (third-party and second-party logistics providers) have been the key strengths for WTC.
Borders blurring across the logistics industry and growing demand of few new commercial provider entrants of scale are changing the landscape. 3PL e-commerce growth is now growing more than 15% in key regions driven by consumer spending and new solutions are required because of increased cross-border purchase. eCommerce volumes are also expanding 3PL businesses and pressurizing it, increasing cross border transaction to facilitate commerce. This has overall benefitted the group. Given the entire gamut and tech stocks soaring high these days, WTC has witnessed a significant 72% jump in last three months, as at July 02, 2018.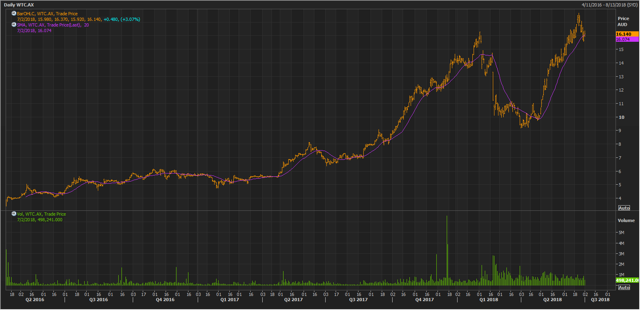 WTC daily price chart as at July 02, 2018, Source: Thomson Reuters
On one hand, tech stocks like WTC have been on the higher side on ASX ledger, few drags that emerged lately were of the pharma domain. In particular, Australian Pharmaceutical Industries Limited (ASX: API) was down over 6.765% to end at $1.585 as at July 02, 2018, with a further drop of 3% noted in early trade on July 03, 2018. API had announced an underlying profit after tax of $26.8 million for the first half of 2018 which is down on the prior corresponding period being blamed with tougher retail competition. API, which is into creating a leading Australian health and beauty products and services retail business, lately entered into binding agreements to acquire the assets of Clear Skincare Clinics for a total cash consideration of $127.4 million. The acquisition that has been established specifically for this purpose will be initially funded through debt facilities. New restructuring efforts and Priceline Pharmacy leadership with building loyalty program investment in banner brands and increased focus on differentiating product offering and independent pharmacy services to maintain returns and market position, are some key strengths. Store network growth is said to be pumped up with pipeline for the remaining CY18, while challenges in retail environment will persist through 2018 as the requirement to address exclusive distribution in pharmacy intensifies. Further, pressure from Amazon getting into pharmacy retail segment has been haunting the group. Nonetheless, management's focus is to further improve debt and balance sheet. It is anticipated that the group would divert the cash generation to reinvestment in business expansion.
It will be worth watching these 2 stocks over the near term.