Any book written by a successful investor will tell you the same things; that you need to go beyond the headlines to get at the facts and to anticipate and not react. Or for those Stanley cup watchers out there, think of it as ignoring where the puck is and skate where it's going to be, but how many can do that when the world can radically change moment by moment or tweet by tweet? Beyond the tweets and clickbait that dominated the headlines last week, the real attention grabbers were two relatively minor events with the first being the widely reported and equally widely panned announcement by privately-held startup Domo that it was filing for an IPO. The second was even more prosaic as Microsoft (NASDAQ:MSFT) surpassed Google (NASDAQ:GOOGL) to retake its lead in that battle for market cap supremacy.
While seemingly unconnected, we think these two disparate events are more important than you think which is why our inaugural post here on Seeking Alpha is not focused on debating analyst outlooks or cash flow estimates but showing our readers how to use ETF data to help spot a major pivot among market leadership and what it could mean for sector returns down the road.
Domo, Netflix and the Dominant Trade:
Seeing as this is our first post, you're probably wondering who we are, what we do and more to the point, why you should care? To keep the advertising to a minimum, ETF Global is a quantitative research shop that provides ETF data and insights including our own daily proprietary rankings for equity ETF's on a wide variety of metrics including both "behavioral" including price momentum, short interest and implied volatility along with fundamental. Clients employ our data in a variety of ways but one common application is for trend analysis, looking for patterns of amid ETF holdings or themes to spot new trends and right now we're watching two trends which we'll call the "dominant" and "emerging" trends.
So why does an ETF data shop care so much about a privately-held analytics firm based out of Utah? Is it just schadenfreude? Maybe a little, but there's more to it than that. First, there's the intangible factors like the generally negative views of most media coverage of Domo's IPO filing. Most are quick to point out that the company is both deeply unprofitable (generating a net loss of $176.6m on $108.5 million in revenue) and desperate for cash with roughly $72 million on hand and no ability to borrow more according to Business Insider. In fact, the situation is so dire that if they can't raise additional capital they supposedly will be forced to take drastic measures by the end of the summer.
Desperate times no doubt and investors can be forgiven for seeing shades of the dot.com boom and bust but what has us curious is just how neatly the market's reaction to Domo's announced IPO syncs up with a broader trend we're seeing as publicly traded, high-flying tech funds continue to outperform.
Tech stocks have been high flyers based on two metrics, price and relative valuations, and saying tech stocks are trading at high multiples is like saying Marc Fleury is a decent goalie. Both are true, but only in the broadest sense of the word. Consider some of the larger tech funds like the Technology Select Sector SPDR Fund (NYSEARCA:XLK) or its close competitor the Vanguard Information Technology ETF (NYSEARCA:VGT). Both are trading at higher P/E multiples than the S&P 500's 24.6x but that's only part of the story. We score funds on a variety on valuation metrics and both XLK and VGT are trading at some of the highest multiples in their histories. On a P/B and P/CF basis both funds are trading in the top percentile while their P/E ratios are currently in the top 5th percentile. Both funds aren't just richly priced compared to the broader market, they're richly priced compared even to their long trading histories.

While comparing broad tech funds is a helpful place to start, XLK holds older and more established names with 25% of the portfolio in Apple (NASDAQ:AAPL) and Microsoft (MSFT), consider how extreme the valuations have gotten among the more cash hungry FAANGS, especially Amazon (NASDAQ:AMZN) and Netflix (NFLX.) While investors may love their performance, both NFLX and AMZN are trading at more than 200x earnings and with substantially higher debt loads and cash flow needs than many of their peers. On a price basis, both have pushed into an area that our technician friends would call the Danger Zone. Whether you look at daily, weekly or even monthly charts, both stocks have pushed their relative strength index scores well above the 70 level that indicates being overbought while their trade volumes have remained stable or declined slightly.
How that performance affects our data would be obvious to trend followers looking at our list of top funds ranked by their behavioral scores. That performance has translated at the fund level into NFLX and AMZN heavy ETF's having strong price momentum scores, typically those smaller funds with weighting systems that allow large overweights to strong performers. Case in point, the First Trust Dow Jones Internet Index Fund (NYSEARCA:FDN) which has large positions in both AMZN and NFLX and is up almost 25% this year, and now trading at nearly 40x trailing earnings, a new high for the fund. Or the PowerShares NASDAQ Internet Portfolio (NASDAQ:PNQI) with a nearly 10% weight to NFLX, up almost 19% YTD and trading with a P/E multiple close to 50x.
Trading at high multiples is nothing new for tech funds and NFLX and AMZN continue to outpace the broad market plus being a top performer one week doesn't necessarily mean you're doomed to drop down the list the next, but trades are potentially way too crowded when lots of funds with a similar theme (healthcare, technology, hedged equity) make their way to the higher rankings and ultimately that's one of things that has us most worried. PNQI and FDN have strong momentum but both also have more modest scores of implied volatility and short interest and combine that with their high valuations and both have relatively low quant scores overall.
The Emerging Trend
The second "major" event of the week for us was Microsoft (MSFT) surpassing the company formerly known as Google (GOOGL) by market cap for the first time since 2012. While that might elicit yawns for a large part of our readers, that minor milestone is much more significant that you might imagine given not just how poorly the more value-oriented sphere of the market has been doing since 2017. Just for a point of reference, check out this chart comparing the relative performance of the iShares Russell 1000 Growth and Value ETF's (IWF and IWD respectively) where the tech-heavy IWF has crushed IWD, dominated as it has been by financials and energy.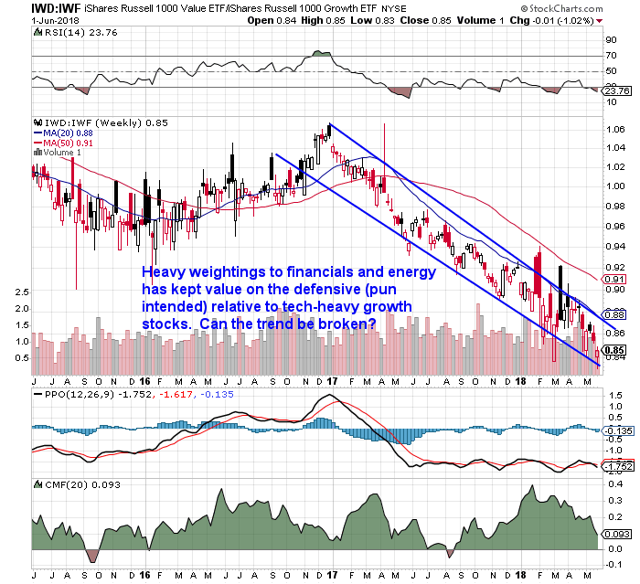 Now no one would mistake MSFT, currently sporting a P/E ratio of 91x and P/B of nearly 10x, for a value stock except in relation to the rest of the technology subsector and while MSFT's weekly return didn't crack the S&P 500's top 50. In fact, MSFT is now much more richly priced than GOOGL and certainly more than S&P 500 heavyweight AAPL which has already left the large growth box as it's being given the J.J. Abrahms treatment where people "fondly" remembered when they were innovative. But MSFT's big turning out did fit neatly into a broader trend we first noticed last week of financially stable but largely overlooked businesses suddenly finding themselves the belles of the ball
Many of these resurrected names range across a wide variety of industries, and generally fall into two distinct categories. First are those connected with some of the more popular growth sectors and then among the deeply discounted in the "left for dead" segments of the economy. Different industry codes but what they do share is typically a solid financial footing; manageable amounts of debt and enough liquid assets for a respectable current ratio not to mention a dividend payment, although not necessarily as large as the current yield of S&P 500's 1.85%.
In the first camp you'll find numerous semiconductor names like Microchip Technology (NASDAQ:MCHP) and Texas Instruments (NYSE:TXN) and Intel (NASDAQ:INTL) although the real standout in that space has been Micron Technology (NASDAQ:MU) with a 42% return for 2018 even after including last week's disappointing 4.4% return.
Where we see that trend playing out in our data is by the strong showing among semiconductor funds on our behavioral lists with the iShares PHLX Semiconductor ETF (NASDAQ:SOXX) and VanEck Vectors Semiconductor ETF (NYSEARCA:SMH) holding down the 1st and 2nd top spots respectively. Both funds have a lot in common, not surprising given how few names there are in the semiconductor space. They both have highly concentrated portfolios with strong weightings to names like TXN and INTL which is why they're currently sitting on top of the behavioral list but SOXX, with a history dating back to 2001, is still not trading at peak valuations compared to its own past. The strong performance by semiconductor names has also pushed at least on broader dividend fund, the Vanguard Dividend Appreciation ETF (NYSEARCA:VIG), onto our list of top performers and what is its number one position? Microsoft.
The other space where we've seen a lot of market action that hasn't as readily translated to the ETF space is in deeply discounted names like specialty retailers like Foot Locker (NYSE:FL) and Advanced Auto Parts (NYSE:AAP) or broad retailers like Macy's (NYSE:M) and Kohl's (NYSE:KSS). Most of these names are smaller and so tend to be less widely held than Megacap tech names so instead we've seen a number of small-cap value funds make our behavioral list including the SPDR S&P 600 Small Cap Value ETF (NYSEARCA:SLYV) and iShares S&P Mid-Cap 400 Value ETF (NYSEARCA:IJJ) although both of these funds still have financials as their number one sector allocation.
The Week Ahead:
It's impossible to tell what the coming week will hold for our models and whether value stocks will finally get their do but looking to the long-term our data points to two incontrovertible facts. The first is that tech funds are trading close to peak valuations, something understandable in a zero-rate environment but hardly the case here, and that some are starting to look at value names, whether for their own sake or simply to avoid overpriced stocks is uncertain.
But now that we've overwhelmed you with information, where do we go from here? While we don't do "buys" or "sells" it would be irresponsible of us to send you off without at least one fund to consider whether you want tech or just want to avoid having 100% in it.
Your Weekly Call to Action:
For Those Who Can't Live Without Tech:
Let's face it, sometimes it can be hard enough to walk away from a losing trade but what about those with big gains on NFLX and AMZN? You could try switching from a narrow, market-cap weighted fund focused on internet names for a broader technology sector product with an equal weighting scheme, but if you want to keep exposure to the NASDAQ's top names, we'd suggest checking out the Pacer Trendpilot 100 ETF (BATS:PTNQ), especially as it closes in on its three-year anniversary later this month.
Linked to the NASDAQ 100, It earns its name by following a series of simple trade rules built around the NASDAQ 100's 200-day simple moving average to determine whether the exposure should be 100% equity, 50% equity/50% T-bills or 100% T-Bills. Easy to understand and PTNQ has done a good job keeping up with the NASDAQ over the last two years, but the fund struggled during a more volatile, sideways market in 2015 and might do so again if history repeats itself.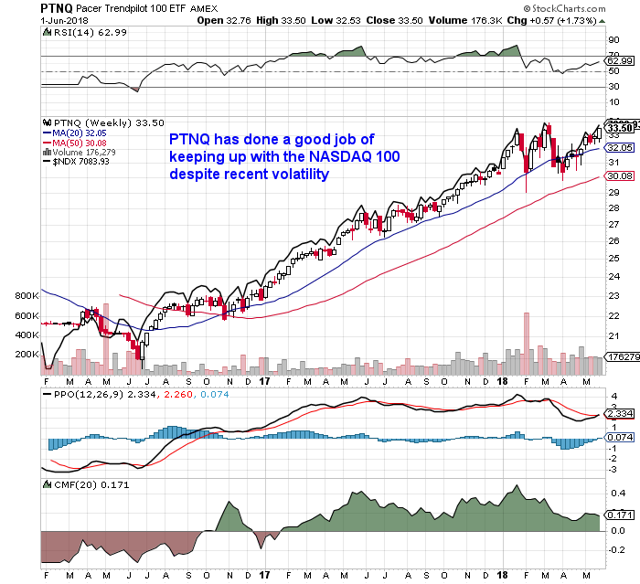 Disclosure: I/we have no positions in any stocks mentioned, and no plans to initiate any positions within the next 72 hours.
I wrote this article myself, and it expresses my own opinions. I am not receiving compensation for it (other than from Seeking Alpha). I have no business relationship with any company whose stock is mentioned in this article.
Additional disclosure: Assumptions, opinions and estimates constitute our judgment as of the date of this material and are subject to change without notice. ETF Global LLC ("ETFG") and its affiliates and any third-party providers, as well as their directors, officers, shareholders, employees or agents (collectively ETFG Parties) do not guarantee the accuracy, completeness, adequacy or timeliness of any information, including ratings and rankings and are not responsible for errors and omissions or for the results obtained from the use of such information and ETFG Parties shall have no liability for any errors, omissions, or interruptions therein, regardless of the cause, or for the results obtained from the use of such information. ETFG PARTIES DISCLAIM ANY AND ALL EXPRESS OR IMPLIED WARRANTIES, INCLUDING, BUT NOT LIMITED TO ANY WARRANTIES OF MERCHANTABILITY, SUITABILITY OR FITNESS FOR A PARTICULAR PURPOSE OR USE. In no event shall ETFG Parties be liable to any party for any direct, indirect, incidental, exemplary, compensatory, punitive, special or consequential damages, costs, expenses, legal fees, or losses (including, without limitation, lost income or lost profits and opportunity costs) in connection with any use of the information contained in this document even if advised of the possibility of such damages.

ETFG ratings and rankings are statements of opinion as of the date they are expressed and not statements of fact or recommendations to purchase, hold, or sell any securities or to make any investment decisions. ETFG ratings and rankings should not be relied on when making any investment or other business decision. ETFG's opinions and analyses do not address the suitability of any security. ETFG does not act as a fiduciary or an investment advisor. While ETFG has obtained information from sources they believe to be reliable, ETFG does not perform an audit or undertake any duty of due diligence or independent verification of any information it receives.

This material is not intended as an offer or solicitation for the purchase or sale of any security or other financial instrument. Securities, financial instruments or strategies mentioned herein may not be suitable for all investors. Any opinions expressed herein are given in good faith, are subject to change without notice, and are only correct as of the stated date of their issue. Prices, values, or income from any securities or investments mentioned in this report may fall against the interests of the investor and the investor may get back less than the amount invested. Where an investment is described as being likely to yield income, please note that the amount of income that the investor will receive from such an investment may fluctuate. Where an investment or security is denominated in a different currency to the investor's currency of reference, changes in rates of exchange may have an adverse effect on the value, price or income of or from that investment to the investor.