The key to making money in the markets is having the right information, the most up-to-date research, and early-mover status in technologies that are changing the world.
Pure Blockchain Wealth is dedicated to providing you with that vital information and research, and all of our data is telling us loudly and clearly that the blockchain is the next big mover in the markets. We've seen these moves before, and most people don't get in until the big profits have already been made – but there's still time to get in on this one.
Time is of the essence, though, as blockchain technology is already expanding its global presence every single day. Distributed ledger technology is the new way to do banking, business, and data storage and transfer; fiat currencies just don't get people excited anymore.
People and institutions want all kinds of coins, but digital currencies can't exist without miners. Whichever firm can provide the best mining with robust hashpower capabilities is going to be an investor's dream: a way to get huge yield from the massive demand for blockchain mining.
Nowadays, every financial sector is putting money into the blockchain. Just the banking sector by itself is pouring money into blockchain tech because they know that's where the future lies: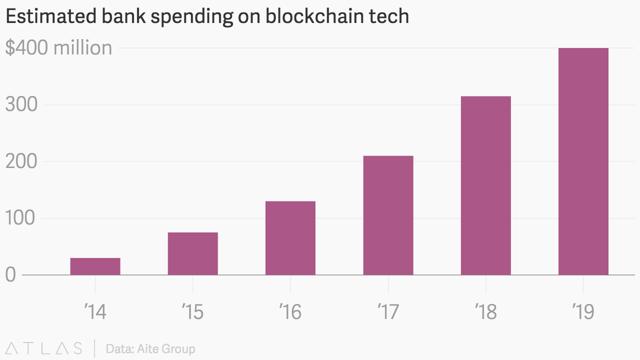 Courtesy of Aite Group
Hundreds of millions of dollars are flowing into this new and exciting technology, and the world needs a company that can meet the growing demand for huge quantities of hashpower. Coins like Ethereum, Monero, and Zcash are increasingly popular, and Pure Blockchain Wealth is positioned to benefit from the blockchain boom with a firm that has the right team, top-of-the-line infrastructure, and the deep capital resources necessary to meet the tremendous need for blockchain mining in 2018.
The only company that's truly a pure play in blockchain mining – the one company that can really keep up with the world's huge demand for hashpower – is HIVE Blockchain Technologies(TSX-V: HIVE, OTC: HVBTF). This is a unique company with significant flexibility to mine multiple cryptocurrencies and to establish a market presence while scaling their mining business.
HIVE Blockchain Technologies has an edge over the competition because they are partnered with world-class hashpower provider Genesis Mining; experts in the field know them as the biggest hashpower provider in the world.
Genesis Mining was founded in 2013 by early Bitcoin investors, and they built the world's first large-scale Bitcoin mining facility in 2014. Marco Streng, Co-Founder and CEO of Genesis Group and an Advisor to HIVE, explains why this alliance will position HIVE as the leading infrastructure firm for the blockchain era: "This is a strategic opportunity for Genesis to access capital and build a bigger business publicly than we ever imagined building our first home-based bitcoin mining machines five years ago."
One result of this partnership is GENESIS HIVE, a proprietary web interface created by Genesis Mining that enables HIVE to easily set up, watch and manage their mining facilities. GENESIS HIVE is the ultimate control panel to manage the company's mining rigs.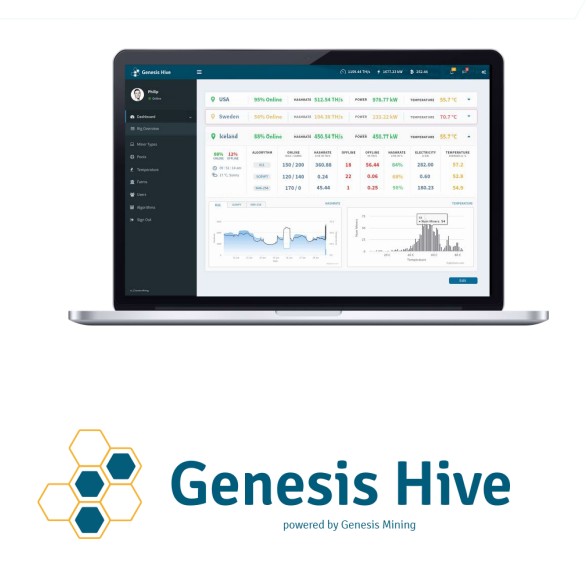 Courtesy of HIVE Blockchain Technologies Investor Presentation
And there's more great news: HIVE Blockchain Technologies recently announced the closing of its acquisition of Kolos Norway AS and its 64-hectare property in Ballangen, Norway. This acquisition of the property supports HIVE's ongoing strategy of acquiring and developing assets with access to low-cost power in cold climates and supplies the company with extensive flexibility to expand the business.
The strategic partnership between HIVE and Genesis Mining is a fantastic development, and the acquisition of Kolos Norway AS is great news for investors looking to capitalize on the blockchain revolution. To position yourself for the big move that's about to happen in the blockchain and in HIVE, the time to take action is right now. You'll also want to go here and download our full exclusive report on HIVE and the wealth that an invest ment in the blockchain will bring you.
Disclosure: I am/we are long TSX-V: HIVE, OTC: HVBTF.
Additional disclosure: Legal Notice: This work is based on SEC filings, current events, interviews, corporate press releases and what we've learned as
financial journalists. It may contain errors and you shouldn't make any investment decision based solely on what you read here.
It's your money and your responsibility. The information herein is not intended to be personal legal or investment advice and
may not be appropriate or applicable for all readers. If personal advice is needed, the services of a qualified legal, investment or
tax professional should be sought.
Never base any decision off of our advertorials. Pure Blockchain Wealth stock profiles are intended to be stock ideas, NOT
recommendations. The ideas we present are high risk and you can lose your entire investment, we are not stock pickers, market
timers, investment advisers, and you should not base any investment decision off our website, emails, videos, or anything we
publish. Please do your own research before investing. It is crucial that you at least look at current SEC filings and read the latest
press releases. Information contained in this profile was extracted from current documents filed with the SEC, the company web
site and other publicly available sources deemed reliable. Never base any investment decision from information contained in
our website or emails or any or our publications. Our report is not intended to be, nor should it be construed as an offer to buy
or sell, or a solicitation of an offer to buy or sell securities, or as a recommendation to purchase anything. This publication may
provide the addresses or contain hyperlinks to websites. We are long HIVE Blockchain Technologies and have received options
directly from the company and have been paid two hundred and fifty thousand Canadian dollars for three years of digital marketing
paid for directly by the company. Please use our site as a place to get ideas. Enjoy our videos and news analysis, but never
make an investment decision off of anything we say.
Please read our full disclaimer at PureBlockchainWealth.com/disclaimer