Emotional biases, for the most part, are an investor's greatest enemy. The fear of missing out, or what some people have called "FOMO," is a powerful emotion that skews investors' thinking and causes destruction of wealth.
Sure, we're all on the hunt for the next Google, Amazon, or Microsoft, but the foundation for our search should be research, not emotions.
It's not that emotions are all bad, all the time. I get emotional when I do the research, as I have a passion for finding the next big winner in the vast equities markets. I also get emotional when I write and release these reports, since I care about my readers and I want to get this vital information out as quickly as possible.
But I also want the information to be 100% accurate and reliable, so I'd rather take my time and get it right than put out a second-rate report.
Sadly, regret is a major force in most retail investors' mindset. I urge you to quit focusing on opportunities that you may have missed in the past, and instead concentrate on what's coming in the future.
You'll want to place your bets on companies and stocks that will soar in the upcoming weeks, months, and years, not the ones that are already expensive due to excessive hype. Remember, the mainstream media and the majority of retail investors will pile on a company or a technology only after the sector has become overpriced and overvalued.
To avoid feelings of regret in your investing strategy, get ahead of the curve and think in terms of what will be dominant in the near future – what's coming down the pipeline.
Future Money Trends is always looking for what's next in the technology space, since that is where the biggest gains tend to occur. What the team has come up with might surprise you: we've been focusing our attention on the AI sector, which is also known as artificial intelligence or machine learning. This is a technological innovation in which computers can actually learn on their own, without always having to be programmed or instructed by humans.
This is a sub-sector of the technology space that is forecast to have double-digit growth in the coming months and years:

Courtesy of BBC Research
Autonomous robots, digital assistants, and expert systems are poised for huge and consistent growth, and I've taken a specific position in the AI space because I don't want to feel the pangs of regret that come from missing out on huge gains.
With artificial intelligence, computers actually have the ability to mimic or duplicate the functions of the human brain, and this type of machine learning is already permeating our lives whether we're aware of it or not.  In today's modern world, it's virtually impossible to avoid the influence of AI: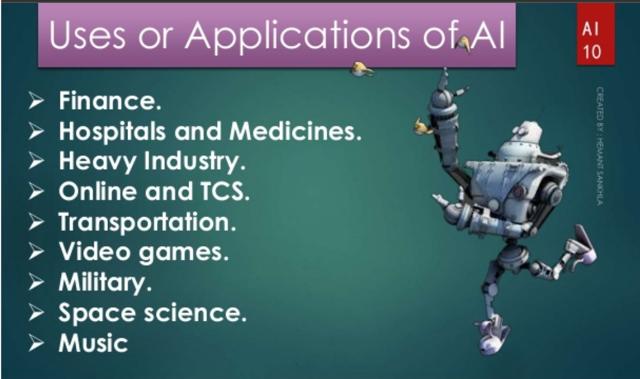 Courtesy of Hemant Sankhla
No matter what industry you're operating in, whether it's business or personal, you really can't avoid the impact of machine learning. Tom Beck, the chief researcher at Portfolio Wealth Global, has been working with my research team to identify the next big winner in the AI niche; Tom has posted his own report on AI which you can read here.
Putting our heads together and working on this for months, we finally discovered the one firm that is going to dominate the AI landscape: Globalive Technologies (TSX-V: LIVE, OTC: LVVEF).

I chose this company because it's unique in the industry, the only truly pure way to play the global takeover of machine learning. Anthony Lacavera, Globalive's CEO and founder, has assembled a top team of professionals in AI, blockchain, finance, and business for this outstanding company.
In addition, when we factor in Globalive's joint venture with CoinSquare, a leading digital asset trading platform in Canada, along with Globalive's partnership with Flexiti Financial, a leading financial technology company, you've got an investment opportunity that is simply undeniable.
Go here to download Future Money Trends' exclusive report on how to profit right now from AI and Globalive.
Disclosure: I am/we are long TSX-V: LIVE, OTC: LVVEF.
Additional disclosure: Legal Notice: The ideas, projections and views expressed are those of FutureMoneyTrends.com and are not ideas, views or recommendations of Globalive or any of its officers or directors. Any forward looking statements are based on our assumptions, projections, beliefs and expectations, however, there is no guarantee that these statements will prove to be correct and are subject to risks and uncertainties. This work refers to joint ventures or investments that Globalive is a party to. Some of the joint ventures may be subject to further negotiation or documentation. Never base any decision off of our emails.FutureMoneyTrends.com stock profiles are intended to be stock ideas, NOT recommendations. The ideas we present are high risk and you can lose your entire investment, we are not stock pickers, market timers, investment advisers, and you should not base any investment decision off our website, emails, videos, or anything we publish. Please do your own research before investing. It is crucial that you at least look at current public filings and read the latest press releases. Information contained in this profile was extracted from current documents filed with the public, the company web site and other publicly available sources deemed reliable. Never base any investment decision from information contained in our website or emails or any or our publications. Our report is not intended to be, nor should it be construed as an offer to buy or sell, or a solicitation of an offer to buy or sell securities, or as a recommendation to purchase anything. This publication may provide the addresses or contain hyperlinks to websites; we disclaim any responsibility for the content of any such other websites. We have entered into a three year agreement directly with the company. We plan to purchase shares on the open market as a long-term holding, we have also been compensated eight hundred thousand dollars, eight hundred thousand options, and been given one million nine hundred thousand RSUs. Please use our site as a place to get ideas. Enjoy our videos and news analysis, but never make an investment decision off of anything we say. Please read our full disclaimer at FutureMoneyTrends.com/disclaimer