With only 14% gain over the last year am I confident that Alarm.com has a lot to offer with room for increasing fees together with a strong ecosystem.
Alarm.com offers a complete Smart Home Solution with thermostat monitoring, light control, water sensors, remote door and window lock as well as video security from the cloud.
Alarm.com has over 5.5M homes connected to their platform which makes their annually average revenue per home around $53. I forecast their SaaS fee can over the next 8 years increase to $114 annually ($9.5 monthly). According to Safewise does a security system cost between $600-$1200 in upfront payment and $15-$100 in monthly subscription, average $30.
My forecast assumes Alarm.com will continue to have 70% of the smart home market share which equates to a market growth of around 20%.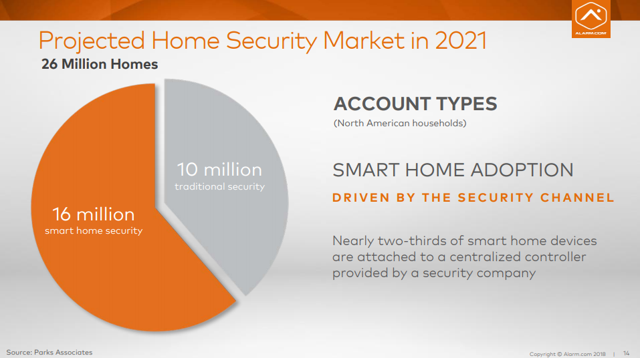 Cost Control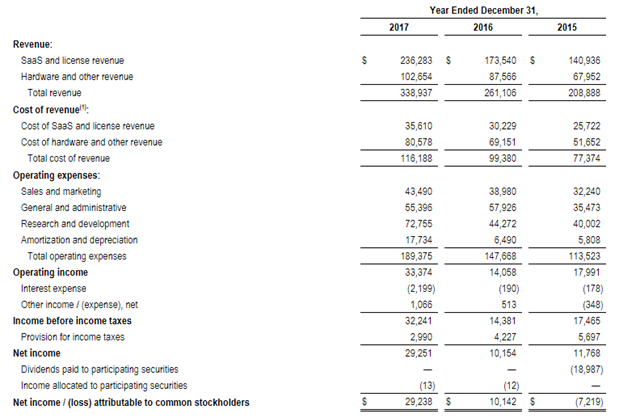 Alarm.com has during the last three years grown their revenue around 27% YoY, despite this has their S&M and G&A increased modestly. 
Due to Alarms partnership with over 7000 service center indicate that their S&M costs as well as G&A will increase only modestly despite rapid growth.
Investment Thesis
The upfront investment makes the customer unlikely to change to a competitor after their initial purchase, the SaaS model leaves Alarm with a strong recurring revenue with a costumer unlikely to cancel the service.
Apart from the strong recurring revenue and loyal customers does Alarm have a strong ecosystem of products, which leaves a lot of room for up selling.
With this in mind and that Alarm.com have room to increase their prices to almost double within 8 years leaves me to believe this is a strong buy.
Risks
Alarm.com is mostly a software company where human capital is very important to keep and nurturer, this can be done by a few ways, company culture, work-/life-balance and compensations just to name a few. Reviews on Glassdoor.com are mainly positive but they all contain a common denominator, compensation. Alarm.com compensates their employees below market standard and this can hurt both recruiting and keeping key employees which can have a detrimental effect on the company.

Alarm.com service is required to work 100% of the time, this leaves them vunerable to natural catastrophes that threat to destroy the infrastructure the products are built upon.
Disclosure: I am/we are long ALRM.
I wrote this article myself, and it expresses my own opinions. I am not receiving compensation for it (other than from Seeking Alpha). I have no business relationship with any company whose stock is mentioned in this article.