While I was away last week, my Dear followers, you surely knew
what to do as far as I can judge by the BTC graph. Another 2 traps at
8630 and 7625 have been smoothly processed and that opened a
comfortable German "autobahn"-like way to the absolutely critical
target of 4700
  However, on a weekly chart BTS seems to have formed a bearish
triangle in continuation of the 1st leg to 6000 If so we might see the
prices by far lower than 1800 even. The volumes have lowered down
whereas the bulls have either been trapped or gone away from risk.
So try to consider the current levels of around 7000 as another
good start-line for the USD investment of yours…But! Do not forget the
non-farm payrolls data which will be released on Friday. Hold your
position tight if you entered 3-4 weeks ago and stay aside off the market
until Monday if you are flat.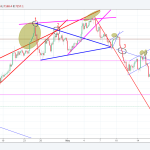 Finally have a look at "our brother" Etherium – nice 3 traps in a
raw were developed on top of the graph and it has definitely deserved
"leaning back in a leather chair" by now. Half a way down to the target
of 350 has been passed and any obstacles are unlikely to be in front.
  Apparently at present both you & me "are doing what is necessary
to succeed", as per Sir Winston Churchill. Just keep an eye on my
graphs whenever you have a minute.