Basic Facts
Global Arena Holding, Inc. (OTCPK:GAHC) is a company that is engaged primarily in overseeing elections among labor unions. They also own a 10% stake in Blockchain Tech Corp, from Banking on Bitcoin fame. They have 849.02M shares outstanding at a price of $0.0027 each as of November 9th, 2018.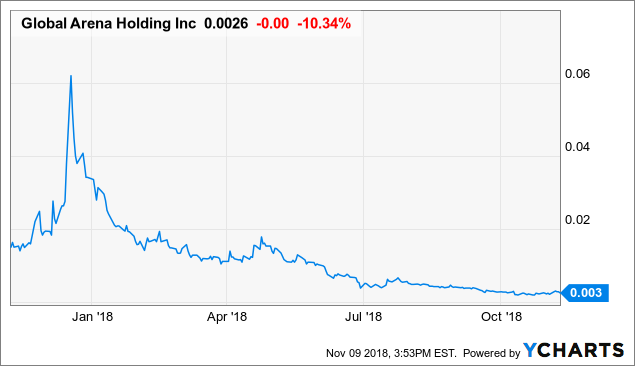 Their share price has been punished this year due to market conditions, a large increase in the number of common stock, and probably due to the fact that they have debt in default.
In March 2014, the Company issued two promissory notes for a total of $230,000. The interest rate is the short-term applicable federal rate as determined by the Internal Revenue Service for the calendar month plus 10%. These two promissory notes were expired on September 14, 2015 and are in default as of June 30, 2018 and December 31, 2017. - GAHC 10Q
Upcoming Events
Annual Shareholders Meeting - November 16th, 2018 at 9:00 a.m. EST
Balance Sheet
The balance sheet leaves something to be desired on many fronts. First, let's look at the assets and liabilities.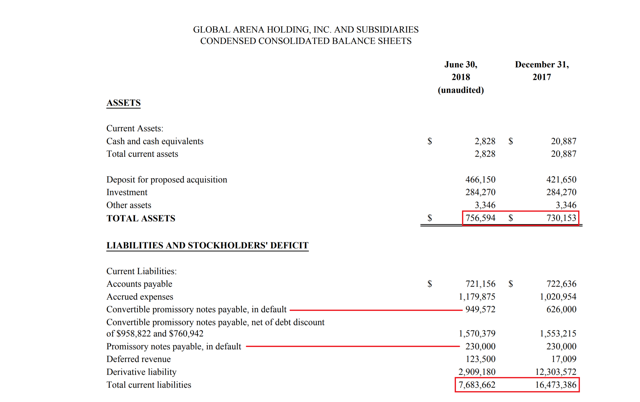 Source: GAHC 10Q
This company has liabilities 10x greater than their assets. In addition to that, they have notes payable in default totaling $1,179,572; not a good sign. The total liabilities have been reduced significantly since 2017, but given the state of the market (I'm referring to the cryptocurrency market, since this company seems to have placed themselves in that market), I don't see any miracles coming down the pipe anytime soon.
Let's look next at the shareholder's equity (deficit).

Source: GAHC 10Q
This company is a veritable black hole. Cash goes in, but it doesn't come out. How were they able to raise $17M? I have no idea. The only thing I can think of is that the CEO must be one heck of a salesman.
Income Statement
The income statement shows that GAHC is more of a holding/investment company than a company that makes its money from traditional operations. The fair value of their derivatives swung by more than $2.1M, while they only brought in $201k from services (I'm assuming this is the voting service they offer).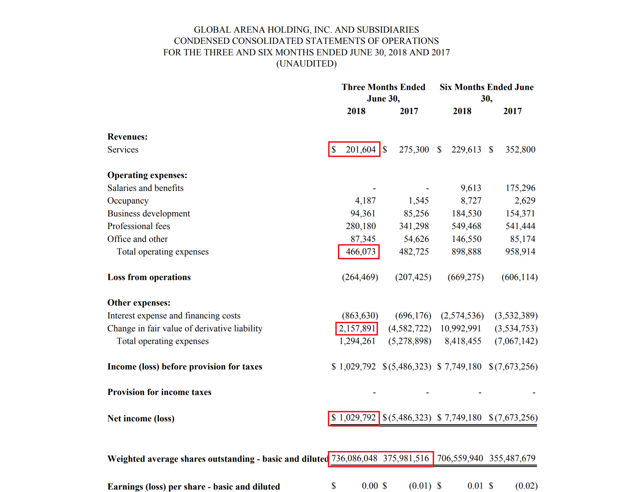 Source: GAHC 10Q
The total operating expenses were twice what they made from services, but because of the change in derivatives value, the company was able to show a profit of more than $1M in the three months ended June, 2018. But, this seems suspect to me. Remember that they have debt in default over $1M?
This concern is well summed up in this note from their 10Q.
The accompanying consolidated financial statements have been prepared in conformity with accounting principles generally accepted in the United States of America, which contemplates the continuation of the Company as a going concern. The Company has generated recurring losses from operations and cash flow deficits from its operations since inception and has had to continually borrow to continue operating. In addition, certain of the Company's debt is in default as of June 30, 2018. - Source: GAHC 10Q
The number of shares outstanding has doubled in the last year, which has led to dilution of the share value. This is not the kind of behavior that is sustainable. Would you want to hold shares in a company that was engaging in this kind of behavior?
Derivatives Breakdown
These derivatives deserve some research. It appears that they are really debt obligations that have the ability to be converted into common stock. So, ironically; as the company's share price plummets, the derivatives are worth less, which reduces the company's liabilities.
In other words, by issuing debt that can be converted into stock, they create a liability for themselves. Then, by doubling their stock in circulation, they punish the debt holders and reduce their liabilities. That $2M on their income statement from the derivatives fair value adjustment is really pain born by the investors in GAHC. Without that pain inflicted on their investors (if the enterprise value had stayed the same over the last six months), their would be showing $3M in the operating loss box, in addition to their $1M of debt in default.
NOTE 6 - DERIVATIVE FINANCIAL INSTRUMENTS

Certain of the Company's convertible promissory notes payable are convertible into shares of the Company's common stock at a percentage of the market price on the date of conversion. The Company has determined that the variable conversion rate is an embedded derivative instrument. The Company uses the Black-Scholes valuation method to value the derivative instruments at inception and on subsequent valuation dates. - Source: GAHC 10Q
Nice.
More Bad News
Lets take a quick tour of recent history. GAHC (which owns GES, "Global Election Services, Inc.") used to be called GAHI, "Global Arena Holding Subsidiary Corp." GAHI owned GACOM, "Global Arena Commodities Corporation." GACOM ceased operations in 2014 and closed in 2016 completely. However, there are still liabilities on GAHC's balance sheet due to these defunct entities.
Lingering Legal Issues
On October 10, 2013, GACOM settled a complaint with the National Futures Association for a fine of $50,000 for certain noncompliance with Commodity Futures Trading Commission regulations. The fine has not been paid and is included in accounts payable and accrued expenses at December 31, 2017 and 2016. - Source: GAHC 10Q
That sounds bad... but wait, there's more!
On December 23, 2014, one of the Company's prior attorneys commenced an action against GACC, GAHI, and PMC Capital seeking payment of $150,019 in unpaid legal fees. This amount is included in accounts payable. This action and all related claims were discontinued and dismissed without prejudice in their entirety on January 12, 2018.

On November 5, 2015, one of the Company's prior attorneys commenced an action against GAHI, seeking payment of $27,518 in unpaid legal fees. This amount is included in accounts payable. On June 22, 2017, the Company made a $5,000 payment adding to the previous payments totaling $22,518 in 2016. The Company is currently negotiating a final payment of $6,000 to end the litigation. - Source: GAHC 10Q
If that wasn't enough...
On December 26, 2017, the Company entered into a settlement agreement with a prior attorney with regards to outstanding legal fees owed. Pursuant to this settlement agreement, the Company paid $50,000 on December 29, 2017, and will pay an additional $200,000 during 2018. - Source: GAHC 10Q
Labor Violations
On December 1, 2016, an action was commenced by an individual against GES, the Company, and the chief executive officer of the Company, which asserts claims for violation of the Fair 19 Labor Standards Act, and overtime violations under New York State Labor Law, and seeks damages in an amount to be determined at trial, plus interest, attorneys' fees and costs. On August 31, 2017, upon payment of the settlement of $40,000, the action was dismissed in its entirety with prejudice. - Source: GAHC 10Q
Summary
Yeah, I have to pass on this company. Their exposure to blockchain isn't going to save them. If GAHC is going to make it, they need to figure out how to make some actual income, start paying their debts, and get their house in order. For me, there are far too many debt and legal issues to even consider this company for any kind of investment.
What about you? What are your thoughts? Let me know in the comment section below.
Cheers,
Hans
This article was published first in Crypto Blue Chips.
Disclosure: I/we have no positions in any stocks mentioned, and no plans to initiate any positions within the next 72 hours.
I wrote this article myself, and it expresses my own opinions. I am not receiving compensation for it (other than from Seeking Alpha). I have no business relationship with any company whose stock is mentioned in this article.