Introduction (Back to Basics)
World is evolving every day and with new technologies and tools. Whether we have block chain or cloud, the one thing that remains same even after 100 years is the need for food. No one can dispute and live without that even if there is a change of wave in tastes. People might have more to choose from today as opposed to 50 years back but all that we are doing is eating which remains the same. The boss of your kitchen will be delighted if he/she has all the quality ingredients to cook or bake at her reach right in the kitchen Shelves. One of the best American companies which control your wallet and your boss too for that matter is none other than General Mills. Yes... It's hard to find a kitchen without one of their product no matter which ethnic background you are from. The company has such a diversified portfolio of products. When a product from a company represents every household kitchen, imagine how stable their business might be irrespective of the rapid changes taking place in the world. Invest there and get your kitchen filled for free and in turn your stomach when it's growling using the generous dividend from General Mills....
Why General Mills (NYSE:GIS)?
General Mills (GIS) is one of those boring investments that just continue to deliver returns to shareholders. It is a solid company with diversified product lineup. Their products are enjoyed in more than 100 countries on six continents. They own major leading U.S. and Global bands when comes to food. Brands like Nature wally, Yoplait, FiberOne, Green Giant, Cheerios, Pillsbury, Bisquick, Chex Mix, Wheaties, Trix, Haagen-Dazs, Betty Crocker are just a sample of some of the great brands under the GIS roof. They are the leader in Baking products, Cereals, Dough / Pastries, Ice cream, Meals, Organic / Natural, Pasta, Pet foods, Pizza, Snacks, Soup, Spices, Vegetables and Yogurt. It is for sure one such item representing General Mills (GIS) will be there in your Kitchen and when it goes empty, you may not receive a warm welcome to home not only by the boss of your kitchen but also by your pets. Yes, they started feeding your pet too! In a big way!!
Numbers behind GIS meltdown
GIS shares are down significantly primarily due to Zero growth, Loss of market share, Anticipation of further Inflation pressures, Increasing Interest rate, Increasing Dollar Strength, Expensive acquisition of Blue Buffalo pet food product company. I will address one by one and why the market reaction is not warranted and is a shear overreaction.
1. Slower Growth
GIS is not growing as in the past due to tough competition because more players invaded the cereal and yogurt space and on top, the management was very slow in adapting to the changing nature of customers. People started leaning towards wholegrain cereals, Greek yogurts and organic breakfasts as opposed to the traditional sugary cereals of the world and GMO products. GIS growth fell from double digit to lower single digit and further deteriorated and lost some share in the recent quarters to competitors.
The management learned a tough lesson and addressing as you could see some of their innovation in the area of Greek (Yoplait) and French yogurt (OUI) and more organic cereals with peach, peanuts and fiber rich mix like Fiber one bytes, fiber one whole wheat breads and Nature valley biscuits. The traditional Cheerios started getting whole grain outfit and in a variety of attractive flavors. The changes mentioned about are cracking the space and the company witnessed higher sales (+1%) in the recent quarter (Q3 2018) and now expects flat growth for the fiscal year ahead. That said, with ever increasing population and in turn the need for more food, this will further add fuel to their growth if one is even cautiously optimistic.
2. Inflation
The oil prices are marching towards 80$ per barrel and is up close to 40% from the recent lows. One could witness the price increase directly at the pump as compared to last summer. Washington and Europe are playing the game of chicken as US scrapped the JCPA agreement on its own without much support from European Allies. This further added speculation about Iranian oil coming offline and that is an extreme case since European majors heavily doing business with Iran. This run up on oil has a cascading effect in our day-to-day life as it translates into food prices. The transports and all the underlying commodities which are dependent on oil are creeping higher every day and is basically not a favorable environment for cereal makers and in general to the food industry. Mostly they end up in absorbing the higher cost of operating environment as they lacks the fire power to pass on those increasing commodity costs to customers due to tight competition. GIS acknowledged this in the recent quarterly report and taking appropriate measures to reduce the operating costs, raw material costs, higher supply chain and transport costs.
3. Increasing interest rate
US Treasury 10 year note is hovering around 3.00+% which is quite high and people are talking about shooting as high as 4%. People tend to lean towards bonds which are a safer bet as the talks of last innings of the bull market started surfacing in the discussions. As a result, the high dividend paying staples lost its luster and the conservative investors flocked towards Bonds over dividend paying stocks for income. The feds less hawkish tone and mounting interest on tightening with four possible interest rate hikes further added fuel and puts these consumer staples out of favor. No matter how one slices, the 10 year yields are still below what GIS's generous divided of 4.6% as of Friday's(05/25/18) closing stock price of 42.64
4. Appreciating Dollar
The King Dollar has been on tear and is appreciating fast as people look for safety when it comes to currency due to political turmoil and that dents the profits of companies which generate chunk of their profits overseas and runs their business globally. GIS enjoyed the weaker dollar environment so far and that will be a distant dream going forward. This added more interest to short sellers and further drove the investors out from GIS. The current stock price baked all these negative sentiment and what might happen if it turns the other way and in favor of GIS remains to be seen as the oil started giving up the gains and the talks on increasing the artificially curtailed oil output is surfacing on talks and in the minds of OPEC in order to get more out of their oil during this last leg of run up on oil prices. With that said, the summer driving season is already on and one less future talk about the ongoing summer rather it will all be about the forthcoming winter!
5. Expensive acquisition of Blue Buffalo
GIS did their due-diligence and bought a Pet product company Blue Buffalo as they are the leaders in that industry but with no room for error in future because of the hefty price GIS paid to budge them for the deal. This sounded very expensive for the Wall Street and GIS shares fell on repeated downgrades by the rating agency and analyst's community. It doubled their heavy debt and resulted in a downgrade and further diluted the existing shareholders with their secondary offerings when stock price is around 52wk low. On the surface, it is not a great execution as GIS kept on buying back their shares when it was at multiyear high and selling them to fund this acquisition at multi year low. It doesn't board the theory of buy low and sell high.
Why buy now with all above negativity?
Warren Buffett once said that as an investor it is wise to be "Fearful when others are greedy and greedy when others are fearful." This holds good for GIS at this moment. Surrounding all negativity, the stock tanked 40% from its peak which is an overreaction. The company is addressing and acknowledging the weakness and started turning the ship by showing improvements. More innovation, organic and whole grain introductions complemented with aggressive marketing shows signs of life in the past quarter as the fundamentals are intact. People cannot refrain from eating and cereals are running off the shelf as ever before. Whatever health conscious one claims, the kids always lean towards cinnamon toast crunch, cheerios, Scooby-doo fruit snacks and Go-Gurts to name a few. There are merits which at this moment dominates all the negativity mentioned earlier as the stock has already priced in the weakness. The supporting factors such as new product line up and ongoing portfolio, opportunities in Asia and Emerging economies coupled with growing population, historically low P/E after the extended sell off, anticipation of future dividend increases and safer dividend with supporting FCF adds further confidence to side with GIS and buy at this price point.
1. New product line up and fired up portfolio reshaping.
Not the same old sugary cheerios, lucky charms any more. GIS introduced a variety of Multi grain cheerios with amazing flavors which won't let you slip off the aisle without loading your cart when you shop with toddlers. Pl. exercise caution and resort to a different route if you don't want one! More innovation and product lineup introduced on Fiber One bytes, Petite single serve mug treats and Nature valley biscuits showed signs of life in the last quarter and increase their sales. The amazing OUI French yogurt which they claim that it is cultured naturally when settled in Glass bottles as per French traditions and in small batches is flying off the shelves. Even though it is a late entry, it is neither a lost opportunity nor a wash off in the premium yogurt space.
Blue Buffalo Pet foods are not in every store front and in supermarkets. It is sold in very selective retail chains, pet food stores and amazons of the world. But every supermarkets and grocery carries other and local branded pet food but it does have heavy GIS presence. A mix of GIS marketing force with most sought Blue Buffalo product might change the equation as their pet products has only 21% penetration with ample room to grow. Soon you will find one in your local supermarket too and your dog too won't let you slip of the isle without loading one in your cart! The synergies are very high though the acquisition is very expensive and GIS will prove a point why they acquired by repeating their success with Annie Organic products company integration in the past as they doubled the sales of Annie products after acquisition and in a short time span. This is better than stock buyback and increase in dividend as the diversification and growth will be a catalyst for underlying stock price appreciation.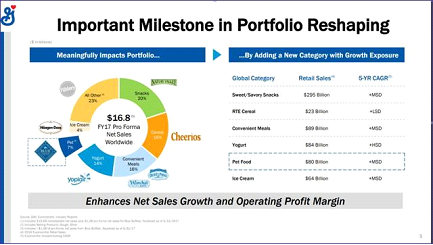 2. Opportunities in Asia and Emerging Economies with growing population
Snack Bars are relatively new in the heavily populated urban towns in India. Cereals started scratching the surface in the busy mornings than the traditional breakfasts. In the recent quarter, GIS reported that their sales more than Doubled in India. From Apple's iPhone to cereal makers, the future growth is in Asia and precisely they are targeting India due to fast urbanized population. This is where they need to penetrate and deep as GIS appears to be right on the spot. Recent joint ventures on Cereals and Ice creams with Nestle in Asia will drive sales further as they saw 30% uptick in the recent quarter based on constant currency. Haagen Dazs of the world has seen 9% uptick in retail sales last quarter. This momentum is just a beginning and there are more fireworks on display. The market is slow to recognize the future opportunities but once they witness in a quarter or two, the stock will take off and will plug the leak and the free fall further.
3. Historically low P/E after the extended sell off
Shares are currently priced with a P/E ratio of 13.8x whereas the food product industry and consumer goods are trading around 23.2x times. GIS offer a significant discount to its own historical average P/E during the last five years and the current Normal P/E is 18.8x and as widely reported online by stock market gurus.
The company earned 3.08 per share in 2017 and will be expected to grow earnings in the scale of 2 to 3% next two years. If GIS stock has traded at par with the industry average of consumer goods which are trading at a forward P/E of 23.2 times, the stock should have traded around 71$. Since GIS doesn't board the lofty growth of 5.4% as with the rest of the food industry and has a 2 to 3% average growth with a historical normal P/E of 18.8 X, the stock should be rightly priced at 57.90$ as opposed to the current 42.60$ after all the selloff. This shows that the stock is undervalued historical to its own valuation and has a potential for appreciation too if it witness a very small and consistent improvement in execution with the recent introduction of right product mix as the fundamentals of the business are intact and remains solid.
4. Future dividend increases and safer dividend with supporting FCF
As per their recent Q3 report/filing, GIS expects its FCF to grow 15% next year and that is out of all cost savings and synergies of recent developments and acquisition. The payout ratio stands 70% as of last quarter with marginal room for increase in near term. But the projected free cash flow will protect the dividend and won't put the existing dividend on the chopping block. This is where one should put the money to work and let the investment buy the breakfast if not lunch from the same company which helped with pancake breakfast for American Families for 100+ years...
How to plan for that future free Breakfast with an upfront investment in GIS
1. Define your expense related to GIS products which you want to cover with dividend and get it free for life. I tracked my monthly Cereal/Pan cake, Granola bars, Milk and yogurt expenses for the past six months. I tend to use coupons and look for sale rather than paying the sticker price blindly. This is not bad when we have the opportunity in hand, with cost saving app rather blindly paying the sticker price which is always high.
Here is the monthly expense for a family of four when spent wisely without starving and compromising on healthy foods. It worked around 100$ and the break up is as follows.

*Milk is the one which I would like to cover by GIS dividend in spite of not a product of GIS as it closely relates to breakfast and cereals and many buys the milk produced by the local farm. I neither can buy a share in the local form nor invest in their cows to milk on my own for free. Hence I would like to cover that too with GIS dividend. I spent on an average of 100$ per month on GIS product and that comes to 1200$ annually.
Scenario 1
To cover this annual expense through GIS generous dividend, I need at least 614 shares of GIS at the current $1.96 Dividend per share assuming that the dividend is frozen which in my view a worst case scenario. This is what I define as my core position to build on to. In case of price increases due to inflationary pressure on the above said products, you will see a dividend increase too as the company benefits from the price increases if they could pass on to the customer. Imagine that everything remains constant and with zero appreciation and no dividend increase, you will get your invested principle back in 24 years and starting from 25th year, they are bound to feed you breakfast for free for life since you already got back the principle amount invested! This will never be possible without a company with great history of increasing dividend and sustainable business and GIS did this even during the financial meltdown and during the great depression days.
Scenario 2
A mere 2% increase in dividend every year based on conservative estimates might bring this breakfast for free earlier than depicted in scenario 1.  Both the scenarios are outlined below as of Friday's (05/18) closing price.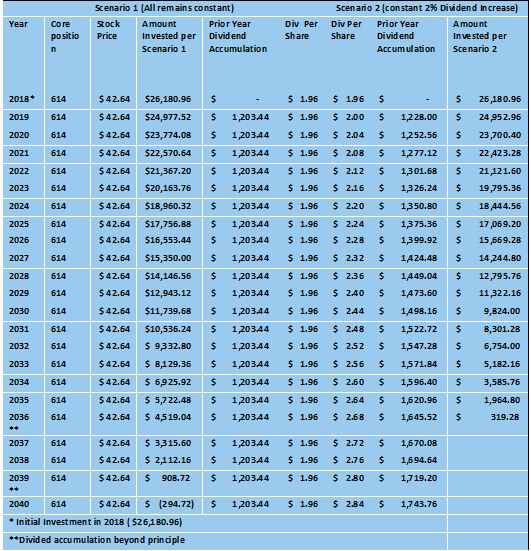 Further Possibilities ....( of course with a trading discipline and with the help of cash covered put options)
A. Once you build a core position which covers the expenses defined in step 1 according to individual's strength and risk profile, trade wisely around the core position as follows and with an investment discipline. Keep additional cash as a cushion in order to play with options and collect option premiums as well some additional room for short term trades. Don't trade your core position rather build and trade on top of it in small increments (10% of core position) by buying low and selling high. This reduces the cost of ownership and increases the yield on cost provided the stock is in uptrend. Ensure that your selling price should be above the price of initial core position to avoid wash sale.
B. In case of if the stock is in down draft and down in excess than warranted, leverage additional cash and sell cash covered put options which might become worthless and there by collecting additional premium. This is little risky as you might end up in owning additional stock if the put option is exercised on the expiration date and you should sell the stock at right time to avoid the excess accumulation and should define your exit strategy when you reach either break even on the additional stock or for a smaller profit.

Be wise and don't be greedy and sell the put option which has more than 85% chance of expiring worthless on the expiry date. Exercise caution as you might need to commit the cash in your account for a minimum of 1 contract which is 100 stocks and that increases in line with the no of put option contract you sell. For that commitment you will receive the premium which you could keep irrespective of the outcome of the contract on expiration date and that in turn reduces the cost of ownership of your original shares.
5. Rinse and repeat the steps A and B above based on market movements which you could review on a weekly basis for 10 minutes using all the resources online. This substantially brings down the cost of ownership and there by increases the yield on cost.
Imagine if you could add wings to the above strategy by an additional 2.5% profit annually by short term profits ( a very conservative estimate) using disciplined trading (buy low and sell high) and another 2.5% using cash covered put option with a reference to above table.  With a decent 5% return on top of your core position by using the healthy mix of above strategy year over year, the cost of ownership on the initial shares will come down  and at a rapid phase and you will achieve a free breakfast for life much earlier after freeing your principle all together.  Some might suggest for Dividend Re-investment but I didn't go far it as it defeats the initial purpose of getting this breakfast out of dividend in the initial years of investment.
Conclusion
The depicted scenario in this article might work well for the stock which got unfairly punished for some miss-steps or due to broad market meltdown but the business model and fundamentals are intact. There should be an exit strategy if the dividend is cut or the roof is falling down due to deteriorating fundamentals. I leave that scenario for individuals and for self judgement and not covering here. These consumer staples perform well during recession and we are in the last innings of the multiyear bull market. Before the recession talks heats up, heat up your portfolio with recession proof stock when the market gives it on sale. Also the GIS CEO loaded up the share at this price and the vanguard of the word and hedge fund communities are buying the shares hand over fist as per the disclosures and updates available online. They have more insight which is not available for the public and have a deeper understanding where the company is heading. Load up your Breakfast too before the tide turns to GIS favor and reap the most during run up.
I am a novice writer with tender but clear thoughts and I was eager to share how i am planning to do myself with a confidence on the company i wrote about.  In order to add confidence to the readers of my write-up, I  would like to include with all due respect,  a reference from the market guru Chuck Carnivale who flagged this last week in an exclusive article to seekingalpha...
Have You Noticed That Many Dividend Stocks Are Finally In A Bear Market? General Mills Inc.: Part 1
Disclosure: I am/we are long GIS.