This article is produced after diving deep into the 2019 Annual report of Canntrust and purely represents my opinion based on public knowledge and/or media reports. This is purely a facts-based article and does not represent the views of my employer or any institution.
Canntrust has been under increased scrutiny after the recent violations of breaching rules under the cannabis act. As of August 13, 2019, Canntrust has been accused of growing cannabis in two unlicensed facilities across Ontario (Niagara and Vaughan)
Article : CannTrust shares plunge again as Health Canada deems 2nd cannabis facility 'non-compliant' | CBC News
Disclosure: I held the stock for a brief period in 2018 and recently sold upon news of the first breach. This got me to investigate further into the company operations and what might have caused this. 
I have handpicked sections of the 2018 annual report and discussed items that I believe contribute to a weaker corporate governance and accounting estimates. The first part of the article discusses the structure of the company, followed by discussions on select portions of the annual report that might contribute to weaker corporate governance and accounting estimates. It is clear this violation happened due to lapse corporate governance.
Overview – Who is Canntrust?
CannTrust is holding company with multiple ownerships across Canada and abroad. Being setup as a trust, makes it difficult to measure each company individually. For us to get a complete understanding of the company, we would need to read the reports for each of the holding companies, which is an incredibly tedious task. We must also factor in international accounting policies and estimates and the quality of the management team.
In 2017, Canntrust received its license to sell internationally in cannabis approved markets. Since 2018, internationally, Canntrust was the only company to sell "ready to use" cannabis oil products in Denmark.
Ownership
50% ownership in Cannabis coffee and tea pod company and 50% greytrust inc.
50% ownership in O Canada we stand on guard for thee (can appoint 2 out of 4 board members)
19% in stenocare
20% in cannatrek
3% ownership in National Access Cannabis Corp, a Canadian cannabis retailer (ticker: META)
Production capacity
50k kilograms
100k capacity in future after phase 3 completion of facility
Canadian Medical Cannabis operations
Patient base grew over 50% in 2018 vs 2017
Since Dec 2018, base grew 16%
Since legalization and taxation of cannabis, Canntrust absorbs the cost of this tax at no impact to clients.
Canadian Recreational Cannabis operations
Supply chain in 9 provinces
Domestic and International partnerships
Partnership with Australia : 19.8% ownership in CannaTrek
Partnership with Denmark : 19% ownership Stenocare who has partnerships with 99% of pharmacies in the country
Partnership in Canada: Breakthrough beverage group.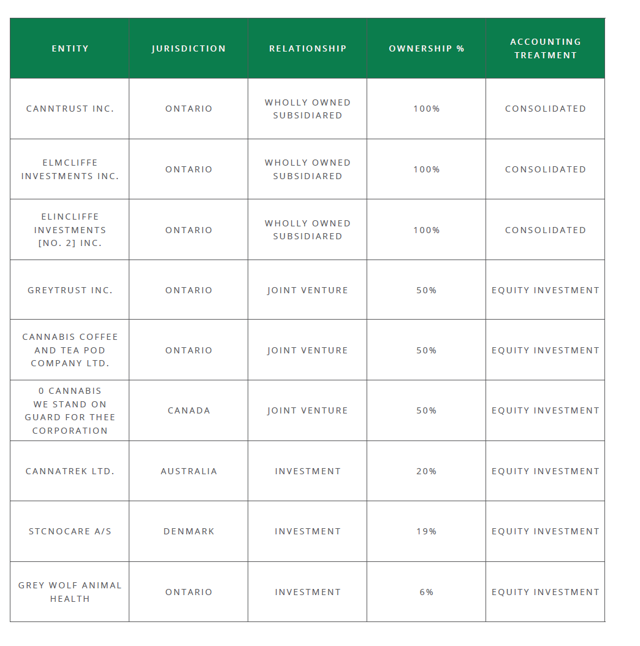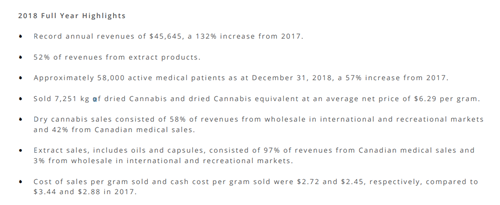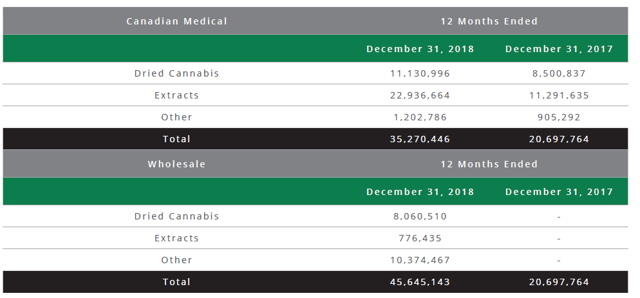 Source: 2018 annual financial report
Debt capital

Source: 2018 annual financial report
Company doesn't use Hedging to manage risk (page 105 of 2008 annual financial report)
Accounting methods and estimates
Canntrust being a player of a very new industry uses some lapse inventory valuation estimates. There is a constant mention of terms like "expected" and this does not instill confidence in my mind. How does one measure "effort"? None of the below estimates seem to instill any confidence in my mind on the valuation methodologies. There is no standard industry method of measuring inventory.
How does one determine "wastage of plants based on their various stages of growth"? What does that even mean?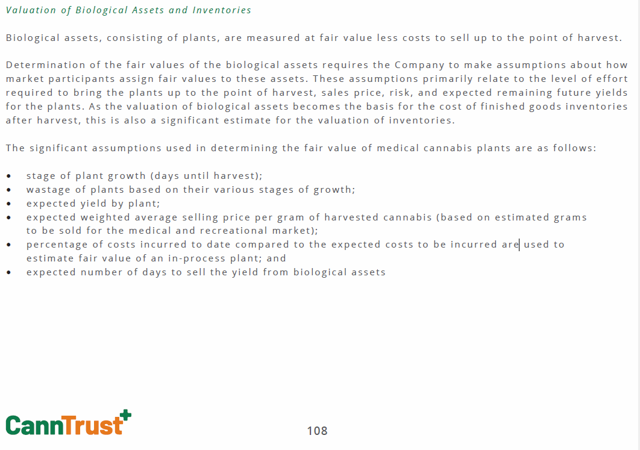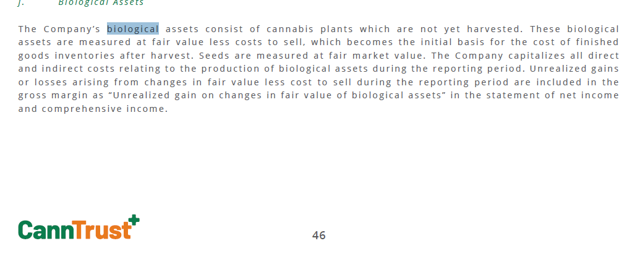 Source: 2018 Annual Financial report
Biological Assets (or Inventory?)
Biological assets are the core revenue drivers for a company and the COGS related to them are capitalized by Canntrust. I am quite concerned about this since expenses related to revenue should be expensed immediately to follow conservative accounting principles. Also, they must be expensed in the period they are grown. Arguably, Canntrust believes that it should capitalize these until the sale is made but what if there is a decrease in sale or any factor that causes a drop in sales? I believe they must simply place a value on this inventory and expense it upon sale using FIFO.
Summary
As of now, no one understands the impact of the recent fiasco. My understanding is that we must wait it out until we hear back from authorities and the OSC. I believe Canntrust will be slapped with a fine and allowed to continue its operations. It not, this will be a major setback in supply and the industry overall (being #3 in terms of Cannabis production). Worse case, if the stock drops below its asset (net liabilities), it might be a good idea to purchase the stock and wait for liquidation (worse case scenario).
Disclosure: I/we have no positions in any stocks mentioned, and no plans to initiate any positions within the next 72 hours.