There're a lot of predictions on how the upcoming IPO Elastic is about to "behave", and in this little article I am going to look at the most important things of company's prospectus. Here we go.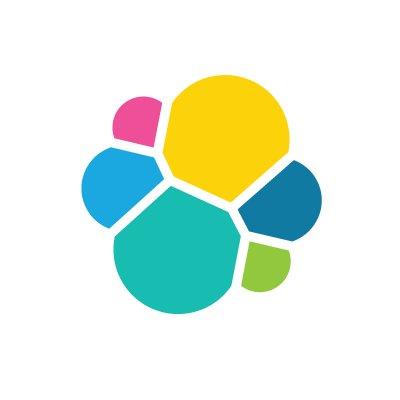 The clients are everything for such a company as Elastic (and for every single company in general, thanks, Cap).  As of April 2018, the company had 5.5 thousand customers against 2.8 thousand a year earlier. 
Elastic has shown a phenomenal growth of the client base at the level of 96% with growth of revenue of 81% in 2017.
The company has 3 sources of revenue: the sales of licenses (16%), subscriptions (77%) and additional services rendered to customers (7%). The fastest growing segment is revenue from subscriptions (+ 89% y/y), but the proceeds from licensing are growing not much slower (78%).
In 2018 fiscal year the average income from 1 client was $22.5 thousand
against $23.3 thousand a year earlier.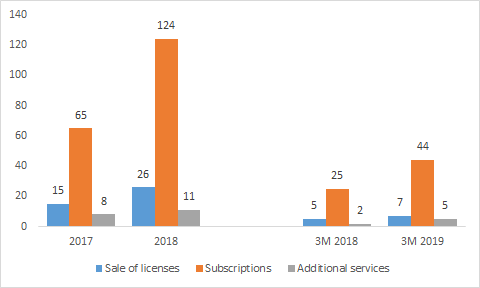 Stable gross margin and dynamically declining operating
costs. The gross margin of Elastic in 2017-2018 FY fluctuated at the level of 77-75% (A median for SaaS-companies is typicly 71% of revenue). The EBIT margin very vigorously emerges from the negative zone - from -53% in 2017 FY to -30% in 2018 FY.
The main drivers of cost reduction are marketing costs (a decrease from 64% to 52% of revenue) and G&A (a decrease from 30% to 18% of revenue).
Elastic has got a positive cash flow in Q1 2019 FY. From 2017 to 2018 FY
main business did not bring a positive flow, however, in the first quarter the operating flow became positive ($5.6 million).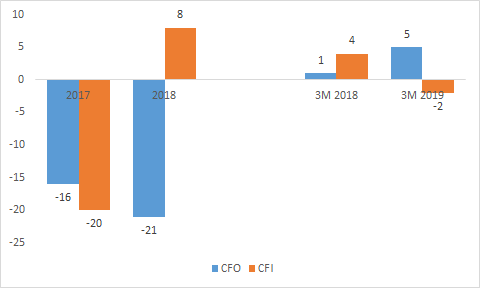 Do not forget about the risks:
Elastic represented a bunch of risks from different sides of its business in the prospectus, but the biggest ones of them are below:
Competition. Elastic faces a very serious competition for
its market: Google, Endeca (the company acquired by Oracle),
Fast (Microsoft), Splunk and Amazon Web Services. "Our one" should make the best it can to survive and save its growth tendency.

New markets and new technologies. Some markets are relatively new and forecasts for their growth demand may be incorrectly predicted. While performing a DCF analysis it is definitely needed to include some specific metrics or to make the scenarios and sensitivity table much more conserved than you wish to.

Product failure. The risk of a product malfunction may adversely affect the
brand of the company and customers' trust. Since all products of the company are complicated for usage and common understanding, even little defects and malfunctions in the future can affect the attitude of customers.
Disclosure: I/we have no positions in any stocks mentioned, but may initiate a long position in ESTC over the next 72 hours.
I wrote this article myself, and it expresses my own opinions. I am not receiving compensation for it (other than from Seeking Alpha). I have no business relationship with any company whose stock is mentioned in this article.