DISH Network's Multiples Are Low Due To Operating Underperformance
Please Note: Blog posts are not selected, edited or screened by Seeking Alpha editors.
Long/Short Equity, Portfolio Strategy, Research Analyst
Seeking Alpha Analyst Since 2018
The chief investment analyst in a small family office registered in Singapore, responsible for developing investment ideas in equities, setting parameters for investment portfolio allocation, and analyzing potential venture capital investments.

A generalist in nature, common sense investing approach. BS in Finance. The thesis description can be found in this article.
During the heyday of the IPO market, I developed an AI model [in the R statistical language] that returned an alpha of around 24% over the IPO market's return in 2021. Currently, I focus on medium-term investment ideas based on cycle analysis and fundamental analysis of individual companies and industries.
Get a free 7-day trial +25% off for up to 12 months on TrendSpider with the coupon code: DS25
**Disclaimer: Associated with Oakoff Investments, another Seeking Alpha Contributor
Summary
DISH is currently down more than -5% two days after the company's 10-K release, despite beaten EPS and revenue forecasts.
The company is in a good position in terms of financial analysis: the liquidity remains stable, the marginality slightly improves, as well as the leverage.
Everyone expected from the company that the decrease in the customer base would stop in 4Q FY2020, which, unfortunately, did not happen.
According to my DCF-model, the company is overvalued from -20.57% to -60.66%.
I think the company's low market multiples are justified due to bad operating performance compared to the peers, so at the moment I'll pass.
Thesis
I consider the low market multiples of DISH Network Corporation (DISH) to be justified by the underperformance of the company (compared to its peers), intrinsic overvaluation (based on my DCF-model), and the customer base decline. At the moment, I'll better pass up on this stock.
Quick overview and revenue structure
DISH Network Corporation is one of the largest providers of pay-TV services in the US, mainly operating in two business segments:
Pay-TV (83.24% of total revenue);
Wireless (16.78% of total revenue).
Note: The other ~ -0.025% is attributed to the "All Other" segment, according to FY2020 10-K.
On February 22, 2020, DISH published its annual report on its official website. You can see there how the company's revenue has changed over the past 3 years: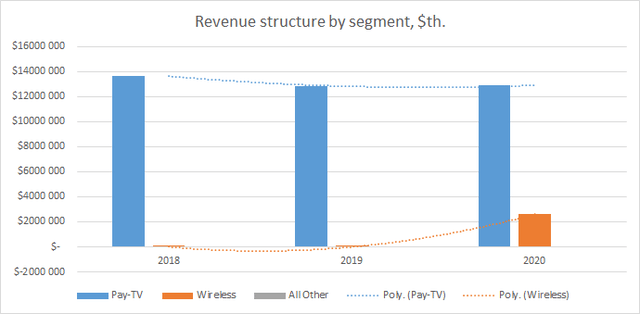 Source: Author based on DISH's 10-K
As you can see, the main business segment for DISH that earns the most revenue is "Pay TV". Its 3-year CAGR is about -1.8%. The quarantine and other changes in the way ordinary Americans spend their time played into the hands of the company: DISH's revenue showed an increase of +0.68% in difficult FY2020 (YoY). 
The results of the company's efforts to reorient its business model are also visible:
And 2020 was over a decade-long transition of accumulating spectrum and getting critical mass with spectrum to go and compete in the wireless world. And we finalized our long-term executive team which took years to do. We were able to enter the retail market in wireless in an unexpected way with the acquisition of Boost and a 7-year MVNO term with T-Mobile who is quietly or not so quietly building probably the finest network in the United States. We purchased 14 megahertz of low-band spectrum in 800. We purchased approximately 20 megahertz of CBRS spectrum nationwide, the only nationwide provider and an over – around 60 megahertz of millimeter wave all last year.

Source: Charlie Ergen, DISH's Chairman, Q4 FY2020 Earnings Call Transcript
That is why the share of "Wireless" in total revenue has changed from <0.02% to the current 16.78%, YoY. The listed acquisitions (inside the upper quote) helped the company expand its revenue sources:

Source: DISH's most recent 10-K
Despite the explosive growth of this segment, it remains unprofitable for the company in terms of operating and net profit. Plus, the losses are accelerating: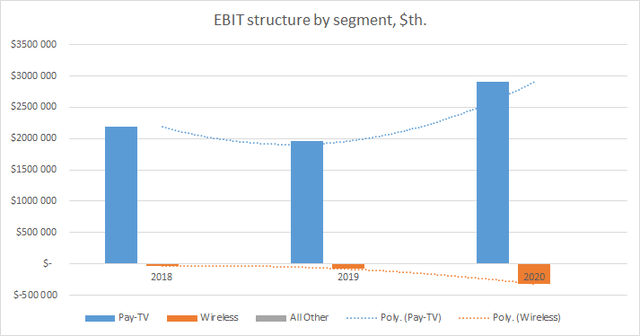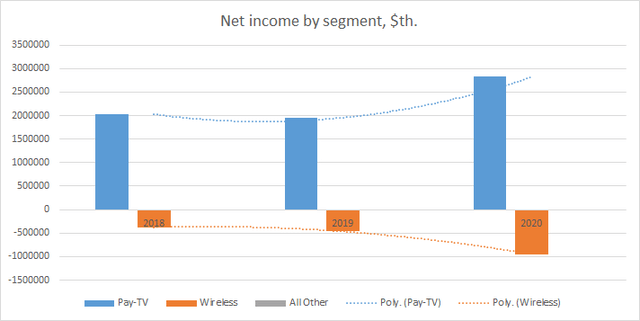 Source: Author based on DISH's 10-K
The negative EBIT from "Wireless" has been doubling for the last 3 years (with a CAGR of literally +100.03%). Last year it almost tripled (+287.05% of negative growth). Amortization and income tax benefits are the only things stopping the negative net income from this segment from growing at the same rate (it has a 3-year CAGR of 36.57%; the last-year change was 104.48%).
The company has a long history of existence and this transition is the third for DISH; apparently, it's one of the most difficult and important ones. All the recent purchases and acquisitions are made leaning on the long-term perspective. We don't know whether and how soon they become profitable. We can only guess if the company can succeed in the future, looking at its current financial liquidity, profitability, valuation, and other characteristics, as well as at their dynamics.
A bit of financial analysis
Note: The information from the company's latest report has not yet been updated on DISH's SA "Financials" profile, so I had to update it myself, right from the 10-K.
I propose to start by analyzing liquidity. It is obvious that in the last 3 years the company has made certain progress in this regard, as you can see in the dynamics of the last 10 years: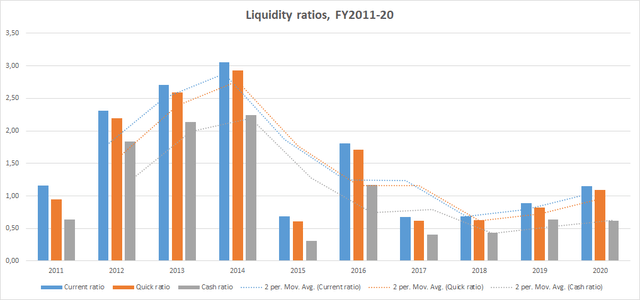 Source: Author based on SA's data and 10-K
Over the past year (FY2020), the current ratio and quick ratio increased by +29.2% and +32.9%, respectively. The cash ratio decreased by -3.6%, but its 3-year CAGR is +12.3%, which is quite good. Overall, the company prides itself on having enough cash on its balance sheet to continue expanding its operations:
And we have over $4 billion of cash in our balance sheet. So, that all leads to the fact that as we enter 2021, we have everything that we need to build this one-of-a-kind 5G network and now it's – now, for us, it's execution.

Source: Charlie Ergen, DISH's Chairman, Q4 FY2020 Earnings Call Transcript
Returning to liquidity analysis, you can look at the Covered ratio (or Times-Interest-Earned, TIE):

Source: Author based on SA's data and 10-K
On December 31, 2019, the company's TIE was 199.06, which is +151.1% more than last year (YoY). The operating profit generated by the "Pay-TV" segment in the short term seems to be sufficient to cover interest payments.
In terms of the marginality of its business, DISH has also shown success in the past few years: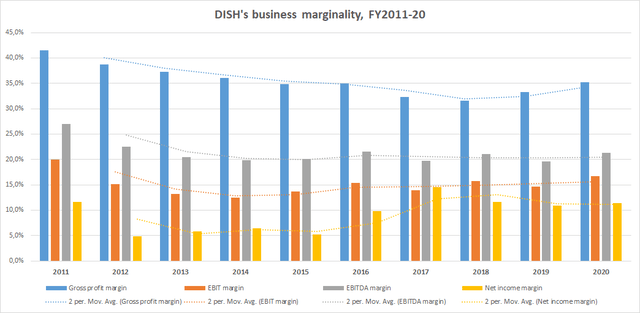 Source: Author based on SA's data and 10-K
The dynamics of the key margins in the short-term look as follows:
| | | |
| --- | --- | --- |
| Margin / Metric | 3-year CAGR | Last-year change |
| Gross profit margin | +3.7% | +1.9% |
| EBIT margin | +1.9% | +2.0% |
| EBITDA margin | +0.3% | +1.6% |
| Net income margin | -0.5% | +0.4% |
Source: Author's calculations
Thus, DISH's margins changed positively in the last reporting year (FY2020), even though compared to the levels of 8-10 years ago the key margin indicators still fall short.
This is how ROE and ROA look like (over the past 7 years):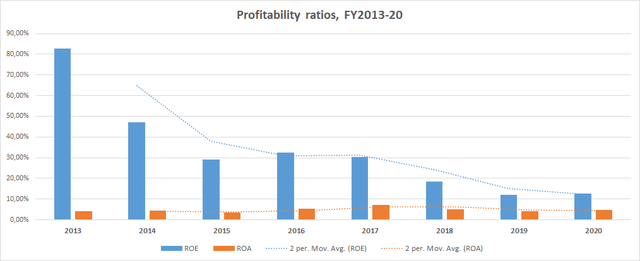 Source: Author based on SA's data and 10-K
In general, we can say about an improvement in profitability in 2020 by +0.7 p.t. and +0.4 p.t. for ROE and ROA, respectively (YoY). However, as with marginality, these indicators are significantly lower than they were, say, in 2016 or 2013.
The company's debt is at the proper level, and the Debt-to-Equity ratio has a 3-year CAGR of -9.7%: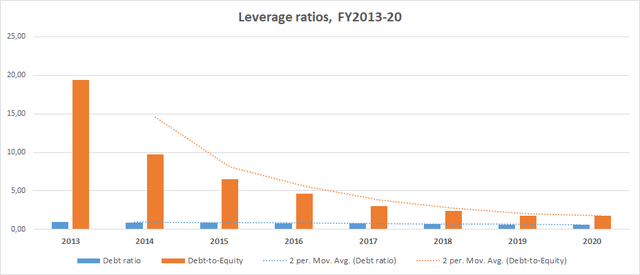 Source: Author based on SA's data and 10-K
Based on the analysis carried out, I conclude the relative financial stability of the company. At this point, it would be interesting to look at the valuation of DISH.
DCF valuation
After the company's most recent release of the 10-K form (the day before yesterday as I'm writing this), DISH is trading significantly lower than before the recent 10-K release:

Source: Seeking Alpha, DISH
Perhaps investors were confused by the Earnings Call I referred to earlier, because in the last quarter (4Q FY2020) the number of retail wireless net subscribers decreased by ~363,000. Or investors are wary of uncertainty, because the "transition" that the Chairman of DISH, Charlie Ergen, is constantly talking about, significantly affects the structure of DISH's revenue: the "Wireless" segment's revenue is growing, just like associated operating losses. Nobody knows when this segment is about to become profitable. In this regard, I can understand the stock sellers.
However, I propose to look at the company's cash flows to judge how much it can be a truly attractive investment today.
So, for 4Q FY2020, the company earned about $357 million of free cash flow. For the entire FY2020, cash flow amounted to about $707.8 million (SA data). Let's take a look at FCFF's margin (to revenue) over the past few years:

Source: Author based on SA's data
The FCFF / Sales multiple is quite volatile, although it has shown some improvement over the past 3 years (CAGR of +4.8%). In the last year, this figure has increased by 2.8 p.t., YoY. We also know that the company plans to significantly increase its CAPEX in FY2021:
We expect CapEx to increase substantially throughout 2021 as we ramp up our 5G network deployment.

Source: Paul Orban, DISH's CFO, Q4 FY2020 Earnings Call Transcript
So I assume that the FCFF-to-Sales multiple in FY2021 will be at the 2019 level (1.79%) and then back to the 3-year average of 3.44%.
DISH's revenue over the past 11 years has grown by ~$2.42 billion, or 1.19x times. In recent years, as I noticed, the revenue growth rate began to increase:

Source: Author based on SA's data
I assume that next year's revenue will increase by the value equal to the 2-year CAGR of 9.99%. From 2022 to 2026, I assume it will grow at a rate equal to the average over the past 5 years (7.51%). At this stage, I consider the results of my assumptions quite conservative: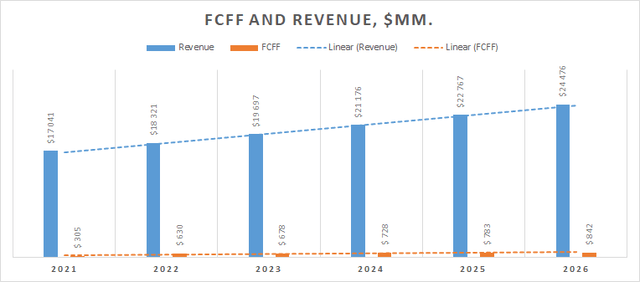 Source: Author's calculations
The acceptable value of the discount rate (acceptable specifically for me) particularly for this company equals 6.5%. I also assume that in the terminal period the company will grow at a rate of 3.5% ("Gordon's g"). Based on these assumptions, I get an enterprise value of ~$ 20.1 billion, which in itself would mean an undervaluation. However, the company has a fairly large net debt ($11.9 billion), as well as a minority interest ($490 million), so it is necessary to adjust the resulting amount by these values. As a result, I get an equity value of slightly higher than $7.6 billion. DISH has 584.36 million weighted, diluted shares, so the intrinsic share price according to my model equals $13.07, which is -59.47% less compared to the current market price.
However, the company may be undervalued, depending on the underlying assumptions (due to the sensitivity of the model's output):
The most sensitive inputs are WACC and the "Gordon's g" rate; as they change, the output ranges from -86.65% to +124.57%. Moreover, an upside potential appears only when WACC is below 6% (inclusive) and FCFF's growth in perpetuity is above 3% (also inclusive).
Based on the sensitivity of my assumptions, it could not be said categorically that DISH is overvalued, so I propose to look at the company in comparison with its closest competitors.
Comparables valuation
The company itself is aware of the kind of competition it has to face, especially considering the reorientation of its business to "Wireless":
The reason to transition is important is in 1995 we went to the little dish business, we had two other competitors, we had a cable company and we had DIRECTV. Today, we probably have over 20 competitors in that very same business. In fact, we compete with our very own suppliers. So, that market is very competitive. You have obviously seen the trends in our industry in the last 4 or 5 years. We expect that those trends will probably continue. The world is becoming an a-la-carte world with vendors going directly to their customers. But in the wireless world, we are one of four competitors.

Source: Charlie Ergen, DISH's Chairman, Q4 FY2020 Earnings Call Transcript
I've made a little research of concrete DISH's peers and made this list:
This is, in my opinion, an extensive list that will allow us to compare the company as broadly as possible.
So, the first thing I did was matching the companies' P/E Non-GAAP (FY1) with revenue growths: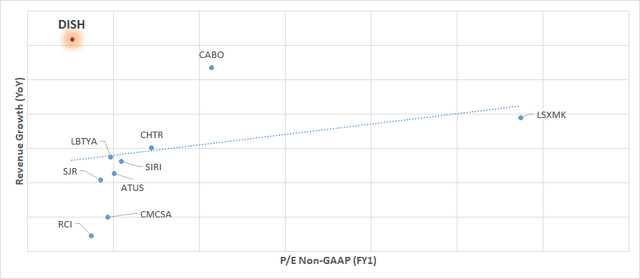 Source: Author's calculations
Author's note: I've updated the revenue growth of DISH, not touching the revenue growths of the peers. You should keep this in mind.
The average P/E (FY1) for the analyzed sample is 30.83 (median is 19.74), while DISH's multiple is three times lower compared to the average, and almost twice lower compared to the median. DISH's revenue growth (20.97%, FY20 vs FY19) is the highest in the group, exceeding the average and the median by 16.12 p.t. and 17.49 p.t., respectively. Thus, concerning this market multiple and this growth indicator, DISH looks undervalued.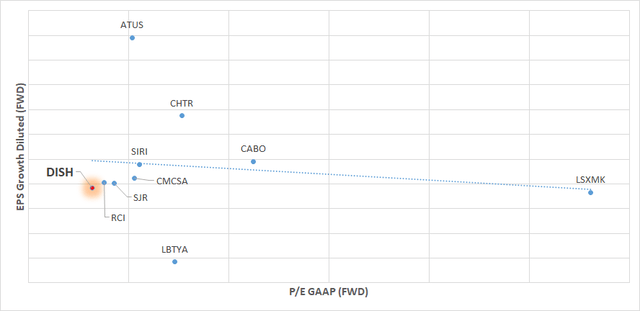 Source: Author's calculations
If we take P/E GAAP (FWD) multiple and match it with EPS growth (diluted, forward), we get the following:
DISH's multiple is again the lowest in the group (12.76 vs 32.67 average vs. 21.73 median);
DISH's EPS growth partly explains the low multiple, being 17.22 p.t. and 6.16 p.t. lower than the mean and median in the peer group, respectively.
Therefore, in this case, it's impossible to give an unambiguous answer about the company's overvaluation/undervaluation.
Since we considered the DCF-model before, I propose to look at how the Levered FCF margins and Price-to-Cash-flow multiples match with each other: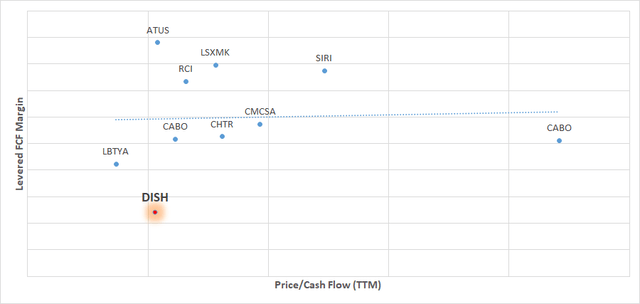 Source: Author's calculations
The company again has one of the lowest multiples among its competitors (5.28 vs. 8.7 average vs. 7.19 median), but at the same time, Levered FCF margin is the lowest, too (4.88% vs. 11.96% average vs. 10.99% median).
Conclusion
Based on a combination of factors, I believe that the company's low valuation is due to insufficient growth in key financial indicators. The recent 10-K report, which seemed to be generally good, signals that the company is in a good position in terms of financial analysis: the liquidity remains stable, the marginality slightly improves, as well as the leverage. But it's a matter of degrees, and if we compare the company's margins with the peers' ones, we can be convinced that DISH is "under-earning" from its revenue: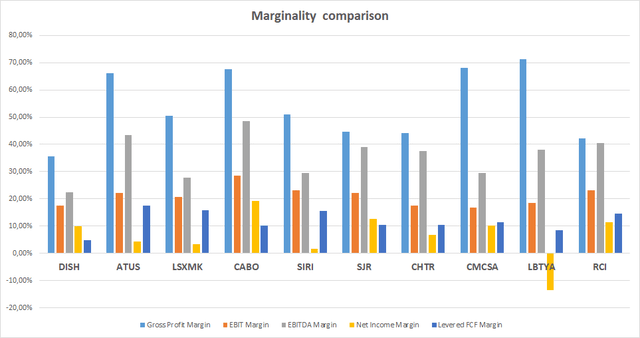 Source: Author's calculations
There are also significant problems with profitability: ROE and ROA continue to decline y/y. Moreover, in the context of comparison with the peers, the company also does not appear in the best light: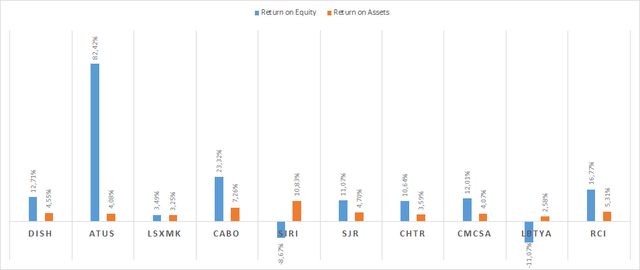 Source: Author's calculations
As for DCF-valuation, the company is overvalued from -20.57% to -60.66% (relative to Sensitivity table #1). It is worth noting, however, that these findings are highly sensitive to WACC and FCFF's growth in perpetuity ("Gordon's g").
Everyone expected from the company that the decrease in the customer base would stop in 4Q FY2020, which, unfortunately, did not happen. Therefore, the stock is currently down more than 5% two days after the 10-K publication, despite beaten EPS and Revenue forecasts.
Overall, I think investors' fears are justified due to justified low multiples and bad operating performance compared to the company's peers. At the moment this company is "neutral" for me.
Analyst's Disclosure: I/we have no positions in any stocks mentioned, and no plans to initiate any positions within the next 72 hours.
I wrote this article myself, and it expresses my own opinions. I am not receiving compensation for it (other than from Seeking Alpha). I have no business relationship with any company whose stock is mentioned in this article.
Seeking Alpha's Disclosure: Past performance is no guarantee of future results. No recommendation or advice is being given as to whether any investment is suitable for a particular investor. Any views or opinions expressed above may not reflect those of Seeking Alpha as a whole. Seeking Alpha is not a licensed securities dealer, broker or US investment adviser or investment bank. Our analysts are third party authors that include both professional investors and individual investors who may not be licensed or certified by any institute or regulatory body.