Business and Key Players:
Norfolk Southern is a key player in the railroad transportation industry, transporting raw materials, intermediate goods, and finished products. The Norfolk Southern Railway spans over 21,500 miles in over 20 Eastern states and offers the largest inter-modal railway in Eastern North America. NSC also transports goods overseas via multiple Atlantic and Gulf Coast ports. Other competitors in the industry are CSX and Union Pacific.
Financial Indicators:
Norfolk Southern has demonstrated a steady increase in key financial metrics for the past year. Specifically, revenue has increased from $2.575 billion to $2.717 billion in the past year. What's more impressive is an increase in EPS Basic from 5.66 to 18.76, an over 200% increase. Thus, the company has shown consistent growth.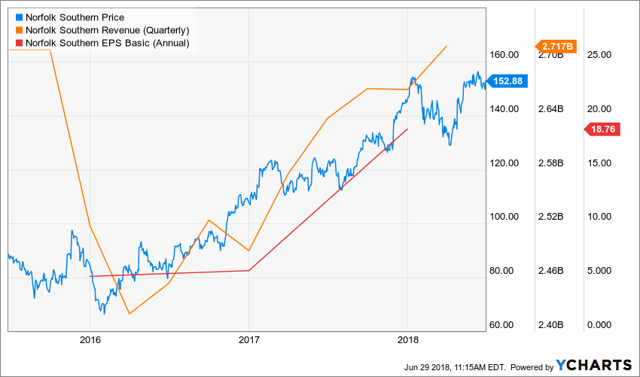 At the forefront of the Industrial/Railway Sector is CSX. CSX has shown fluctuations in revenue and has been improving its Operational Efficiency through the Precision Scheduled Railroading System. NSC has demonstrated a more consistent pattern of increasing revenue as well as share price. Furthermore, as CSX continues to cut lower margin business, NSC will continue to gain market share from its competitor.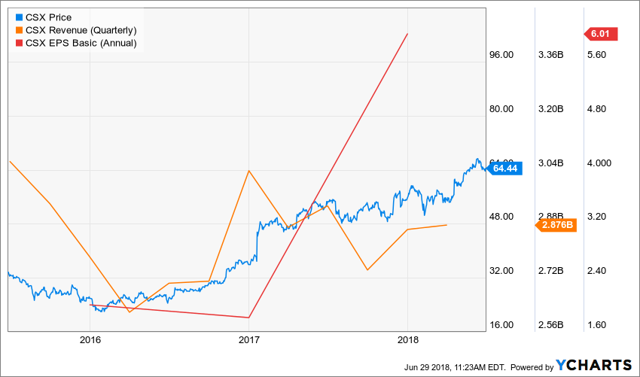 NSC's growth should continue into the future with better costs and increased volume. Positioned with a strong economy and a tax reform that betters the railroad industry, there is a large upside to investing in NSC.
What's not to like?
NSC has suffered from cost pressures and decreases in service metrics compared to its competitors. Consequently, this puts pressure on the cost cutting program. With almost all competitors also cutting expenses, this additional pressure could potentially lag NSC behind its peers. Any drawbacks to NSC's cost cutting program will lead it to fall into line with the sector or even below other industry players. 
Among the major railways, NSC currently has the worse service metrics. With a consistent growth in revenue and share price, it seems that the company has sacrificed its service performance. Thus, it's possible that NSC will see customers leave,returning the market share to its competitors.
That's not all...
Worsening service metrics could lead to less improvements in margins. Furthermore, the increases in NSC's volume may be a downside for the company's future as it leads to increased spending. Unlike CSX's planned $5 billion buyback that benefits shareholders, NSC has added on $50 million in costs this past quarter. Thus, it's questionable how NSC will continue its growth in the long run.
Summary and Final View
Despite having increasing revenue and positive financial metrics, NSC will most likely fall to its competitor CSX. Over the past 3 years, CSX has cut its expenses from $8.77 billion to $7.50 Billion compared to NSC's $7.86 billion to $7.01 billion. With increasing cost pressure from poor service metrics, NSC will most likely have more expenses than CSX in the future. 
Furthermore, NSC plans to reduce its Operating Ratio to 65% by the year 2020. CSX currently has an Operating Ratio of 65% and plans to reduce it to Union Pacific's 62% or even 60%.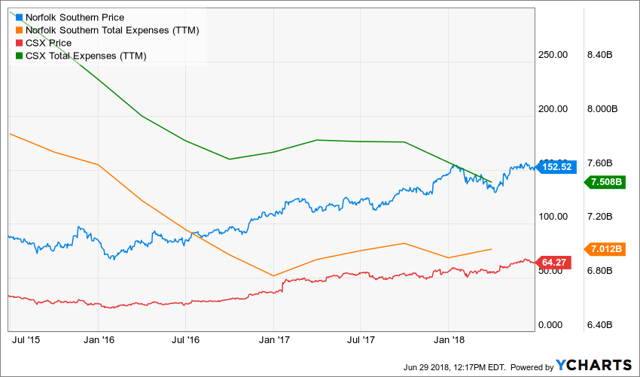 Norfolk Southern is already on the back end and might be under CSX's tracks' in the near future.
Disclosure: I/we have no positions in any stocks mentioned, and no plans to initiate any positions within the next 72 hours.
I wrote this article myself, and it expresses my own opinions. I am not receiving compensation for it (other than from Seeking Alpha). I have no business relationship with any company whose stock is mentioned in this article.