One of the hottest IPOs this year, IQ, has been on my radar. I waited on early confirmation after their recent ER report and established a long position. It's my belief IQ has a very long runway with a clear path to scale, profitability and a true moat that will be their entertainment ecosystem. Let's dig into my top reasons I'm bullish long term on this growth story in China.
Spin-off from Baidu - 'Google of China' Will it Let IQ fail? Not likely...

- Often times, spin-offs are attractive due to ability to leverage 'corporate resources' from parent company. Peter Lynch is quoted often as a big fan of these types of companies as insiders and the parent company typically acquire shares; have clear incentives to ensure the spinoff succeeds.
-Baidu, the 'google' of China, still owns ~60% of IQ
- In IQ's IPO filing, they mentioned one big competitive advantages they have over others is the ability to use data analytics (big data) and machine learning (NYSE:AI) from Baidu's massive search engine database. This will allow them to create better original content that would be well-received by its users. These predictive analytics is a key advantage over competitors Tencent and Alibaba.
- Other synergies mentioned in IPO filing which IQ plans to leverage from Baidu: advertising capabilities (Baidu to prioritize IQ in search queries), AI/deep machine learning and technology, Baidu's cloud services, and more. Currently, IQ generates over 45% of their total revenues from advertising efforts.




Long Growth Runway = China middle class + internet usage is nascent
- Large and growing middle class in China; 1.3B population in China
- Estimates for streaming potential = 765M internet users in China; to reach 880M by 2022; only ~3% of population are paying video streaming subscribers



Ecosystem of Revenues - Flywheel concept = More added to membership base, more engagement and subs
- CEO Gong alluded to IQ creating true ecosystem
- 3 different revenue streams: subscriber (membership), content licensing, IP licensing, advertising, 'other' (content distribution, merchandise, gaming)
- IQ is not shy about international expansion in form of licensing. One example is this recent story about bringing their dance show to North and South Americas. Licensing deals in place with Netflix and major partners worldwide already.
- Merchandise sales are minimal now, but large potential for commerce transactions. CEO Gong has stated IQ will follow "DIsney Model" in creating merchandise, games, shows around popular characters - potential huge rev source in future. IQ movie theater presser even alludes to this "The launch of the Yuke cinemas also creates opportunities for the integration of retail services and offline consumption, with merchandise related to iQIYI content available for purchase in cinemas."
- 57% increase in revenues Q1 2018; on top of 50% growth overall in 2017




Subscription business model proven effective - Subs revs > content costs
- Most daily active and paid subscribers in China (61M)
- 126M+ DAU mobile users; 420M+ MAUs
- 61M paid subscribers vs. BABA's 30M paid subs vs. Tencent's 43M paid subs
- Freemium model to get users on platform - proven effective as a funnel method for more users to convert
- Membership revenues growth (67%) outpacing content costs growth (54%)





Virality/Original Content Commands user attention - Leading shows in China (OG content costs are paying off well)
- Proof of quality in original content is key in entertainment companies
- The Rap of China, dubbed most lucrative TV show ever in China; 2.68 billion viewers on season finale alone; Earned more $$ in the last 60 seconds of the finale to cover entire cost of producing show.
- Over 100M views in first four hours of first ep. Airing
- As China's middle class grows and becomes more tech-friendly/get access to internet, this macro trend will continue to drive users' attention
- 1.7 hrs spent viewing per day, per user



Net losses are narrowing - Strong revenue growth; reinvesting dollars into OG content (must to scale)
- Clear sign of becoming more and more profitable. Great sign for high growing companies. Revenues are still growing at rapid clip, while losses are narrowing: 395.7 RMB loss per share (-$63.1M) in Q1 2018; compared to RMB 1.1 Billion in same period 2017.
- eps is up 100%+ YOY from last Q, scheduled to grow 25% over next 5 years



Visionary CEO - Proven track record as leader from previous company getting acquired
- CEO Gong has an impressive background and clear vision to drive shareholder return by creating an ecosystem. Recently, he stated he wants to see IQ follow Disney model vs. Netflix.




Recent Price Action/Follow the Money - Major institutions loading the boat
- One of most bullish signs i like to see is a rapid increase in institutional ownership. Today is June 4. In just the past three trading days, the following shares were swapped: 21.6M, 13.9M, 16.8M all changed hands. Big bucks from institutions are clearly acquiring. This is significant compared to IQ's last 10 day trading avg of 11.1M.
- Further, 106 institutions as of March 31, have started new positions, with no institutions selling (See below)
*Important to note: Only 707M shares outstanding and only 20B market cap




Innovation & Partnerships - IQ's willingness to expirement and try new things including partnerships are Amazon-esque
- IQ recently opened China's first-ever 'On-Demand Movie Theater' - per the article, IQ wants to deliver premium content experiences to users in an offline manner. This represents a true 'omni channel content delivery approach' - something Netflix hasn't even done. These theaters will allow IQ users to reserve parties of 2-10 friends to stream content in the theater, creating better experiences for users.
- JD.com, China's #2 EComm player, recently announced a strategic partnership with IQ to share premium membership benefits. This reportedly added 1M new users to IQ's ecosystem. While this may be a 'net wash' in terms of revenues, this shows IQ's willingness to add new users to its ecosystem for long term gains.



For Fun/Speculation/ 'CAN SLIM' Model - Not all met, but flirts close enough
- William O'Neil, founder of Investors Business Daily, famously identified his 'CAN SLIM' model for picking high growth winners. Here it is. This has helped me ID some winners. Two expanded on below.
- 'N' for New. new products, services and even announcements tend to get the Street excited and drive the share price positively. In past week alone, there have been 5 official announcements from IQ related to new products/services/hires.
- 'S' for Supply & Demand. As stated before, huge positive price action has been backed by extreme volume in recent trading days.
In sum, I am long IQ for following reasons: Large total addressable market w/ tailwind of china's growing and tech friendly-middle class, proven quality original content, explosive growth revenues, growing subs outpacing content costs, ecosystem approach, backed by Baidu, potential new revenue streams, and innovative partnerships and services.
Bonus point:
Mary Meeker's famous 'State of Internet' trends report came out last week. Here it is in its entirety. IQ is specifically called out after China's rising mobile and video consumption demand was proven. I recommend you review all the China slides. It essentially reaffirms my bullish tailwind thesis on IQ gaining more internet users and scaling them while the appetite for short form and long form video content grows as well as the broad desire for internet consumption grows across China's surging middle class.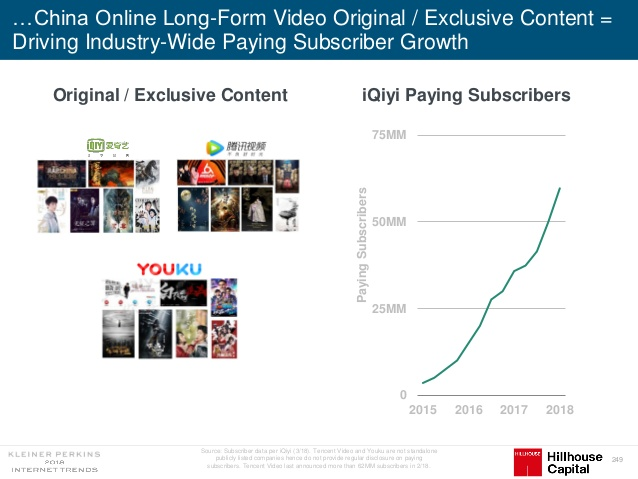 Disclosure: Always do your own due diligence. It's your money. Do not make any decisions solely on one source.
I'm long: IQ, SQ and AMZN
Disclosure: I am/we are long IQ.