How To Get $60 In Free Bitcoin
Please Note: Blog posts are not selected, edited or screened by Seeking Alpha editors.
Summary
Want to get into crypto but worried about the run up?
Time to take advantage of opportunities for free stuff.
I really, really, really like free stuff.
I was talking to some friends today about Bitcoin (BTC-USD). Several of them really want to get into cryptocurrencies and buy some Bitcoin but are concerned about the big run-up over the last year.
While I remain long term bullish on Bitcoin and cryptocurrencies as an alternative store of value – and bearish on the dollar – I certainly understand their concerns. Bitcoin is volatile, and at a near $1 Trillion market cap today, there is no doubt the eye popping 20x type returns are a thing of the past.
All is not lost, though!
Bitcoin will still probably be more valuable in a handful of years than it is today. It has proven itself as a real store of value, and institutional buyers are coming on board. As a legitimate gold alternative to hedge fiat currency, Bitcoin will continue to attract buyers.
But if you are nervous about today's buying price, how about a nice, easy way to lower your cost basis?
Step 1 – Sign Up Bonuses
First, take advantage of sign up bonuses to get $30 in free crypto today by using affiliate links.
All you have to do is:
1.) Create an account and buy $100 dollars of Bitcoin on Coinbase using this link –> $10 free Bitcoin
2.) Create an account and buy $100 dollar of Bitcoin on BlockFi using this link –> $10 free Bitcoin
(Author's Note: When you use the above links, I get a kickback from the platforms. Never fear, though, once you've created your account, you can generate your own affiliate link to get a kickback from friends or family who use your link.)
Earnings: $20 in Bitcoin
Step 2 – Earn Crypto
Next, you use your fancy new Coinbase account to head on over to Coinbase Earn.
Right now, by watching a handful of videos and answering very, very easy multiple choice question, you can earn about $40 in various cryptocurrencies. For full disclosure… these are not the good ones. These are by and large "shitcoins" that may or may not still exist in a couple of years.
Don't care.
You can either let the shitcoins ride with the knowledge that the crypto market more or less trades together, and your shitcoins will probably appreciate generally as Bitcoin does (maybe more due to greater volatility).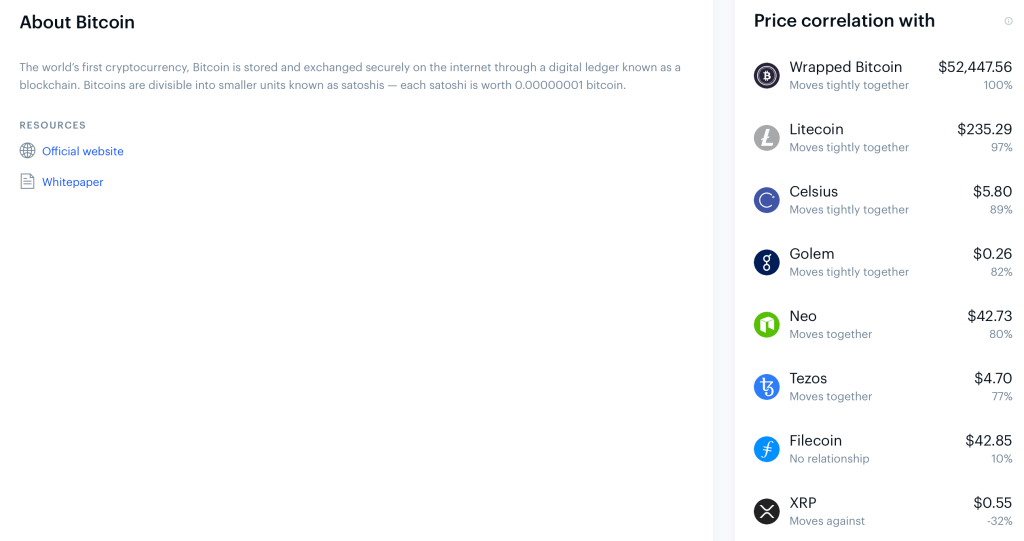 Or… you can immediately trade these shitcoins into Bitcoin.
Personally, I've let mine ride. In fact, I have "accidentally" done really well with these: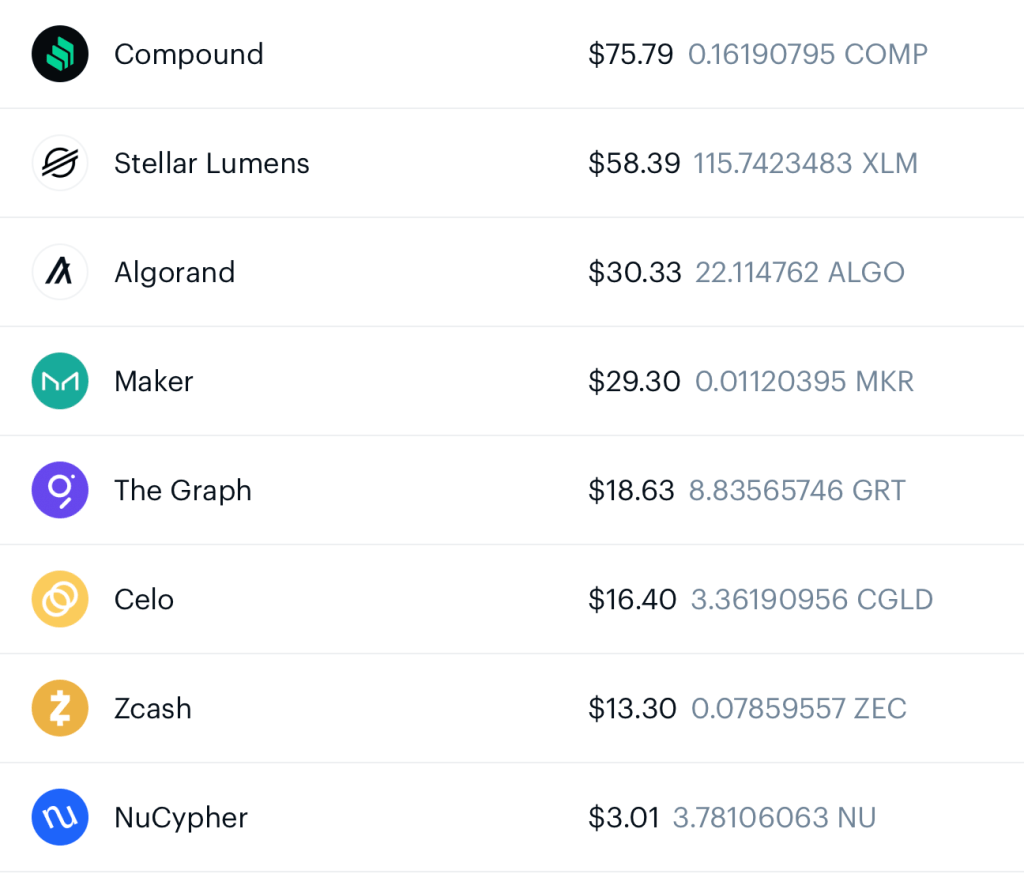 Source: Real picture of my Coinbase account
I made my Coinbase Earn rounds a handful of months ago and earned between $6-10 in each of Compound, Stellar Lumens, Algorand, Maker, The Graph, Celo, and ZCash. Initial earnings were about $55. I earned the NuCypher today.
Well, those fifteen minutes spent watching videos and then forgetting about my crypto has turned into about $170 in crypto as the crypto market has appreciated.
Life changing? No. Makes me warm and fuzzy on the inside? Yes. Worth it? Ummm… definitely.
And it's the gift that keeps on giving: if you check back every month or so, Coinbase will have new Coinbase Earn opportunities. In fact, I just did the NuCypher one today and find myself $3 richer in a shitcoin that will probably trend up along with the rest of the crypto market.
Earnings: $40+ in Crypto
Step 3 – Earn Interest
Step 3 is to roll all of your Bitcoin into BlockFi where you can earn a 6% interest rate on Bitcoin holdings.
After you've done this, go ahead and just forget about your Bitcoin.
This should be about $220 dollars in Bitcoin which will collect about $13 in annual interest. If you roll the shitcoins into Bitcoin, it could be as much as $260, collecting about $16 in annual interest, although transaction fees will likely eat into this.
Earnings: $13 in Bitcoin annually
Step 4 – Enjoy
No, but really, you've just put in $200 and gotten back an immediate $60 in crypto with the opportunity for a further annualized $13 in interest. Not only did you just get a solid amount of free stuff, but that free stuff is going to participate in the upside of the crypto market.
You can look at this in two ways:
1.) I just bought $200 in Bitcoin for $140, as free stuff has functionally lowered my cost basis
or…
2.) I just got a free $60 in crypto and also now have a $260 exposure to the crypto market in an interest bearing account
Either way, I say you're coming out ahead.
Total Earnings: $60 in crypto + $13 in Bitcoin interest annually with plenty of room for upside
PS - definitely do this instead of buying OTC:GBTC which is, comparatively, trash.
Author's Note - This article was also posted on my blog, Live Hard.
Analyst's Disclosure: I am/we are long Btc and a handful of altcoins.
Seeking Alpha's Disclosure: Past performance is no guarantee of future results. No recommendation or advice is being given as to whether any investment is suitable for a particular investor. Any views or opinions expressed above may not reflect those of Seeking Alpha as a whole. Seeking Alpha is not a licensed securities dealer, broker or US investment adviser or investment bank. Our analysts are third party authors that include both professional investors and individual investors who may not be licensed or certified by any institute or regulatory body.