We are in the midst of the most profound and rapid shift of capital markets in the history of humanity. In a matter of months, the creators, designers, and distributors of global capital have shifted from a select few governments to nearly any person with an internet connection. Around the world, as you read this, hundreds, if not thousands, of teams race to build better technical, UX, and financial solutions they've dreamed up. To support these organizations, Atomic Capital builds the tools and services this coming era requires. We believe that we can shape the future. We work to make that future one in which capital catalyzes possibility, enhances our shared global goals, and drives healthy development.
Atomic's first product, Helium, enables organizations to raise capital by issuing digital blockchain securities, with both fiat and cryptocurrencies, in full compliance with SEC regulations. From onboarding accredited and qualified investors, to issuing security tokens that abide by lock-up periods, reporting, and recordkeeping requirements, Helium delivers a seamless experience. By offering these broad applications, Atomic delivers a comprehensive, collaborative method of building enterprise-grade investment solutions that provide security, usability, and peace of mind.
The Helium Platform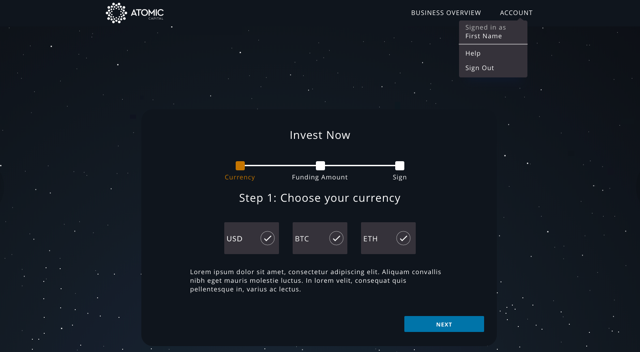 Unlike most other tech services operating in this space, Atomic's Helium users have the opportunity to work side by side with experienced blockchain, finance, and technical professionals who provide support throughout the process. We can design a customized token, configure a specific online interface, build a sales-oriented website, create content to let the world know, and even help fundraise for security sales. Advanced technology is vital, but the success of blockchain really comes down to human relationships. Atomic prioritizes humans above all else. People catch the blockchain bug because it engages the imagination. We have imbued Helium with the same sense of wonder and possibility that drives the clients we serve.
Our research and experience has made it obvious that security tokens will develop from a niche alternative asset to the primary solution for storing and trading financial assets. This transformation will unfold rapidly. We feel eager to see and play a part in this new class of financial products and possibilities enabled by blockchain come to life. The ability to tokenize and easily move digital securities via a digital ledger offers the potential to change society itself for the better. Atomic is here to make sure it does.
Disclosure: I/we have no positions in any stocks mentioned, and no plans to initiate any positions within the next 72 hours.