Bristol-Meyers Squibb (BMY) is oversold due the delay with the acquisition of Celgene (CELG). BMY is acquiring Celgene for approximately $74 billion and will own 69% of the business. Originally the merger was supposed to happen in the third quarter of 2019, but is now set to be complete by the end of 2019 or beginning of 2020. This news has pushed the share price to a new 52-week low, a complete overreaction. The company has had a great past year in terms of earnings and approvals of new drugs. They logged an EPS of $1.04 for the first quarter of 2019 and forecasted an annual EPS of $3.84-$3.94 in their first quarter report. This would be a minimum EPS growth of 27.5% or $0.83 per share over 2018's GAAP earnings yet the stock has dropped 22% over the last year.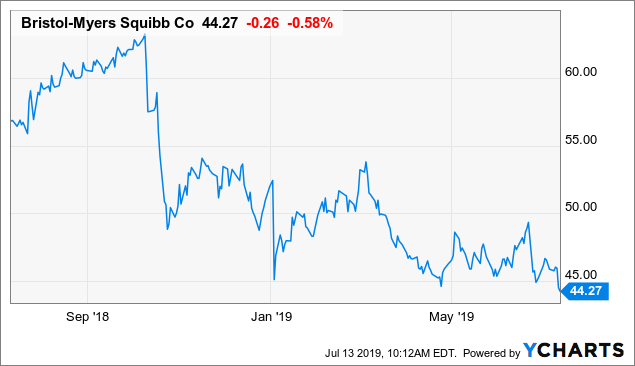 [object HTMLElement]
Adding Celgene would create a Biotech and Pharmaceutical leader as both companies are both churning out massive amounts of positive cash flow and will have a very manageable amount of debt post-acquisition. From Bristol-Myers Squibb's quarterly sales summary, you can see the great growth in sales just from Q1 2019 versus Q1 2018, up $727 million or 14%. The most important takeaway from this growth is the overwhelming growth of Opdivo and Eliquis increasing by 19% and 28% respectfully. Both accounted for over $13 billion in revenue in 2018 making up 58.39% of total revenue.This growth will continue as demand for Opdivo increases also with the combination of Opdivo and Yervoy gains more traction (Yervoy sales up 54% YoY). BMY's drugs will continue to gain further traction in the international markets as they receive more and more approvals shown by the 13% growth in European revenue this past year. Also adding on Celgene's cash cows and the up and coming Big 5 will continue this steady growth. 
Source: Bristol-Myers Squibb Quarterly Sales Summary
There is still more room to grow as demand continues to increase along with BMY getting more improvements approved for both drugs. Per their 2018 Annual Report, they received 14 significant approvals including several for Opdivo and Opdivo+Yervoy. The new combination of Opdivo and Yervoy explains the dramatic 54% growth in Yervoy sales Quarter over Quarter. Opdivo has many new variations in Phase III including 10 incorporating Yervoy.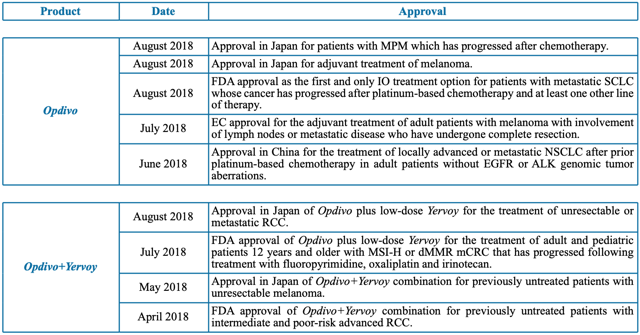 Source: Bristol-Myers Squibb 2018 Annual Report
Financially Compelling Transaction:
Bristol-Myers Squibb only paid 10x earnings an almost unheard of low multiplier for an acquisition. According to their Transaction Fact Sheet, "The median P/E multiple paid in comparable transactions is more than 20x, and the lowest multiple deal was priced at approximately 13x." Showing just how cheap the deal is relative to other comparable acquisitions. Getting Celgene at such as cheap valuation displays another reason why there will be immense growth once the two companies join forces.
From the January Presentation, the two companies are projected to generate over $45B in free cash flow in the first three years after the acquisition. Bristol-Myers is currently valued at just over $72B. Along with all of this free cash flow, BMY's EPS should continue to grow with a forecasted 40%+ growth in EPS in the first year alone. The two companies have many late stage pipelines including 10 drugs in phase III and 6 near launch products along with numerous mid stage assets, fueling future growth and adding to the diversity of the combined company.
Another $2.5B will be created through synergies including SG&A, R&D, and manufacturing. Further adding efficiency to both companies helping margins and promoting collaboration.
Getting Celgene at such a cheap valuation along with billions of dollars in free cash flow immediately will allow BMS to pay off outstanding debt, fund their share repurchase program of up to $5B and continue steady growth and R&D.
Buying Opportunity:
The stock has been hammered now down 22% over the last year hitting a 52 week low, and now presents us with a buying opportunity. Now with a P/E of 14.10 signaling that the price has dropped enough to be bought. When valuating stocks, I abide strictly by Benjamin Graham's value investing strategy ensuring a margin of safety and buying companies significantly below their intrinsic value. By applying Graham's value investing techniques we'll see if the sell off was large enough to get great value. Graham preaches to never purchase stocks with a high multiplier of P/E forming a ceiling around 15x P/E. 
Is there value in buying BMY at the current price, $44.27?
| | | | | | | |
| --- | --- | --- | --- | --- | --- | --- |
| Ticker | Market Cap | P/E | FWD P/E | P/B | P/TB | Diluted EPS TTM |
| BMY | $72.41B | 14.10 | 11.05 | 4.76 | 9.46 | $3.04 |
Applying Graham's criteria to Bristol-Meyers Squibb (BMY) the P/E barely qualifies by being slightly under his threshold of 15 P/E. By not paying for more than 15 times earnings, we ensure that we will never grossly overpay for any particular issue. BMY also sports a B for its Zacks Value Score and an A- Seeking Alpha Value Grade. However, the P/B of 4.76x triples Graham's goal of 1.5x showing that we are paying a large premium for the actual assets of the company. According to Seeking Alpha Essential, the sector median is actually 3.61x making BMY is relatively overpriced in this regard. 
Bristol-Myers also has $6.5 Billion worth of goodwill and another $1 Billion of intangible assets which is why the Price/Tangible Book skyrockets to 9.46. This posses some risk as an investor, we are paying a hefty premium for their brand and other intangibles. However, branding is very important in the medical industry as the industry average P/B is 7.88 and P/Tangible Book is 24.13 per investing.com. However, multiple competitors actually have negative tangible book values such as Pfizer with $87 billion in goodwill and other intangibles meaning that over half of Pfizer's net worth is intangible thus lowering their assets below their liabilities. Bristol-Myers is cheap relative to the industry, but still expensive in our regards in terms of price to book value.
Great Financials and Positive Cash Flow:
Financing the acquisition will be fairly easy due to the $45B of projected cash flow over the next three years. The financing will include cash on hand, new debt, issuing equity and taking on Celgene's debt. Bristol-Myers is planning on starting an accelerated share repurchase of $5B limiting the dilution of current shares.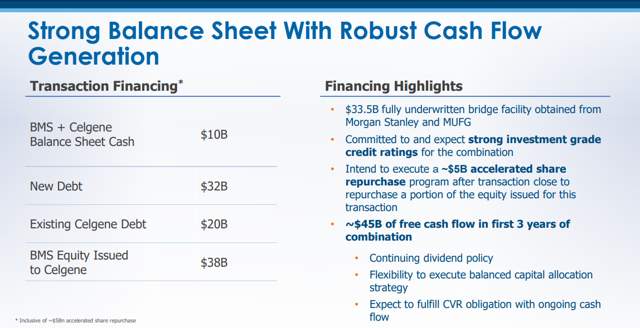 As individual companies, Bristol-Myers Squibb is in a great financial position with a current ratio of 1.93. Last year, BMY paid off a lot of debt and now has a Debt/Equity ratio of 39.53% much lower than the industry average of 100.45% per investing.com. $5.64 billion of debt is very manageable especially with the future cash flow projections. BMY's $7.34 billion worth of cash will be put forward to pay for the Celgene merger. With the acquisition projected in the 4th quarter of 2019 or first quarter in 2020, Bristol-Myers will sell $19.9 billion in corporate bonds to finance the deal. Celgene is also in solid financial health with a current ratio of 2.77, but does carry over $20 billion in long term debt, which will weigh on future cash flow and earnings.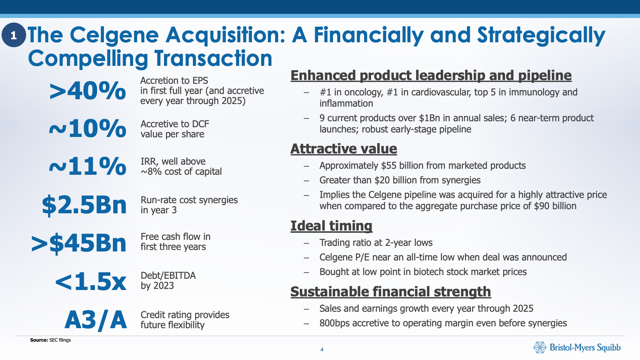 Source: March 19th, Transaction Update
BMY addressed this on the same report and claims that they will have a "<1.5x Debt / EBITDA by 2023" which is great after financing the acquisition from corporate bonds and cash on hand. Graham's views of acquiring other companies is very mixed due to the tendency to take on too much debt ultimately destroying the companies financials with the possibility of filing for bankruptcy at some point. However, BMY shows that they will have the debt under control within only a few years.
Long-Term Prospects:
For BMY alone, a forecasted EPS of 3.84-3.94 is a great sign of growth. Good growth in the foreign markets especially Europe which now accounts for 25% of revenue shows that BMY has more potential outside of the US. Here are the highlights from the first quarter showing great potential. European revenues will continue to climb as more American approved assets receive approvals in the European market. Clearly, the merger with Celgene will also add new revenue streams diversifying BMY's portfolio reaching into the Bioteach market.
According to their Celgene Transaction Fact Sheet,"The late-stage pipeline will have 6 potential near-term product launches over the next 12 to 24 months, representing more than $15Bn in non-risk adjusted revenue potential." With revenue over $22 billion in 2018, adding another potential $15 billion exhibits extreme growth prospects for the foreseeable future following the acquisition of Celgene. Management is also predicting Revenue and EPS growth through 2025 which makes sense due to Celgene also being highly profitable.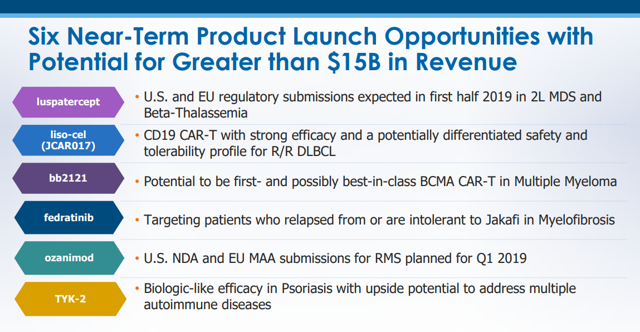 Celgene will create great value with their "Big 5" all in late stage phases with anticipated launch in the near future. As depicted below, the current marketed products would make up over 80% of the transaction cost displaying the true discount at which BMY is acquiring Celgene.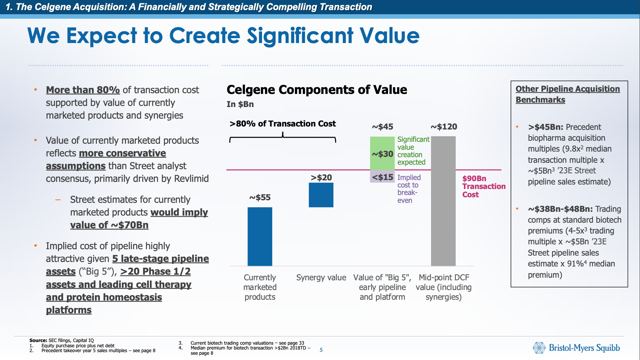 The merger will also greatly diversify BMY's portfolio by adding a whole new branch in Hematology and boosting the already great IO/Solid Tumors division. Celgene's Revlimid will also add great value for the foreseeable future with a full generic entry not until 2026. BMY is also planning to divest Celgene's Otzela which will help with initial cash flow and debt, but will lose a valuable revenue stream which accounted for $389M in sales during Q1 2019.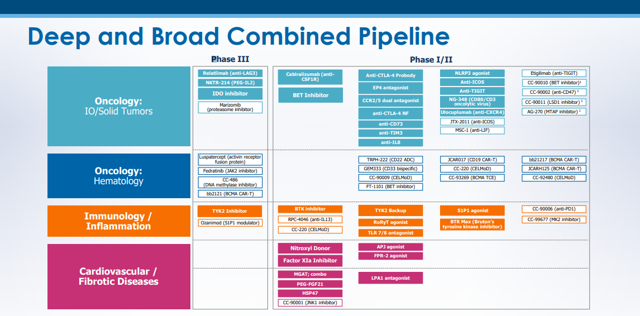 Investment Risks:
When acquiring a company, debt always poses a risk. When a company takes on a massive amount of debt, bankruptcy is always a possibility if the company cannot pay back the debt in a timely fashion. Here Bristol claims to be able to diminish the debt to less than 1.5x EBITDA by 2023 making it clear that this should not be a problem.
Also, purchasing another company is obviously a huge investment that is intended to return great dividends for the parent company. There is always a risk that this investment does not pan out the way the part company expected creating a large loss. 
Future increased competition in the international and US markets will also weigh on future profits and revenues. The generic entry in 2026 for Revlimid will significantly hurt their market share. Divesting in Otzela will lose another significant revenue stream from Celgene. Foreign exchange rates will also weigh on margins and overall profits. However, BMY and CELG both have competitive advantages and have many new drugs in late phases of development. 
Another potential risk is that Celgene was selling for a negative tangible book value, meaning that the liabilities and intangibles outweighed the tangible assets. This is a red flag as the company relies on branding and other intangibles while having a hefty amount of debt.
Overall Verdict: Buy and Hold
Bristol-Myers Squibb is selling at a huge discount prior to its acquisition of Celgene. I see it as a great value stock with a solid dividend. Solid growth with a forecasted 2019 EPS of 3.84-3.94 up from 2018's EPS of 3.04 then another 40% growth in 2020 with Celgene. With future plans to get debt under control quickly after the transaction, there is little to worry about debt building up to an unsustainable level. Selling at 13.95 P/E is not super cheap, but still cheap enough to enter into a position especially given the future growth prospects. I entered a position at $45.20 and will hold for long term.
I also believe price targets are very arbitrary and hold little value, however the industry P/E is 41.71 so any correction towards this multiplier would ensure large gains from our investment.
*all stats are taken from investing.com and Seeking Alpha Essential
Author's Note: If you enjoyed this article and wish to receive my future articles, click "Follow" next to my name at the top of the screen.
Disclosure: I am/we are long BMY.
I wrote this article myself, and it expresses my own opinions. I am not receiving compensation for it (other than from Seeking Alpha). I have no business relationship with any company whose stock is mentioned in this article.