S&P 500 Futures are currently trading at a critical juncture at the current level. Since a weekly closing of S&P 500 futures below 2600 makes them more prone towards a nose dive move during the upcoming week; which may enforce bears to break the level of 2543 soon. On analysis of the movements of S&P 500 futures, in different time frames, I find the gap-down opening on the first trading session of the week for December 17th, 2018 will confirm the continuity of downward trend.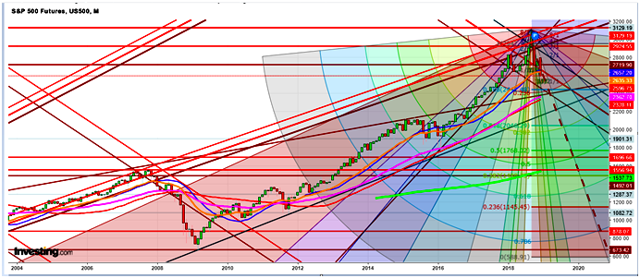 Tariff Trade War
Despite continuous attempts to escalate the growing truce between the two major economies of the World, US-China relations seem to remain under growing uncertainty. Currently, efforts to resolve this economic truce seem not too evident to resolve the ongoing trade issues between the U.S. and China. Moreover, the further escalation of tariff trade war will continue to raise pressure over the profit margins of most of companies all over the world.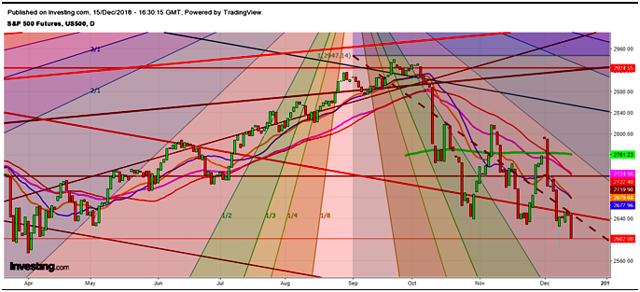 Comparative Study of S&P 500 and Gold Futures
Let's have a look at the co-relation between the direction moves of S&P 500 futures to understand that the upward thrusting moves of Gold futures after a roller-coaster rides since the beginning of downward trend of S&P 500 futures is evident enough for continuity of the same during upcoming weeks. No doubt that these moves may be steeper than ever before shortly.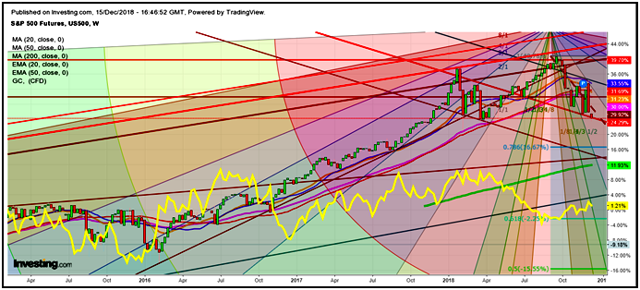 Crash Zone
I find that the S&P 500 futures have had entered on October 3rd, 2018, and since then facing constant selling pressure; whenever tried to peep out of this zone.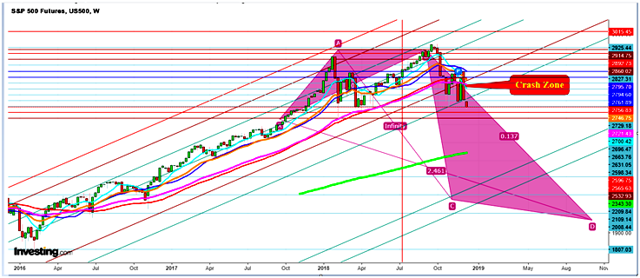 Purpose of Study
I constructed this chart in August 2018 for calculating the time zone and levels for next equity market crash and I find it too perfect to map the moves before a crash, well in time to point out the exact peak of an index.
Methodology
While constructing this chart pattern to map the current moves of S&P 500 futures, I applied this for mapping the moves during the last two market crashes during the years 2000 and 2008 respectively; and felt the need to conduct a comparative study for prediction of peak of S&P 500 futures, well very much in advance on August 8th, 2018.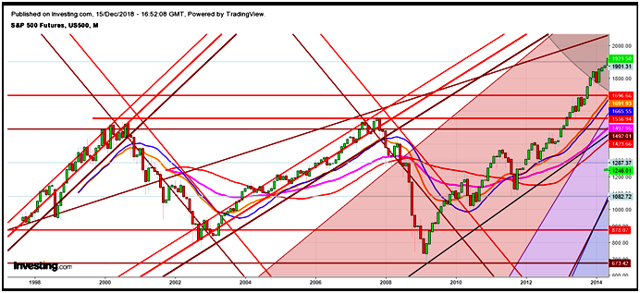 Findings
Flattening and inverting interest rates, lower inflation, reduced probabilities of future rate hikes are signaling lower rates going forward, which should make gold shine in 2019 and beyond which has already diverted equity bulls to run towards precious metal.
I prefer to analyze the movements of S&P 500 futures, as a benchmark, for calculating expected directional moves of the global equity indices
If S&P 500 futures make a sustainable move below 2493, beginning of the long recessionary period will be confirmed; which will keep the global equity indices remain under long recessionary phase in 2019 and beyond.
This idea has already been explained, in more depth, in my YouTube video Advent Of Market Crash - S&P 500 Futures Expected Trading Zones For December 2018
Disclosure: I/we have no positions in any stocks mentioned, and no plans to initiate any positions within the next 72 hours.
I wrote this article myself, and it expresses my own opinions. I am not receiving compensation for it (other than from Seeking Alpha). I have no business relationship with any company whose stock is mentioned in this article.
Additional disclosure: 1. This content is for information and educational purposes only and should not be considered as an investment advice or an investment recommendation. Past performance is not an indication of future results. All trading carries risk. Only risk capital be involved which you are prepared to lose.

2. Remember, YOU push the buy button and the sell button. Investors are always reminded that before making any investment, you should do your own proper due diligence on any name directly or indirectly mentioned in this article. Investors should also consider seeking advice from an investment and/or tax professional before making any investment decisions. Any material in this article should be considered general information, and not relied on as a formal investment recommendation.