On analysis of the Nifty Pharma, in different time frames, I find that the Nifty Pharma has been constantly showing weakness since the advent of Sino-U.S. Tariff Trade War; remain un-noticed till it shown heavy sell off during the last three weeks. No doubt that the Nifty Pharma looks to be the weakest point of Nifty 50, showing persistency in downward trend since September 2018; despite a bouts of bouncing moves shown by Nifty 50 during this period when the Nifty 50 touched its recent peak at 12,185 on July 5th, 2019 before tumbling downward.
No doubt that the Nifty Pharma used to be one of the favorite sector for Indian investors till April 6th, 2015, when Nifty Pharma touched its life-time peak at 14,050, but since then after following a consolidation phase till September 10th, 2018, amid a range from 8080 – 12051, started to follow downward trend till October 7th, 2019; after witnessing a steep fall on a daily basis.
I find that the growing damaging impact of economic slowdown at global level has impacted this sector of the Indian equity markets up to the worst extent, besides other sectors due to export-interruptions etc. No doubt that the Nifty Pharma is still showing more weakness due to weak signals in weekly chart; as its current position below 'Ichimoku Cloud' and the formation of three outside bearish candles in a weekly chart; makes the situation more worse.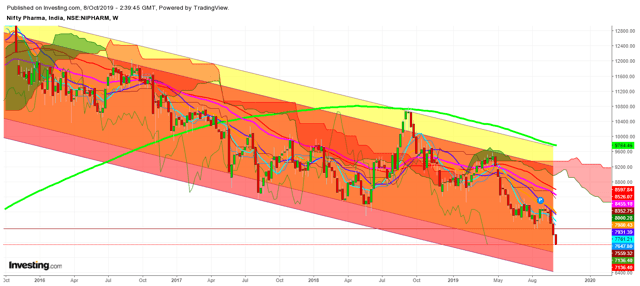 CONCLUSION
Finally, I conclude that since the Nifty 50 has also started to feel the growing bearishness of Nifty Pharma over its movements during the last few trading sessions; but further sell off in Nifty Pharma will drag down Nifty 50 into more negative territory. Secondly, growing fear of hurdles in Sino-U.S. Tariff talks on October 11 -12 in Washington. But, I find that if the tariff trade tussle between the two major economies of the world is resolved successfully, Nifty Pharma would be the top most sector of Nifty 50 to attract investors' attention. I find that the Nifty Pharma will become the investors' hub in 2020 – 2021. No doubt, that some of the constituents of Nifty Pharma Nifty Pharma Index Stocks Prices - Investing.com India are still showing their strength, which makes them next investment jewels during 2020 - 2021.
Disclosure: I/we have no positions in any stocks mentioned, and no plans to initiate any positions within the next 72 hours.
I wrote this article myself, and it expresses my own opinions. I am not receiving compensation for it (other than from Seeking Alpha). I have no business relationship with any company whose stock is mentioned in this article.
Additional disclosure: 1. This content is for information and educational purposes only and should not be considered as an investment advice or an investment recommendation. Past performance is not an indication of future results. All trading carries risk. Only risk capital be involved which you are prepared to lose.

2. Remember, YOU push the buy button and the sell button. Investors are always reminded that before making any investment, you should do your own proper due diligence on any name directly or indirectly mentioned in this article. Investors should also consider seeking advice from an investment and/or tax professional before making any investment decisions. Any material in this article should be considered general information, and not relied on as a formal investment recommendation.