Dusk Group (ASX:DSK) is an Australian home fragrance retailer with a market cap of AUD $187m (£104m, $146m). Its products, developed in-house, include candles, reed diffusers, essential oils, electronic diffusers and air purifiers and fragrance related homewares.
Dusk listed its shares on the ASX in November 2020, issuing 35 million shares at $2 per share. These now sit at $3. Although quite young, Dusk has disclosed 15 consecutive quarters of like-for-like sales and gross margin growth.

It has over 115 physical stores across Australia (and its online store) and is vertically integrated, except for logistics and manufacturing (the latter being outsourced to Chinese suppliers).
Dusk states that it has a 22% market share of the Australian home fragrance market, which has a total addressable market (TAM) of around $461.5 million in FY20 and is forecast to grow by 5.8% in FY21.
Online sales, driven by home improvement because of the pandemic, have helped generated strong recent results, though its not clear if this is a short-term boost only. Online sales now make up 8.3% of the company's total sales. Dusk's new website is set to be launched in April and will provide subscriptions and a wide choice payment options, which should increase conversion.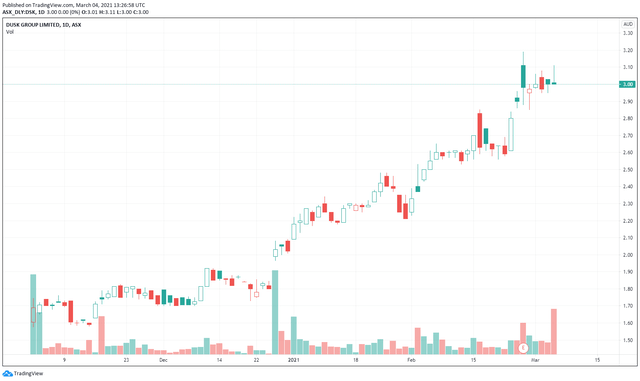 Valuation
A DCF calculation* with limited growth expectations beyond 2022 (free cash flow growing by around 3% per year from AU$21m from 2023 to 2030) shows that Dusk is about 37% undervalued with a fair value of $4.75 (see notes below). 
Dusk is currently valued at 8x 2020 free cash flow of AU$24.3m (for the FY ending June 2020, so quite out-of-date) and 6.8x 2021 free cash flow (forecast by analysts to be AU$27.5m).  
The company is debt-free aside from its store lease obligations and has a simple balance sheet. The Group had total cash outflows for leases of AU$10.3m in 2020 and the lease liabilities (based on undiscounted contractual payments) total $36m over 5 years (as at June 2020), so a hefty third of the market cap. The share-based employee compensation is minimal (valued at only AU$15,586, the final tranche of unvested options are expected to vest in 2021).
The company pays a dividend, the yield is 10%. An interim dividend of 15 cents per share has been declared and is payable on 26th March 2021 (the ex-dividend date is 12th March). The current intention of the Board is to target a payout ratio between 60%-80% of annual net profit after tax.
The future of retail
The future of bricks-and-mortar retail around the world is uncertain.
However, I have high conviction about consumers wanting to return to retail spaces after lockdown (which has not been widespread in Australia). I also feel that retail property is undervalued because new uses of it are yet to be fully understood. We are moving away from traditional retail (which has low customer engagement) and towards experiential/event-based experiences where retail colleagues and customers interact more and there is a social reason to come to the store (new product launch/demonstration, a creative/craft class, a wellbeing seminar etc). The products that Dusk sells are best understood by visiting the shop and that will continue to give Dusk an edge over its online competitors.
Dusk's retail network can take advantage of the high number of tourists that Australia receives from China, Europe, the US and all across the world. They will stumble across a Dusk store and hopefully become a long-time customer once Dusk commences international expansion, at least online (New Zealand the likely starting point). 
Peers
What peers does Dusk have? A good example of where this stock might go is London-listed Hotel Chocolat (LSE:HOTC). Both companies have powerful brands that resonate in their home country (HOTC more treasured than Dusk, I suspect) and have the potential to capture mindshare overseas via tourist visits. Both businesses are comparatively simple to understand and are cash-generative, and both are rather discretionary in transaction nature.
Hotel Chocolat is a successful multi-channel retailer and I believe will continue to thrive regardless of tougher high-street trading conditions. HOTC's share price has gone from a low after listing of 170p to over 500p, which I'm sure it will reach again (it is just very overvalued right now).

Risks
This is a consumer discretionary stock. Demand for candles and fragrances will change rapidly over time. There are low barriers to entry and the leases on Dusk's retail network could weigh on its operating performance if a new asset-light competitor emerges.
Dusk must keep innovating and ensuring that its products are environmentally conscious with a low carbon footprint (these are all made in China, I presume they ship them across) with natural ingredients and credible claims about benefits to health and wellbeing. 
Due to the uncertain nature of retailing given the circumstances, management will not be providing full-year guidance for 2021. Management has acknowledged that the second half of the year is typically much less profitable than the first.
Momentum
The share price is in an uptrend at present. I would recommend an entry point around AU$3 and dips below AU$3 can be observed during the trading day. The best free chart that I can find for ASX-listed stocks is TradingView (it is not on YCharts). You can also find delayed data on the chart at Yahoo! Finance.
Notes
In a future post, I'll cover the USP of Dusk's products, its competitors, its margin mix and its successful loyalty programme, Dusk Rewards, which is driving increases in transaction volume and value. I'll also look at the trailing twelve months performance following the recent results and other comparison peers.  
The company's financial statements can be found here.
Dusk Group's only listing is on the ASX. If you haven't traded on the ASX before, here are the details of the trading hours and equity market phases. If you are based in the UK, the trading hours are between 12am and 6am UK time (UTC). The ASX page for DSK is here and you can find recent trades at StocknessMonster.
As ever, you can access the ASX and other overseas exchanges via Interactive Brokers.
Sources:
*My own calculations, assuming cost of equity of 9%, risk-free rate of 2% and a beta of 1.2
Stockhead, an irreverent Australian investing website
Australian investing website Rask Media's Patrick Melville has covered Dusk in January and also after the H1 2021 results released on 25th February.
Dividend yield from SWS
Disclosure: I am long DSK. I wrote this article myself, and it expresses my own opinions. I am not receiving compensation for it. I have no business relationship with any company whose stock is mentioned in this article. This does not constitute investment advice. Always do your own due diligence before investing.