Twitter Inc. stock TWTR was down nearly 9.8% today at sessions lows.
Why?
Twitter deleted nearly 70 million accounts from their platform. It was recently reported that they had been deleting over 1M fake accounts daily. The information of Twitters's activities were reported by an unknown individual who had access to Twitters data and analytics.
The CFO came out and confirmed the information saying, "These removed accounts were never actually included in our metrics, as they have not been used in the past 30 days. If we deleted 70M accounts included in our metrics we would let our users know."
Twitter is getting rid of fake accounts at a rapid rate and the stock ended up finishing down only 3.8%.
The company reports earnings July 27th pre-market with a NASDAQ and Reuters forecast of 0.16 EPS. Twitters Q1 earnings hit 0.16 beating analysts 0.12 predictions.
Twitter Profitablilty
Twitter has had its first 3 quarters of profitablity starting with Q3 2017. With 2018 Q1 net revenue at 61 million, the company owns 22 companies and has 9 international deals. JP Morgan put a price target of $50 on the companies stock which has spiked investors interest since early June where the price sat at $39.
Tiger Global Management, a secretive 16 year old hedge fund has showed its interest in TWTR stock by selling off all of their Alphabet shares, and reinvesting them into twitter.
President Comments on Twitter
President Donald Trump commented on the deleting of accounts via Twitter, saying that they are deleting fake accounts at a rapid rate and calling for the deletion of "New York Times fake news to be deleted." Saying they are Amazon's propaganda machine and also targeting the Washington post for having unreliable sources.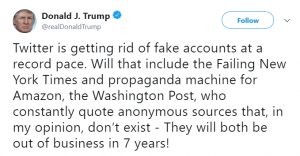 Disclosure: I/we have no positions in any stocks mentioned, and no plans to initiate any positions within the next 72 hours.