ANALYSIS DESCRIPTION
Recent commentary related to perceived demand for the Tesla Model 3 was the inspiration for this analysis. The details are outlined below.
Purpose of Analysis:
Volume of listings: Determine the approximate cumulative number of Model 3s listed online relative to the number of cars that have been delivered to date. Is the volume of listings in-line with standard used car-market behavior?
Sales price of sold listings relative to MSRP: At what premium or discount are used Model 3s selling at on average based on completed transactions? Is the Model 3 demanding a "scarcity premium"?
Obtain an estimated Average Selling Price (NYSE:ASP) to-date: Analyze MSRPs of individual listings to determine approximate current ASP of Model 3.
Determine percentage of customers purchasing Autopilot and other "pure margin" options: What is the Model 3 Autopilot purchase-rate at delivery? Is this in-line with past estimates for the Model S & X rate and past statements by the company?
Approach & Sources:
Online used-vehicle listing sources were used to compile data about the Tesla Model 3 used-car market. The following sources were used: EBay, Craiglist, Facebook, Autotrader, Car Gurus, 24nova, Cars.com, Only Used Tesla, Truecar, Tesla Motors Club, Model 3 Owners Club, and Autolist. All online listings identified as a legitimate current or past Model 3 listing were added to the dataset and included in the analysis. MSRP for each listing was estimated based on information given. In cases where listing details were unclear, MSRP was not estimated. Duplicates that existed across sites were manually deleted, although a small number may still remain due to manual error.
Definition of Terms:
Total Cumulative Deliveries: Total listings currently For Sale + Total Delisted Listings + Total Sold listings. This is the cumulative total amount of Model 3 customers that we have been identified as attempting to sell their car.
Total Sold: Total cars sold on EBay. Sold data was exclusively taken from EBay, the only site with clear sales history. On sources other than EBay, when cars are sold they are instead labelled as "delisted".
Total Sold (Price Indeterminable): Total cars identified as sold where sales price was indeterminable. (Maximum sales price shown instead)
Total For Sale: Listings that are currently on the internet.
Total De-listed: Listings that were analyzed as for sale and then later removed from online.
Premium/Discount:Listing or sale price compared to estimated MSRP.
Estimated Profit/Loss (Seller):This is the estimated profit/loss on a listing after tax and when the $7,500 tax credit is priced in to the listing.
Premium/Discount (with Federal Tax Credit Opportunity Cost):This prices in the apparent "opportunity cost" to a used buyer (to-date) of not being eligible for the federal tax credit like they otherwise would be in a new-car sale. We estimate this cost to be $1,500 for cars sold up to the end of June.
To view data used in this analysis, click here.
PART 1.1 – LISTINGS - RESULTS
i. Volume of Listings (Total Cumulative Listings)
As of the beginning of July, the used average age of a Model 3 on the road was approximately 2.5 months old. According to Edmunds, sales of used cars with a vehicle age below one year are well below 5% of total used franchise sales, appearing to be almost negligible. Manheim estimates that in 2016, used auction sales of cars in their model year made up only ~5% of total used car auction sales. This compares to ~35% of used car market volume coming from vehicles with a model year of at least 7 years prior to the current year. Furthermore, NIADA showed that in 2016, only 4.3% of independent used car dealers sell cars with a vehicle age of 1-2 years old. This further shows that the market for used vehicles with a vehicle age of only a few months is small, and it is rare to see a high number of listings for low-mileage, almost-new cars.
Edmunds Q1 2019 Used Vehicle Market Report: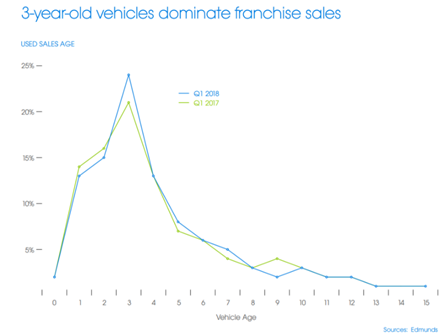 Manheim 2017 Used Car Market Report: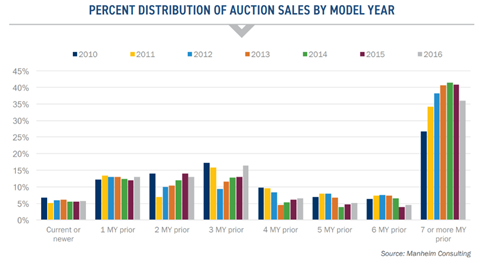 NIADA 2017 Used Car Industry Report: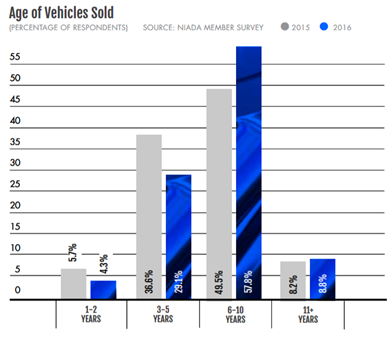 Results:
We have identified a total of 665 different customers who have listed their vehicle online following delivery (Total Cumulative Listings). This represents approximately 3% of total US Model 3 deliveries to-date, or at least 1 used car listing per every 37 deliveries, based on our analysis that started in June.
Because the analysis started in June, the majority of Total Cumulative Listings identified are from May onward. As a percentage of US Model 3 deliveries for the months May and June, Total Cumulative Listings make up over 5% of US deliveries, or 1 listings in every 19 sales.
The true absolute number of cumulative listings is likely significantly higher than analyzed due to: Unidentified listings due to the limitations of a manual process, the late analysis start-date means that listings removed prior to June 1 were not identified, and this only represents private used car sales which generally only make up a portion of the used market.
ii. Sales Price & Premium/Discount to MSRP Analysis
In applying an approximate benchmark for this aspect of the analysis, we considered the fact that the average Model 3 is currently 2.5 months old. Edmunds estimates that the average car's value depreciates by 9% when it "leaves the lot." Given the estimated vehicle age of the average listing, this is appropriate to use for analysis.
Results:
As shown below, the resale prices had been holding up well for the first few months but have swung to a discount as the number of cars increases above a few-thousand. As of June, the Model 3 was selling at a 7% average discount to MSRP, roughly in-line with Edmunds' estimates for a new car's true market value. This represents a loss to the seller after accounting for the full federal tax credit.


PART 1.2 – LISTINGS - ANALYSIS
The high number of identified cumulative listings (almost 700 to-date since the analysis began) suggests an abnormally high number of Model 3s are flooding the used car market. As outlined, the used car market is usually quiet for cars with a vehicle age of less than one year, or for cars currently in their model year. This, coupled with recent news that calls into question the relevance and validity of Model 3 backlog figures, should cause investors to question whether demand at the current price-point is as overwhelming as has been stated by management and the media. It is unclear why customers seem to be selling their car immediately following delivery, especially given that customers cannot legally claim the federal tax credit if the car was purchased with the intent to resell.
Now that the Model 3 is selling at an average discount to MSRP of ~$3,500 (or 7%), this represents a loss to the average seller after tax and after pricing in the $7,500 federal tax credit, before fees and other subsidies. The current estimated 7% discount compares to a 7% premium to MSRP for the 4 cars sold in April, and a 4% average premium for the cars in the grouped-together April & March period, as seen in the results. Furthermore, data regarding the "best offer accepted" EBay sold listings (where exact sales price is unclear), show that the two completed sales in July so far have occurred at discounts of at least $1,600 and $4,100, indicating that the car continues to sell at a sizable discount to MSRP.
"Scarcity Premium"
Given that less than 30,000 Model 3s have been delivered, as of the end of June, and given the car's supposed years-old wait-list of 400,000, some might expect a "scarcity premium" to exist for used listings that appear to be made up of almost all nearly-new cars. This is not currently the case as evidenced by the aforementioned "swing" from a modest premium to a discount that brings the Model 3 effectively in line with a discount that we would expect an ordinary 2-month old car to trade at in a used market.
Recent events as catalyst for swing to "discount":
Recent events like the decision to drop the reservation system and open up orders should raise questions over the "backlog" and what true demand is. The illusion of overwhelming demand for the Model 3 has been fading recently, and the used car market provides further evidence of that given the recent swing on sold listings from a modest premium to a 7% discount. Looking at the abnormally high listing activity of months-old cars, it begs the question: If Model 3 owners love their brand-new car, why are so many putting it up for sale in a market where buyers are now only willing to pay a 7% discount?
Tax credit "rent-seeking" as a potential reason for high listing activity:
One viewpoint is that high relative listing activity can be partially explained by rent-seeking customers who purchased the vehicle with the intent to pocket the federal tax credit and re-sell. However, this is illegal. Secondly, to-date there has been a seemingly liquid market for ready-to-configure reservations –where one can avoid risking capital taking delivery-- and instead sell their reservation at a cool $1,000 profit. (While these reservations have been selling at a premium of approximately $1,000 (2% of MSRP), this effectively values the car at below MSRP if you account for the fact that non-reservation holders are purchasing their right to the federal tax credit which will soon be phased out). Also, as of June the opportunity for rent-seeking is no more—at a 7% discount to MSRP this represents a loss on average even after accounting for the federal tax credit. Regardless of a past impact from rent-seeking, now that the cars are selling at a discount, it is unlikely that customers would be taking delivery for the purpose of re-selling, and we can assume that most used listings going forward will be due to other reasons.
The "tax credit" opportunity cost as potential reason for discount-to-MSRP:
A potential explanation for a lack of "scarcity premium" in the Model 3 used car market is the fact that used car buyers do not get to receive the $7,500 tax credit in a used sale and thus this should be priced into the used market transaction. However, those purchasing a used car presumably do not have a reservation and thus to-date would seemingly only be giving up their chance at half the tax credit or less. Tesla's 420,000 reservation figure implies a backlog of 18 months. Given that the tax credit will run out at the end of the year, the apparent "opportunity cost" to-date has not been high for customers who likely believed they would not be eligible for the full tax credit without a reservation. As outlined in the Definition of Terms section, we have estimated the buyer's tax credit "opportunity cost" at $1,500 in our analysis.
Implications of Oversupplied Used Car market
Just as a "glut" in the broader US used car market can put pressure on automakers, sometimes leading them to offer discounts on new car sales, a continued oversupply and steeper discounts of used Model 3s could not only indicate weaker-than-expected demand, but it could put pressure on new Model 3 sales especially considering the age of cars being listed. If a lower-priced Model 3 were to hit the market (perhaps at $35,000), it might have to compete with a vastly oversupplied market of attractively discounted used Model 3s. When a glut forms in the used vehicle market, it gives buyers more options and can often lure them into buying used instead of new, depressing new-car sales. When automakers who do heavy leasing are faced with this dilemma, they often even take strategic options to control used-car supply -- some will cut sales to rental car companies, for example. In Tesla's case, the apparent used-market oversupply of almost-new used cars, even if perhaps partially driven by rent-seeking, could affect new-car sales especially if listing activity remains rampant and the low-mileage used Model 3s start seeing larger discounts.
Conclusion
As mentioned, anyone listing a Model 3 should be prepared to part with the car at a discount to MSRP. Given the continued high relative listing activity of almost-new Model 3s despite no opportunity for "rent-seeking", investors should consider the fact that Tesla may have a Model 3 demand problem at prices above the originally promised $35,000 base price.
Now that any opportunity for rent-seeking has evaporated, it will be important to analyze whether high relative listing activity continues. With the observed used market "glut" and current discount-to-MSRP, any future listings immediately after delivery will be from customers who have "changed their mind" about owning the car. As for scarcity premium on the car, it is apparent that none exists despite Tesla's impressive reservation backlog and a low average vehicle age of listings.
PART 2.1 – ASP & AUTOPILOT OPTIONS - RESULTS
For any chance at EBIT-breakeven on the Model 3, Tesla will require high gross margins from the car due to the company's unique cost structure stemming from its vertically integrated business model. While Tesla claims it will eventually achieve a 25% gross margin on the Model 3, the Q1 2018 gross margin was approximately -15%.
Ability to achieve gross margin targets on the Model 3, like its other cars, will largely depend on demand for "pure margin" options like Enhanced Autopilot (EAP) and Full Self-Driving (NYSE:FSD). Because full autonomy does not actually exist, FSD is a free $3,000 in margin. Since semi-autonomous Autopilot hardware is installed on every car, the $5,000 price for EAP also effectively goes straight to the bottom line.
Most would assume that the rate at which customers are purchasing Autopilot options would be roughly similar between the Model S & X and the lower-priced Model 3. Our large sample size of Model 3s gives us the ability to estimate the rate at which customers are choosing these options as compared to the Model S & X.
Past Elon Musk statements and an Electrek report give us a basis for comparing the approximate percentage of people choosing Autopilot options on the Model 3 versus the Model S&X. A 2017 report from Electrek claimed that 77% of Tesla customers were purchasing EAP and 40% were purchasing the FSD option across the Model S & X. In 2015 after Autopilot first rolled out, Tesla's CEO claimed that "most people" had purchased at delivery what at that point was the equivalent of EAP, giving some validity to Electrek's purchase-rate figures, which we will use to compare the Autopilot option purchase-rates between the Model 3 and the Model S & X.

Findings:
With a large sample size, we can estimate the approximate purchase-rate of Autopilot options on the Model 3. After analyzing listing individual listings to determine individual MSRPs, we estimate that approximately 59% of customers are purchasing Enhanced Autopilot and 12% of customers are choosing to purchase Full Self-Driving (On a sample size of 639 listings, an estimated 376 purchased EAP, and an estimated 78 purchased FSD). This compares to an Electrek report that suggested 77% and 40%, respectively, for the Model S & X. It also compares to a 2015 Musk claim that "most people" were purchasing Enhanced Autopilot when it first rolled out. It should be noted that customers can also purchase EAP and FSD after delivery, but this is especially unlikely to happen meaningfully for Full-Self Driving given that the feature does not actually exist.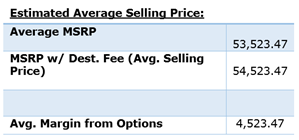 PART 2.2 – ASP & AUTOPILOT OPTIONS - ANALYSIS
As shown above, if the Electrek numbers are accurate, we have observed what appears to be a purchase-rate difference that amounts to an estimated average of $1,700 in "pure margin" between the Model 3 and S & X, or over 3% of ASP. Assuming accuracy of both Electrek and our analysis, this would mean a negative impact on relative gross margins between the S & X and the 3 of approximately 3%.
If what we are observing is truly a trend, and those purchasing the Model 3 are spending less on Autopilot options than Model S & X owners, this should concern investors. If the $35,000 car were to eventually exist, the Autopilot purchase-rate for said car would likely be even lower than what we observe on the $49,000 base, consistent with our conclusion that Autopilot purchase-rate decreases with a Tesla car's price-point. It is another reason why Tesla will likely never bring a $35,000 Model 3 to market.
Not only does purchase-rate appear to go lower with the price of the car, but the company becomes more sensitive to a negative move in the absolute "pure margin" sold on each car at lower prices. Ignoring the fact that a meaningful gross margin will be more difficult to achieve on a lower-priced car; on a percentage basis, gross margins become more sensitive to changes in the dollar value of absolute "pure margin" options sold with the car (the price of Autopilot does not change proportional to the price of the car). For example, a $1,000 "pure margin" swing on a cost of $100,000 is different than a $1,000 move on a cost of $50,000. On a theoretical $35,000 car, a $1,700 move would be closer to 5% of ASP and would thus represent significant 'incremental' margin pressure when comparing to the S & X. Tesla is, in other words, very levered to changes in the Autopilot options purchase-rate.
Problems selling Autopilot options at lower price-points is perhaps one reason why Tesla's CEO fears selling the $35,000 Model 3. Not only is the car launching during a phase-out of the crucial Federal Tax Credit, but gross margin pressure may come from less customers purchasing "pure margin" options relative to the S & X, an issue not many investors have considered. While important costs like the powertrain likely haven't improved relative to S & X, if the Model 3 has achieved small cost improvements in areas like the newly "minimalistic" interior, a portion of any cost improvements will be offset by less people purchasing "pure margin" Autopilot options.
Comparison to Tesla Motors Club
Our 59% purchase-rate for EAP compares to a 66% estimate in the Tesla Motors Club Model 3 order tracker spreadsheet. Firstly, the TMC tracker is essentially just a survey and is not solely made up of delivered cars. The delta can be explained by the fact that Tesla forums of this type are generally made up of the most loyal of Tesla product evangelists, a group who tend to rigorously defend their right to use Autopilot. We observed used-car listings on TMC and found that the purchase-rate of Autopilot was much higher on TMC listings than for all other sites observed, which validates this logic. In other words, it appears that people who really love Tesla are more likely to purchase Autopilot. This would theoretically not bode well for the purchase-rate at the mass-market level, where the proportion of total customers who are loyal Tesla evangelists and Elon Musk enthusiasts (eg. The types of customers who buy more than one car and wear Tesla clothing) will presumably decrease with a move away from the niche and into the mass market.
Conclusion
Recent announcements from Tesla management may be a response to a low Model 3 Autopilot purchase-rate. Tesla recently announced free trials of Autopilot for owners without the feature. Musk has also recently been ramping up Autopilot capability claims lately, saying that Tesla will begin to "enable full self-driving features" in August of this year. Tesla also recently raised the price to purchase Full-Self Driving after delivery, while not budging on the upfront-purchase price in an apparent attempt to increase the FSD purchase-rate at delivery.
Those who put down reservations years ago for the Model 3 were likely expecting a $35,000 car, especially considering the loud unveil in 2017 mentioned only one battery type and one price-- $35,000. When the company began taking reservations for the Model 3 in early 2016, the price of the Autopilot feature was $2,500. It is now $5,000 despite various setbacks after losing Mobileye. Not only are customers now faced with a 40% increase in the base price of the car, but since they placed their reservation the price of Autopilot has doubled, and they now risk receiving only half, or less, of the federal tax credit. Tesla's use of the large reservation backlog number is misleading, given that it mostly represents demand for a $35,000 car—a car that does not exist. The commonly referenced reservation backlog number should continue to be questioned and Tesla should be more honest with its customers.
Disclosure: I/we have no positions in any stocks mentioned, and no plans to initiate any positions within the next 72 hours.