National Automation Services has 3x Return Potential
We recently had a chance to speak with Mr. Robert Chance, CEO of National Automation Services to get an update on his company. National Automation Services, Inc. (OTCQB: NASV) is a public holding company that is focused on the acquisition and integration of private companies in the billion dollar oil and gas services sector. Management's end game is to turn NAS into a large vertically integrated energy services organization that will be a large and growing beneficiary of the domestic energy boom. The acquisition targets must meet management's strict underwriting investment hurdles, including track records of long term, stable, and profitable operations. Additionally, they must be accretive to shareholder value, offer synergies (providing additional revenue streams and cost savings) and be geographically compatible with the other wholly owned subsidiaries. The other significant benefit to be recognized from this rollup strategy is the private-to-public multiple expansion that NAS would capture.
Once acquired, each wholly owned subsidiary will operate as its own entity with existing management retained. This allows the Company's management to focus on maintaining quality while increasing current levels of revenues and profitability. Each subsidiary provides their financials to NAS and the Company will make site visits to ensure companies are in compliance for reporting and monitoring purposes.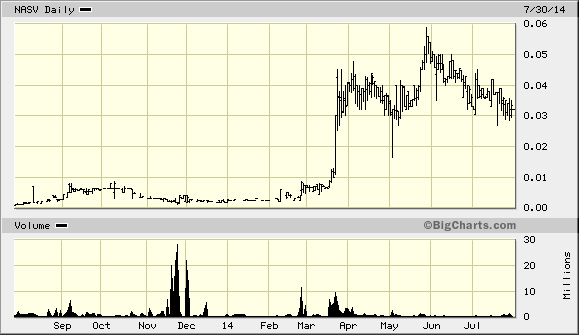 Deals
In June 2014, the Company announced the completion of its first acquisition, JD Field Services, in an all-stock deal and debt assumption. JD provides oilfield services to the oil and gas industry primarily focused around those activities that are related to the drilling, operation and maintenance of the well-site. JD is licensed in all states west of the Mississippi River including Alaska to do trucking, but is focused primarily in the Rocky Mountain Region. Oilfield services provided include heavy haul, water haul, and rig moving services as well as equipment, supplies, and specialty long hauling services. JD also provides oil and gas equipment rental services, hot shot, roustabout services and construction site development services. JD also operates a fabrication division that builds special-order oil and gas equipment and trucks for customers.
JD Field Services has approximately 130 employees and a three year historical average of $24 million in annual gross revenues, 2013 EBITDA of approximately $5.7 million, and net assets valued at around $7.5 million.
The Company is currently working on two additional acquisitions, having signed purchase and sale agreements with Devoe Construction and MonDak Tank, Inc. Devoe was recently awarded the Prestigious Mercury top 100 fastest growing private companies in Colorado. With more than $1 billion being spent on infrastructure in the Denver-Julesburg Basin, this area is primed for growth. MonDak is located in in Williston, North Dakota, right in the epicenter of the Bakken and Three Forks Shale play. MonDak is a widely respected contracting outfit in their field and have an excellent management team that will continue on with NAS after the purchase. The Company expects to finance these acquisitions with cash.
According to the Company's initial unaudited review of Devoe and MonDak's books, they are reporting 2013 revenues of $15 million and $7.1 million and EBITDA of $2.2 million and $2.2 million respectively. Together with JD, the parent company would have reported 2013 revenues of $46.1 million and 2013 EBITDA of $10.1 million.
Future Activity/Deal Flow
Additionally, the Company expects to continue to add to its acquisition pipeline, with four more additional acquisitions over the next 12-18 months funded with a combination of cash, debt, and stock. According to management, some of these acquisitions may be significantly larger than the ones currently on the table. In addition to the expected organic growth from all wholly owned subsidiaries, the Company fully expects to generate additional sales and cost savings via synergies provided by the vertically integrated structure. Management intends to reverse split the stock 200-1 (maximum) and uplist to the NYSE MKT by the first quarter 2015.
Funding
The Company recently announced that it has entered into a five year $10 million (straight debt facility) agreement with a National Commercial Finance Company facilitated by Wellington Shields out of Manhattan. Six million dollars will be used to retire JD Field Services obligations, leaving the rest for working capital and corporate uses. Management indicated that Wellington Shields has committed to providing $30 million in debt and $30 million in equity to finance additional acquisitions.
Investment Opinion
Shares of NASV currently trade at $0.032 per share on the OTCQB, with 751,987,293 shares outstanding, making a market capitalization of $24,063,593. Holding the market cap constant, post a 200-1 reverse split, this share count would equate to 3,759,936, or $6.40 per share (exceeding the $5.00 minimum price to list on the NYSE MKT).
If we take a look at a few publically traded comps in the oil and gas service sector, we can try to size up where NASV stands. For instance, one of our comps, Nuverra Environmental Solutions, Inc. (NYSE: NES) provides environmental solutions for unconventional oil and gas exploration and production, including the delivery, collection, treatment, recycle, and disposal of restricted environmental products used in the development of unconventional oil and natural gas fields. On an Enterprise Value (NYSE:EV)/revenue multiple, shares of NES trade at 2.02x. GreenHunter Resources (NYSE MKT: GRH) provides hydraulic fracturing services, as well as fluids handling, hauling, and barging services. On an EV/revenue multiple, shares of GRH trade at 3.49x. For this purpose, we can take the average of our two comps to arrive at a multiple of 2.76x. Using historical revenue numbers for JD and the other two companies to be acquired; we arrive at an enterprise value of $127.2 million, which assuming net debt of $17 million gives us a market capitalization value of $110.2 million, or $29.30 post reverse split. In our view, this means that shares of NASV currently trade at a 78% discount to historic value, with no accounting for future organic growth, synergistic cost savings or growth via future acquisitions. Assuming management is able to successfully execute on its future rollup strategy and uplist to the NYSE, we believe that NAS, after acquiring an additional four undisclosed companies and integrating them into the parent, should approach $200 million in market cap by the end of 2015.
Paul Silver

Paul Silver is the Managing Director of Research at Wall Street Resources. Previously he has been in auditing with a Big Four accounting firm in New York City, a sell-side research analyst for two global investment banks in New York City including Salomon Smith Barney and UBS Paine Webber. At Salomon Smith Barney he was a member of the firm's research team covering Real Estate Investment Trusts that was consistently ranked #1 by Institutional Investor magazine. Mr. Silver has written extensively on small cap equities and is a contributing writer to numerous publications is a co-manager of the WSR High Alpha model portfolio which has resulted in a 127.39% average annualized return from inception on March 13, 2009 through December 31, 2013. For more information visit: http://www.wallstreetresources.net/High_Alpha_Performance.aspx