Note: This article is kept as a blog post because the authors wish more privacy than Seeking Alpha can understandably provide its authors. Feel free to use it however you wish. All we ask is you credit the source.
About PolarityTE
PolarityTE (NASDAQ:COOL) is a biotech company which recently went public via reverse-merger with Majesco Entertainment. It's lead product, SkinTE, is claimed to be a regenerative medicine kit for doctors to use on patients with burns and other serious skin wounds. Doctors take a sample of a patient's skin, send it off to Polarity, and receive it back in a day or two. The final product is a paste applied to wounds and burns, said to have regenerative capabilities.
As others have noted, some of the actors behind the reverse merger have less than stellar reputations. They are what led us to first look at this company.
Citron Research covers PolarityTE
On June 25th, Citron Research published a report on PolarityTE which called the company fraudulent. Citron got a few things right, most notably the company's lack of an issued patent despite claims of having patented technology.
However they greatly exaggerated the significance of the company's initial patent application rejection, which might have led some to dismiss their thesis out of hand. Citron also missed a number of issues much more serious than a rejected patent application, some of which will be covered in this article.
PolarityTE's claim to be able to market their product without FDA approval appears false
Polarity often states their technology is marketable without FDA pre-approval and costly clinical trials. For example, this is from a recent S-8 filing:
Our first product, SkinTE™, is registered with the United States Food and Drug Administration ("FDA") pursuant to the regulatory pathway for human cells, tissues, and cellular and tissue-based products (HCT/Ps) regulated solely under Section 361 of the Public Health Service Act ("361 HCT/Ps"), which permits qualifying products to be marketed without first obtaining FDA marketing authorization or approval, and is commercially available for the repair, reconstruction, replacement and regeneration of skin (i.e., homologous uses) for patients who have suffered from wounds, burns or injuries that require skin coverage over both small and large areas of their body.
At the 1:25:18 mark of their recent key opinion leader summit, someone asks about SkinTE's regulatory pathway. Polarity's general counsel Cameron Hoyler answers:
We've analyzed SkinTE based on the FDA's most current pronouncements in the guidance documents from November and December 2017, and believe that the product is appropriately regulated solely under section 361 of the public health service act.
Fortunately the FDA's December guidance provides a nice flowchart to see if a HCT/P product is regulated under section 361: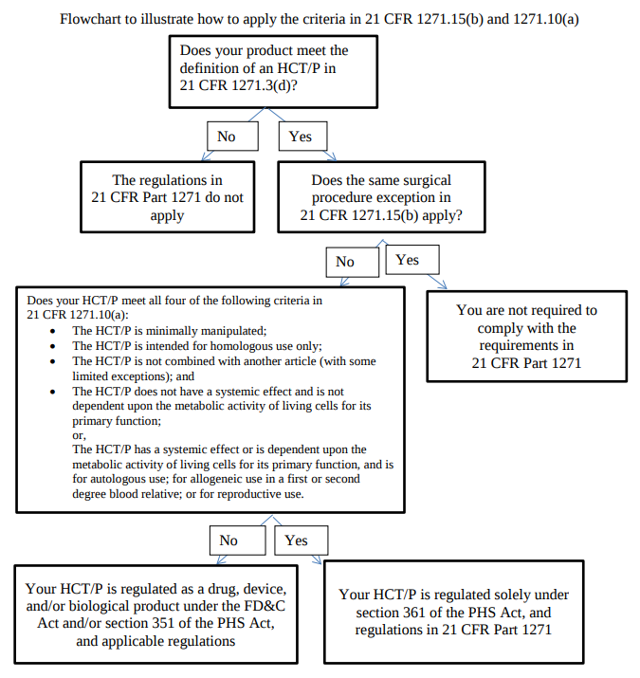 In order to be regulated by Section 361, SkinTE skin samples need to be minimally manipulated and not combined with other articles. We believe it obviously meets the other requirements (the skin is not applied in the same surgical procedure, is intended for homologous use only, and does not have systemic or metabolic effects), so we will not discuss those.
The FDA's definition of "minimal manipulation" is contained in their December guidance, but is fairly ambiguous. Fortunately we found two relevant examples:
a. A manufacturer processes skin by mechanical meshing and cryopreservation and packages it in sheets as meshed skin. The HCT/P generally is considered minimally manipulated because the processing does not alter the original relevant characteristics of the skin relating to its utility as a protective covering.

b. A manufacturer processes skin by removing the epidermis and then grinding the dermis into particles. The HCT/P generally is considered more than minimally manipulated because the processing alters the original relevant characteristics of skin related to its utility as a protective covering.
The full "not combined with another article" requirement is defined as follows:
The manufacture of the HCT/P does not involve the combination of the cells or tissues with another article, except for water, crystalloids, or a sterilizing, preserving, or storage agent, provided that the addition of water, crystalloids, or the sterilizing, preserving, or storage agent does not raise new clinical safety concerns with respect to the HCT/P.
The FDA defines crystalloid in 21 CFR 1271.3(K):
Crystalloid means an isotonic salt and/or glucose solution used for electrolyte replacement or to increase intravascular volume, such as saline solution, Ringer's lactate solution, or 5 percent dextrose in water.
Does SkinTE meet these guidelines?
Unfortunately we cannot find any statements by management describing what is done to a skin sample to turn it into the paste which is applied to wounds. However, the patent applications do contain examples of how the received samples are processed. Given the requirement that US Patents must contain a clear description of how to implement the invention, it's likely these examples are representative of the SkinTE processes. See section 0127 in the 15/650,659 patent application for the examples. We believe example 2 describes how the lower part (hypodermis, subdermal fat) of a patient's skin sample is reduced to a paste. Steps 5 and 6 from the example read:
v. Trimming the tissue into small (3 mm) pieces with sterile surgical instrument and place into sterile culture holding dish containing pulse media while the dissection is completed;

vi. Aspirating media from holding dish and removing the specimen with sterile scoop or forceps followed by placing the specimen into 50 ml conical tube containing MSC Enzymatic Digestive Media, a pre-mixed digestive enzyme solution (collagenase and dispase-based), which is placed into a 37 degree C. water bath or dry heat slow shaker and shaken for 30 minutes or until there are few particulate materials remaining;
Step 6 uses enzymes (collagenase and dispase) to dissociate the cells from each other without causing much cellular damage.
We are far from lawyers or specialists in regenerative medicine, so do not take our word as gospel. However based on example b. from the FDA above, we believe this process violates the minimal manipulation requirement. It also seems clear enzymes like collagenase and dispase are not on the FDA's list of allowed articles.
There are five other examples, with many other likely violations of FDA guidelines. For additional evidence of 361 violations, see Ozgur Ogut's recent article.
Hasn't the FDA verified the SkinTE process is compliant with Section 361?
No, but the company implies otherwise. In their investor presentations (used at the Jefferies Global Healthcare Conference, and elsewhere) Polarity suggests the FDA has verified SkinTE's compliance: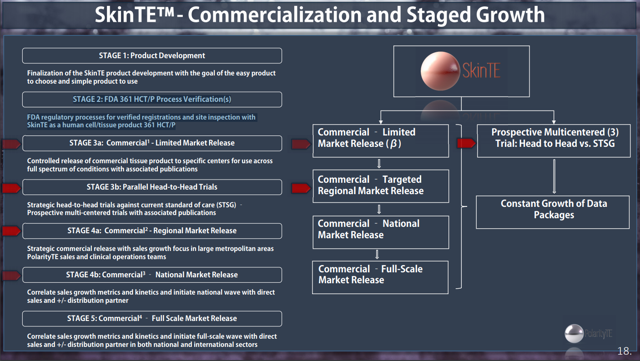 Unfortunately, a Freedom of Information Act request with the FDA shows this to be false. They confirmed their Denver office would've been the one to conduct such an inspection, and they have not done so (personal identifying information has been removed to protect the source):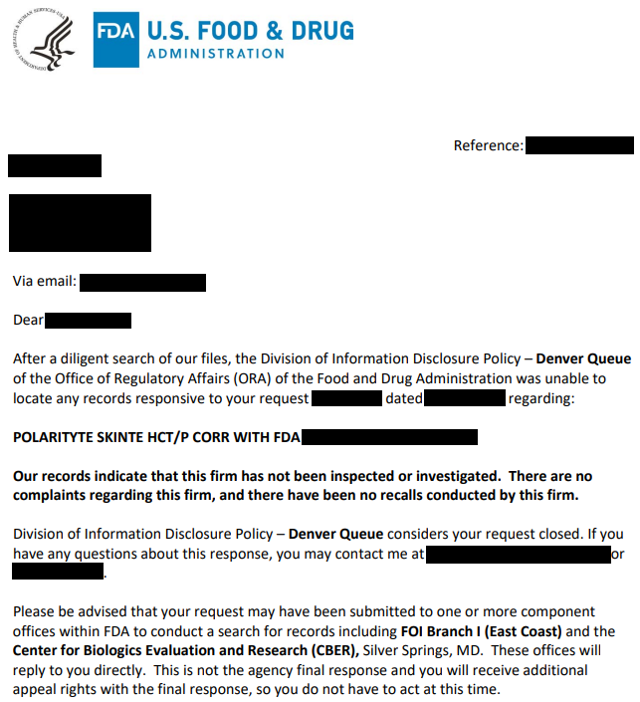 Why didn't the FDA catch this?
The FDA conducts only post-hoc inspections of products registered under Section 361. The form which registers HCT/Ps regulated by 361 contains no detailed description of the product which would allow a regulator to reject an application's claims of minimal manipulation and the like.
PolarityTE repeatedly describes their technology as patented, but all they have are patent applications
The word "patented" turns up in many places, including numerous investor presentations, 8-Ks, and even their S-1 filing. As Citron noted, Denver Lough (the CEO/founder) even calls their technology "patented" in an interview. The first place we see them explicitly disclose not owning any patents in an 8-K dated 2017-11-03:
We do not currently own any issued patents and our ability to protect our intellectual property and proprietary technology through patents and other means is uncertain and may be inadequate, which could have a material and adverse effect on us.
They have three U.S. patent applications: numbers 14/954,335, 15/650,656, and 15/650,659. The first provisional application (62/086,526) was filed in December 2014. The second, filed November 2015, was recently rejected. The last two were both filed July of 2017.
Unfortunately we can't link directly to the patent application status information. To reach it, go to the public PAIR website, enter one of the above patent numbers and click "search". Be warned the website is slow, clunky and often goes down.
Johns Hopkins almost certainly has a claim to PolarityTE's intellectual property
Both the founder/CEO and COO worked at Johns Hopkins prior to starting PolarityTE. Like most universities, Johns Hopkins has an IP policy (lasted update in 2011) which lays claim to any technology developed using their resources. From the policy:
The University owns all rights, title and interest in and to Intellectual Property developed as a result of support either directly from or channeled through the University. By accepting employment with or enrollment in the University, faculty hereby assign and agree to assign to the University all of their rights, title and interest in and to Intellectual Property developed as a result of University support.
Note Hopkins' claim to their employees' IP goes further than mere patents. Also from their IP policy:
Intellectual Property may or may not be patentable or copyrightable. It is created when something new and useful has been conceived or developed, or when unusual, unexpected, or non-obvious results, obtained with an existing Invention, can be practiced for some useful purpose.
Was the technology developed with the support of Johns Hopkins? Consider Dr. Lough's LinkedIn profile says he worked there from 2012 to 2016. In addition to the CEO and COO, Polarity's chief clinical officer and chief surgical officer used to work at Hopkins. Eight advisors have been affiliated with the university, and three currently work there. One director was also on a Hopkins advisory board. Also, consider the images in the patent applications: Lab equipment was needed to develop this technology. This isn't the sort of thing invented in a basement or garage.
Southern Illinois University may also may have a claim to PolarityTE's IP
Denver Lough was first author on two papers which seem related to the technology used in SkinTE. One was written March of 2014, the other February of 2016. The last author (usually indicating the principal investigator, aka lab boss) on both of these papers was Neumeister MW, Polarity's CMO. Note the labs listed in the expandable "author information" section of either paper's link (emphasis ours):
Springfield, Ill.; and Baltimore, Md. From the Department of Surgery, Institute for Plastic Surgery, Microsurgery and Tissue Engineering Laboratory, Southern Illinois University; and the Departments of Plastic Surgery and Biological Chemistry, The Johns Hopkins University Hospital.
We can be fairly sure these papers describe SkinTE's technology without being specialists in the field. The easiest way to illustrate this is images: many are shared between the patent applications and papers.
Fig. 1 from the 2014 paper: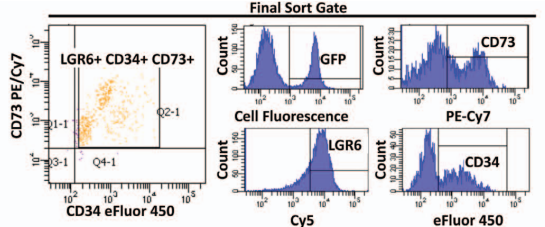 Fig. 14b from the 15/650,659 patent application: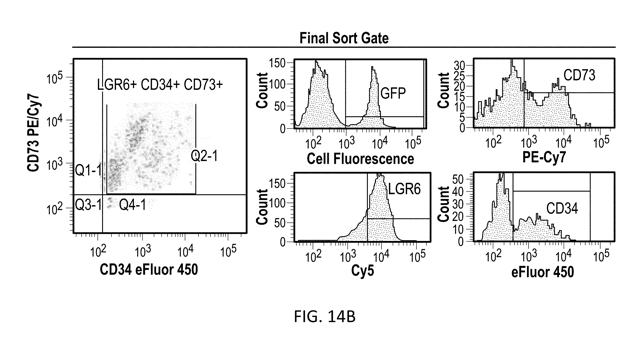 Fig. 4 from the 2014 paper: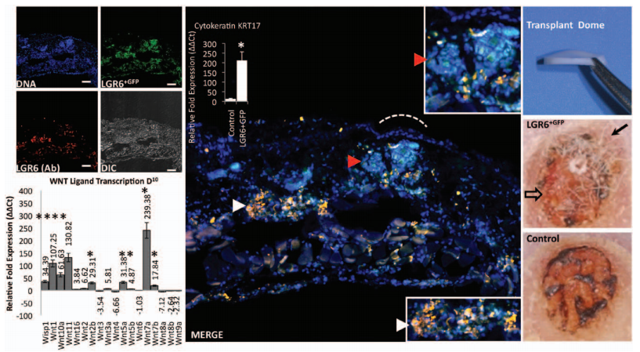 Fig 17C from the 15/650,659 patent application: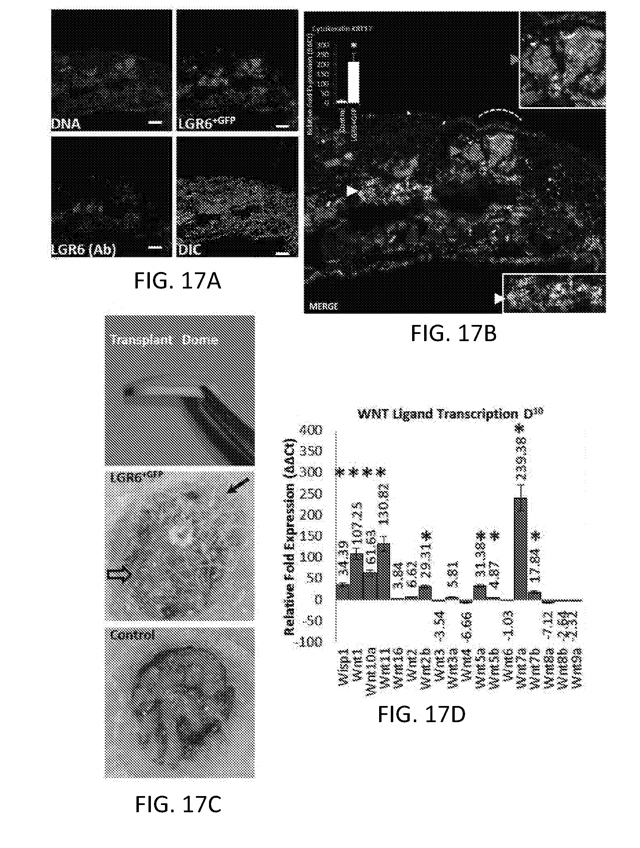 There are many other matches like these.
In a presentation from March 2017, the company associates these papers with their technology: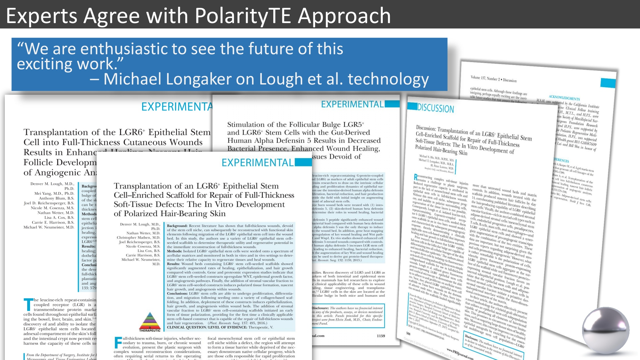 Unfortunately we weren't able to locate audio or a transcript from this presentation. If anyone reading this has a copy of either, please contact us.
Keep in mind the 2014 paper was published in March 2014 and likely written much earlier. The provisional patent application wasn't filed until Dec 2014.
The company claims to have developed its technology on its own
We could find no mention of IP licensing agreements in any of Polarity's filings. We did find this from their Q1 10-Q, page 33 (emphasis ours):
There can be no assurance that a third party, including but not limited to a university or other research institution that our founders were associated with in the past, will not make claims to ownership or other claims related to our technology. We believe we have developed our technology outside of any institutions, but we cannot guarantee such institutions would not assert a claim to the contrary.
Based on the evidence provided above, we believe the bold statement is false.
What will the universities do about this?
Our guess is nothing unless PolarityTE's IP proves valuable. Johns Hopkins has staff dedicated to managing their IP portfolio, so if SkinTE is successful a lawsuit would seem inevitable.
Investor relations did not respond to our inquiries
We have tried to contact Polarity's IR department numerous times regarding IP ownership and Section 361 issues, without response.
PolarityTE investors need answers
In our opinion, PolarityTE investors should demand to know:
What is the relationship between the company, Johns Hopkins and the Southern Illinois University School of Medicine? Why does Polarity think they have the right to SkinTE's technology?
Why does the company believe the FDA will accept SkinTE as a product regulated solely under Section 361 of the Public Health Service Act? If it is not regulated solely under 361, what is its regulatory pathway?
Were the doctors who have spoken positively of SkinTE compensated for doing so? Have any doctors unaffiliated with the company endorsed the product?
When can we expect published data from human trials?
Until these questions are adequately answered and data from human trials is published in a reputable medium, we are treating any statements by PolarityTE management with extreme skepticism. We advise others to do the same.
Disclosure: I am/we are short COOL.