Note: We're splitting off our original article into two parts, one about section 361 eligibility, and this one concerning intellectual property.
PolarityTE's (NASDAQ:COOL) lead product is SkinTE, a regenerative, autologous treatment for wounds and burns. However they claim to have a core technology applicable to almost any tissue type. From their investor presentation: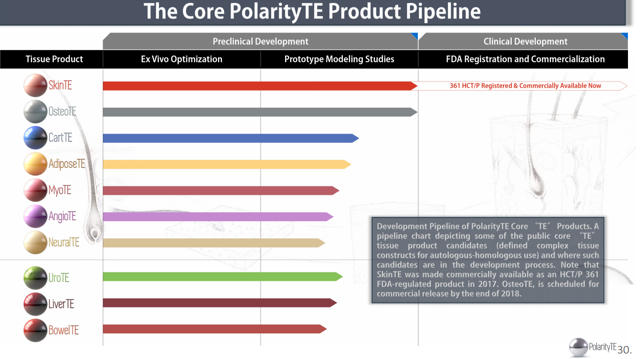 Surprisingly, the company claims to have developed this CoreTE technology outside of other institutions. From their Q1 10-Q, page 33 (emphasis ours):
There can be no assurance that a third party, including but not limited to a university or other research institution that our founders were associated with in the past, will not make claims to ownership or other claims related to our technology. We believe we have developed our technology outside of any institutions, but we cannot guarantee such institutions would not assert a claim to the contrary.
As we'll show below, this claim does not stand up to scrutiny.
The patent application
Polarity has three total patent applications, but we need only concern ourselves with the original filed Dec 2nd, 2014.
Was the work done at Johns Hopkins?
Where was Denver Lough when he developed this technology? His LinkedIn profile says he worked at Johns Hopkins from 2012 to 2016. In addition to the CEO and COO, Polarity's chief clinical officer and chief surgical officer used to work at Hopkins. Eight advisors have been affiliated with the university, and three currently work there. One director was also on a Hopkins advisory board. Also, consider the images in the patent applications: Lab equipment was needed to develop this technology. This isn't the sort of thing invented in a basement or garage.
Like most universities, Johns Hopkins has an IP policy (lasted updated in 2011) which lays claim to any technology developed using their support. From the policy:
The University owns all rights, title and interest in and to Intellectual Property developed as a result of support either directly from or channeled through the University. By accepting employment with or enrollment in the University, faculty hereby assign and agree to assign to the University all of their rights, title and interest in and to Intellectual Property developed as a result of University support.
Note Hopkins' claim to their employees' IP goes further than mere patents:
Intellectual Property may or may not be patentable or copyrightable. It is created when something new and useful has been conceived or developed, or when unusual, unexpected, or non-obvious results, obtained with an existing Invention, can be practiced for some useful purpose.
Or Southern Illinois University?
Denver Lough was first author on two papers which seem related to the technology used in SkinTE. One was written March of 2014, the other February of 2016. The last author (usually indicating the principal investigator, aka lab boss) on both of these papers was Neumeister MW, Polarity's CMO who still works at SIU. Note the labs listed in the expandable "author information" section of either paper's link (emphasis ours):
Springfield, Ill.; and Baltimore, Md. From the Department of Surgery, Institute for Plastic Surgery, Microsurgery and Tissue Engineering Laboratory, Southern Illinois University; and the Departments of Plastic Surgery and Biological Chemistry, The Johns Hopkins University Hospital.
There are many parallels between these papers and Polarity's patent applications, in process steps and materials used. The reader can explore these if they wish, but one needn't dig deeply to see the patent application was written with university support. Many of the images and data presented in the patent application come from the papers. Here are two examples among many:
Fig. 1 from the 2014 paper: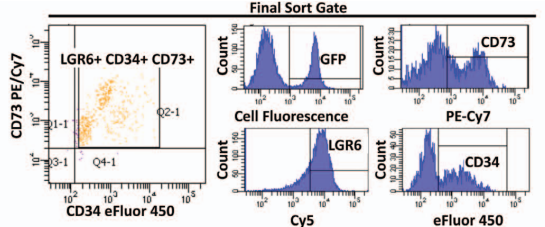 Fig. 14b from the patent application: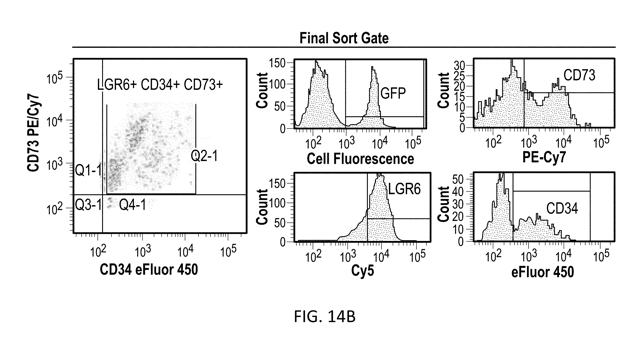 Fig. 4 from the 2014 paper: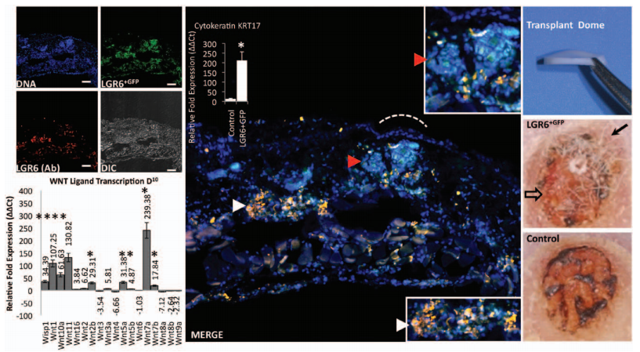 Fig 17C from the patent application: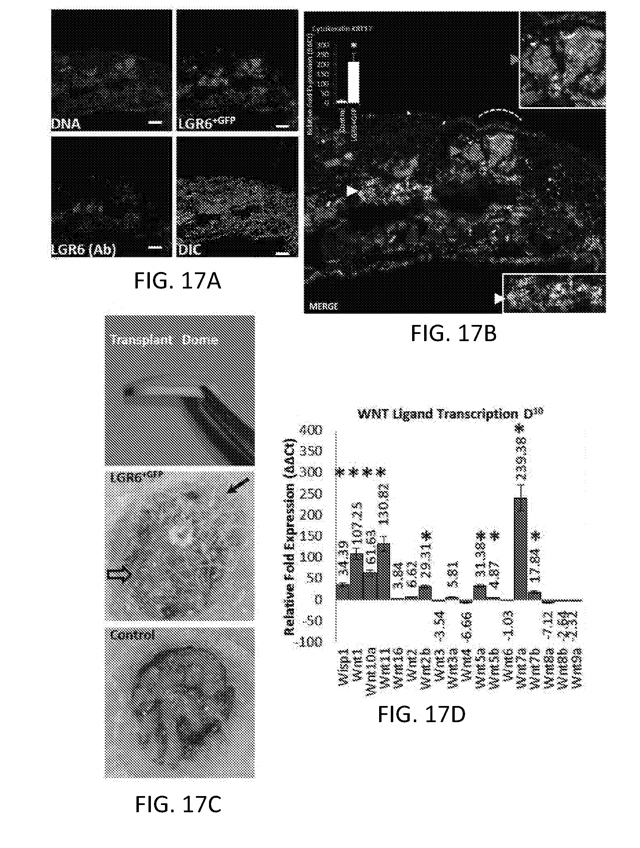 Early Polarity investor presentations also highlight the connection between SkinTE and these papers: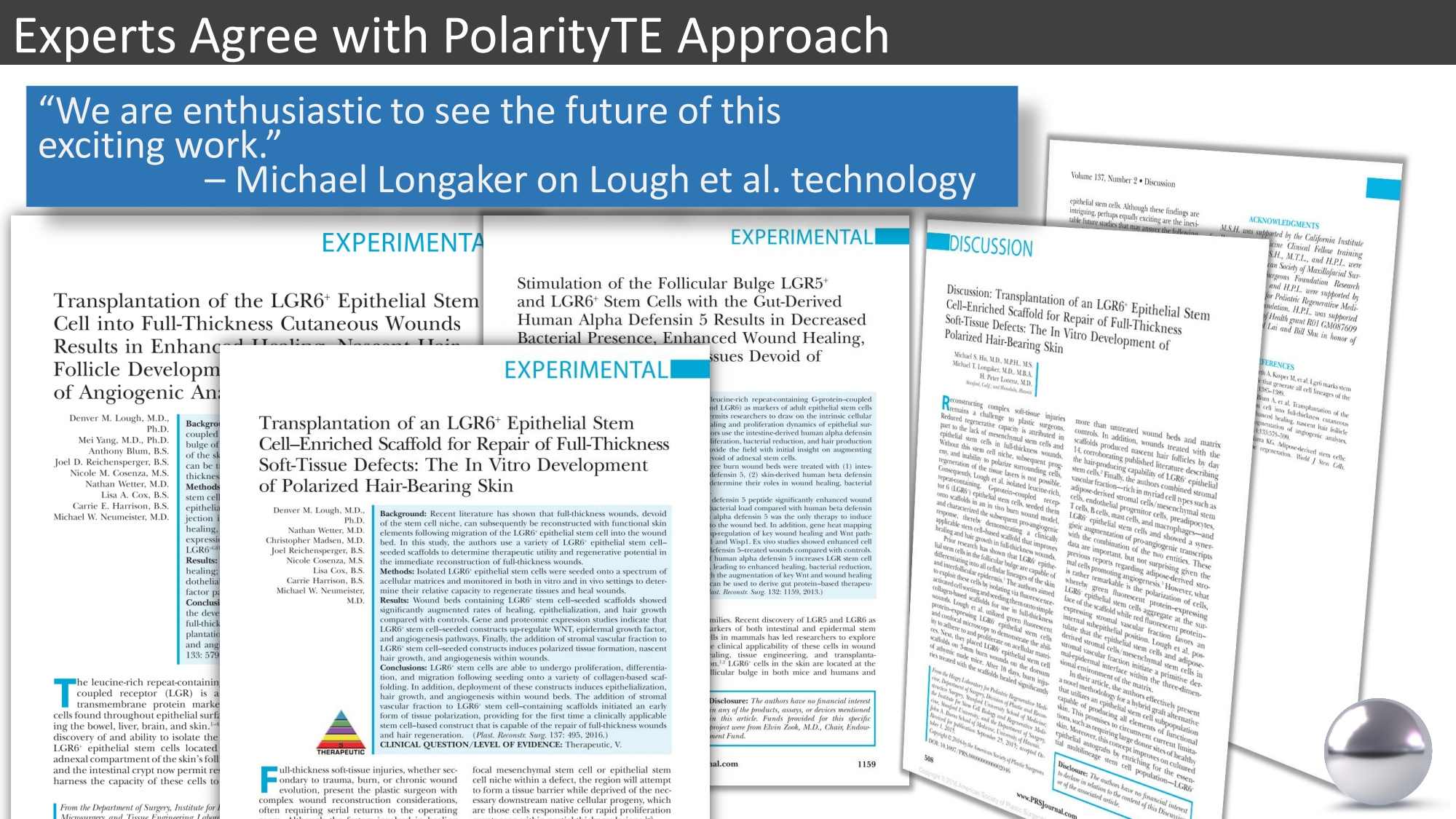 These papers (along with another from SIU dated November 2013) are also included in the company's provisional patent application specification.
Is there another explanation?
Perhaps Polarity funded these experiments, and has IP agreements with the Universities? Nope. From the end of the 2014 paper:
ACKNOWLEDGEMENTS

Funds provided for this specific project were from the Elvin G. Zook, M.D., Endowed Chair of Plastic Surgery, the Memorial Medical Center Grant Foundation, and the Southern Illinois School of Medicine, Department of Surgery Research Fund.
Polarity was not even incorporated until the end of 2016: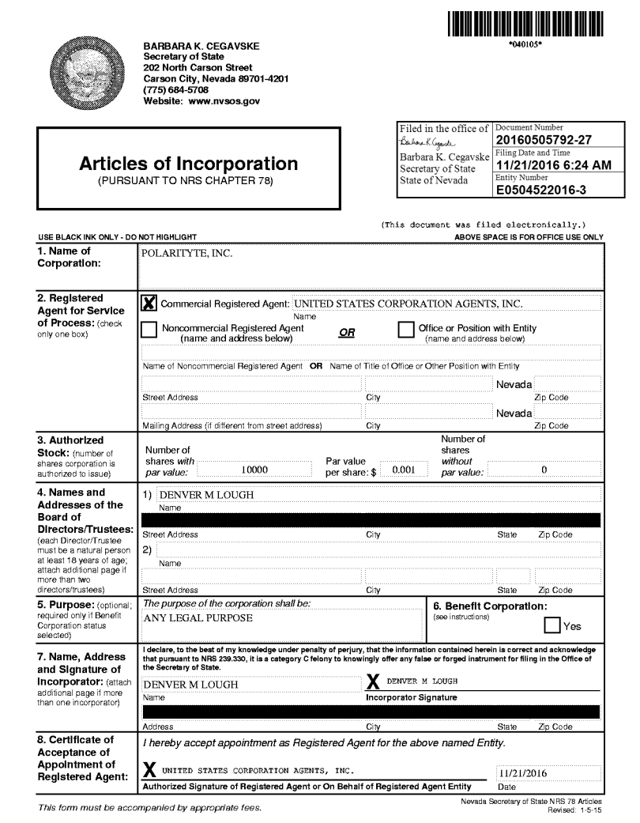 Could Denver Lough have developed the technology and written his patent application on his own, or under another entity? Not by Polarity's own admission. From a February 2017 corespondance with the SEC (emphasis ours):
The doctors lead the Company's current efforts focused on scientific research and development and in this regard on December 1, 2016, the Company leased laboratory space and purchased laboratory equipment in Salt Lake City, Utah. Subsequent expenditures during January 2017 include $1.25 million for the purchase of microscopes for high end real-time imaging of cells and tissues required for tissue engineering and regenerative medicine research. The Company has added additional facilities, and established university and scientific relationships and collaborations in order to pursue its business. None of these activities were performed by Dr. Lough or Swanson prior to December 1, 2016 in connection with their university positions or privately.
Recall the first patent application was written in 2014.
What will the universities do?
Per the the quote from the 2018 Q1 10-Q at the top of this article, the company strongly implies it does not have licensing agreements with JHU or SIU.
If SkinTE is successful, our guess is they'll sue. JHU's IP policy normally gives inventors 35% of net revenue. SIU's IP policy does not appear to be public.
What does the company say about this?
We have tried to contact them about this issue multiple times, through multiple different people. We've never gotten a response.
Disclosure: I am/we are short COOL.