PolarityTE's Unlikely Narrative
PolarityTE (NASDAQ:COOL) went public via a reverse merger orchestrated by a notorious gang of pump-and-dumpers: Philip Frost, Barry Honig, John Stetson, Michael Brauser and John O'Rourke. The SEC recently sued all of these men for their involvement in other frauds. Stetson was immediately fired by Polarity.
The company's core technology, or "CoreTE" as they call it, is said to be a breakthrough in regenerative medicine which can regenerate a range of tissue types: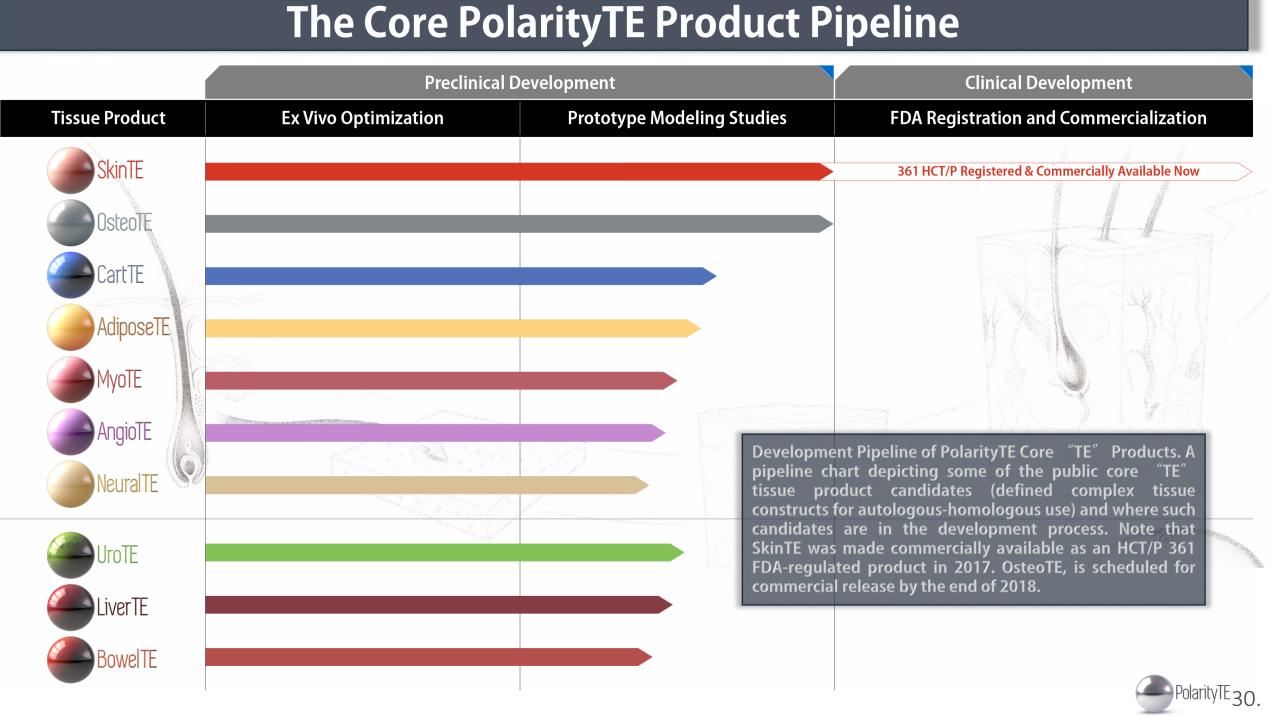 Based on the above picture, the company would have us believe their technology can regenerate skin, bone, cartilage, fat, muscles, blood vessels, neurons, bladder, liver, and intestines. All this was discovered by a Johns Hopkins resident, the CEO and founder Denver Lough, without the aide of a research institution which might lay claim to the IP. Also, the nature of the CoreTE technology allows it to be commercialized without FDA pre-approval and lengthy clinical trials.
Polarity's lead product, SkinTE, is claimed to be a regenerative medicine kit for doctors to use on patients with burns and other serious skin wounds. Doctors take a sample of a patient's skin, send it off to Polarity, and receive it back in a day or two. The final product is a paste applied to wounds and burns, said to have regenerative capabilities.
Needless to say, this story sounds too good to be true. Below we'll dig into a number of the company's claims, and find them wanting.
Obvious Lie: SkinTE is patented
In a puff piece on Fox Business, the founder and CEO Denver Lough claims his technology is patented. It's not. All they have are three patent applications.
This easily-refuted claim is strewn throughout their press materials and a few 8-K filings. Their 10-Q/Ks and S-3s properly represent their IP as patent applications. Here's an image from their investor presentations:

Obvious Lie: SkinTE looks just like the patient's own skin
At the 0:48 mark of the above-mentioned Fox Business interview, Lough says:
[SkinTE] regenerates full-thickness, hair-bearing skin that looks just like the patient's own skin, because it is their own skin.
As far as we can tell this is only true if the patient is a mouse.
Their Key Opinion Leader Summit (warning, the full video is very graphic) contained images from many SkinTE applications on humans. None of the SkinTE-covered wounds ended up looking like the patients' own skin. Here's an example from the 0:59:51 mark of the KOL video, six months after the application of SkinTE: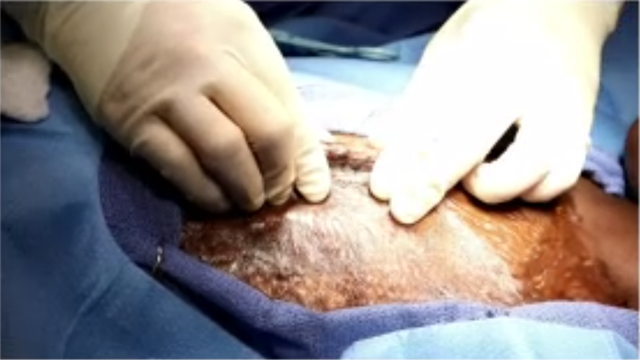 Also, we have not seen any images showing SkinTE to regrow human hair, though the company often claims it can.
Obvious Lie: Polarity claims to have developed its technology outside of other institutions
This is important because research institutions almost always have researchers sign intellectual property agreements granting intellectual property rights of any discoveries to the institution. We dug deeply into this issue, and found proof Lough's patent applications were developed with the support of Southern Illinois and Johns Hopkins universities. Oddly this is something the company used to tout, presenting Lough's papers written at SIU and JHU: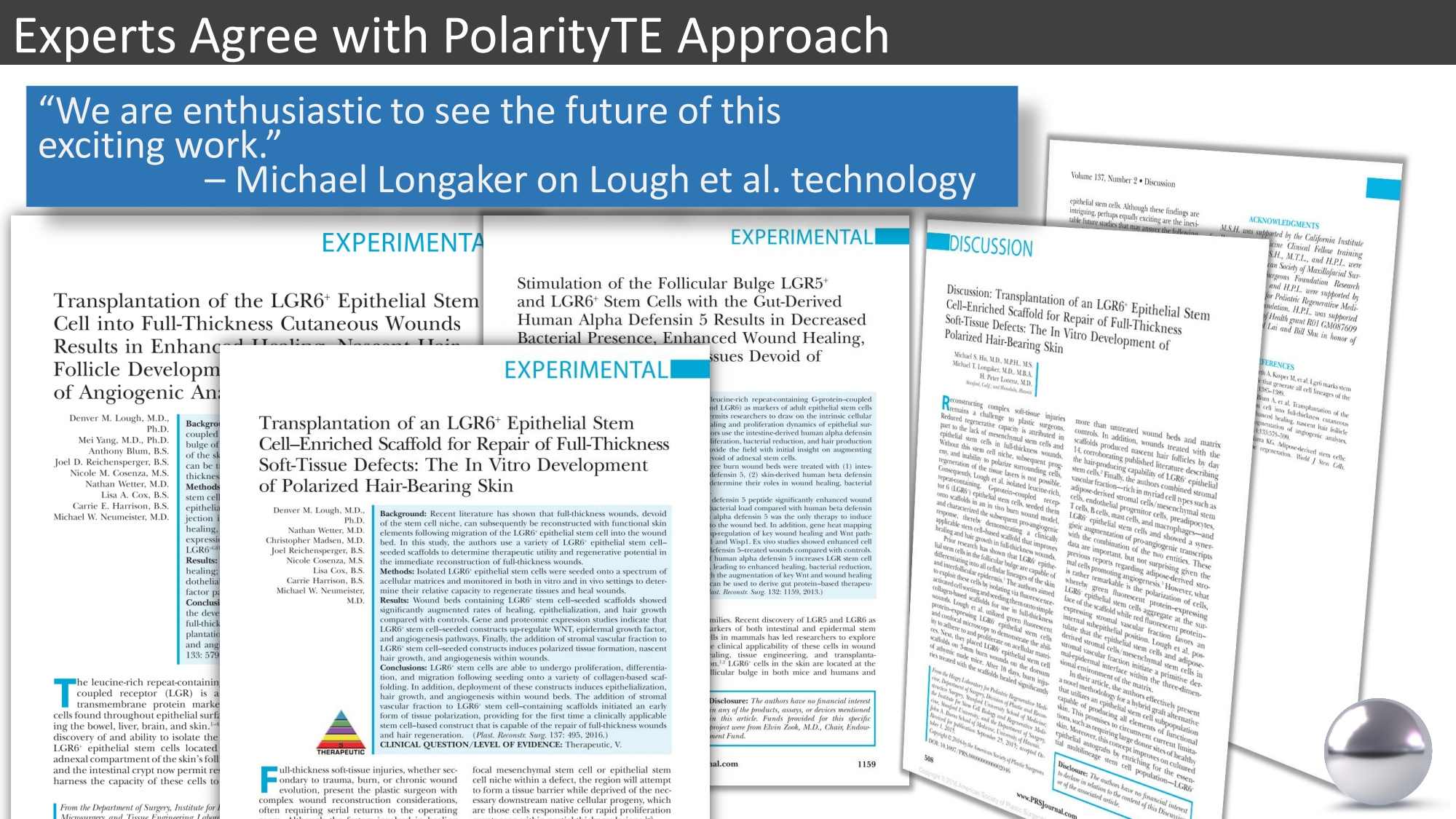 Please see our full report for full supporting evidence.
A Silly Lie or Mistake: The OsteoTE rabbit images
Polarity has a product called OsteoTE which can supposedly regenerate bone. They present before-and-after images of a rabbit treated with it, but the images are of different rabbits: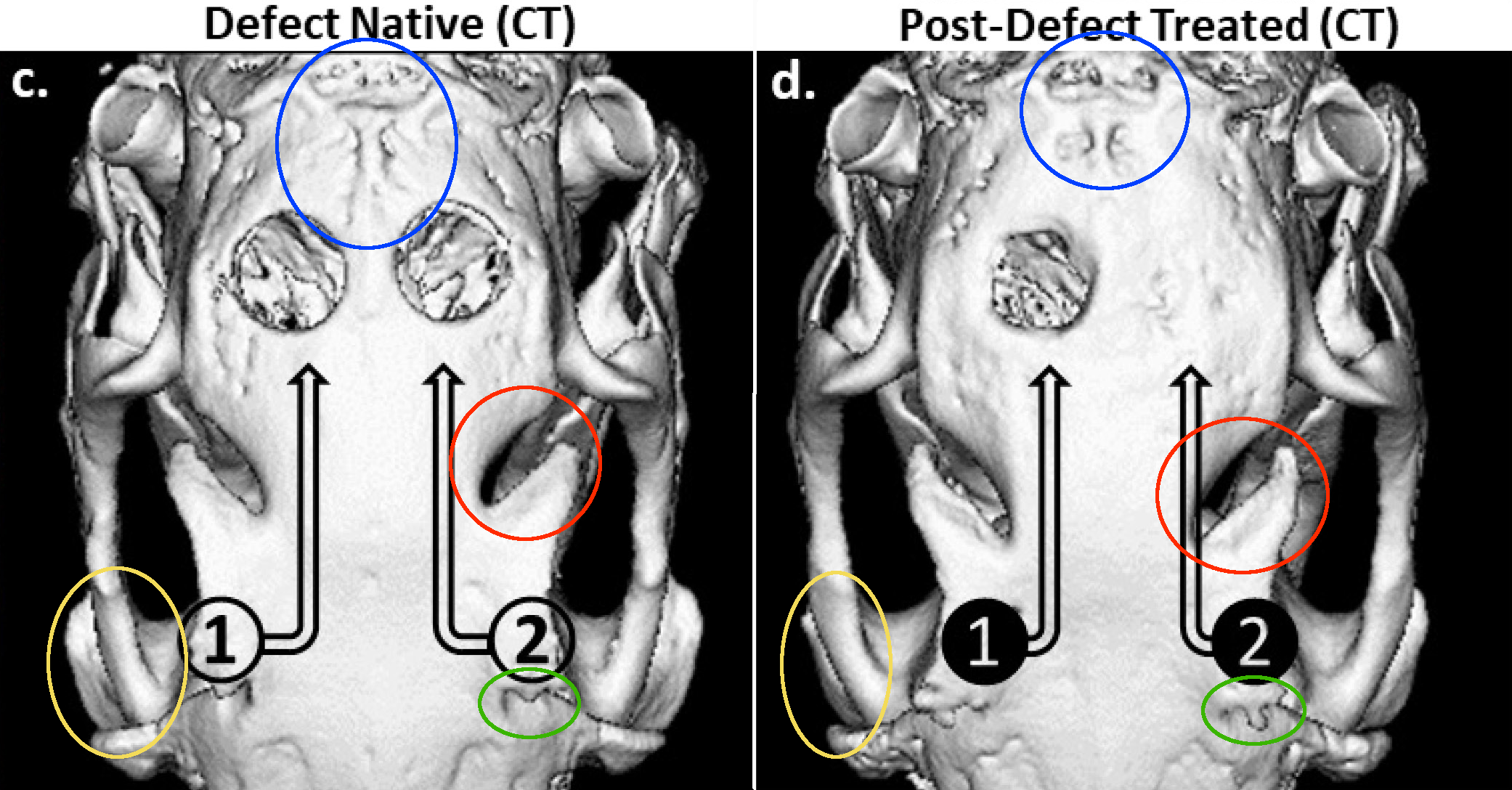 For more information, see our full report.
Probably False: SkinTE qualifies as a section 361 human cell tissue product
This would allow SkinTE to be marketed in the United States without FDA pre-approval. This means no lengthy and expensive trials to show safety and efficacy. Fortunately the FDA recently released some illuminating guidance on what is or is not a 361 product: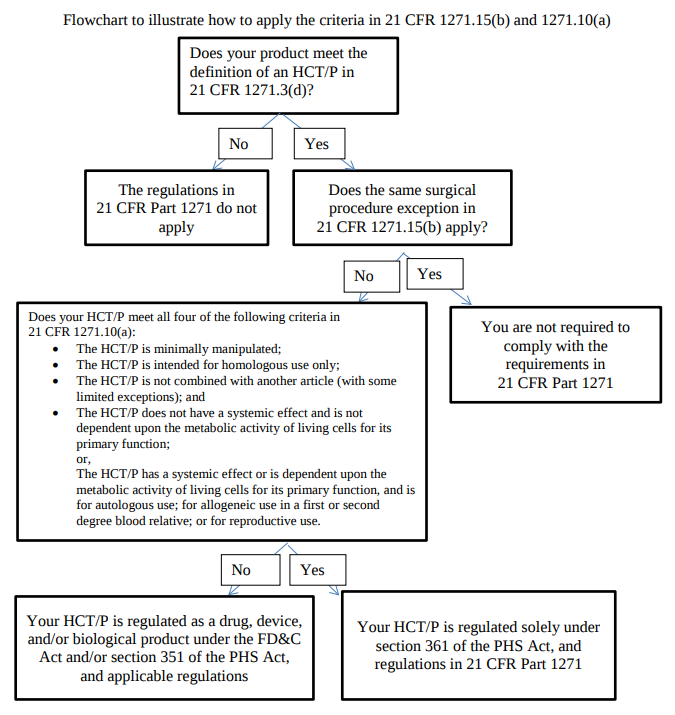 We studied the FDA's guidance, Lough's academic publications, as well as the company's patents and statements to the press, and found this claim to almost certainly be false.
For more explanation and supporting evidence, see our full report.
False Implication: SkinTE has passed "FDA 361 Process Verification(s)"
Polarity's investor presentations strongly imply the FDA has verified SkinTE is a 361 HCT/P: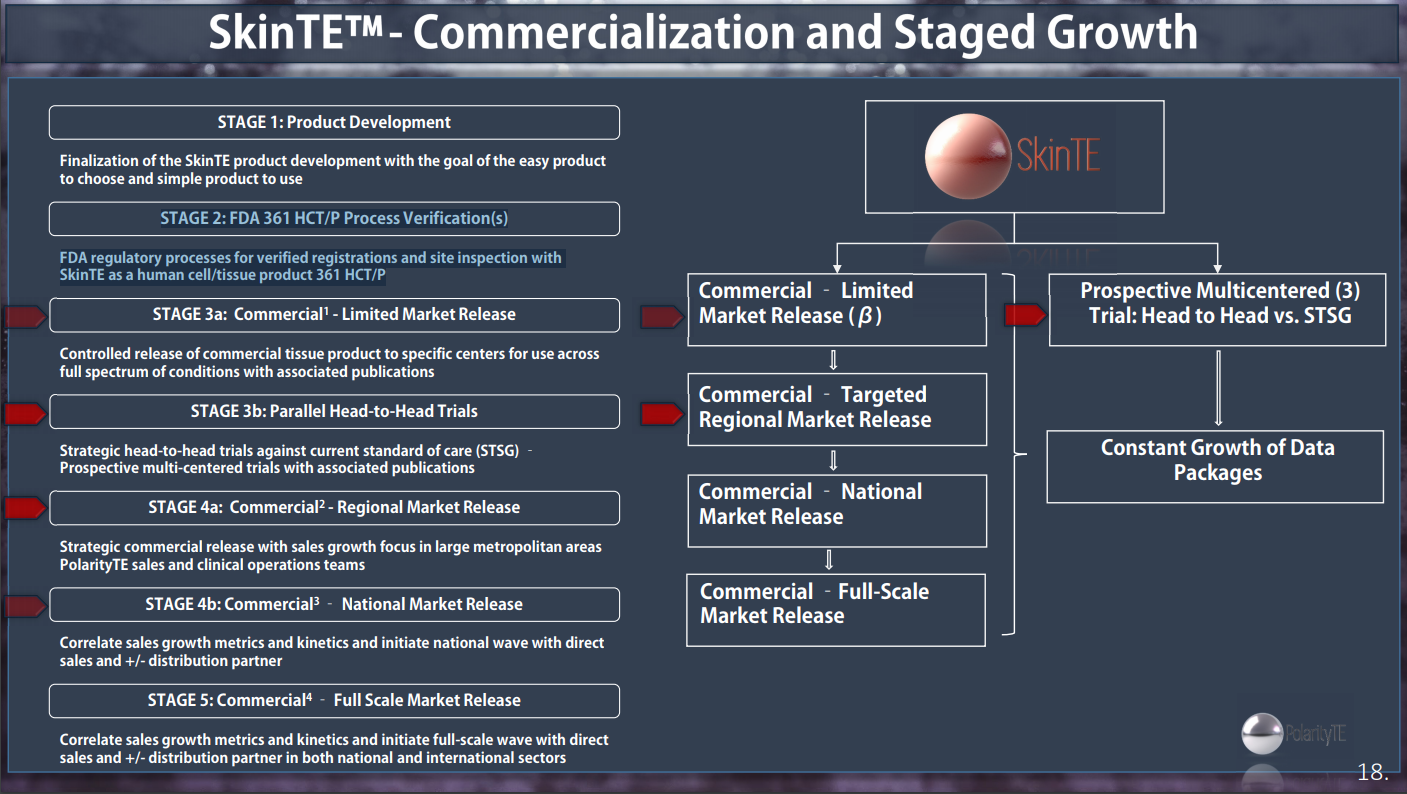 We were contacted by someone who had spoken with the FDA and found this to be false. See the aforementioned report on SkinTE's 361 status for more information and evidence.
Misleading: Most of Polarity's "management team" doesn't work at the company
From their investor presentation: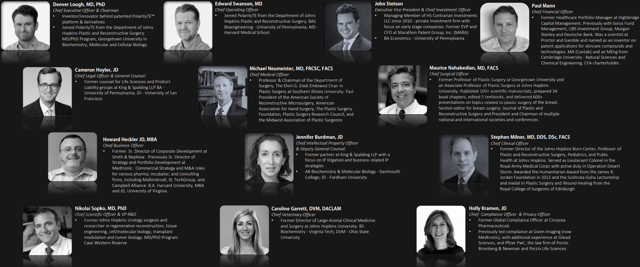 An essential part of the bull thesis for Polarity is that multiple, well-paid doctors and lawyers left their prestigious careers to join the company. Why would they give up their careers to join a fraud? As far as we can tell, the only doctors on the management team who moved to the company's Salt Lake City headquarters were residents who had not yet started their career. No lawyers appear to have moved.
Denver Lough, Ned Swanson and Nikolai Sopko were Johns Hopkins residents who seem to have moved to Utah. Note they own 8,450,000, 946,000 and 152,000 shares, respectively.
Michael Neumeister is a professor at SIU and does not have a medical license in Utah..
Stephen Milner is said to reside in the UK at the 1:07 mark in the company's key opinion leader summit. He does not have a license to practice in Utah.
Maurice Nahabedian has a private practice and no license in Utah.
Jennifer Burdman and Holly Kramen are listed as active attorneys by the Washington D.C. Bar Association. Their Linkedin profiles also show them as living in the D.C. area.
Per the State Bar Of California, Cameron Hoyler resides in Rolling Hills, CA. The CA Bar requires attorneys maintain a current address within 30 days of any change, so it's very likely this information is still accurate.
We believe the CFO Paul Mann resides in New York City, about an hour from Polarity's Hazlet, NJ office. We believe Howard Heckler lives further north in New Jersey, also about an hour away from the office.
How many of these people are full-time employees? How effectively can they telecommute?
To check Utah medical licenses, go here.
What does the company have to say for itself?
We have attempted to contact them multiple times through multiple different parties, without response. Eventually we gave up. If members of the press are reading this, perhaps they can get the company to respond?
What else are they lying about?
It would seem very unlikely these are the extent of Polarity's lies. Here are some things we'd like to know:
Why isn't the company pursuing registrational trials with the FDA, given the likelihood of SkinTE requiring pre-market approval?
How often does SkinTE skin regrow hair on humans?
Is Stephen Morris, seemingly the only non-employee of Polarity who presented in Polarity's KOL summit, compensated in any way?
Does the company know if they are the target of any ongoing SEC investigations? We believe the SEC has been looking into them for some time.
When can we expect the company to publish peer-reviewed studies of SkinTE and their other CoreTE products?
Disclosure: I am/we are short COOL.