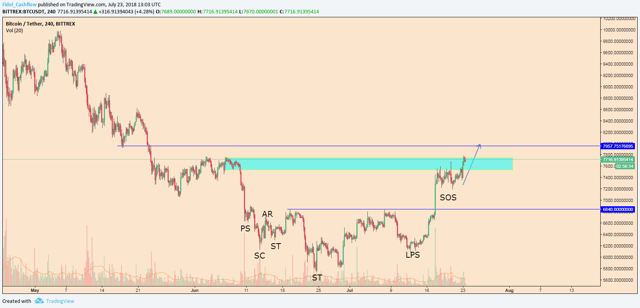 First up is BTC-USD. It is currently in Phase D of Wyckoffian Accumulation structure, and is looking to continue its current upmove if we can get a close above $7750. If this blue box breaks, we are looking at ~8000 before our next major resistance. For this, I will not be shorting or longing, as the R/R is not favorable. But, if you believe in BTC long term like I do, these might be the best prices we see in a while.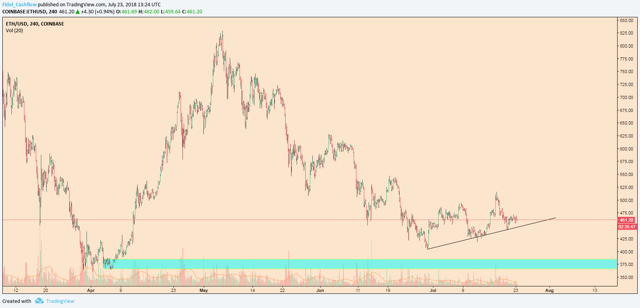 Next up, we have ETH-USD. So we know BTC and ETH have been positively and negatively correlated throughout their lifetimes. They have been positively correlated since February of this year, but as of 7/14 they seem to have flopped and become inversely correlated. This means that when BTC goes up, ETH goes down. Technically, ETH is looking very weak, so I am expecting a break of the black trendline, and a return to previous lows at ~380. For this setup, wait for the black line to be confirmed as resistance once it is broken, or short upon breaking (more risky could be shakeout). Once broken, you will be able to short all the way down to blue rectangle ~380.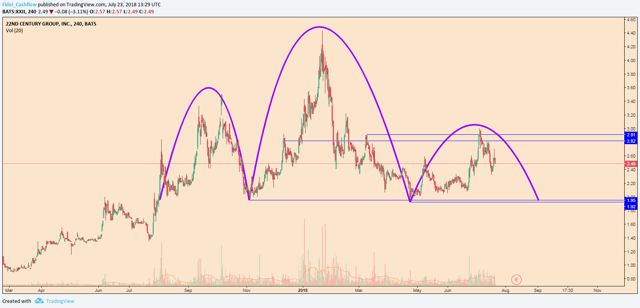 $XXII is one of my favorite stocks to trade just because its volatility and low price. This one is easy enough. It appears that XXII is forming a Head & Shoulders formation, and has been rejected at the peak of the right shoulder. I believe this action will take us down to the neckline. There, we could either see a rebound, or just a clean neckline break, which would indicate a short. For now, my move is to short if $2.77 is retested, and take profit $2.01. My SL will be around $3.05. If feeling risky, go ahead and short if you are confident that H & S will fulfill.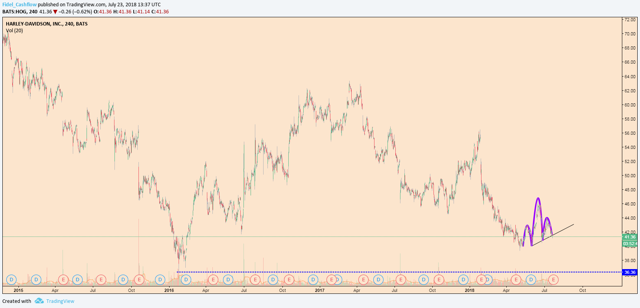 Our last trading setup will be $HOG. This will be a mid to long term play, as this stock is not very volatile, but very fun to trade. As you can see, there is a H & S formation that has been fulfilled with a gap down on opening under the neckline. For this setup, I will wait for the gap to fill and retest the bottom of the neckline, then I will short. Midterm T/P (take profit) will be $39.82. Longterm T/P will be the blue line at $36.47. SL at $45.50. 
This is my first blog about trading setups. I appreciate anyone who read through it and feedback is appreciated.
Disclosure: I/we have no positions in any stocks mentioned, and no plans to initiate any positions within the next 72 hours.
I wrote this article myself, and it expresses my own opinions. I am not receiving compensation for it (other than from Seeking Alpha). I have no business relationship with any company whose stock is mentioned in this article.