I'm no economist so this article won't be laced with double dip recession theories or U-Shaped recovery arguments.   I have no clue as to what stage in this recovery or recession we are in.  However, there is one thing I'm quite sure of:  my neighbor, The Joneses (read: consumer), "ain't" buying much these days. And oh by the way, Mr. Jones was laid off recently.
So how did we get here?  Well, since the bull-market that began in the mid-1980's, led by the advancement in technology, the consumer displayed an invincible-like mentality with regards to personal consumption and debt accumulation.  "It's only money, I can make (or borrow) more", was the mentality. 
 The numbers are well documented: our economy derives approximately 70% of its growth from consumer spending.  According to the Bureau of Labor Statistics (BLS) reports, consumer spending is now the largest component of U.S. gross domestic product (NYSEMKT:GDP).  So in essence we have "The Joneses" to thank for our economic growth over the past multi-decade period because consumer spending was such a potent economic catalyst. However, one has to worry if those spending habits and accumulated debt will ultimately have harsh consequences far beyond what we've already endured.   The depiction in the chart below should provide the commonsense answer: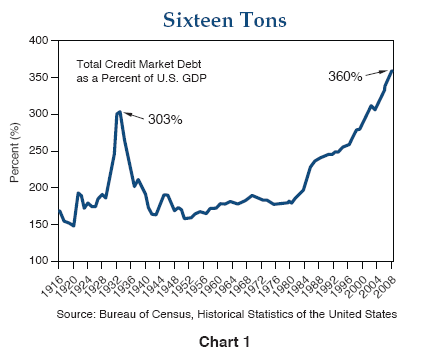 Our ingenuity gave us a historic bull-run from the mid-eighties through October 2007.  However, it was irrational exuberance in regards to stock valuations (and the belief that anything .com was a must own company), coupled with the horrific events of 9/11 that caused the S&P 500 to fall from a high of 1552 (Mar'00) to a low of 768 (Oct'02).  But our resolve and financial wizardry created another unprecedented bull-run from Mid-2003 to an all-time high on the S&P 500 of 1576 (Oct'07).  Throughout the course of these two successive bull-run, one theme remained common: debt accumulation and consumer spending.   
Well now the time has come to face the debt-demons and unfortunately we're facing these debt-demons with the official unemployment rate at 9.5% according to Bureau of Labor Statistics' (BLS) data. Note: the U-6 rate is closer to 16%. The U-6 unemployment is the BLS' broadest unemployment measure, including short-term discouraged and other marginally-attached workers as well as those forced to work part-time because they cannot find full-time employment.
The good news is that the consumer has reigned in the borrowing.  As documented in the most recent Federal Reserve Data release, consumer credit declined by an annual rate of 4.5% in May 2010, revolving credit decreased at an annual rate of 10.5%, and non-revolving credit decreased at an annual rate of 1.5%.  Total borrowing has now declined for 15 of the past 16 months, with credit card borrowing contracting for 20 consecutive monthly readings. We can't fault the consumer for taking on less debt, but the consumer is being aided as lending has virtually ceased as well.  Although the aforementioned statistics seem to be relatively good news, the fact that The Joneses can't accumulate (spend) anymore and are living on less income has put a dampening effect on sustained economic growth. 
Consider the retail sector:  retail sales plunged in May by the largest amount in eight months as consumers slashed spending on everything from cars to clothing, according to the U.S. Commerce Department. Total spending fell a whopping 1.2% and sales at U.S. Wal-Mart stores fell 1.4% from the same period last year. The company put the weak sales number squarely on the shoulders of the consumers. "More than ever, our customers are living paycheck to paycheck," said Tom Schoewe, the chief financial officer. When Wal-Mart, an economic bellwether, notes that customers can't afford the gas to get to the stores and that they're increasingly using food stamps when they get there, things are bad.  And it's not just Wal-Mart, Target Chief Executive Gregg Steinhafel, noted, when referring to the economy and consumer sentiment, "we believe that both are still somewhat unstable and fragile and will likely continue to experience occasional setbacks as the year progresses".
So with credit market debt at Great Depression levels (see Chart 1), the consumer basically tapped out, unemployment at near 10%, ongoing bank losses, and constrained credit limits how can this market recover from successive punches to the chin?
In defense of Mr. Market, he has basically done everything he can do to keep investor sentiment up.  Every time it appears he goes down for the count he manages to get off the canvas and go for another round.  As stated above, he withstood a mighty blow to the chin with the evaporation of wealth caused by the tech-bubble blowout circa 2000.  Nevertheless Mr. Market got up and managed to put forth a valiant effort during the credit and housing bubble, only to suffer another massive blow to the chin.  He managed to get to his feet (Mar'09 to Apr'10), but he is still wobbly.  In order for Mr. Market to get his legs under him and bounce back, it cannot be left up to the consumer alone; Mr. Market is going to need serious help in his corner.  In the meantime however, the arguments concerning the forward looking health of the US consumer as a major contributor to the economic growth continues to dominate this trader's perspective and contribute significantly to my bearish intermediate view on equities. 
There of course will be rally's to feed into the cycle of hope (near term 1080-1100), but the current trajectory has this market (S&P500) headed lower i.e. 912 and 865.   
In closing, I found a historic piece that adds a bit of eerie retrospect to our current state of affairs.  
In his 1951 memoir, Beckoning Frontiers, Marriner Eccles, Chairman of the Federal Reserve from 1934 to 1948, detailed what he believed caused the massive downturn that caused the Great Depression.  Here's an excerpt that may find some relation to the current state of our economy:
"…..The time came when there were no more poker chips to be loaned on credit. Debtors thereupon were forced to curtail their consumption in an effort to create a margin that could be applied to the reduction of outstanding debts. This naturally reduced the demand for goods of all kinds and brought on what seemed to be overproduction, but was in reality under-consumption when judged in terms of the real world instead of the money world. This, in turn, brought about a fall in prices and employment.  Unemployment further decreased the consumption of goods, which further increased unemployment, thus closing the circle in a continuing decline of prices. Earnings began to disappear, requiring economies of all kinds in the wages, salaries, and time of those employed. And thus again the vicious circle of deflation was closed…."
Disclosure:
Short S&P 500