If you follow emerging markets and believe that developing nations will continue to narrow the gap with their developed counterparts at a rapid clip, Cambodia could be a worthwhile place to focus your energies.
In short, Cambodia has emerged from the terrible nightmare that was the Khmer Rouge to a rapidly growing democratic nation coming onto the world stage like their counterparts in Southeast Asia before them.
While the country is often viewed trailing its Vietnamese neighbor, Cambodia has been making inroads for many years on the economic front. For some great background and statistics galore, see the following links: www.capitalistexploits.at/2012/01/cambodia-the-new-emerging-market/, www.nis.gov.kh/, and data.worldbank.org/country/cambodia.
The country has now reached a unique inflection point for potential investors with the opening of the Cambodian stock exchange in July of 2011. Although no companies are currently listed, this is soon to change as the Phnom Penh Water Supply Authority is scheduled to begin trading on or about April 18th. These are uncharted waters to an extent as having the first company to list on a nations' stock exchange is always a bit of an experiment in terms of liquidity and overall interest. It is likely difficult however that a better company could have been chosen to be the first to IPO than the nation's largest water utility.
From the valley to the mountains
The Phnom Penh Water Supply Authority (PPWSA) is a great example of what can be accomplished in a developing country when management of (in this case a water utility) is transferred from the (often) incapable hands of the government to the very capable hands of a private operator. What was once a terribly inefficient and poorly run (albeit war ravaged) government operated water utility has become one of the most highly decorated in all of Asia over the course of the last 19 years. A very important distinction is that this is not simply just a very well run water utility given the circumstances of operating in a developing country. This is a water utility whose operating metrics would be the envy of any operator, developing country or not. In fact, it is recognized as one of the most efficient water utilities in all of Asia.
Much of the success is due in large part to the crusade-like leadership of CEO Ek Sonn Chan. From what I have been able to gather, Mr. Chan's mission in life is to supply Cambodia with clean and affordable drinking water. An article from NPR quoted Mr. Chan as saying that he has written on a piece of paper above his bed that he will not rest until all of Cambodia has clean running water. Certainly an individual driven by the need to provide water and ultimately save the lives of Cambodians who for so long have endured hardships unfathomable to many of us.
In 1996, the Cambodian Government granted the PPWSA administrative and financial autonomy. This allowed them the freedom to operate as a private corporation with the authority to plan, budget, and innovate. Further, PPWSA does not get any subsidy from the central government. This has been of the utmost importance has it has enabled them to remain outside the political fray and the whims of local politicians.
In Mr. Chan's own words "It's not the problem of scarcity of water resources; it's not the lack of financing, but because of [the] lack of good governance." This, unfortunately, is a theme in many developing and developed countries where a lack of political will as well as not viewing water as an economic commodity creates tremendous inefficiencies resulting in a continued cycle of water poverty for so many of the world's poorest.
After Mr. Chan took the reigns of the company in 1993, he began the arduous process of transforming the once dilapidated, inefficient, and poorly run utility into the beacon of success it is today. At the time he took control, the problems were enormous and what one would expect of a utility that had been neglected for so long: Illegal water connections, few actually paying for water, service available for 10 hours a day, unsafe quality, and only 25% of the city actually having running water among others. What has taken place since then has been truly remarkable as the operating statistics reveal. To fully appreciate everything that has been accomplished, you need to look at the entire investor presentation but in short, the chart below shows the Pièce de résistance: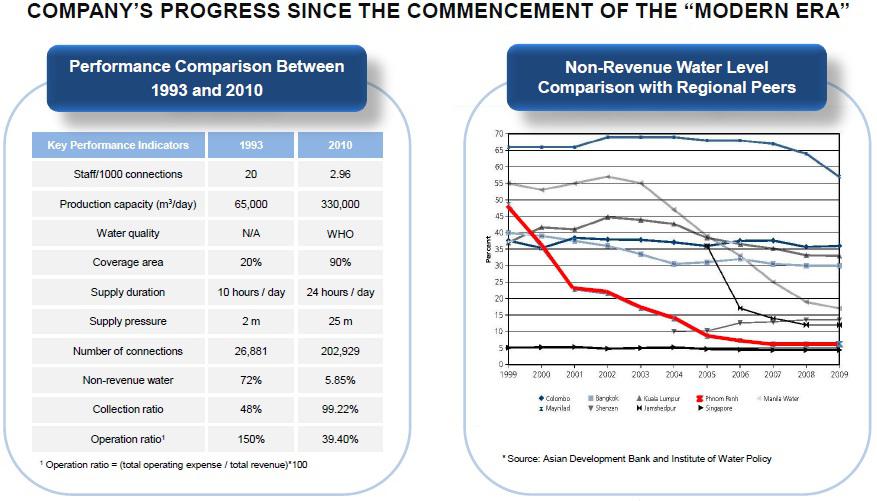 Source: Investor presentation
The figures above are truly astounding. Every operating statistic on the chart speaks volumes as to how well run the utility really is. Perhaps most striking are the figures on non-revenue water (which equals the percentage of water lost through pipe bursts, leaks, etc.) The ability to control non-revenue water losses is greatly important as it is the largest driver of financial performance as a decrease in water loss results in an increase in billings and income. The World Bank estimates that the total cost to water utilities in developing countries caused by non-revenue water loss is around $5 billion a year. This amounts to an estimated 45 million cubic meters of water lost daily, enough to provide water for some 200 million people.
For PPWSA, a staggering 72% of water once lost through old broken pipes has since been reduced to close to 6%. Another is the supply duration which was once limited to only 10 hours a day but has since increased to 24. The water was once of questionable quality (at best) but is now granted World Health Organization status.
This is such an incredibly powerful economic building block that so few seemingly appreciate. The people understand and truly appreciate how important having clean water available 24 hours a day is and that is reflected in the collection ratio of 99%. The people of Phnom Penh remember what it is like having water of terrible quality coupled with erratic service and thus have no problem paying for safe, reliable water.
What the operating figures don't reveal is how they were achieved and the blood, sweat, tears, as well as great personal risk sometimes experienced by those who worked at the utility in its earliest days. There is the story recounted in an article from NPR about Mr. Chan and his team going around Phnom Penh in the 1990's trying to convince people of the benefits of installing water meters. A General objected to the plan and at one point, put a gun to Mr. Chan's head. Fortunately, cooler heads prevailed.
The Second coming of Manila Water?
Why do I have faith investing in the first publicly traded company to list in Cambodia? Three reasons. First, I have a long-term view (years) in mind. Second, this is a business with a legal monopoly on a regional level with room for expansion and generally insulated from the vagaries of what the economy does. Third, the Phnom Penh Water Supply Authority seems to be the second coming of publicly traded Manila Water, which, listed its shares on the Philippine exchange in 2005. While no doubt the Philippine exchange was much further along in its development and Manila Water wasn't the first company to begin trading on the exchange, the parallels between the two are many and striking. Below are a few key operating metrics from the two that show what they have been able to achieve since taking over the operations to the IPO. For Manila Water, it lists their figures from the time they took over the concession in 1997 to their IPO in 2005.
| | | |
| --- | --- | --- |
| Key metric | Phnom Penh Water | Manila Water |
| Year | 1993 2010 | 1997 2005 |
| Staff/1000 connections | 20 2.96 | 9.8 4.1 |
| Production capacity | 65m 330M | 440m 864m |
| Water quality | N/A WHO | N/A PNSDW |
| Coverage | 20% 90% | 26% 96% |
| Supply duration | 10 hrs/day 24 hrs/day | 16 hrs/day 24 hrs/day |
| Number of connections | 26,881 202,929 | 325,000 600,000 |
| Non-revenue water | 72% 5.8% | 63% 35.5% |
| Collection ratio | 48% 99.2% | N/A 99% |
Source: PPWSA prospectus and Manila Water annual reports
The Philippines by and large doesn't have so much water source problems but rather allocation, leakage, and weak enforcement of laws which leads to millions of gallons still wasted every year. Many residents in the poorest communities spend much of the day waiting in line at public faucets, or paying exorbitant prices for water from a public vendor at rates as high as 10 times the unit cost of what residents connected to a main pay.
Like PPWSA, when Manila Water took over the concession to operate the eastern half of Manila's water system in 1997, the infrastructure was in desperate need of repair. The system run under its predecessor (Metropolitan Waterworks and Sewerage System) was plagued with illegal connections, leaks, bad service, and only an estimated 60% of its service area (13 million people) connected to the network supplying water for an average of 16 hours per day.
Jump ahead to 2005 and Manila Water had made tremendous inroad's on all fronts. The customer base exceeded five million, increasing by more than two million since 1997 with roughly 95 percent having 24-hour water availability compared with only 26 percent eight years before. The number of connections had almost doubled and non-revenue water loss had dropped from 63% to 35.5%.
At the time of Manila Water's IPO (March 2005) the exchange had 235 listed securities. It's IPO was the first international public offer by a Philippine issuer since 1997 drawing tremendous local and international investor attention. The international offering was in fact 15 times oversubscribed at the top of the price range. The company was later voted the Philippines' Best Managed Company in the small cap category by Asiamoney.
How much is it worth?
What is a reasonable price to pay for an exceptionally well run monopoly that also happens to be the first company to begin trading on a new exchange? A loaded question no doubt but I believe we have a very good idea of what this company is going to be doing in the next few years: Continuing to expand their services and follow CEO Chan's vision of bringing fresh, safe, and affordable drinking water to all the people of Cambodia. The company is planning on floating about 15% of its shares (13 million) out of a total 86 million with the government retaining an interest of 85%. The anticipated IPO price is between 4,050-6,350 Khmer Rial's or $1-$1.57 per share. It is quite possible that the book building process will be over subscribed and the initial offering price will get bumped up a bit. The company will retain 10% of the IPO shares offering employees with greater than 12 months the ability to purchase stock accompanied with a 3 year lock-up period. PPWSA has not granted any stock options to employees
As part of the IPO process, the Securities and Exchange Commission of Cambodia required PPWSA to have its immovable assets valued by a third party. These in effect are the assets used to support the production process and consist of the assets in the chart below. It excludes machinery, plant and equipment that are used in the general administration of PPWSA. These figures provide a great estimate as to the replacement costs of the utility's core assets.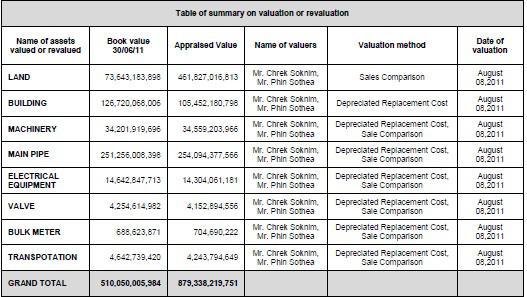 Source: PPWSA Prospectus
A simple back of the envelope valuation yields the following:
Appraised value/replacement cost 879,338,219,75
Total share count 86,973,162
Intrinsic value per share 10,110 Khmer
Book value 510,050,005,984
Total share count 86,973,162
Intrinsic value per share 5,864 Khmer
If the IPO of Manila Water in 2005 is any indication as to the excitement that can be expected from investors, then it is likely the shares will be priced at the top of the price range (or higher if the offering is oversubscribed) of 6,350 or 8% above book value but at a 37% discount to the replacement cost per share.
From an earnings standpoint, if we estimate they will earn 7.6 billion (Khmer) in the fourth quarter this will bring in net profit for the year of 30.4 billion or 353.5 million Khmer per share. If the company begins trading at the higher figure of 6,350 than this will give us a P/E of 18. If we assume it begins trading between the two figures this will give it an earnings multiple of about 15. While it appears initially expensive based on its earnings, it looks undervalued from a replacement cost point of view.
| | | | | |
| --- | --- | --- | --- | --- |
| Year | 2008 | 2009 | 2010 | 3Q 2011 |
| (In Khmer 000) |   |   |   |   |
| Revenue | 92,854,636 | 96,408,260 | 106,265,913 | 85,966,833 |
| Earnings | 24,436,234 | 26,933,730 | 30,506,352 | 22,841,626 |
| EPS | 281,900 | 309,700 | 350,700 | 262,600 |
With respect to the earnings figure, could the company grow into that valuation? Possibly, given that by 2020 they estimate they will be providing 100% of Phnom Penh's water from a current rate of 90% as well as the surrounding areas. Also they will no doubt be expanding into other areas of the country given their tremendous success in the capital.
Like many water utilities, the company's revenue and earnings have grown steadily over the past several years as one would expect from a legal monopoly. An interesting aspect is that the PPWSA has not changed or increased its tariff for water consumption since 2001. The tariff itself in fact must be approved by the Prime Minister. The figures have been accomplished organically mainly by a massive reduction in non-revenue water loss, an increase in customers, a continually improving collection ratio, and better management of expenses.
The company does plan on paying a dividend but the amount will depend on the profitability in any given year as opposed to a fixed rate. As a testament to how successful the company has become, they have become a lender of sorts to the government and actually loaned 10% of their profits to various government agencies the past two years.
Is this is a perfect invesment thesis? No, none is and in this case investors will have to set up an account with a brokerage firm in Cambodia to purchase shares. Liquidity is another concern. After the initial buzz of the first company to trade on the exchange wears off, it is no doubt possible that volume could dry up and investors could end up holding shares that are quite difficult to get out of. There are two other companies set to IPO in the coming months but no firm date has been announced yet. The addition of these two IPO's (if things go well for Phnom Penh Water) could keep the buzz about Cambodia going a bit longer perhaps stimulating more investor interest and volume. If all three companies end up trading, it is likely they will be the most transparent in the country.
Growing Pains
It is natural to view the Ho Chi Minh Exchange of Vietnam and how it could serve as a rough blueprint for Phnom Penh's. The Ho Chi Minh Exchange came online in 2000 with two companies listing shares. The initial get-go was slow and it wasn't until around 2005 when things began to pick up as more companies went public. Today the exchange boasts 247 listings with a market cap. of $23 billion or so.
These are the early days of a country changing on a radical scale. Not surprisingly, you have ugly statistics such as Cambodia being ranked 164th in the world by Transparency International by perception of corruption. The only three countries deemed to have higher levels of corruption were North Korea, Myanmar, and Afghanistan. Despite the fact that Myanmar finished lower on the ranking sheet than Cambodia, it is another country rapidly changing with the low hanging fruit currently being plucked.
The upside to statistics like that mentioned above are that they often act as a deterrent to investors who become blinded and cannot see a great business when it is right in front of them. The country is then viewed through a one-sided lens and companies are labeled "too risky" at any price. The simple fact proven again and again is that the highest adjusted returns are found in those imperfect situations, be it a bankruptcy proceeding, management change, emerging market, etc. Waiting until the "all clear" signal is a sure way to average or underperformance. Perhaps what is key is just simply picking your spots.
While being far from perfect, I believe the potential rewards greatly outweigh the risks. Perhaps the most important aspect is to remember the nature of a water utility: A legal monopoly on a regional level.
Disclosure: I have no positions in any stocks mentioned, and no plans to initiate any positions within the next 72 hours.
Additional disclosure: I am in the process of setting up an investment account in Cambodia and plan on buying shares as soon as I am able.