Overview
Investors who own MLP-dedicated index exchange traded products are facing a critical problem and they may not even know it. In this paper, we'll define the problem, explain its gravity, and provide insight into what we believe is a relevant and timely solution for the current realities of midstream/energy infrastructure investing.
The Problem
Since 2014, the number of midstream companies structured as Master Limited Partnerships (MLPS) has slowly and steadily decreased. Midstream companies structured as C-Corporations (C-Corps) now account for nearly 40% of the market capitalization of the investible midstream universe.
Why is this a problem? Because of the shift toward C-Corps, index-based products dedicated solely to MLPs and Up-C [1] partnerships (e.g., AMJ, MLPI, AMLP, MLPA) are disadvantaged in their ability to track broad midstream performance, leaving investors in MLP-dedicated products with a higher concentration in fewer names and, we believe, inferior growth prospects. Simply put, investment vehicles that do not include C-Corps no longer accurately represent the companies which comprise energy infrastructure.
The Solution
BP Capital Fund Advisors' TriLine Index Solutions, LLC (TriLine) in collaboration with the New York Stock Exchange (NYSE), developed a proprietary index solution to address the problem. The NYSE® Pickens Core Midstream™ Index (ticker: NYPYPE) is designed to represent the pure fundamentals of U.S. energy midstream, regardless of company legal structure. The NYSE® Pickens Core Midstream™ Index is a modified free-float market capitalization weighted Index designed to objectively identify and select common stocks and MLPs which best represent the pure U.S. midstream energy space.
As midstream companies continue to move away from the MLP structure, we believe many existing indexes and investment products have become obsolete. Notably, NYPYPE is agnostic of entity structure and therefore includes all relevant members of the set of companies.
TriLine licenses its indexes to third parties for the creation of investment funds or other vehicles, such as exchange-traded funds (OTC:ETFS) and exchange-traded notes (ETNs). UBS licensed NYPYPE and created the UBS E-TRACS NYSE® Pickens Core Midstream Index Exchange Traded Note (ticker: PYPE). Please see "Related Products" below for more information.
We define Core Midstream as energy infrastructure assets that are central to gathering and processing, storage, transportation, fractionation, and refining logistics, as well as assets that facilitate the export of hydrocarbons (oil, natural gas, natural gas liquids). We've coined and use the term Core Midstream because:
Energy infrastructure is core to the U.S. economy
The companies that own and operate select energy infrastructure assets represent the core of midstream and can be structured as C-Corps or MLPs, not just MLPs. For a further description of C-Corps and MLPs, please see the Summary below
It represents the essential parts of the energy circulatory system which continues to attract investors because of its utility-like, recurring cash flows
Examining the Problem
By the Numbers: The Shrinking Midstream Universe
Driven by sector consolidation, MLP-to-C-Corp conversions, and private equity acquisitions, the number of midstream companies structured as MLPs has been shrinking. Since August 2014 when Kinder Morgan Inc. (KMI) announced the acquisition of El Paso Pipeline Partners (EPB), Kinder Morgan Energy Partners LP (KMP), and Kinder Morgan Management LLC (KMR), there have been over $258 billion of midstream simplification transactions by market cap. Simplification transactions involve consolidating two or more entities (typically one public general partner (GP) and one public limited partner (LP)) into one publicly-traded entity in order to lower costs of capital, eliminate incentive distribution rights (IDRs), reduce corporate complexity, and/or to improve alignment with investors. Of this $258B, approximately $169 billion (66%) were transactions in which C-Corps acquired MLPs.
Exhibit 1: Midstream Simplification Transactions Since 2014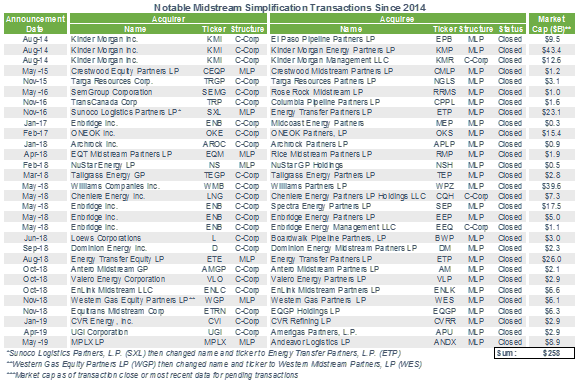 Source: Bloomberg and company reports. Data as of 9/23/2019
The U.S. Core Midstream energy market capitalization (see chart below) has shifted away from a predominantly MLP structure to a roughly 60% MLP/40% C-Corp split, currently. We believe Core Midstream will move closer to a 50/50 MLP/C-Corp split in the near-term, pending the acquisitions of Buckeye Partners (BPL), Tallgrass Energy (TGE), and SemGroup Corp (SEMG). Importantly, more simplification transactions are likely to occur, in our opinion. In Exhibit 2 below, see our "pro forma current deals" which includes transactions that have been announced and are pending, while our "pro forma next twelve months (PF NTM)" figures include the simplification transactions that we believe are likely to be announced over the next year. This split will have important implications for midstream investors currently invested in passive MLP-dedicated products.
Exhibit 2: Midstream Universe: MLPs vs C-Corps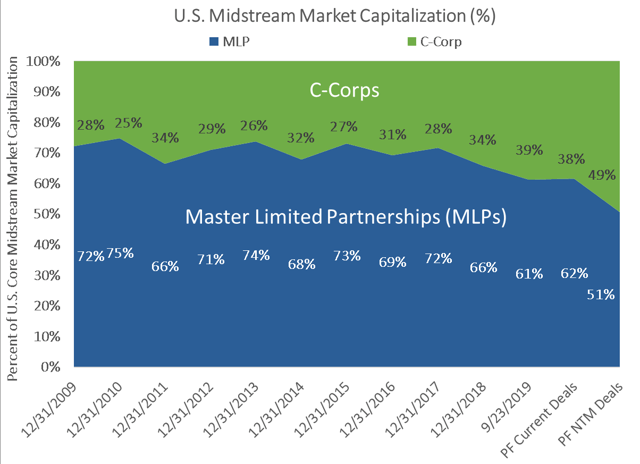 Source: Bloomberg and company reports. Data as of 9/23/2019
What Does the Shift Away from MLPs Mean for Midstream Energy Investors?
As seen in Exhibit 2, midstream companies have never been structured exclusively as MLPs. MLP-dedicated indices/products by definition exclude what we call Core Midstream companies based solely on company legal structure. When the Core Midstream split was 75% MLPs/25% C-Corps, the effect of excluding C-corps was less impactful, albeit still philosophically and fundamentally incorrect. As we approach a 50/50 split in terms of market capitalization and cash flows, MLP-only products make little sense for midstream investors, as it omits roughly half of the Core Midstream universe.
Exhibit 3: MLP-dedicated Exchange Traded Products

Source: Bloomberg. Data as of 9/23/2019
Despite these facts, advisors who license/employ MLP-dedicated indices are consciously choosing not to adapt their respective products, and, in our opinion, are putting their investors at a considerable disadvantage. Products that track MLP-dedicated indices:
Fail to represent the actual midstream company universe
Choose a smaller investment universe, thus a higher concentration in fewer names
Forego the benefits of owning some of the most prominent U.S. midstream companies by market cap, including Kinder Morgan (KMI), Williams (WMB), ONEOK (OKE), and Targa Resources (TRGP)
May accept potentially lower dividend / distribution growth
Ultimately, by choosing not to adapt, we believe they may fail to deliver what is best for investors seeking midstream exposure.
A More Thoughtful Solution: NYSE Pickens Core Midstream Index
With this problem in mind, TriLine Index Solutions and NYSE built the NYSE® Pickens Core Midstream™ Index (NYPYPE). The Index is a modified free-float market capitalization-weighted index designed to objectively identify and select common stocks of corporations and units of MLPs which best represent U.S. midstream energy fundamentals, agnostic of entity structure. The methodology (click here to view) was designed to reflect midstream energy operating fundamentals, not a company's legal structure. The Index selects constituents that reflect what we define as Core Midstream energy exposure. The goal is to get as close as possible to the underlying assets and operating results and limit the potential effect of financial engineering via General Partners' (GP) Incentive Distribution Rights (IDRs). Companies included in the Core Midstream index are domiciled in the U.S.
How does NYPYPE Compare to the AMZI? A Closer Look.
We believe an approach to index construction that includes both C-Corps and MLPs can provide improved representation of midstream companies. To quantify the improvements, we took a closer look at companies that make up the Alerian Midstream Infrastructure Index (AMZI) vs. NYPYPE, aggregated the earnings before interest, tax, depreciation and amortization (EBITDA) generated by each index's constituents, and measured that against an estimate of total Core Midstream sector EBITDA. Note that EBITDA is a measure of a company's operating performance, often used to evaluate companies by showing earnings before the influence of accounting and financial deductions.
To set the context—the Core Midstream universe from which NYPYPE selects constituents consists of companies whose EBITDA and/or Operating Margin is derived 50% or greater from Core Midstream assets. As illustrated in the chart below, these criteria result in a Core Midstream subset of:
40 total companies
Approximately split 60% MLPs vs 40% C-Corps
Total group EBITDA generation expected to be $70.7 billion in 2019, $76.1 billion in 2020 (+8% y/y), and $80.4B in 2021 (+6% y/y).
Exhibit 4: Core Midstream EBITDA by Structure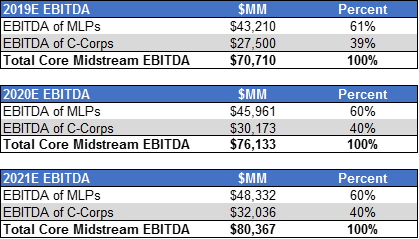 Source: Bloomberg. Wall Street consensus estimates as of 9/23/2019
By defining midstream more broadly, NYPYPE more accurately captures exposure to Core Midstream as measured by the percentage of total sector EBITDA generated by these companies.
To illustrate the significant differences between the AMZI and NYPYPE, we have included a recent constituent list of companies, their respective weightings, and the EBITDA contribution by company relative to what we have found as the more accurate definition of Core Midstream.See the comparisons below in Exhibit 5 and Exhibit 6.
Exhibit 5: AMZI Holdings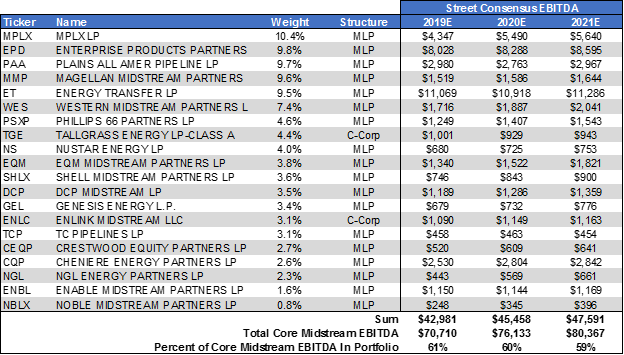 Source: Bloomberg. Data as of 9/23/2019
Exhibit 6: NYPYPE Holdings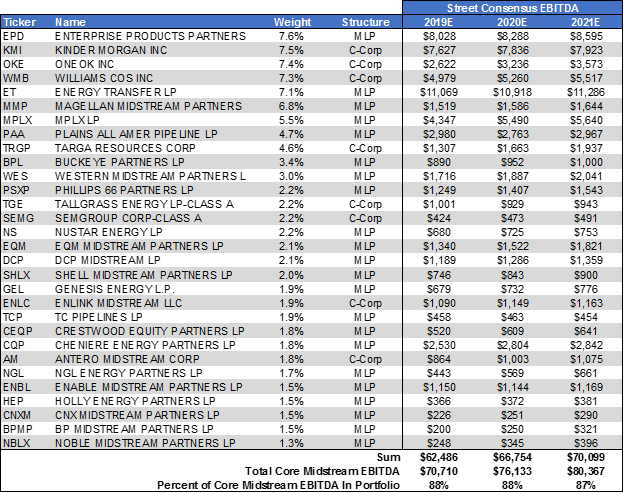 Source: Bloomberg. Data as of 9/23/2019
The AMZI has two differences that we believe are shortcomings:
The AMZI has fewer companies in the index and a maximum weight of 10%, which suggests greater position concentration
The companies in the AMZI capture only 59-61% of total Core Midstream EBITDA exposure vs. NYPYPE, which captures 87-88%.
Alternatively, we believe NYPYPE, by including both MLPs and C-Corps, more accurately represents Core Midstream. In addition, NYPYPE reaps the benefits that a C-Corp structure provides:
C-Corps, in general, have better corporate governance practices and shareholder rights compared to MLPs
C-Corps have access to larger pools of capital, broader index inclusion, and passive capital flows
C-Corps are not typically controlled by a separate GP, nor do they have IDRs, a form of GP compensation
C-Corps generate a 1099 tax form instead of a complex Schedule K-1 that MLPs generate
These benefits explain some of the recent outperformance of NYPYPE vs MLP-dedicated indexes, as seen below.
It is worth mentioning that since NYPYPE includes C-Corps, it therefore includes midstream assets that we believe are "crown jewels" and would be extremely difficult to replicate such as Williams' Transcontinental (Transco) pipeline and Kinder Morgan's Tennessee Gas Pipeline (TGP). To put those assets in context of Core Midstream, Transco and TGP generated approximately $1.2 billion and $1.1 billion of EBITDA, respectively, in 2018. The total Core Midstream 2019 EBITDA is expected to be approximately $71 billion. (Source: Williams Co and Kinder Morgan filings)
Comparison: Current Yield, Distribution/Dividend Coverage and Debt Metrics
When considering an alternative index, we would expect a thorough examination of investment metrics and key characteristics. We believe that NYPYPE compares favorably vs the AMZI (see Exhibit 7 below) and other MLP-dedicated indexes. Disclaimer: Investment metrics are not intended to predict the performance of any specific investment.
Exhibit 7: NYPYPE vs AMZI stats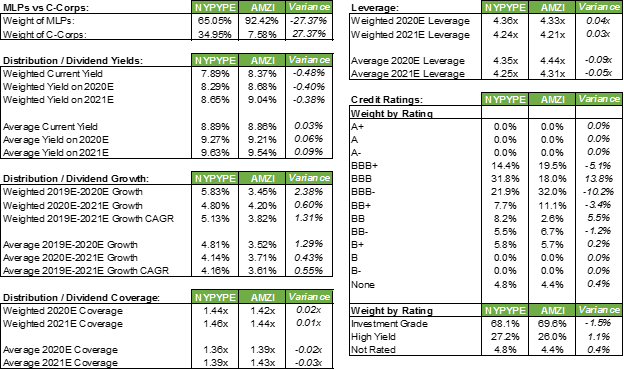 Source: Bloomberg, Wells Fargo Securities. Data as of 9/23/2019.
Compound annual growth rate (OTCPK:CAGR) is a business and investing specific term for the geometric progression ratio that provides a constant rate of return over the time period.
Performance
As is evident in Exhibit 8 below, the NYSE® Pickens Core Midstream™ Total Return Index (NYPYPET) has outperformed both the Alerian MLP Infrastructure Total Return Index (AMZIX) and the Alerian MLP Total Return Index (AMZX) for the period March 31, 2008 to September 23, 2019. For additional information regarding NYPYPET, please visit Equity Indices | NYSE Pickens Core Midstream™ Index.
Exhibit 8: NYPYPET vs AMZIX and AMZX stats since 2008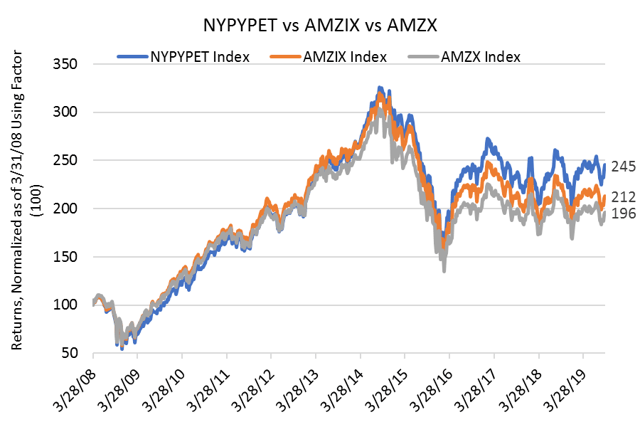 Source: Bloomberg. Weekly data as of 9/23/2019 dating back to 3/31/2008, normalized to a common scale beginning 3/31/08 with 100. Past performance is not indicative of future results.
The outperformance has widened since 2016, as NYPYPET has captured the more positive performance generated by its C-Corp securities as they benefit from a broader pool of investors seeking exposure to improving midstream fundamentals.
Exhibit 9: NYPYPET vs AMZIX and AMZX stats since 2016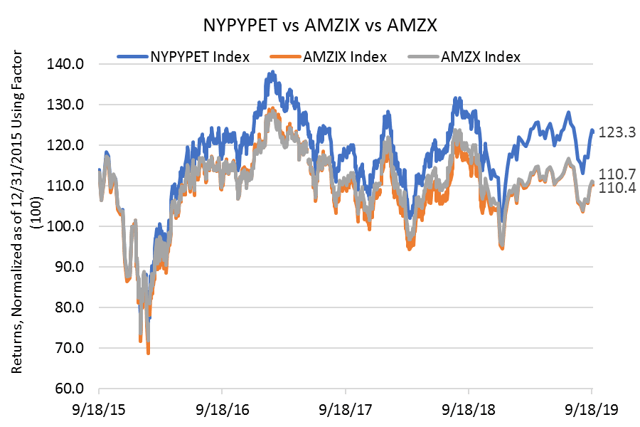 Source: Bloomberg. Daily data as of 9/23/19 dating back to 12/31/2015, normalized to a common scale beginning 12/31/15 with 100. Past performance is no guarantee of future results.
Summary
We believe that MLP-only exchange-traded products grossly underrepresent Core Midstream, which is bad for investors in those products and leaves a significant gap in the marketplace for those who want to get as close as possible to the underlying assets and operating results of midstream companies. NYPYPE solves this problem by representing U.S. midstream energy fundamentals, agnostic of entity structure.
We believe 2019 to be a watershed year for midstream investors, who, after years of enduring distribution and dividend cuts, are now poised to enjoy payout growth supported by a combination of both positive industry fundamentals and improving corporate governance that is now aligning to benefit both management teams and investors. And we believe that NYPYPE is the product that will most accurately track and allow investors to benefit from these changes.
Relevant link: Equity Indices | NYSE Pickens Core Midstream™ Index
For more information contact Toby Loftin at tloftin@bpcfunds.com and 214.615.3822.
Related Products
TriLine receives compensation in connection with licensing its indexes to third parties for the creation of investment funds or other vehicles. It is not possible to invest directly in an index. Exposure to an asset class represented by an index may be available through investable instruments offered by third parties that are based on that index. TriLine does not sponsor, endorse or promote any investment fund or other investment product that seeks to provide an investment return based on the performance of The NYSE® Pickens Core Midstream™ Index (ticker: NYPYPE).
Additional Information on C-Corps and MLPs
According to the Energy Infrastructure Council (formerly the National Association of Publicly Traded Partnerships), a master limited partnership (MLP) is a limited partnership whose interests (known as "units") are traded on public exchanges, just like corporate stock. MLPs engage in active businesses, primarily in the energy industry. There are a number of publicly traded partnerships which are not active businesses and are instead investment funds, in particular commodity pools; these are not considered MLPs.
A limited partnership has one or more general partners (i.e. individuals, corporations, or other partnerships) who manage the partnership; it also has limited partners, who provide capital to the partnership but have no role in its management. When an investor buys units in an MLP, he or she becomes a limited partner.
MLPs are formed in several ways: (A) nontraded partnership may decide to go public; (B) several nontraded partnerships may "roll up" into a single MLP; (C) a corporation may spin off a group of assets or part of its business into an MLP in which it retains an ownership interest, either to realize the assets' full value on the marketplace or as an alternative to debt; (D) a corporation may fully convert to an MLP (however, since 1986, the tax consequences have made this an unappealing option for most); or (E) a newly formed company may operate as an MLP from its inception.
Subchapter C corporations are often called "C-corps" or simply "corporations." A C-Corporation is a company that sells shares of stock to shareholders who become the owners of the company. A C-Corporation is considered a distinct taxpaying entity and must pay taxes on its profits.
Disclosures
These materials may contain forward looking statements and projections that are based on the current beliefs and assumptions of TriLine Index Solutions, LLC ("TriLine") and on information currently available that TriLine believes to be reasonable, however, such statements necessarily involve risks, uncertainties and assumptions, and prospective clients may not put undue reliance on any of these statements. These materials are provided for informational purposes only and do not constitute an offer or a solicitation to buy, hold, or sell an interest in any investment or any other security, including any investment with TriLine or any of its affiliates or any other related investment advisory services. The information contained herein is current as of the date hereof, but may become outdated or subsequently may change. TriLine does not undertake any obligation to update the information contained herein in light of later circumstances or events. TriLine does not represent the information herein is accurate, true or complete, makes no warranty, express or implied, regarding the information herein and shall not be liable for any losses, damages, costs or expenses relating to its adequacy, accuracy, truth, completeness or use. These materials are subject to a more complete description and do not contain all of the information necessary to make any investment decision, including, but not limited to, the risks, fees and investment strategies of an investment.
In considering any performance information contained herein, the recipient should bear in mind that past or projected performance is not necessarily indicative of future results, and there can be no assurance that any strategy referenced herein will achieve comparable results or that return objectives, if any, will be met. These materials are strictly confidential and have been prepared solely for the information of the intended recipient and is not to be disclosed directly or indirectly to any party other than the recipient. These materials may not be reproduced in whole or in part or used for any other purpose except as authorized by TriLine. Reproduction and distribution of these materials may constitute a violation of federal or state securities laws. The information provided in these materials should not be considered as recommendations to purchase or sell any security. There is no assurance that any securities discussed herein will be included in an applicable index. Investors are not able to invest directly in the indices referenced, and unmanaged index returns do not reflect any fees, expenses or sales charges. The referenced indices are shown for general market comparisons and are not meant to represent an investment.
The content contained herein does not constitute an offer of services in jurisdictions where TriLine Index Solutions, LLC ("TriLine") does not have the necessary licenses. All information provided by TriLine is impersonal and not tailored to the needs of any person, entity or group of persons. The value of investments may go down as well as up and potential investors may not get back the amount originally invested. Exposure to an asset class represented by an index is available through investable instruments based on that index. TriLine makes no assurance that investment products based on any index will accurately track index performance or provide positive investment returns. A decision to invest in an investment fund or other investment vehicle should not be made in reliance on any of the statements set forth herein. TriLine is not in a position to give advice on the suitability of any investments for potential investors. Inclusion of a security within an index is not a recommendation by TriLine to buy, sell, or hold such security, nor is it considered to be investment advice.
TriLine does not offer any express or implicit guarantee or assurance either with regard to the results of an index or index price at any time or in any other respect.
No content contained in these materials may be modified, reverse-engineered, reproduced or distributed in any form by any means, or stored in a database or retrieval system, without the prior written permission of TriLine, nor shall any such material be used for any unlawful or unauthorized purposes. TriLine does not guarantee the accuracy, completeness, timeliness or availability of the information herein.
---
[1] Umbrella Partnership-C-Corporations (Up-Cs) are an ownership structure in which investors own stock in a publicly-traded corporation that owns interests in a partnership. Up-Cs generate a 1099 tax form instead of a K-1.