Lowest-Cost Mining Assets
One of the biggest advantages Albemarle (NYSE:ALB) has over its competitors are its lithium assets. More specifically its mining operations in the Salar de Atacama in Chile. It is part of the "lithium triangle" Bolivia, Argentina and Chile. This region is home to 67.86% of global lithium reserves according to the 2017 USGS Mineral Commodity Summary. If you're trying to cash in on the [Li]conomy  one of the most important variables you need to understand is the cost associated with the two main lithium mining methods.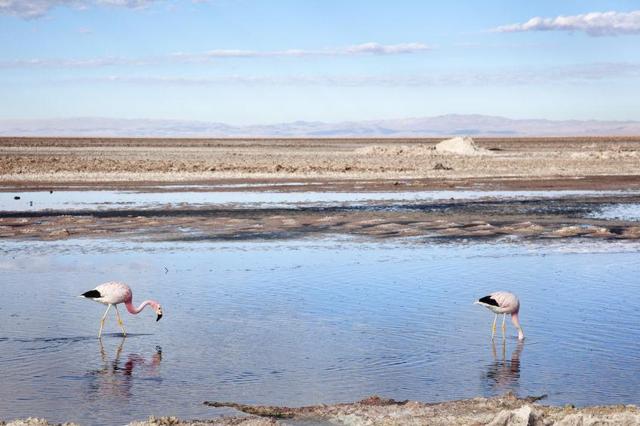 Evaporation of brine (lowest cost)

Albemarle's brine assets in Chile currently account for an estimated 80% of its lithium revenues
The brine assets in the Salar de Atacama are among the lowest cost in the world for two reasons

Dry desert conditions and nearby geography
High concentration of lithium brine

Mining Process

Snow melt from the nearby Andes mountains flows underground into pools of brine
Albemarle pumps the brine above ground into evaporation pools
It takes approximately 12 to 24 months for impurities to precipitate and the evaporation process to complete

Spodumene mining (higher cost)

It's estimated that the Australian Talison mine accounts for less than 20% of ALB's revenues
This method of extraction is much more expensive.

It's estimated that producing lithium from hard rock (spodumene) is almost double that of brine evaporation

Mining Process (simplified, not exact read more)

Spodumene ore is crushed and heated in calcining kiln
Resulting concentrate is cooled and milled into fine powder
It is then mixed with sulpheric acid and roasted again
A thickener-filter system separates waste from concentrated liquor
Finally ash is added and lithium carbonate is crystallized, heated, filtered and dried
As you can see extracting lithium from brine is much more cost-effective; however brine evaporation has a much longer production time, so producers use spodumene mining to meet incremental demand.
Overestimating Supply & Underestimating Demand
Morgan Stanley (NYSE:MS) shook lithium investors back in February when it released an extremely bearish forecast for the price of lithium. It forecasts that 2018 will be the last year of a global lithium deficit and in 2022 the market will be oversupplied by 190,000 tonnes, which will cut the price per tonne in half.
The two main factors Morgan Stanley cited were
Too much supply coming online from current and new producers
A much slower adoption of electric vehicles 
This post wouldn't be complete unless we also mentioned one of the the biggest fallacies in the report. Morgan Stanley seemed to dismiss the currently small, but surging demand for lithium used in renewable energy storage systems. It focused too much on EV adoption and the soon-to-be "glut" of lithium. This is ironic because just last year (Feb. 2017) Morgan Stanley released a report (An Underappreciated Disruptor) stating "The demand for energy storage will grow more than the market anticipates by 2019-20." It then went on to state that "the demand for storage is expected to grow from a less than $300 million a year market to as much as $4 billion in the next two to three years." There was no mention of this in the latest 2018 report.
Goldman Sachs Group Inc. (NYSE:GS) have suggested that the market for lithium in energy storage could eventually be bigger than in all other products combined."
Industry experts and mining company executives have almost uniformly disagreed with Morgan Stanley on both of its main arguments. 
I am firmly of the view that everyone, including Morgan Stanley, is grossly underestimating how quickly the market is moving on the demand side." - Ken Brindsen, Chief Executive, Pilabra Minerals (OTC:OTCPK:PILBF)
When the price of lithium more than doubled in 2016, it created a "white metal rush" of companies eager to grab a piece of the pie. Calls for a glut only intensified when the Chilean government also approved Albemarle and Sociedad Química y Minera's (NYSE:SQM) requests for quota increases. These concerns were echoed in the Morgan Stanley report; however the report failed to mention that few lithium producers have the capacity and technological know-how to produce the very high-grade lithium compounds used in batteries. In other words you can't just dig a hole in the desert, pump it full of brine solution and harvest lithium carbonate.
This is an industry that has repeatedly failed to bring on its supply in the way it predicted. It is always late and it is always more expensive to operate." - Paul Graves, CFO, FMC Corporation (NYSE:FMC)
The Wild Card: Geopolitical Risk
It wasn't until recently that companies started looking to Argentina in an effort to increase production. This was because Argentina was ruled by the populist Cristina Fernandez de Kirchner. It was very anti-business, chalk full of confusing regulations and corruption which made it almost impossible for companies to operate there. It has since improved under President Mauricio Macri; however this could come to a screeching halt sooner rather than later. The peso has recently collapsed as a federal judge probes hundreds of alleged bribes paid by various energy & construction companies. This has led many to believe a recession might be on the way. This would stymie additional investment and potentially impact Argentina lithium production.
This is a big deal because Argentina accounts for almost 15% of global lithium reserves according to the 2017 USGS estimates. 

Conclusion
Concerns surrounding an oversupply of lithium should not be dismissed; however it's important to also look at the associated risks to the supply-side. Albemarle is currently the worlds largest and lowest-cost lithium producer which will allow it to continue to prosper in the ongoing lithium supercycle. This was abundantly clear in its spectacular second quarter earnings report when it beat both earnings and revenue estimates. It's also important to note that ALB raised its 2018 guidance and attributed the earnings beat to increased sales and demand. Things can always change, but at the moment Albemarle seems to be hitting on all cylinders.
Disclosure: I/we have no positions in any stocks mentioned, but may initiate a long position in ALB over the next 72 hours.
I wrote this article myself, and it expresses my own opinions. I am not receiving compensation for it (other than from Seeking Alpha). I have no business relationship with any company whose stock is mentioned in this article.