Monday appears to be a relatively light day with no major economic releases or events scheduled on the agenda.
On Tuesday, the main event is likely to be the parliamentary vote over UK PM Theresa May's new Brexit proposal, as well as amendments put forward by lawmakers. After the deal agreed with the EU was rejected massively by UK MPs, PM Theresa May promised to be "more flexible" in future talks with MPs over how the nation will depart from the EU. That said, Jeremy Corbyn, the leader of the Labour party, said he will not join talks unless May rules out a no-deal Brexit, something she didn't. On Wednesday, headlines suggested that the Labour party is "highly likely" to support Yvette Cooper's amendment, which includes a nine-month extension to the Article 50, while the following day, new reports noted that Northern Ireland's DUP decided to support May if her new plan includes a definitive end date to the Irish backstop.
All this background suggests that everyone agrees a chaotic departure needs to be avoided, and thus the question is whether May's plan will receive adequate backing, and if not, which amendments will pass. In our view, May's plan is unlikely to succeed on Tuesday, but Cooper's amendment is likely to get through. That said, even if May's flexibility leads to finding common ground with MPs, we doubt that she will find the EU on the same page. EU officials have been adamant that the accord agreed with May is the only possible deal, with EU Chief Negotiator Michel Barnier reiterating that position on Wednesday. Therefore, we believe that all paths lead to extending Article 50 at the moment.
But what about a second referendum? Corbyn has proposed an amendment which includes that option, but with pro-EU Conservative MPs indicating that they will not support it, not to mention hardliners, something like that is unlikely for now. We believe that the probability for such a scenario will start increasing if, during a possible Brexit extension, EU and UK officials still struggle to reach consensus.
As for Tuesday's economic releases, during the Asian morning, New Zealand's trade balance for December and Australia's NAB business survey for the same month are due to come out, but no forecast is currently available for neither of those releases.
Later in the day, from the US, we get the Conference Board consumer confidence index for January, which is expected to have declined to 125.0 from 128.1.
On Wednesday, the FOMC concludes its first two-day monetary policy meeting for 2019. Although this would be one of the "smaller" meetings, where we don't get any updated economic projections, it would still be accompanied by a press conference. Remember that last year, Fed Chair Powell said that starting in 2019, he would hold a conference after every gathering in order to improve communication. Expectations are for the Committee to keep interest rates untouched within the 2.25-2.5% range, with market pricing suggesting that such an outcome is almost certain. Thus, if this is the case, investors are likely to quickly turn their attention to the accompanying statement and Powell's remarks at the conference thereafter.
Following the latest meeting, when the Committee decided to hike rates, but to revise down the median dot for the 2019 rate projections, almost all Fed officials, including Chair Jerome Powell, signaled that they could be patient about future rate increases, with the most dovish members suggesting that no more increases are needed. However, since the previous decision, data haven't been that bad. Inflation remained near the Fed's 2% objective, while the labor market has continued to tighten, allowing officials to maintain their sanguine view. Now as far as the economic outlook is concerned, most data suggest a slowdown for Q4, but a slowdown moving forward is already anticipated by the Fed. According to the December projections, GDP is expected to average around 2.3% in 2019 and slow further in 2020 and 2021.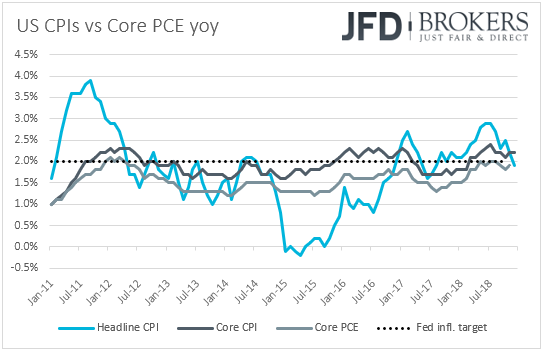 Thus, we expect Fed officials to maintain the view that "some further gradual increases" in interest rates are warranted. The only change we may see in the statement may be in the part saying that "economic activity has been rising at a strong rate". This time, officials may prefer to switch back to the word "solid" instead of "strong", as was the case in June. With regards to the press conference, we expect Powell to repeat that the Fed would be patient and flexible with regards to future interest rate moves, watching how the economy evolves. In other words, we expect him to stress once again that the Fed will not be on autopilot anymore and that it would instead be more data dependent.
As for Wednesday's economic data, during the Asian morning, we get Australia's CPIs for Q4. The headline CPI rate is forecast to have declined to +1.7% yoy from +1.9% in Q3, while the trimmed mean rate is forecast to have held steady at +1.8% yoy. Both rates are expected to stay below the lower end of the RBA's 2-3% inflation target range, as well as below the Bank's projections for the second half of the year, which are also at 2%. Combined with the decision of the National Australia Bank to increase mortgage rates, weak inflation prints could delay the RBA from hiking even further. According to the central bank's latest quarterly Statement on Monetary Policy, the benchmark cash rate is expected to increase in 2020.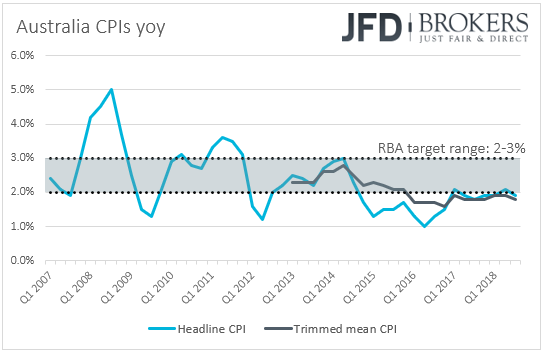 During the European day, we get inflation data from Germany, with the nation's preliminary CPI rate expected to have declined further in January, to +1.6% yoy from +1.7% in December. This could raise speculation that Eurozone's headline inflation, due out on Friday, may also slow down.
Later in the day, in the US, the ADP employment report for January is due to be released. Expectations are for the private sector to have gained 175k jobs, less than the December's 271k. This could raise bets that the NFP number, due out on Friday, may also come well below its prior stellar print of 312k. At the time of writing, the forecast for non-farm payrolls is at 183k. That said, we repeat once again that, even though the ADP is the only major gauge we have for the non-farm payrolls, the correlation between the two time-series at the time of the release (no revisions are taken into account) has been low in recent years. Taking into account data from January 2011, this correlation stands at 0.45.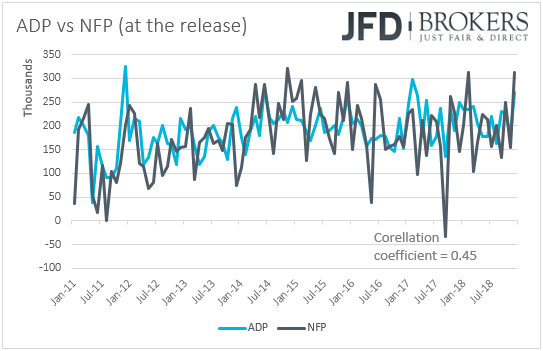 The 1st estimate of the US GDP for Q4 is also coming out and the forecast is for a slowdown to +2.5% qoq SAAR from +3.4% in Q3. That said, the Atlanta Fed GDPNow model suggests that the economy slowed to +2.8%, while the New York Fed Nowcast points to a +2.6% growth rate. Based on those models, we believe that, although the economy is set to slow, the risks surrounding the forecast of the official release may be tilted somewhat to the upside. In any case, unless we get a notable downside surprise, we don't expect this release to alter much expectations with regards to the Fed's future plans. After all, as we already noted, according to its December projections, the Committee itself anticipates growth to slow throughout its forecast horizon, while the market is already pessimistic, pricing in only a 35% chance for a rate hike this year.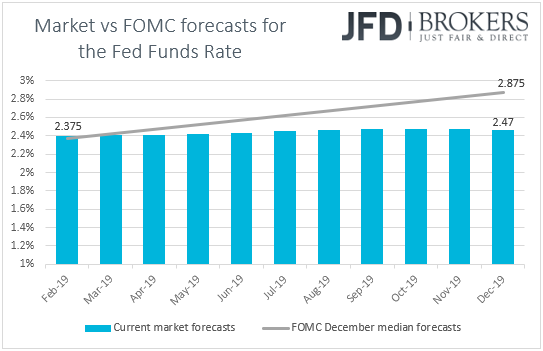 On the political front, Chinese Vice Premier Lui He will travel to the US to hold two-day talks with Treasury Secretary Steven Mnuchin and Trade Representative Robert Lighthizer. Although we may once again get headlines suggesting progress, we doubt a final accord could be sealed in these two days. Last week, Commerce Secretary Wilbur Ross said, "We're miles and miles from getting a resolution," adding that there are still lots of issues unresolved, which suggests that, indeed, this round may not be enough for a final deal. In any case, signs of further progress may keep the door open for more talks and perhaps revive hopes with regards to a resolution before the 1st of March, when the 90-day deadline expires.
On Thursday, during the Asian morning, Japan's preliminary industrial production for December and the Summary of Opinions from the latest BoJ policy gathering are coming out. China's manufacturing and non-manufacturing PMIs for January are also due to be released. The manufacturing index is forecast to have ticked down to 49.3 from 49.4, while the non-manufacturing PMI is expected to have ticked up to 53.9 from 53.8.
During the European session, we get Germany's retail sales for December and the nation's unemployment rate for January. Retail sales are expected to have declined 0.4% mom after rising 1.4% in November, while the unemployment rate is expected to have held steady at 5.0%.
From the Eurozone as a whole, we get the first estimate of GDP for Q4. Expectations are for the Euro area economy to have grown +0.2% qoq, the same pace as in Q3, something that will drive the yoy rate down to +1.2% yoy from 1.6% yoy. That said, with the bloc's composite PMI sliding to 51.1 in December, 3 points below September's print, and the lowest since November 2014, we see the risks of this release as tilted to the downside. Eurozone's unemployment rate for December is also coming out and is expected to have remained unchanged at 7.9%.
Later in the day, from the US, we have personal income and spending for December, alongside the core PCE index for the month. Income is expected to have accelerated to +0.5% mom from +0.2%, while the spending rate is forecast to have ticked down to +0.3% mom from +0.4%. The case for accelerating income is supported by the monthly earnings print for the month, which accelerated as well. With regards to spending, given that retail sales for December have not been released yet due to the government shutdown, we cannot tell which direction the forecast's risks may be tilted to. With regards to the yearly core PCE rate, the Fed's favorite inflation metric, it is expected to have held steady at +1.9% yoy, just a tick below the Fed's target of 2%. The case for an unchanged core PCE rate is supported by the core CPI rate for the month, which also held steady.
In Canada, the monthly GDP for November is coming out, but no forecast is currently available. When they last met, BoC policymakers kept the door open for further rate increases and noted that growth has been running close to its potential rate. Thus, an acceleration, or even an unchanged rate may keep officials on course for more rate hikes in the months to come.
On Friday, the US employment report for January is likely to take center stage. Expectations are for non-farm payrolls to have increased 183k, less than December's astounding 312k. The unemployment rate is forecast to have held steady at 3.9%, while average hourly earnings are anticipated to have slowed to +0.3% mom from +0.4% in December. That said, barring any revisions to the prior monthly prints, this is likely to leave the yoy rate untouched at +3.2%, as the mom rate of January 2018, which will be excluded from the yearly calculation, was also +0.3%.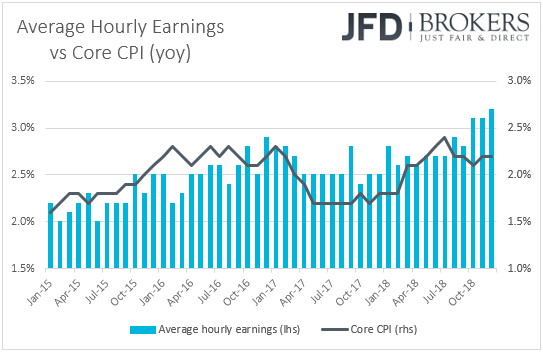 Generally, despite the potential slowdown in NFPs (which we see as normal given the prior surge), the forecasts suggest that we are likely to get another report consistent with further tightening in the US labor market, with the strong wage rate suggesting that inflation could accelerate again in coming months. Thus, conditional upon the Fed keeping the door open for some further gradual rate increases on Wednesday, such a report could prompt market participants to bring somewhat forth their expectations with regards to the Fed's future plans. As we already noted, the market is currently pricing in only a 35% chance for the Committee to hike this year, while the December 'dot plot' points to two increases in 2019. Thus, we believe that there is amble room for investors to bring their expectations closer to the Fed's if economic data suggest so.
As for the rest of Friday's releases, during the Asian morning, Japan's employment data for December are due to be released. The unemployment rate is forecast to have ticked back down to 2.4% from 2.5% in November, while the jobs/applications ratio is anticipated to have held steady at 1.63. China's Caixin manufacturing PMI for January is also coming out.
During the European day, we have Eurozone's preliminary inflation data for January. The headline rate is expected to have declined to +1.4% yoy from +1.6%, something supported by Germany's forecast, while the core rate is anticipated to have held steady at +1.0% yoy for the third consecutive month.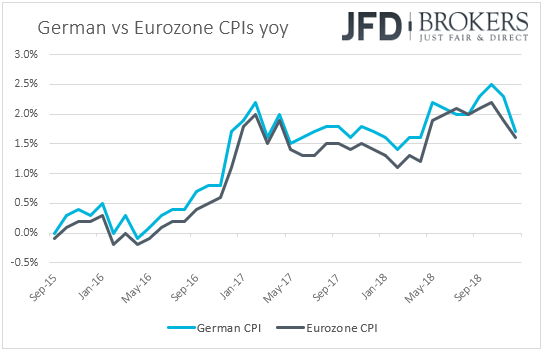 At last week's ECB meeting, President Draghi noted that the risks surrounding the Euro area economic outlook have shifted to the downside, but remained confident in the continued sustained convergence of inflation towards their target due to a strong labor market and rising wages. However, with the headline inflation rate drifting further below the ECB's target of "below, but close to 2%", and underlying inflation staying stubbornly well below that objective, investors my increase their bets with regards to a delay in the Bank's first hike, as well as the introduction of a new round of TLTROs, perhaps as early as at the March gathering. Eurozone's final manufacturing PMI for January is also due to be released, but as usual, it is expected to confirm its preliminary estimate.
From the US, apart from the US employment report, we the final Markit manufacturing PMI, the ISM manufacturing index, and the final UoM consumer sentiment index, all for January.