Equities Trade Mixed Ahead of ECB and Fed Policy Decisions
The dollar traded mixed against the other G10 currencies on Monday and during the Asian morning Tuesday. It gained against JPY, CHF and SEK in that order, while it underperformed versus NOK, GBP, EUR, and NZD. The greenback traded virtually unchanged against AUD and CAD.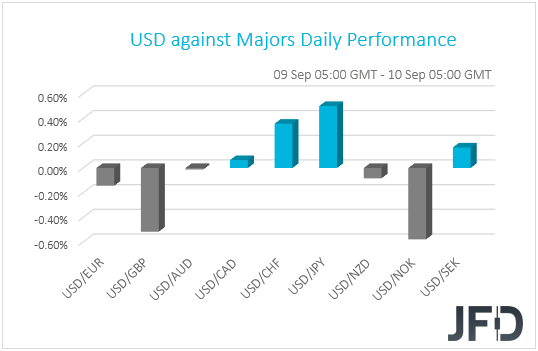 The weakening of the safe-havens JPY and CHF suggests a risk-on trading environment, but turning attention to the equity world, we see that major stock indices traded mixed yesterday, with the indecision rolling into the Asian morning today, despite overnight remarks by US Treasury Secretary Steven Mnuchin that there had been "a lot of progress" with regards to a trade accord between the US and China and that the US is "prepared to negotiate".
In our view, market participants may have locked some profits in equities ahead of important central bank decisions, like the ECB on Thursday and the Fed next week. Remember that last week, risk appetite was boosted following headlines that the US and China are ready to return to the negotiating table in early October. Now, investors may have turned more cautious as they await fresh signals on the monetary policy front.
With regards to the ECB, although a 10bps cut in the deposit rate is more than priced in by the financial community, the big question may be whether the Bank will cut more, or whether the expected cut will be accompanied by more measures. Different views among ECB officials make investors' guessing even more difficult. While Governing Council member Olli Rehn said that "it is important that we come up with a significant and impactful policy package", Executive Board member Sabine Lautenschläger and Governing Council member Klass Knot agreed that it is too early for a huge package now.
With regards to the Fed, on Friday, Fed Chair Jerome Powell, repeated that they would "act as appropriate" to keep economic expansion on track, which allowed investors to keep elevated their bets with regards to a cut next week. According to the Fed funds futures, the probability for such an action is currently at 93.5%. Thus, if indeed the Committee decides to proceed with a quarter-point cut, focus will quickly turn to signals on how officials intend to proceed thereafter. Apart from a September cut, market participants are currently pricing in another on to be delivered by year end.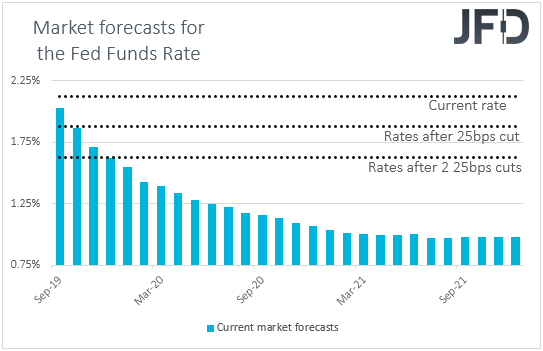 EUR/USD – Technical Outlook
EUR/USD has been trading in a sideways mode since Thursday, with most of the price staying between 1.1018 and 1.1068. That said, in the bigger picture, the pair continues to trade below the downside resistance line drawn from the peak of June 25th, and thus, we would consider the near-term outlook to be cautiously negative.
In order to start examining whether the bears have gained full control, we would like to see the rate falling back below the psychological zone of 1.1000. Something like that could initially pave the way towards the 1.0960 area, the break of which may allow the slide to extend towards the 1.0925 zone, marked by the low of September 3rd.
Looking at our short-term oscillators, we see that the RSI, although above 50, has turned down, while the MACD is positive, but flat near its trigger line. It could also turn south soon. These indicators do not provide clear momentum signals, confirming our choice to wait for a dip below 1.1000 before we get confident on the bearish case.
On the upside, we would like to see a strong break above 1.1130 before we assume that the bulls have taken the reins. Such a move may confirm a break above the downside resistance line taken from the peak of June 25th, and may initially pave the way towards the high of August 25th, at around 1.1163. Another break, above 1.1163, may see scope for a test near the peak of August 14th, at around 1.1190.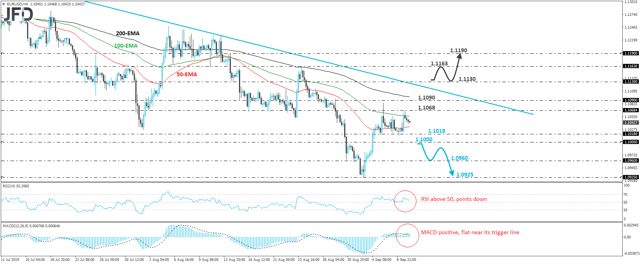 Pound Rallies Surprisingly Strong Data
The pound was once again in the limelight, extending its recent rally thanks to surprisingly strong UK economic data. Both industrial and manufacturing production for July beat their estimates, rising 0.1% mom and 0.3% mom respectively, instead of sliding 0.1% each, while the GDP rate for the month rose to +0.3% mom from 0.0%, easing fears with regards to a technical recession in the UK economy.
With regards to the political front, the bill that requires the government to ask for a new Brexit delay received assent from Queen Elizabeth, thereby turning into law, while the second bit by PM Johnson for early elections was voted down in Parliament. After the results, Johnson said "This government will press on with negotiating a deal, while preparing to leave without one," adding that he will not delay Brexit any further.
As for our view, it remains the same as last week. Although the pound may stay on the front foot on easing fears with regards to a no-deal Brexit on October 31st, such an outcome is not out of the equation yet. The government still has to respect the law and ask the EU for at least a three-month extension, which it is far from a given according to Johnson's comments. Even if it does, for a delay to take flesh, consent from all the remaining 27 EU member-states is needed.
With Parliament now suspended until October 14th, today, GBP traders may decide to pay some attention to the UK employment data for July. The unemployment rate is expected to have held steady at 3.9%, while average weekly earnings including bonuses are expected to have risen 3.7% yoy, the same pace as in June. The excluding-bonuses rate is anticipated to have ticked down to +3.8% from +3.9%. According to the IHS Markit/KPMG & REC Report on Jobs for the month, both permanent starting salaries and temporary pay rose at a weaker pace, with starting salaries seeing the softest rate since April 2017. In our view, this supports the case for slower earnings, at least without the bonuses in the calculation, which may result in a pullback in GBP.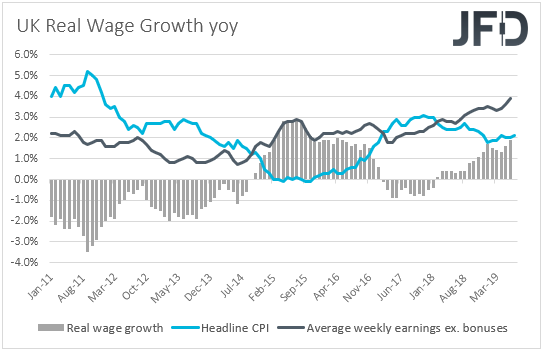 GBP/JPY – Technical Outlook
GBP/JPY rallied again yesterday, after hitting support slightly above the 130.70 barrier, marked by the high of August 22nd. The rally also brought the rate above Friday's peak of 132.15, thereby confirming a forthcoming higher high. The pair has been in a near-term uptrend mode since September 3rd, and thus, we would see decent chances for some more advances.
If the bulls are strong enough to push above the 132.95 barrier, which is near the high of July 31st, then we may see them aiming for the 133.90 zone, which acted as a decent support between July 16th and 18th. However, in order to get confident on more upside extensions, we would like to see a break above 134.35. Such a move could open the path towards the high of July 25th, at around 135.65.
Shifting attention to our short-term momentum studies, we see that the RSI lies near its 70 line and points east, while the MACD, although above both its zero and trigger lines, sits flat as well. These indicators suggest that the strong upside speed has calmed somewhat, which makes us cautious of a possible setback before the next positive leg.
In order to abandon the bullish case though, we would like to see a decisive dip back below 130.15. This may wake up more bears, who may decide to push the battle all the way down to 129.00. Another break, below 129.00, could carry extensions towards the inside swing peak of September 3rd, at around 128.25. That barrier also supported the price action on August 20th and 26th.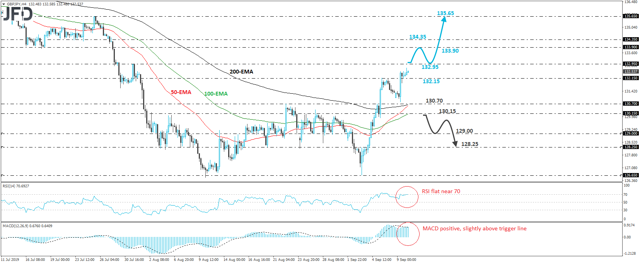 As for the Rest of Today's Events
During the European morning, we already got Norway's CPIs for August. The headline rate tumbled to +1.6% yoy from +1.9%, instead of sliding to +1.8%, while the core rate ticked down to +2.1% yoy from +2.2%. The forecast was for the core rate to have remained unchanged.
From the US, we get the NFIB small business optimism index for August, and the JOLTs Job Openings for July. No forecast is currently available for the NFIB index, while the JOLTs openings are expected to have declined somewhat from June.
In Canada, housing starts for August and building permits for July are coming out. Housing starts are expected to have declined somewhat, while building permits are expected to have rebounded 2.3% mom, after falling 3.7% in June.
Disclosure: I/we have no positions in any stocks mentioned, and no plans to initiate any positions within the next 72 hours.
Additional disclosure: The content we produce does not constitute investment advice or investment recommendation (should not be considered as such) and does not in any way constitute an invitation to acquire any financial instrument or product. The Group of Companies of JFD, its affiliates, agents, directors, officers or employees are not liable for any damages that may be caused by individual comments or statements by JFD analysts and assumes no liability with respect to the completeness and correctness of the content presented. The investor is solely responsible for the risk of his investment decisions. Accordingly, you should seek, if you consider appropriate, relevant independent professional advice on the investment considered. The analyses and comments presented do not include any consideration of your personal investment objectives, financial circumstances or needs. The content has not been prepared in accordance with the legal requirements for financial analyses and must therefore be viewed by the reader as marketing information. JFD prohibits the duplication or publication without explicit approval.
75% of the retail investor accounts lose money when trading CFDs with this provider. You should consider whether you can afford to take the high risk of losing your money.