Introduction
Covered call writing is an appealing approach to generate monthly income. Many link regular income streams to dividends. Although you might prefer the highest dividend yields you can find, these mouthwatering returns aren't necessarily the ones that provide durable income. Investors looking for that typically sought-after monthly income should definitely watch the option market, as annualized returns of writing call options can beat your dividend yield with ease while mitigating downside risk. Interestingly enough, there's a powerful synergy from putting dividend investing together with covered call writing. When re-investing part of the collected option premiums, this strategy is the icing on the cake to efficiently deploy compound dividend investing. More information can be found on my website.
Concept Of Covered Call Writing
The strike price you choose in a covered call strategy can be the key factor in determining whether the strategy will be successful. The best thing about covered call trading is that it fits everyone's risk profile and market expectations. If you're bullish, then you should sell out-of-the-money calls. When forecasting a sideways market, I would strongly recommend you to sell at-the-money calls. Lastly, in-the-money calls are a great way to shelter your portfolio from steep downturns as well as to create sufficient income. At first, in-the-money calls might seem to generate poor returns, but after taking into account the wild volatility over the last few months, investors should spend more attention to these options. This strategy is applicable in volatile markets or when the chart technicals are rather mixed. Furthermore, from a more defensive standpoint, downside risk protection is great if you don't have to pay for it, which is the case if you decide to purchase a put option.
Choosing the right call to sell is one thing, finding the appropriate companies that fit my list of characteristics is another factor most covered call writers don't address. First, attractive dividend yields are fine should the stock pay any dividends at all. Moreover, I prefer durable dividend payments which are backed by a company's free cash flows, indicating the cash distributions will be maintained going forward. Simply put, the right companies are the ones trading at a reasonable valuation that pay out safe dividends.
More information can be found in this YouTube clip: https://www.youtube.com/watch?v=lbkt5n_nbok
Choosing The Right Call To Sell
First of all, let me be very clear that trade commissions must be low enough to actually benefit from a covered call setup. Fortunately, there are a lot of brokers out there where commissions are reasonable. Secondly, I always sell monthly calls to play out rapid time decay, unless there's an upcoming dividend payment whereby I'd like to clip the coupon. At first glance, looking at the annualized returns a covered call would make is important to weigh the potential returns in proportion to downside risk. Though the most striking yields aren't the ones that will provide durable income going forward, it's better to stay conservative if you want to successfully execute against your strategy. Targeting an annualized time value return of at least 20% could serve as a guiding principle.
Exit Strategies
The use of exit strategies will elevate our profits to the highest possible levels. Mastering the skill of position management is one of the main reasons why Option Generator outperforms other covered call writers.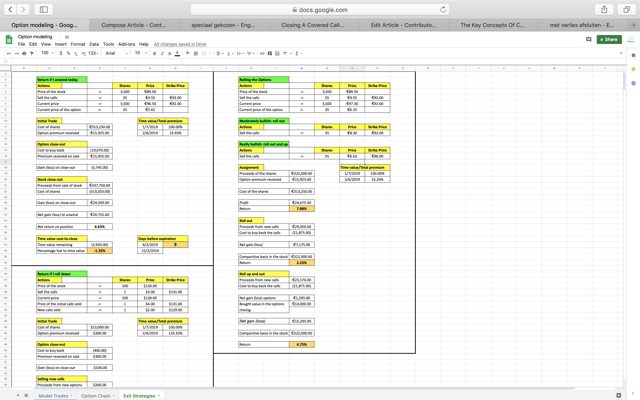 You can learn more about my top picks by becoming a member of my website.