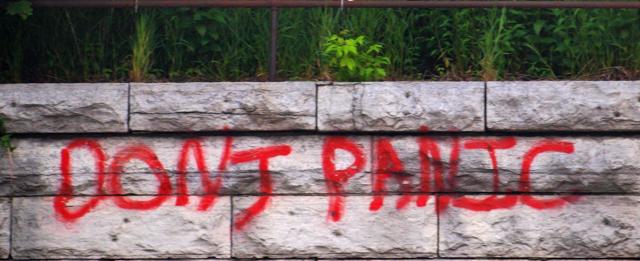 That feeling when graffiti makes more sense than CNBC. Michael from Calgary
Don't Panic
Jony Ive was not only a singular figure at Apple (AAPL), but he also held a role there that was entirely unique in tech and consumer products. As Chief Design Officer, he oversaw the design of all hardware and software products at Apple, and his deft touch can be seen in everything from the feel of the haptics on the Apple Watch to the architecture of the Apple Park "spaceship" and new Apple Stores. The man is legend.
Nowhere can this be seen more than in one of Ive's great under-appreciated contributions to Apple: the San Fransisco font. Apple previously had a mish-mosh of typefaces — Lucinda for Mac, Helvetica for iOS, Myriad and Garamond for marketing, and VAG Rounded on the keyboard key caps. Ive created a single typeface that works on everything from a 40mm watch to a massive billboard. It gives Apple a single design identity throughout all their products and marketing.
But no one is irreplaceable, and in fact, Ive has already been replaced.
When Ive was named Chief Design Officer in 2015, it was mostly seen as a promotion, but it can more accurately described as the maestro preparing to leave the stage. The Watch and Apple Park were his final two great contributions, and, as reported by Bloomberg, he has not been spending much time in Cupertino. This was inevitable since the launch of the Apple Watch, and it is only a tribute to Ive's genteel patience that he slow-walked his departure for four years.
The Longest Exit Ever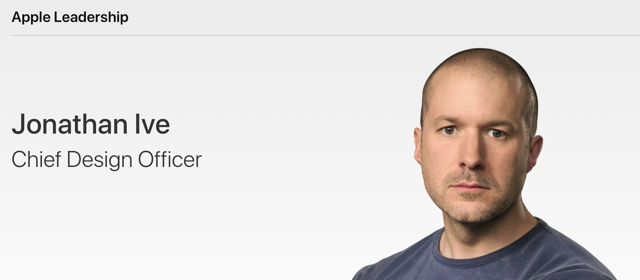 As Ive might say, it was "essential and inevitable" that he leave now.
Ive is a shy, self-effacing person, who had always received a special dispensation from performing at Apple events; they always limited his contribution to pre-recorded video narration. Despite his outsized role at one of the largest companies on earth, he shunned the spotlight, and one of the few deep glimpses we've ever had of him came in a New Yorker profile around the time of the Apple Watch launch in 2015:
In recent months, Sir Jonathan Ive, the forty-seven-year-old senior vice-president of design at Apple… has described himself as both "deeply, deeply tired" and "always anxious." When he sits down, on an aluminum stool in Apple's design studio, or in the cream leather back seat of his Bentley Mulsanne, a car for a head of state, he is likely to emit a soft, half-ironic groan. His manner suggests the burden of being fully appreciated… 

He sometimes listens to CNBC Radio on his hour-long commute from San Francisco to Apple's offices, in Silicon Valley, but he's uncomfortable knowing that a hundred thousand Apple employees rely on his decision-making—his taste—and that a sudden announcement of his retirement would ambush Apple shareholders…

According to Laurene Powell Jobs, Steve Jobs's widow, who is close to Ive and his family, "Jony's an artist with an artist's temperament, and he'd be the first to tell you artists aren't supposed to be responsible for this kind of thing."
This was man who accidentally found himself with a crown on his head, never felt comfortable with it, and had one foot out the door for years.
Ive was recruited over a number of years by his predecessor at Apple, Robert Brunner, and finally joined the company formally in 1992. He was very close to quitting several times, as he found the whole thing very discouraging. When Steve Jobs returned, he was literally designing printer cases.
Apple hired Picasso, and had turned him into a house painter.
At their first meeting, Jobs recognized Ive's value, and by 1997 he was the head of industrial design at Apple, reporting directly to Jobs. Jobs, from Walter Isaacson's biography:
He's not just a designer. That's why he works directly for me. He has more operational power than anyone else at Apple except me. There's no one who can tell him what to do, or to butt out. That's the way I set it up.
Since then: iMac, iBook, iPod, iPhone, iPad, and the Watch. Along the way, he picked up responsibility for software UI and UX design. Other than the Watch, which began after Jobs' 2011 death, these were all tight Jobs-Ive collaborations (the early iMac project did predate Jobs' return).
Ive has had one foot out the door since the iPhone's release in 2007, but events kept conspiring against his plans. First, the iPhone was a hit, and he felt he needed to see it through, and also finish the tablet project. Then Jobs died, and he again felt the responsibility of seeing these projects through, including Apple Park, which was approved by the Cupertino city council on the same day as the iPad launch, Jobs' last event.
Finally, the Watch and Project Titan, Apple's attempt to build a self-driving car from scratch. Ive has a notorious fondness for watch and car design, and these were likely too much for him to resist. I would love to see his car drawings.
But what worlds were there left for him to conquer? To design a credit card? Apple's next product may very well be AR glasses, and Ive has always been highly skeptical of the face for wearables. The pressure of being the second most important person at Apple was not worth any of that.
Moreover, he is a hardware designer in a company putting more and more emphasis on software and services.
So 2015 became Peak Ive. As usual, Apple mastered the PR on this one like no other company seems to be able to do. First came the New Yorker profile, as well as a Wired profile of the human interface team. Both were pegged around the Watch, but re-reading them now, the message is clear — the end is nigh.
From the end of the New Yorker profile:
When I spoke to [Laurene] Powell Jobs she wondered if "there might be a way where there's a slightly different structure that's a little more sustainable and sustaining." Comparing the careers of her husband and Ive, she noted that "very few people ever get to do such things," but added, "I do think there's a toll."
Apple put that structure in place, ostensibly promoting Ive to Chief Design Officer, but it was more of an emeritus position. From Bloomberg:
Ive was named Apple's Chief Design Officer, a role that shifted day-to-day responsibility of the hardware and software design teams to a pair of executives, Alan Dye and Richard Howarth. About two years later, at the end of 2017, Apple said Ive had re-assumed some of the leadership responsibilities he had previously given up.

Ive still only came to the office a couple of days a week, with many meetings shifting to San Francisco, according the people familiar with the matter… 

Ive also traveled frequently to London, near where he was raised. He occasionally missed out on Apple product launch events, an unthinkable absence several years ago.

"This has been a long time in the making," according to one of the people, who asked not to be identified because they aren't authorized to discuss personnel moves. "He's been at Apple over 25 years, and it's a really taxing job. It's been an extremely tense 25 years for him at Apple and there's a time for everyone to slow down."
Since 2015, many key lieutenants in the design studio have left, sensing the obvious. Howarth, a great designer himself, couldn't handle the pressure of running things and accepted a demotion back to his previous position.
So now interface design is being run by Dye, and Evans Hankey, the long time design studio manager is running industrial design. She is known as a great team leader, but is not necessarily a designer. This is not to understate her contributions — her name is on more than 300 patents — but her best skill is leadership, not design. Where they previously reported to Ive, who then reported to Tim Cook, they will now report to COO Jeff Williams.
Why This All Matters
That last sentence is the strangest part of all this, and gives more credence to the theory that Williams is being groomed to replace Cook someday. Since Jobs' return, design has always reported directly to the CEO. Cook is smart enough to understand he is not a product guy. But now, who is the product guy at Apple? I don't know.
Clearly operations is getting involved earlier in the process, and probably this is for the best. Apple has somewhat outgrown their own design process, and likely avoiding future supplier bottlenecks are what is driving this decision.
When marketing begins to make suggestions early in the design process, that's when I will begin to worry.
But again, who is running design at Apple? The COO? Apple will always be able to attract to design talent, because they get high status and compensation there. But will they know what to do with them?
From the New Yorker profile:
[Designer Bart] André described his own routine: he tends to arrive at five or six in the morning, and often then designs geometrically complex objects that he asks the machinists to mill. He called it a hobby, but, as [color guru Jody] Akana explained, "We'll have a meeting about a speaker-hole pattern, or something, and Jony will say, 'Bart, can you get your box of patterns?' "

André agreed to fetch, from his desk, something that he had been using as a coaster. Made of hard white ABS plastic—the material of Legos, and of thousands of Apple studio models a year—it was a disk punctured by evenly arranged holes. Or, as André put it, "There's a hexagon pattern of negative shapes that are subtracted from the material from one side, and then there's the same pattern, subtracted from the material from the other side. But it's offset, so that the intersection between the two subtractions makes interesting shapes."
I don't know about you, but that coaster sounds like the front grill of the new Mac Pro to me. Will someone besides Jony Ive see how to use André's plastic coaster in a hardware design? Who will that person be? Everyone thought it might be Howarth.
Why None of This Matters
First, let us dispense with Apple the Innovator. Apple did not invent the personal computer, digital music player, smartphone, tablet computer or smartwatch. Each of these product categories had predecessors, and in the case of the smartphone, many. Apple just made the first one in each of these categories that was really worth buying, even at Apple prices, and then was endlessly, shamelessly and mercilessly copied.
Apple is a patient company that takes their time, and releases a product when they think it's ready. That's why they are rarely the first to market with something — the latest example being 5G phones.
So it's not that Jobs and Ive were creating new, just much better. The new products we know Apple is working on are similar to what other companies have cooking — AR glasses and self-driving cars. This has always been the case. So nothing is changing in that respect.
Second, Ive has had a reduced role for 4 years already.
Third, Ive often placed form over function. For example, his obsession with thinness led to the butterfly keyboard on the MacBook Pro, which is an unadulterated disaster.
Finally, and this is where the timing is important, hardware is waning and software and services are waxing. The form of the phone is pretty much set. The front has to be glass, because you need to see the screen. The back now also has to be glass because of mat-charging. 5G antennae may require that the edges also be glass. The laws of optics say the camera bump is here to stay. Apple will always have rectangles with rounded corners, with circles inside, and as few buttons as they can get away with. That's your iPhone.
If the next product is AR glasses, then there are plenty of people in the world qualified to design glasses. Ive wears ones designed by his friend and now business partner, Marc Newson. If it is a car, Ive drives one designed by Bentley.
But the real action in design today is on the UI and UX side, and this is where Ive had less input and, frankly, less success. Dye's leadership may wind up being an improvement there.
The Upshot for Apple Stock
Absolutely none in the short term. Apple's design and hardware teams live in the future, and they are already working many years ahead on all the product lines. Any real effects from this are years off.
But it remains to be seen how this new structure, with two design heads reporting to the COO, who is not really a product guy. I will remain skeptical until we have a way of judging how this sorts out. Apple's corporate structure has always been a source of strength, and this is the first problematic org chart line I can remember.
Back in the old studio system, the films produced by each studio reflected, for good or ill, the taste of one man — for example, the legendary head of production at Paramount, Irving Thalberg. After reflecting Jobs' taste for years, Apple products hewed very closely to Ive's. He did away with Jobs' favored skeuomorphism, and continued his quest to shave every micron, round every corner, and taper every edge.
Someone needs to run design at Apple — their products should still reflect the taste of one person who has very good taste. It doesn't have to be Irving Thalberg or Steve Jobs or Jony Ive, but it has to be someone, not a committee.
Disclosure: I am/we are long AAPL.
I wrote this article myself, and it expresses my own opinions. I am not receiving compensation for it (other than from Seeking Alpha). I have no business relationship with any company whose stock is mentioned in this article.