The steel sector is currently in the limelight owing to striking trade restrictions imposed by President Trump on the regions that had been exporting to U.S. Intense growth in volumes and great pricing power is highly expected from NUCOR(NYSE:NUE) being the largest steel manufacturer in USA.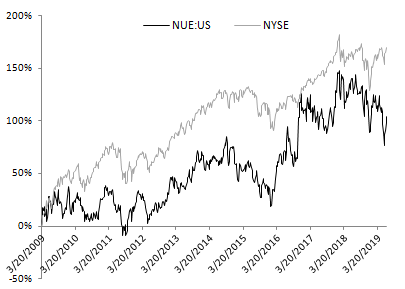 Source, Bloomberg
Section 232 Dumping protections - the largest domestic steel manufacturer to outshine
NUCOR is well positioned to capture the surge in demand for the steel products as the market share towards the domestic manufacturers has started to route post intense duties on imports from China, VN and India.
(US may set tariffs on Chinese steel and aluminium amid slow trade talks U.S. imposed duties of more than 400% on steel imports from Vietnam - Vietnam Insider)
The current gross margins of 17% for NUCOR seems quite high but the strong demand in the economy might seem to add more pricing power to the company. I see NUCOR well ready to pass on any hikes in the costs.
Despite an increase in the scrap prices that averaged US$ 361/ton during FY18 the company was able to remarkably pass on the increase in costs through increasing composite selling price by avg. ~ US$ 135/ton during FY18. Collectively during the previous few weeks NUCOR hiked its prices for steel sheets by US$ 40/ton twice in no time.
However, I see a mild decline in NUE's earnings in the current financial year 2019 dropping to US$ 5.9/sh on account of drop in GP margins averaging 13% in FY19. The drop in margins is subject to higher Depreciation & Amortization charges after capitalizing the new lines of 850k tons. I also expect the GP margins to normalize settling around at 16% in the long run (FY20 – 23) as 232 is expected to continue.
NUCOR
FY17
FY18
FY19E
FY20E
Revenue (US$ Mn)
20,252
25,067
26,189
27,386
Gross Profit (US$ Mn)
2,569
4,295
3,479
4,146
EBITDA (US$ Mn)
2,641
4,100
3,239
3,844
Net Income (US$ Mn)
1,315
2,354
1,809
2,200
EPS
4.12
7.60
5.90
7.18
DPS
1.51
1.54
1.60
1.60
Payout %
37%
20%
27%
22%
Source: NUE Financials/My Financial Model
Expansions of ~6.75mn tons right in time
NUCOR has announced expansion projects with a timeline of FY19 – FY22 to bring about 6.75mn tons of capacity additions to its various plant vicinities (i.e. Frostproof, Kentucky and Arkansas). The company has planned to incur a CapEx of nearly US$ 3.3bn cumulatively for 8 expansion projects as announced.
A major chunk of the total CapEx is contributed by the New Plate Mill of US$ 1.35bn with a capacity of 1.2mn tons from which the company targets to cater the plate manufacturers of bridges, rail cars, refinery tanks, ships and etc. The new plate mill will also enable NUCOR to offer Cut to length (CTL), heat treated and discrete plate in widths and thicknesses which will enhance the product portfolio of the company and will also expand the target customer base as these offerings are new. The new plate mill is expected to commence commercial operations in FY22.
My model incorporates the complete impact of the sheet mills expansion in FY20 depicting a growth of 4.6%/21.6% in the revenues /earnings respectively. I have kept the average scrap prices ranged bound to ~US$ 320/ton in my model whereas increased prices for NUE's steel composite by avg. US$ 22/ton (Y/Y basis) keeping my assumptions a bit conservative.
Fully integrated mills add greater competitive edge
The fully integrated mills of NUE add a greater competitive edge to the company over others. The flat steel products (HRC/CRC & Galvanized coils) that serve as a raw material to the automotive sector alongside long rolled segment that produces steel bars are expected to provide economies of scale to the company.
Albeit growing demand and such diversity in the product portfolio, I expect NUCOR has a strong footprint in the business which will continue to provide higher comparative advantage to company in the long run. I expect the Flat and long steel to remain as cash cows for the company.
Cheap forward multiples and strong free cash flow growth
Cyclical companies tend to be riskier when the economy is registering a decline in growth. However, the US economy flourished depicting a growth of 3% in 2018 vs. 2.14% (2017) but there are concerns for the growth trajectory to subside in the long run as an after effect of trade war. Yet i expect GDP growth rate to remain within the range of 3% - 2%. I further expect monetary policy to remain expansionary as inflation is to register a drop. The scenario creates an ideal opportunity for cyclical stocks to perform.
I see NUE to remain upbeat owing to its cash rich balance sheet and strong growth in free cash flows with a strong 5yr CAGR of 7.6%. I expect the revenues to grow at a CAGR of 5.3% (FY19-23) albeit strong market share penetration by the company. The stock trades at forward P/Ex multiple of 9.32x however the stock kept trading at very high average multiple of 19.26x (FY14-18).
I believe the valuations are cheap and signals to accumulate NUCOR as the stock has a great value proposition combined with strong free cash flows. The only strong downside trigger that could underpin NUE's growth dynamics substantially would be uplifting of trade restrictions, however i consider this scenario highly unlikely on the back of current socio-economic condition in the US.
Valuation
FY17
FY18
FY19E
FY20E
P/E (NYSE:X)
14.82
6.73
9.32
7.66
EV/EBITDA (X)
7.74
4.12
5.31
4.19
DY%
2.9%
2.9%
3.0%
3.0%
CFO/sh (US$)
2.84
5.06
7.78
8.73
Revmue/sh (US$)
66.0
81.7
85.3
89.2
FCFF (Mn US$)
993
1,417
2,242
2,693
Source: NUE Financials/My Financial Model
Investment Thesis, Valuation & Risks
Hence, I rate NUE as a top buy in the sector with my Dec'19 Price Target of US$ 90.9/sh which offers 65% upside potential from the current value of US$ 55/sh. I have constructed our price target using weighted avg. of FCFF/ Multiple Based (P/Ex)/ (EV/EBITDAx) values assigning weights of 50%/25%/25% respectively to each valuation methodology. NUE's trading at an annualized P/E multiple of 9.36x based on FY19 (fwd.) earnings and offers a dividend yield of 3%.
NUCOR
Mn (US$)
FY18
FY19E
FY20E
FY21E
Dis. FCFFs
-
2,066
2,288
2,104
Sum OF FCFFs
-
6,458
-
-
Dis. TV
-
33,098
-
-
Equity Value
-
34,541
-
-
Equity Value/sh
-
112.51
-
-
O/S # Shares (NYSE:MN)
-
307
-
-
P/Ex Value/sh
-
65
-
-
Ev/Ebitda Value/sh
-
74
-
-
PT - Dec'19
-
90.9
-
-
Current Price
54
Upside Potential %
68%
Source: NUE Financials/My Financial Model
Equity Value Assumptions
WACC: 8.5%
Ke 10.9%
Terminal Growth%: 2.5%
Adj. Beta 3yr: 1.26
Risks
Abnormal surge in energy prices (i.e. natural gas)
Unexpected drop in demand owing to slowdown in the economy.
Lifting of Section 232, or any duties on the import of bars and sheets.
Unexpected surge in raw material costs (i.e. scrap, graphite electrodes, coking coal).
Disclosure: I/we have no positions in any stocks mentioned, and no plans to initiate any positions within the next 72 hours.