The pound (GBP) rose in value against the dollar (USD) today, following the publication of an article in The Times of London which indicated that the UK Government have agreed a tentative deal with the European Union which will allow UK based financial service providers access to European markets post-Brexit. Pound rose from 1.27695 USD at the start of trading to 1.29963 USD at the close of trading on 1st November - reaching a high of 1.30160 USD.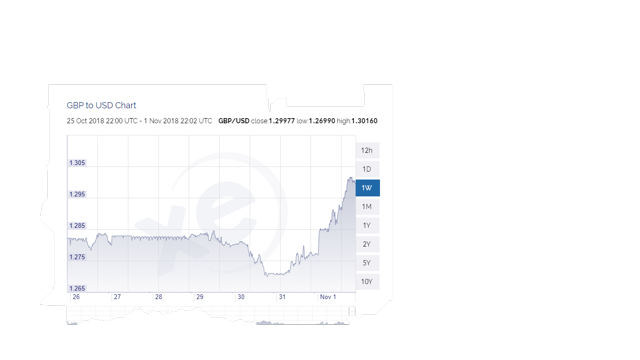 Chart source: XE: GBP / USD Currency Chart. British Pound to US Dollar Rates
This agreement is also said to include all aspects of a future partnership on services and data exchange.
Today's events are a further sign of optimism that a Brexit deal is close to being finalised. The UK's Secretary of State for Exiting the European Union Dominic Raab said in a letter to the House of Commons that the Government expect a deal to be concluded within three weeks. The main issue surrounding Brexit remains the Irish border, but Raab claimed that "the end [of negotiations] is firmly in sight". He anticipates in his letter that a deal will be completed by November 21.
In order for the agreement on financial services to function, the EU will accept that the UK has equivalent regulations to the European Union, and therefore be permitted access. The EU and the UK will both be able to set new financial regulations, but both will have to consult the other beforehand. If the EU feel the UK's regulations are too dissimilar to theirs, they can notify the UK of their intention to deny access to UK based firms.
Ends.