SBUX has seen an incredible +80% rally since its most recent June lows of 2018 thanks to a combination of aggressive share-buybacks, and analyst expectations for margin expansion and meaningful same store foot traffic in the coming quarters. Market expectations could not be higher for SBUX and in my view, the stock is becoming overheated and is vulnerable to a correction if expectations are missed.
Approaching RSI historical limit
Key to my analysis is the historical significance of the 86 RSI Value on the 1M chart. Since 2005 there have been 3 occasions where we have seen this value come up and each time we have seen measurable correction downward. As you can see from the chart we are not entirely in this situation today but is something to keep in mind in the coming months especially if we continue to see rapid price appreciation.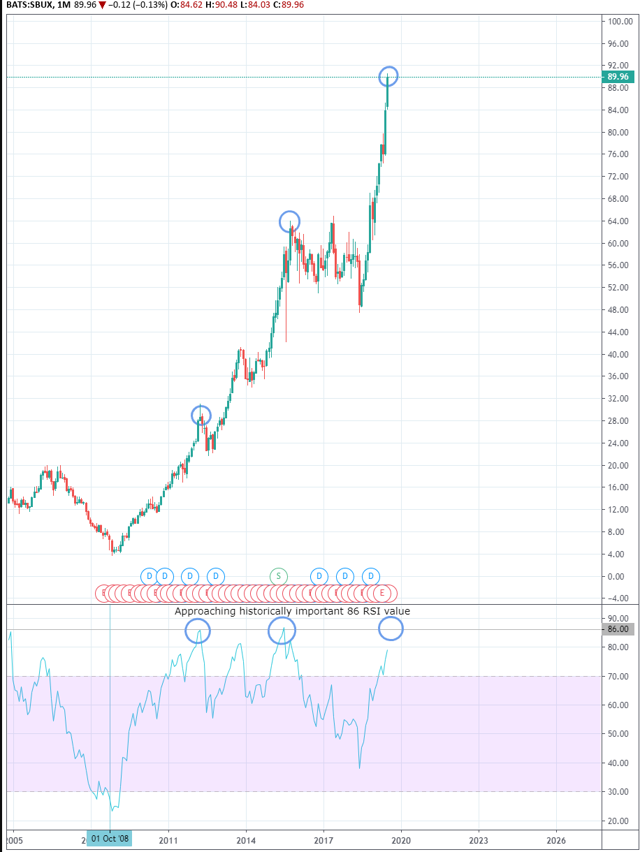 Starbucks rapid stock price increase comes at a time where it faces new competition in emerging markets. Chinese player Luckin Coffee has been making waves with its $650m capital raise during its IPO. For Starbucks this means potentially years of stiff competition from a company that is growth focused and isn't afraid to lose money if it means an increased market share. Starbucks will be competing against a loss-making growth story whilst at the same time attempting to establish higher-margins. Now where could that fall apart I wonder.
As a great man once said - "Be fearful when others are greedy and greedy when others are fearful"
Having said all of this, noone is expecting the fundamentals of the company to change significantly any time soon. Starbucks is a fantastic brand with a loyal customer base and overall good fundamentals. However the current share price does not reflect its true value and instead is a bet that the company will execute on its plans to materially grow margins, foot traffic and international expansion without issue. Call me crazy but I think for the short term it would be prudent to limit your downside risk and lock in some of what has been a pretty incredible run.
Disclosure: I/we have no positions in any stocks mentioned, and no plans to initiate any positions within the next 72 hours.