Kate Sun
Stella-Jones: Buy the Dip?
Montreal based Stella-Jones (TSE: SJ) manufactures railway ties, utility poles, and residential conwoods struction for the N. American market, by treating raw wood in its US and Canada wide acquired processing plants.
Thesis Summary:
2H18 P/E compressed relative to comp and history

Foreseeable margin expansion (lower lumber price)

Healthy organic poles growth

Foreseeable lump utilities sales (ensuing lump pole replacements and competitor exiting)

Strong strategic positioning

Strong cash flow to support growth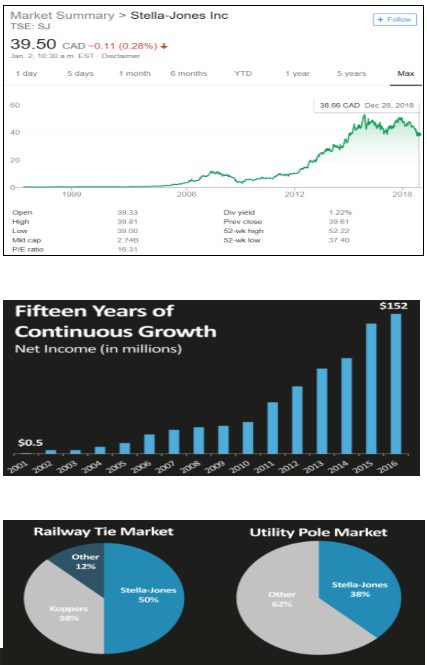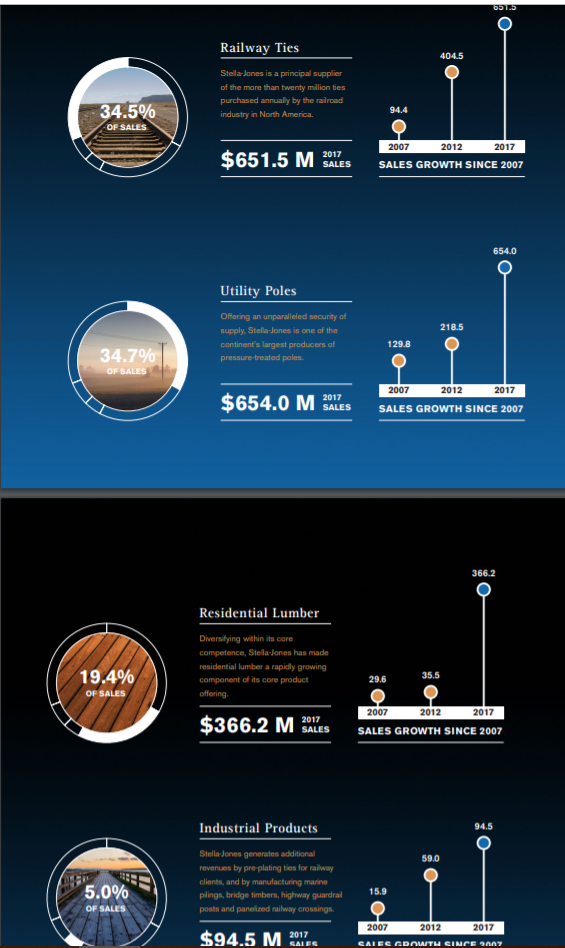 Source: Google, Company Reports
1.2H18 P/E OVER COMPRESSED:


Source: Company Reports
At least comparing to its single biggest competitor, Koppers, ST's multiple seems over squeezed:

While Koppers does have slightly different revenue weight and operate in more countries,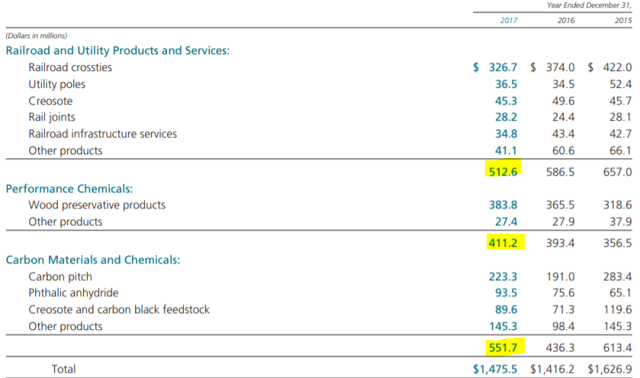 Source: Koppers
Its heavier focus on chemicals don't necessarily support higher multiples.
2.MARGIN DECLINE STABILIZING:
Despite years of margin contraction, which the market very likely loathed, it's poised to stabilize: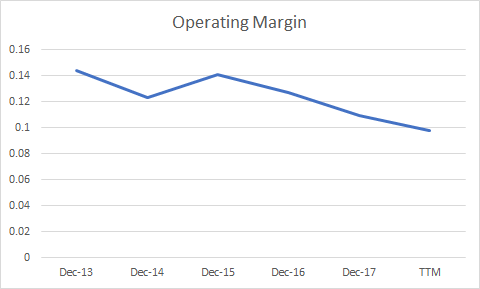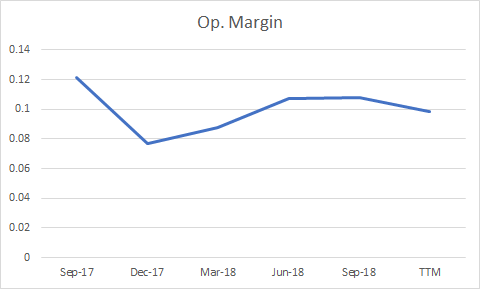 Source: Company Reports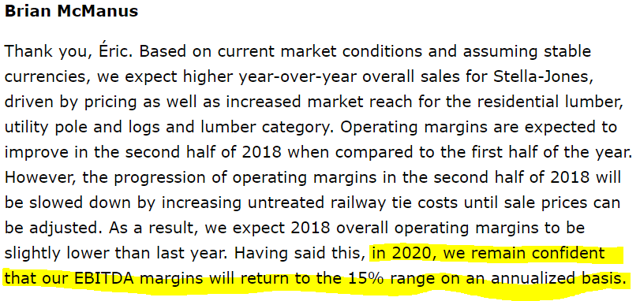 Source: Seeking Alpha 2018 Q3
Recent Lumber Price Drop Helps Margin and Operation: The inventory to sales ratio was close to a decades low (below). This was a result of the recent rising lumber price in part thanks to the residential come back (further below). This hurt SJ's margin and also liquidity as responding timely to customers' order is highly critical. Fortunately, in 2018 the lumber PPI dropped.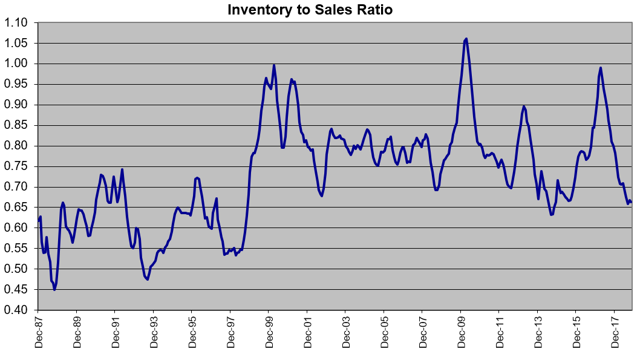 Source: RTA, FRED

Source: Company Report 18Q3
In fact, investors need to take a look at its major comp Koppers' much lower and also contracting margins: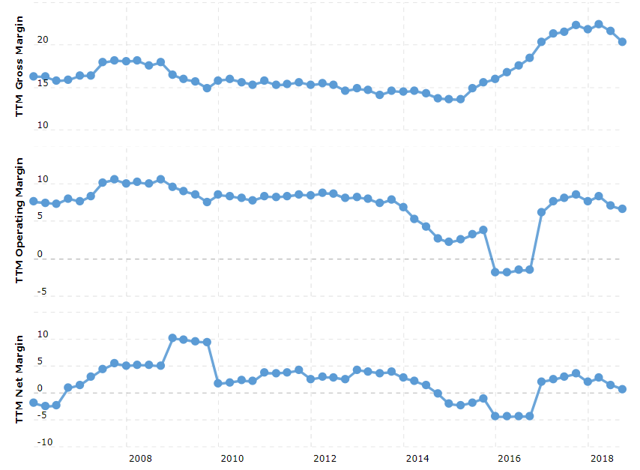 Source: MacroTrends
3.HEALTHY ORGANIC SALES GROWTH
Despite its acquisition centered growth strategy, SJ's organic growth has been very healthy: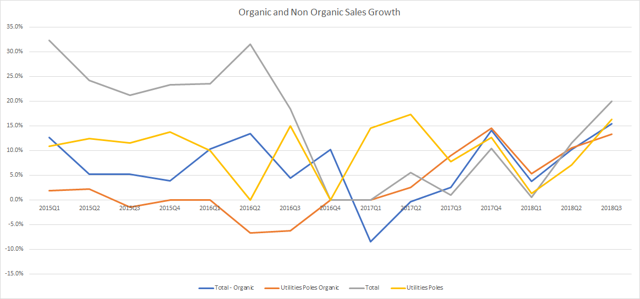 In fact, its utilities poles sales growth has been very prominent. Despite a recent slow down in acquisition (in above chart, organic and total growths moved in sync), SJ is reigniting its acquisition momentum: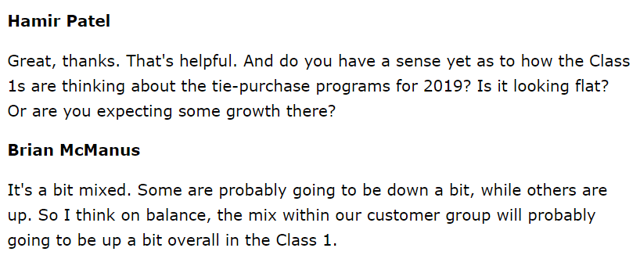 Source: Seeking Alpha 2018 Q2
4.UTILITIES POLES SEEING LUMP IN NEAR TERM:
Most of the wooden poles in N.A. were erected post WW2 and are due for replacement based on their half-century age.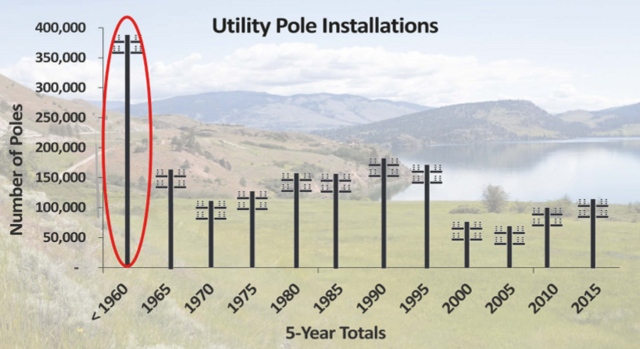 Source: Company Reports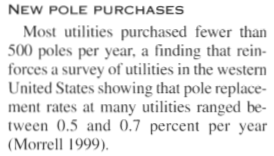 Source: https://woodpoles.org/portals/2/documents/MankowskiUtility.pdf
Plus, with Southern Pines dominating the existing poles in US, higher replacement frequency is expected compared to other species: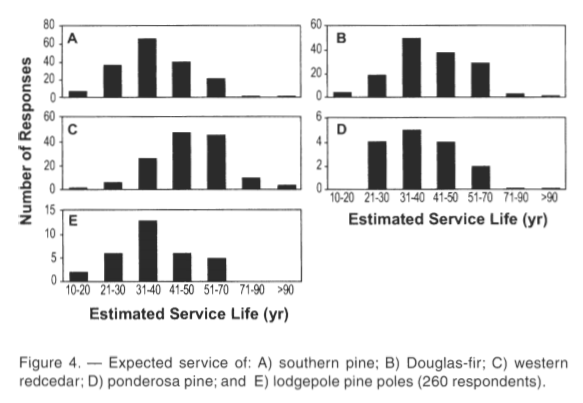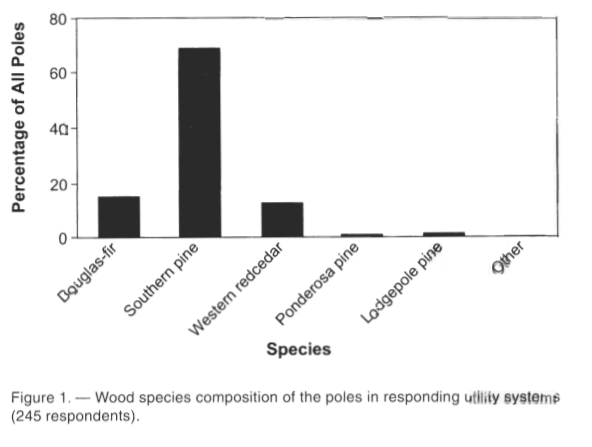 Source: Source: https://woodpoles.org/portals/2/documents/MankowskiUtility.pdf
The firm recognizes this phenomenon and harpens on it: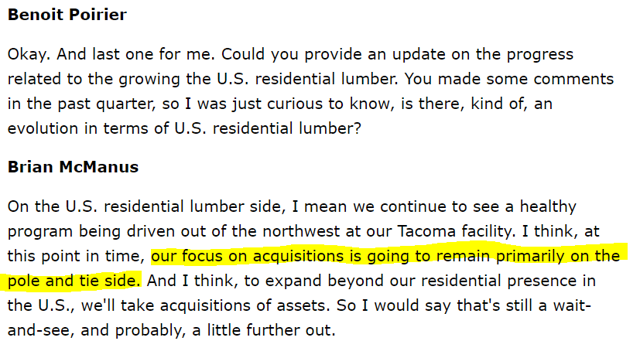 Source: Seeking Alpha 2018 Q2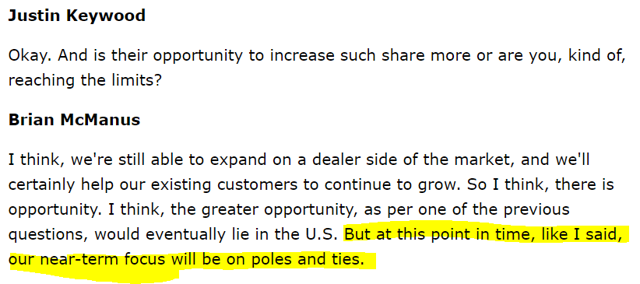 Source: Seeking Alpha 2018 Q2
In addition, SJ's poles distribution centres are spread out nationwide, unlike its competitor Koppers:
Western US and Canada:
Southeast US:
Source: Wood Poles.org
As the above distribution centres lists suggest, SJ's competitors are mostly fragmented smaller businesses aside from Koppers. The company's business model is acquisition based. They acquire roughly one per year. Hence, it's not a far stretch for them to keep their buying spree in the years to come.
In fact, if we take a look at competitor Koppers' distribution centres, they don't seem to be prioritizing their poles businesses: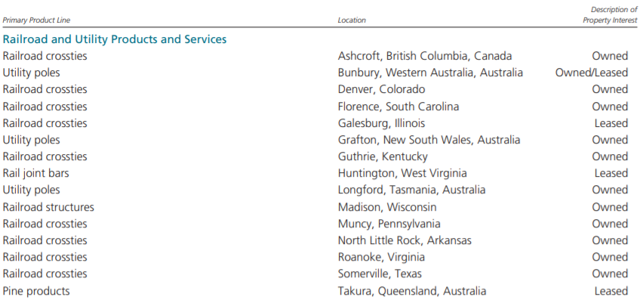 Source: Koppers Company Report FY2017
Risk: Longer Poles Lives
True, potentially the poles can live longer, meaning that 1960s poles may get replaced later than expected: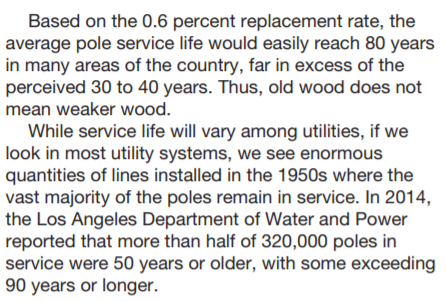 5. STRATEGIC POSITIONING
Sound strategic positioning: Mix of railway ties, utilities poles, residential, and lumber sales diversifies the business across the finished lumber markets, allowing the firm to
minimize risks arising from

lumber price fluctuations: i.e. rising housing demand benefits residential line despite causing ties margin to suffer.

Unexpected disruptions in core business areas: i.e. Sudden shifts from wood to other materials across sectors

Capture synergy from

Lumber sourcing: i.e. purchase in bulk

Processing: i.e. all are treated wood

Distribution: i.e. areas with high demand for frequent ties replacement due to humidity (Southeast) seek more poles as well. Also, these tend to be places where woods are in abundance:
Source: Company Reports, RTA
Tie Demand Well Diversified Across Railroad Companies:
This RTA survey statistic below indicates that the number of ties replaced per mile per year is evenly spread out across all major railroads. This signals more predictable demand.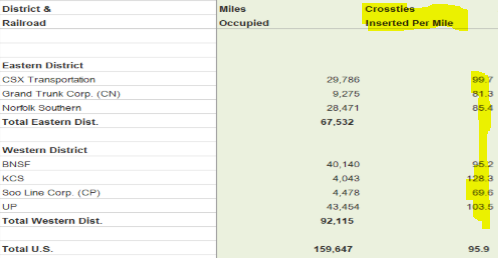 Source: RTA
Trustworthy CEO: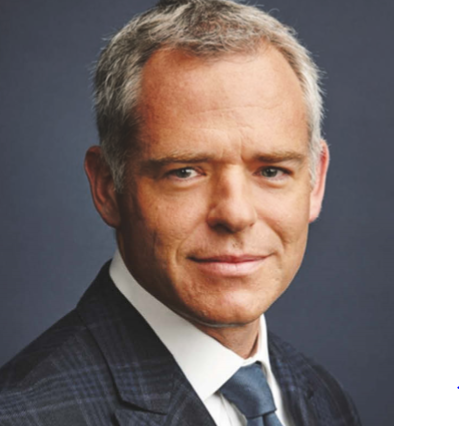 The 49-year-old Brian McManus has been the CEO for 15 years! An Ivey MBA, he claimed he was offered much better opportunities but decided to stay at SJ as he sees tremendous growth. "McManus applied what he calls the "ink-spill approach"—expanding into adjacent markets where those synergies were most available because of overlapping customers and suppliers."
Guess who his father is? Raymond McManus - CEO of Quebec's Laurentian Bank!
6. STRONG FUNDAMENTALS
Consistent Earnings: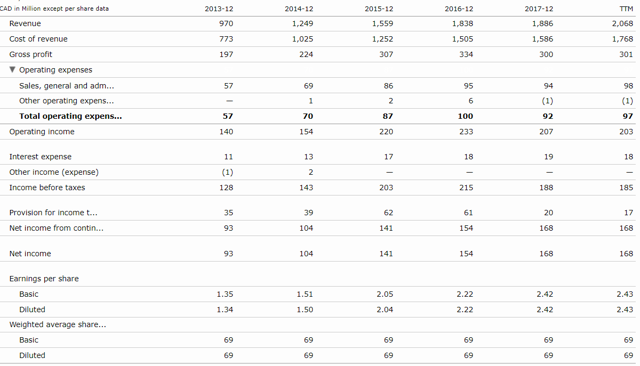 Consistent Deleveraging Effort: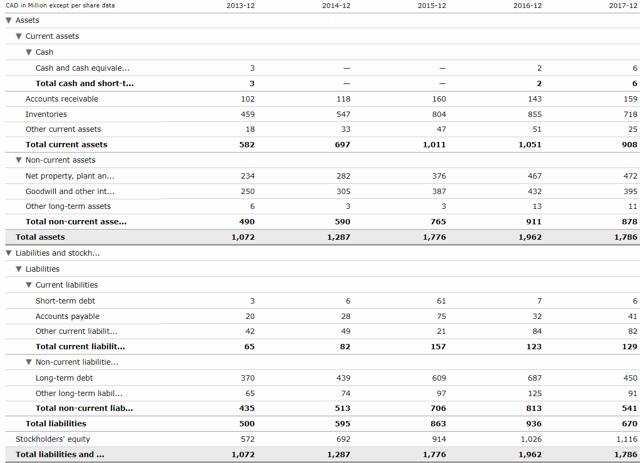 And Healthy Cash Flow for Continued Acquisitions: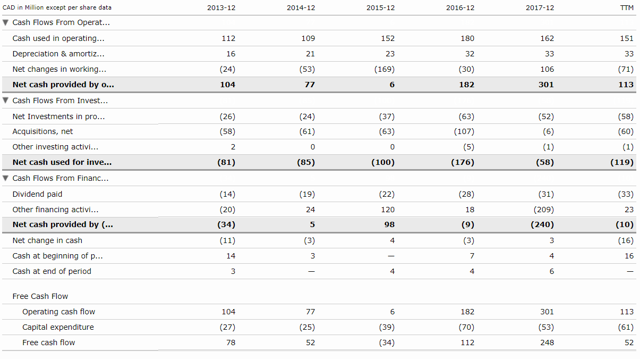 6. RISKS TO WATCH FOR:
Tie business stable yet not time tested in the long run (talking 30-50 yrs): After the total lengths of railways in the US more than halved in the past century to increase efficiency, the reduction has stabilized (below right). However, new constructions have also been very minimal, at least since the 60s (below left). Almost all ties insertions are for maintenance, which for the past half a century averaged to around 15 - 20 million ties each year.
Source: RTA
However, a quick back of the envelope calculation revealed potential concerns. Table below shows the estimated aggregate of the total number of ties in the US as of 2017. Assuming an annual tie replacement of 15,000,000, in around 30 years all current ties will be replaced. However, this is 10-20 years short of the average expected economic life of a railway tie, which many engineers and experts put around 50 years. Will there be 10-20 years of gap years where demand for railway ties will be stifled? Or, will the annual replacement rate slow naturally due to better wood treating technologies? Although the railroad lengths aggregate below is for Class 1's only, even adding in the other railways doesn't erase the concern completely.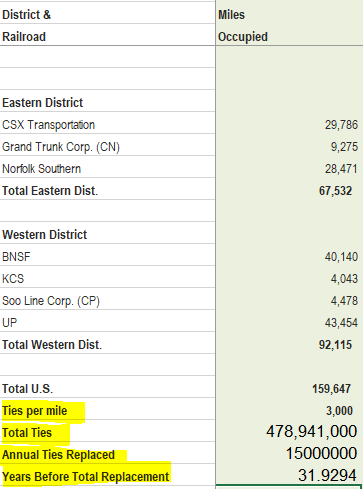 Source: RTA
Potential Near Term Demand Contraction:
The gap between annual tie installments and purchase by the Class 1's has been considerably wide since 2014, and hence has potential to narrow. This is an interesting finding deserving further investigation.

Source: RTA
Stability of contract unknown:
A piece of news read:

.
I have not been able to find anything like this for Stella Jones.
However, potentially Better Contracts: It can be deduced that Stella Jones has similar contract with the other railroads. This can be a good news for SJ, because BNSF and CSX (customers of competitor Koppers) have the least "Avg Spend Per Tie" as suggested below and SJ's customers (the other railroads) spent more per tie.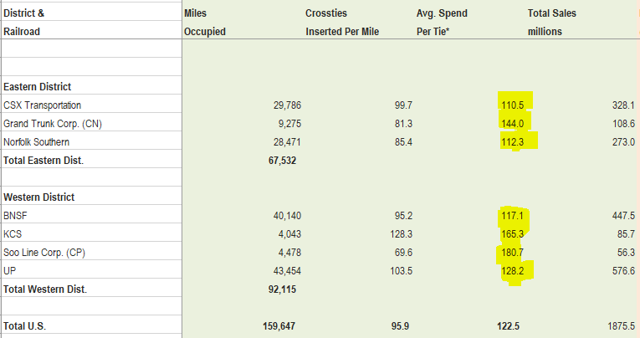 Source: RTA
CONCLUSION:
These signal the recent earnings flattening is a temporary "hiccup" with a backdrop of a sound long term profitabilities. The recent lower multiples represent a good buying opportunity as the market reassesses SJ's outlook. Near term catalysts include:
Higher than expected utilities poles sales

Higher margin due to the recent drop in wood price

Railway company tie purchase normalize to 16/17 levels.

Deleveraging effort continues to reduce leverage ratio.
Over all, given the near term lump sum poles purchase, this stock can still be considered a momentum and growth trade and presents a buy opportunity.
Disclosure: I/we have no positions in any stocks mentioned, and no plans to initiate any positions within the next 72 hours.