EHang: Rebuttal To Wolfpack
Please Note: Blog posts are not selected, edited or screened by Seeking Alpha editors.
I have encountered many short reports during my career as an investor, and while some are correct, like Luckin Coffee, far many more are proven wrong. Wolfpack's report is one of the worst I have seen - They purposely added in a lot of "hard to debunk" nonsense while omitting facts that don't suit their narrative.
Kunxiang
One of the keypoints of Wolfpack's report is that Kunxiang, EHang's "main customer", is pumping EHang for its own benefit. According to Wolfpack, EHang agreed to deliver 105 216s to Kunxiang in 2020.

However, in EHang's own 20F, they only mentioned unfulfilled purchase orders of 33 AAVs, which doesn't line up with the number in the Kunxiang agreement. I think a plausible explanation is that EHang knows Kunxiang has credit issues(as pointed out by Wolfpack) and therefore doesn't count the orders as real orders.
As of December 31, 2019, we had cumulatively delivered 64 passenger-grade AAVs for testing, training and demonstration purposes, developed two command-and-control centers for smart city management, and completed over 90 aerial media performances. As of December 31, 2019, we had unfilled purchase orders for 33 passenger-grade AAVs.
Even if Wolfpack is right and Kunxiang is EHang's largest customer(which I doubt) - Then it would make up 24% of 2019 revenue, or around $4.5mil USD. For a company that is set to grow revenue exponentially over the next few years, I hardly think that is a concern.
It is worth noting that these sales contracts are EH's only disclosed sales contracts for to date.
Wolfpack seems to think that Kunxiang is the largest EHang customer because they are the only company that EHang has disclosed sales contracts with, presumably in the annual report. There is no reason for EHang to disclose all their customer contracts, so I don't see this as valid reasoning.
EHang also stated that they require customers to prepay 10-40% of the purchase price and revenue is only recognized upon delivery of products, so its hard to believe they'll recognize substantial revenues from Kunxiang without the company paying for the goods.
For passenger-grade AAVs, our customers are generally required to prepay 10% to 40% of the total purchase price soon after a purchase order is placed.

We enter into legally enforceable and binding agreements with our customers with fixed terms and conditions, including pricing. We recognize revenue at the amount to which we expect to be entitled when control of the products or services are transferred to our customers. Revenues are presented net of taxes collected on behalf of the government.
EHang has also disclosed that they have delivered 216s recently to international markets like Japan and Korea. Unless Kunxiang is a fraudulent global distributor, I don't think these orders are fake.
And also I just want to mention that just recently, we delivered a 216 to - for Japan, and we are also getting a new order from Korea. I think in North Asia, those markets are new breakthroughs for us.
Overall, I think that Wolfpack could be right about Kunxiang being a fake company, assuming their conversation with the finance manager is not completely fabricated, BUT I don't think there is any reason to believe EHang is recognizing revenue from Kunxiang or that Kunxiang makes up the majority of EHang sales.
Factory tour
Wolfpack uploaded a video of a tour of the EHang site that showed no machinery and employees and compares it to established helicopter/drone makers like XAG and Robinsons. Video is below:
The thing is, EHang has not started mass production of its AAVs yet, so it wouldn't be surprising for the products to be hand assembled. There is nothing wrong with not having dozens of assembly lines for a company like EHang. So far, EHang has only delivered 100 AAVs - Would it really be necessary for EHang to have a fully built out factory?
There is also a factory in Yunfu that Wolfpack visited. Wolfpack claims EHang management said they are already ramping production in Yunfu as of Dec 2020, but this seems to be a miscommunication. In the earnings call, this was what management actually said:
With local government support, the Yunfu factory is expected to start production in the first half of 2021, with an initial capacity of 600 units per annum, especially for EHang 216F.
Wolfpack also claimed that funding for the Yunfu facility is uncertain according to the management committee, yet EHang just received $40mil from Carmignac, so I guess not?
Hezhou Eport
Wolfpack claims EHang has not started work on the Hezhou Eport that they claimed would be operational by Q4 2020. I don't think Wolfpack knows how to listen to earnings call, because in the last call management stated:
COVID-19 pandemic caused delays in our business development, mainly including: first, as our CEO, Mr. Hu mentioned, comprehensive infrastructure is needed for operation service; and some of our customers have been developing the infrastructure, including the VertiPod.

The original plan was to complete the infrastructure in Q4. But due to the extended impact of COVID, the development of the infrastructure has been delayed, resulting in postponed customer pickup of our products into next year.
Management has openly stated they would be late with the Hezhou Eport construction due to COVID-19, so I don't think it's a surprise that there are no construction paperwork filed, especially when you're looking at a timeframe right after Chinese New Year, when most Chinese would be celebrating and not doing work.
Autonomy
Wolfpack has stated that if large companies like Joby, Volocopter, etc, are not autonomous, EHang has no chance of being autonomous. This seems like a straight denial of facts, as EHang has publicly stated its AAVs are autonomous and has flights to back it up.
Our autopilot and flight control system collects and analyzes data from sensors installed on our AAVs, including accelerometers, gyroscopes, magnetic compass, barometers, visual sensors, Global Navigation Satellite System receivers and millimeter wave radars. Informed by the extensive data collected by these sensors, our AAVs use advanced algorithms to make intelligent navigation decisions, including correcting courses, adapting to weather conditions and avoiding obstacles.
For example, you can see below an EHang flying over the South China Sea with 1 passenger and no pilot. EHang also has conducted public light shows with hundreds of drones around the world, which demonstrates that they have the technology to command and control hundreds of aerial vehicles at once. Is it so hard to believe that EHang can implement this in passenger drones?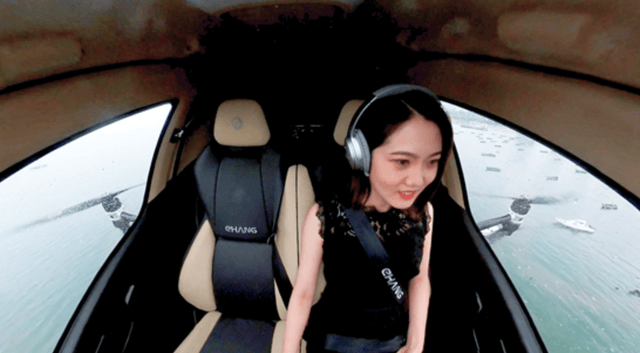 Wolfpack, on the other hand, has not given any evidence for why EHang is not autonomous other than "if they can't do it, EHang can't do it as well". For a short report, this lack of evidence is very concerning. I doubt Wolfpack has flown in an EHang vehicle or interviewed anyone that has flown in an EHang vehicle.
Low R&D
This is a commonly brought up point by shorts in innovative companies - Oh, they're not spending enough on R&D. This same stuff was written in the NNOX report and probably many other short reports as well.
What most of these shorts don't get are that smaller companies need to conserve cash to avoid dilution. Not every company has a billion-dollar balance sheet like Uber or GE. Funnily enough, EHang is actually ramping up R&D, with spend up 40% in 2020.
Research and development expenses were RMB19.8 million (US$2.9 million), up 40.0% from RMB14.1 million in the third quarter of 2019. The increase was mainly due to continued investment in new model development. The Company had been preparing new versions of both passenger-grade AAV and non-passenger-grade AAV models, such as the newly-announced EH216F and EH216L as well as related operating systems with enhanced functionalities.
Legal issues
I'm not a lawyer by any means, so I can't fully comment on EHang's legal issues in China. However, I do notice a lot of non definitive terms used like "may, likely, could", etc. Generally, I think Wolfpack is implying EHang's ADRs could have risk of being sold to repay creditors over a $6mil loan, rendering the ADRs worthless.
Really? So a multibillion dollar business is going to be liquidated to pay of $6mil in debt? This is getting ridiculous, EHang can literally issue a few ADRs to pay off the creditor or more likely settle for much less in court.
Omissions
I think Wolfpack has omitted many facts that are favourable to EHang, most prominently the United Therapeutics deal, the DHL partnership, and the $40mil investment from Carmignac.
United Therapeutics is a publicly listed company worth $7bil+ and they have publicly committed to buying 1000 of EHang's longer-range eVTOLs, estimated to be worth $300mil+. There is no mention of the United Therapeutics deal in the short report, presumably because it doesn't fit Wolfpack's narrative.
According to Rothblatt, the new EHang design will feature a fixed-wing to meet this requirement, unlike its current eVTOL designs, which can fly only around 22 miles. United Therapeutics has committed to buying up to 1,000 of the longer-range aircraft and is willing to help the Chinese company achieve type certification in the U.S. and Canada.
In addition, there is no mention of EHang's deal with DHL, one of the largest logistics companies in the world. It's hard to believe a company like DHL would partner with EHang and put a representative on EHang's board if EHang doesn't have functioning drone technology.
Lastly, Vodafone, one of the largest telcos in the world, has exclusively partnered with EHang to collaborate on a UAM system in Europe and provide 5G to EHang AAVs.
These were the main cornerstones of my EHang bull case, and the fact that Wolfpack did not address any of these large partnerships at all really does illustrate the low quality of the report.
Of course, there is also the recent $40mil investment from Carmignac, a multibillion-dollar French investing firm, at a price of around $70 per share. You're telling me they didn't do any research as well?
Track record
Before EHang, Wolfpack has issued short reports on 6 companies. Only one is down since the report - GTT Communications, while the other 5 are up double digits or event triple digits. It's hard to believe that the market would be so eager to listen to this new short seller regarding EHang.

Conclusion: BS
After getting burned on their other shorts, the guys at Wolfpack needed to make some money, so they decided to find a heavily hyped company that had run up a lot to get the best chance of causing panic and FUD. That's my hypothesis of why they released this short report on EHang.
How can you write a short report on a company and not mention some of their biggest partnerships. At least the NNOX report brought up NNOX's biggest partners like SK Telecom, this report doesn't even bother to do that.
Analyst's Disclosure: I am/we are long EH.
Seeking Alpha's Disclosure: Past performance is no guarantee of future results. No recommendation or advice is being given as to whether any investment is suitable for a particular investor. Any views or opinions expressed above may not reflect those of Seeking Alpha as a whole. Seeking Alpha is not a licensed securities dealer, broker or US investment adviser or investment bank. Our analysts are third party authors that include both professional investors and individual investors who may not be licensed or certified by any institute or regulatory body.