Before the most recent recession, those looking for a place to put their money that was very safe and would provide some yield could just go ahead and place their money in a Certificate of Deposit (CD). While CDs are certainly still low risk, CD rates have plummeted, no longer providing the healthy yields of the past. The below chart from Bankrate's weekly CD rate survey illustrates the steady decline in CD rates that we have experienced: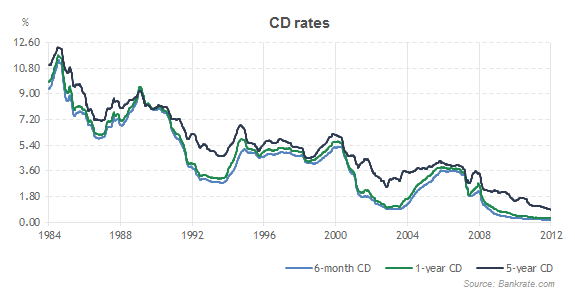 Currently, per Bankrate, the average one-year CD offers you a measly 0.26% yield while the average five-year CD only provides a 0.83% annualized yield, making it extremely difficult to even keep up with inflation. Inflation came at 1.7% for the 12-month period ending September 2014 and has hovered in a range of 1.5%-1.7%over the past three years. People have taken notice with the amount of money in CDs of less than $100,000 plummeting from $1.46 trillion in 2008 to only about $571 million in 2013, a drop of over 60%. The question many people are struggling with is: where can I put my money that is reasonably safe and get paid a relatively substantial yield if I can't find a CD with a reasonable yield?
High-interest Savings Accounts
Believe it or not, by doing your research and identifying a bank offering a higher annual percentage yield (APY) on savings accounts, you can actually place your money in a savings account that will pay more than the average CD. GE Capital Bank will pay will pay you a respectable 0.95% APY, with no minimum account balance. The maximum they will allow you to contribute is $1,000,000 and up to $250,000 is insured by the FDIC for each depositor. GE Capital Bank even has a handy tool on its website that shows you how much more interest you are making with the 0.95% APY compared to the national average of only 0.14% based on your initial balance, any recurring deposits, and how long you plan on have the money in the account. CIT Bank will also provide you with a 0.95% APY for your savings account ($100 min) and even will give you a 1.00% APY if you have an account balance of at least $25,000. Utilizing a savings account as opposed to CD provides you with the added benefit of being able to have immediate access to your funds.
CDs
Upon doing research for this article, I did notice that it certainly is possible to do significantly better than average CD rate so I did want to bring that up. For instance, CIT Bank is currently offering a 1.07% APY one-year CD along with a 2.25% APY for a five-year CD. Nationwide Bank even offers slightly rate, where you can currently get 1.14% on the one-year CD (1.19% if you have $100,000+ in it) and 2.32% on the five-year CD (2.37% if you have $100,000+ in it). CDs are insured by the FDIC up to $250,000 so that does give you safety.
Bonds
Debt instruments do provide an interesting alternative, but they will not have the safety that being guaranteed by the FDIC up to $250,000 provides for CDs and bank accounts. Below see the current yield curve for treasury bonds from the New York Times: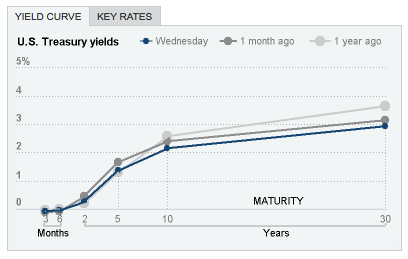 While the 5-year U.S. treasury bond is current yielding 1.46% (which is guaranteed by the full, faith, and credit of the United States government), the higher-yielding CDs identified above definitely seem like a better option given the guarantee up to $250,000 by the FDIC and that there is no risk to the principal value even if there is a rise in interest rates.
Municipal bonds are another option. Muni bonds are issued by government entities to either pay for general expenses and raise immediate capital (general obligation bonds) or fund a specific project (revenue bonds). One of the main benefits of municipal bonds and why they may be the best option for some is that they are often exempt from most federal, state, and local taxes. These bonds are affected by the credit risk of the issuing entity as well as interest rate risk. See the below chart of municipal bond rates by rating courtesy of BondsOnline:

Corporate bonds are another option you could consider. Current corporate bond rates courtesy of BondsOnline are shown below:

Currently a 5-year A rated bond is yielding 2.08%. Given that the higher-yield five-year CDs identified above yield a superior 2.25%, it is probably best to avoid the corporate bonds with inferior yields given that you would be taking on both credit and interest-rate risk as well as not have the FDIC guarantee. While junk bonds (bonds carrying a credit rating BB or lower) would certainly provide you a higher yield, it is probably best to avoid this group of instruments given the significantly higher credit risk compared to their investment-grade counterparts (bonds rated B and higher).
Higher-yielding, low-volatility stocks
When looking into a substitute for CDs (given low rates) that still provides some stability while paying a healthy dividend yield, I am reaching a bit discussing stocks, but I do think it is important to at least acknowledge the option. To narrow down universe of options, I began by running a screen giving me stocks with a yield of at least 4% and a beta between 0 and 0.5. The below are the four main options that my screen provided:
Telecom:
-AT&T (NYSE:T) = Currently yielding a bit over 5.4% due to a small sell-off after its earnings, AT&T has been a reliable dividend-raiser as it has increased its quarterly dividend by a penny once a year every year since 2008. The stock has remained range-bound from $32 to $38 per share the past few years and has a five-year beta of only 0.4. Analysts currently have a mean recommendation of hold on the stock.
-Verizon (NYSE:VZ) = Currently yielding 4.5%, Verizon has also increased its quarterly dividend once a year every year since 2007. The stock has experienced slow, but steady price appreciation and currently has a five-year beta of 0.4 as well. Analysts currently have an average recommendation of buy on the stock.
Utilities:
-Southern Company (NYSE:SO) = Sporting a yield of 4.4%, Southern Company has increased its quarterly dividend once a year every year since 2001. The stock has been range-bound between $40-$50 since mid-2011, has a five-year beta of only 0.2, and an average analyst rating of hold.
-Entergy (NYSE:ETR) = With a yield of 4.1%, Entergy has paid a steady quarterly dividend of $0.83 per share every quarter since it raised it's dividend back in early 2010. The stock has been range-bound between $60-$80 since late 2008, has a five-year beta of 0.4, and an average hold analyst recommendation.
Real Estate Investment Trusts ((REITs)):
-American Capital Agency (NASDAQ:AGNC) = AGNC, a REIT making money from levered investments in mortgage-backed securities, has had to cut its dividend four times since 2012 due to changing operating conditions, but the stock does still have a hefty 11.5% yield. With a five-year beta of 0, it is not something that will be very correlated with the general market. This is a security that is extremely interest-rate sensitive, as evidence by its significant decline in mid-2013 when investors thought there was an interest rate rise soon upcoming. Analysts currently have a hold rating on the stock.
-National Retail Properties (NYSE:NNN) = NNN, a REIT managing a diversified portfolio of retail properties, currently yields 4.5% and has raised its quarterly dividend once a year every year since 2009. The stock has a five-year beta of 0.4 and a current average buy rating.
Master Limited Partnerships ((MLPs)):
-Kinder Morgan (NYSE:KMI), Kinder Morgan Energy Partners LP (NYSE:KMP), Kinder Morgan Management (NYSE:KMR), and El Paso Pipeline Partners (NYSE:EPB) = The four Kinder Morgan companies listed here (the third largest energy company in North America based on combined enterprise value) announced on August 10th that they will be merging together, which, per CEO Richard Kinder, "simplifies the Kinder Morgan story by transitioning to one security and pave the way for superior growth at KMI for years to come." The merger,expected to close by Thanksgiving, has been well received by investors. The post-merger Kinder Morgan security will have a yield of approximately 4.6%, and the company expects to grow the dividend by approximately 10% per year from 2015 to 2020.
-AmeriGas Partners LP (NYSE:APU) = APU, a retail propane distributer, currently yields 7.7% and has been steadily raising its dividend since the mid-2000s. The stock has been range-bound between $40 and $50 since early 2010, has a five-year beta of 0.3, and has an average hold rating from analysts.
Conclusion:
Searching through various instruments for yield provided some intriguing alternatives to low-yielding CDs. While research actually turned up some CDs yield significantly higher than the national average, higher-yielding savings accounts are certainly interesting alternatives given the added benefit of funds not being locked up as in the case of CDs. While some lower-volatility equities do provide very enticing yields, it's important to make sure you are comfortable taking on the additional risk. These equities will certainly be sensitive to changing interest rates, providing increased volatility to these securities pending what decisions the Federal Reserve decides to make.
Disclosure: The author has no positions in any stocks mentioned, and no plans to initiate any positions within the next 72 hours.