Written by Shai Kritz, VP Product
Over the past year, it seems not a week can go by without some breaking news about blockchain and cryptocurrency. The potential of blockchain technology and blockchain currency holds the promise of huge gains, yet most traditional investors and traders are still only "considering" such investment types. One reason being is that blockchain investment opportunities are starkly different from traditional securities in some fundamental aspects, and so traders and investors cannot apply the tools they're used to, in order to make educated investment decisions. So how can securities traders analyse cryptocurrency investment opportunities?
One key difference between cryptocurrencies and other financial instruments is the lack of regulation and standardisation - there are no listing requirements, no due diligence procedures, no underlying assets, no regulated market makers, custodians or even banks. It mainly translates to risk, risk and more risk - which in order to make any sense also translates to yield, yield and more yield.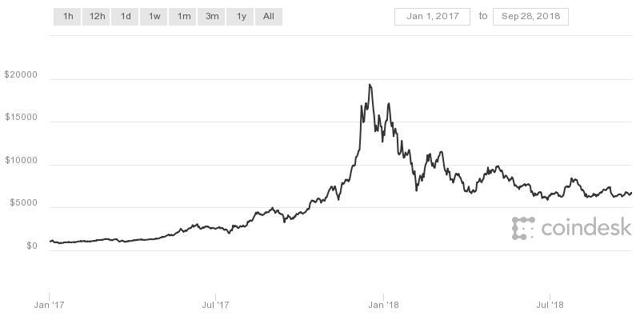 Bitcoin's yield since 2017. (Souce: Coindesk)
Cryptocurrencies or tokens are traditionally offered to the public in a process called an ICO (Initial Coin Offering). Examining ICOs is more complicated than assessing circulated tokens as they don't have any trading history, so in this post, I'll stick to assessing circulated tokens.
Listed below are 5 key features to observe when assessing a crypto investment:
Who's behind it - This is equivalent to a due diligence process, of the beneficial owners of a corporation. In an unregulated environment, trust cannot be gained from the legal obligations of auditors that perform this due diligence. Therefore, it is crucial to understand what entity and people are behind the coin. As with any investment opportunity, one would generally prefer coins offered by distinguished establishments. However, since many well-known figures in the crypto world are not renowned outside that world, it may require some online research. Coin issuers are well aware of the importance associated with their identity in creating demand. Therefore, they usually go the extra mile to display the credibility and ability of the people behind the coin by displaying business/technological track records on their website. Ether, issued by the Ethereum Project and the upcoming USD Coin by Circle are two good examples of tokens offered by credible issuers.
What's behind it - Crypto tokens can be issued for almost any cause. The general distinction is between Security Tokens and Utility Tokens (though some tokens don't fall perfectly under either category). Security tokens are similar to financial securities such as shares and bonds but without regulation behind them. They give the holder rights in profits, interest payments or an investment in another token or asset.
Utility tokens, on the other hand, are tokens that can be exchanged for a utility, a product or a service that is served on a blockchain application created by the issuers of the coin. A good example of such a token is a utility token that can be exchanged for online ads or cloud storage space. It is important to note: the underlying investment of security tokens and underlying asset of utility tokens cannot be enforced legally, contrary to the enforcement that can be applied on securities such as stocks and bonds to claim the issuer's assets.
Real market Cap Distribution - You may be familiar with market cap analysis of financial securities and its importance but when it comes to cryptocurrency, it may require some investigation. It is well worth it though, as it uncovers critical investment information:
The REAL market cap - Consider the following scenario - 1 million coins have been created, but only 10 coins were actually sold and 999,990 are still being held by the issuer. The coin price on the exchange is $10, therefore the naive market cap would be $10*1M = $10M, but the REAL market cap is probably closer to $10*10=$100.
The major stakeholders - Is the coin held by a group of speculators/friends of the issuer or real investors?
Capital distribution - As a rule of thumb - the wider the distribution, the more stable the investment. It is easy to see the token distribution since everything on the blockchain is fully transparent. For example - here you can find the bitcoin wallet distribution: Top 100 Richest Bitcoin Addresses and Bitcoin distribution
Liquidity - Any asset's liquidity is an aspect of the investment. With cryptocurrencies, it usually requires deeper investigation. When it comes to the stock market, it's an easy call. The liquidity of the asset can be expected and reflected in the asset's price. With cryptocurrency, it's a little more tricky. The lack of one major exchange to facilitate the asset's trading as well as the lack of committed market makers makes it harder to understand the expected liquidity of an asset. When investing in a crypto token, you should check in how many exchanges it is listed and what the average trading volume is in each exchange, to better understand how tradable it is. If you are seriously considering to invest in a token, you should open an account in an exchange where the token is traded in the highest volumes. You can find that information on various crypto sites such as Coinmarketcap.
Regulation & Taxation - Because of the global and borderless nature of blockchain, regulation takes effect in two ways: Jurisdiction of the buyer and Jurisdiction of the issuer. The jurisdiction of the issuer is important, in order to understand the legal compliance of the issuer. Issuers in G7 countries would generally be more reliant from a legal compliance perspective than issuers in tax haven countries that do not enforce disclosure of the real owners of an entity. Jurisdiction of the buyer is important in order to understand if it is legal to buy the token and the taxation of capital gains from crypto investments. Because of the disruptive nature of blockchain currencies - regulation is still forming and requires an ongoing follow-up.
Code level and corporate level protections - Cryptocurrencies are disruptive by nature, but they are still pieces of software that serve a purpose. As such, they give us the same protections that can be found with almost any software we use:
Corporate level protection - These are legally binding commitments of corporations. They are usually outlined in the issuer's Terms and Conditions and any public policy that accompanies the token.
Code level protection - Because of the decentralised and transparent nature of the blockchain, in most cases, the software code behind the cryptocurrency is available for all to see. The blockchain community usually investigates and notes the code of newly released tokens. With that in mind, make sure to check code reviews in order to understand how well it maintains the promise of the issuer.
To conclude - if you are new to crypto investments, it's highly recommended to cross your findings with feedback from crypto community investment forums and websites.